Counting down to the new Surface tablets with a Microsoft contest and sweepstakes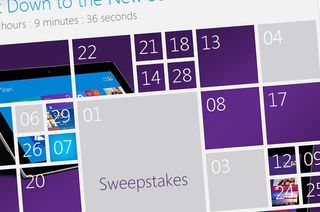 Microsoft will be launching its second-generation of surface hardware soon. To celebrate, the company has been running sweepstakes on Facebook. We've somehow managed to miss this opportunity for you all to win some cool prizes. You'll need to hurry up and get involved as there are only three days left. As well as the sweepstakes, there's an Ultimate Surface Fan contest!
The upcoming sweepstake days are as follows:
Saturday, October 19, 2013
Sunday, October 20, 2013
Monday, October 21, 2013
How do you enter? It's simple. On the days above, head on over to www.newsurfacecountdown.com (redirects to a Facebook page - linked below) and login with your Facebook account. You'll then be shown a calendar with a tile flashing. Click this tile to see the prize giveaway that day and be automatically entered. You'll then be contacted within 24 hours if you've won. See? Simple.
Are there any requirements? Sure, you have to be over the age of 18. Also, residents of Cuba, Iran, North Korea, Sudan, and Syria are not eligible to enter. Read the terms and conditions (opens in new tab) (.PDF) for more details and what prizes are included in the sweepstakes.
The Ultimate Surface Fan contest
Are you the "Ultimate Surface Fan"? Prove it by entering in a contest. Found on the same Facebook page as the above sweepstakes, you'll be able to enter yourself to potentially win a Surface Pro 2, Docking Station, Arc Touch Mouse and Type Cover 2. How awesome is that? All you have to do is explain in your own words why you're the ultimate Surface fan.
Do you love the kickstand? Has it survived numerous drops? Do you simply lay awake at night reading through weird Reddit posts? Touch on subjects including what Surface means to you, how you use the tablet and why you'd buy another to really be in with a chance of winning. Good luck!
Source: Facebook
Rich Edmonds is Senior Editor of PC hardware at Windows Central, covering everything related to PC components and NAS. He's been involved in technology for more than a decade and knows a thing or two about the magic inside a PC chassis. You can follow him over on Twitter at @RichEdmonds.
I already snatched myself a Touch Cover 1. Sure I would have prefered a Type Cover 2 but hey...I'm not complaining! Touch Cover 1 is still worth 80€. I can just sell it and use the money towards a Type Cover 2 anyway XD

already preordered Surface 2 at best buy, after trading in my old Surface RT for 200 bucks..
Cant wait for the new spanking Surface 2

You only got 200 bucks for it? Was it manufacturer refurbished item? I'm hoping to get 250 at least

I sold my 32 Gb Surface RT with Touch cover for $350 on craigslist! I had bought it for $400 about 3 weeks after it's release. A company had bought it to try their app and once they were done, they had no use for it and sold me for $400!
Ordered Surface 2! :)

residents of Iran are not eligible to enter :'(

"tell us why you are the Ultimate Surface Fan" ugh! :(

How does this work? I clicked on the flashing tile (in my case 07) and it shows "See how the Surface Pro 2 stacks up". Where does it show the prize giveaway?

What part of the world do you live in? 19th Oct, 48 hrs in advance? Ftw!

I'm in the UK. Still 17 Oct here.

He's trying to say that the comp doesn't start until 19/10

Can't wait to get my, Surface 2!!!!

I'm excited as well. I preordered mah pro 2 and it ships the 29th!

What! North Korea can't? :'(

The dear fatherly leader cannot win a Surface 2 for the Worker's Party :'( Down with imperialism!

It would be unfair since everyone knows the Surface tablets were invented, designed and built by the beloved Great Leader.

I'm gonna try and win this even though I already preorder my surface 2

Anyone else getting a 404 with the Facebook link?

It may have something to do with the fact its not a sweepstakes day

Those countries you listed made me laugh. They're like the evil countries that no one wants to visit

I want to see soe gaming videos. I'd like to run some semi-current games, Metro, BF3,... I wonder can this handle some not too older titles.
Wish they would have inclued some type of keyboard, it would have been a no brainer. I'm still on the fence. I do want one though. Sigh, decisions decisions.

Dude, have you not seen specs?? If you need keys, then snatch a touch/type cover.. They can be had cheap on eBay or Craigslist if you don't want new

Well I don't want to buy either of those, since I'll be paying for the Power Cover as soon as it's available. Just seems like a bad oversight on MS part.

But, consider that not everyone will want a keyboard, look at iPad users for example. The fact that its an option is a way to keep initial costs down. When I do get me a Surface, I plan on grabbing a Touch as well as a Remix cover, assuming its available.. With an iPad, all of those accessories are extra as well.. Just saying

This isn't comparing to an iPad. Well, I'm getting the PRO and not the RT. I can understand no keyboard for the RT, but it seems like a no brainer for the PRO.

I can sorta understand your point. Yeah, with the PRO, a keyboard would be an "almost" necessity, in my eyes at least.. Hell, even for the RT.. Just know that the prices would be upped by the equivalent of said covers.. Just sayin

Damn, I'd much rather win this contest than the one I just won at work.. I'm getting an iPad, which is nice, cause its free, but I would SOOOOOO much rather have a Surface.. Might just have to sell it and grab me a 2... 8)

You can also trade it in at a Microsoft store.

Yeah, but MS Store may not/won't give me quite what I know I could get on CL. I'm even still unsure about which model it is... Could be a Mini, a 2, or who knows.... All I know is that I'm happy I won, but sh!t, I don't want to HAVE to install iTunes to use the d@mn thing. Rrrrrrrrr..... Anybody want to trade??

iTunes is at or near the top of the list of reasons why I refuse to buy an iDevice.

Hopefully I could win one. I paid full price for my original RT with limited edition touch cover, only to have it stolen one month later. Still going to court trying to prosecute the thief....

welp two years short, rats

Entered the sweepstakes, lets hope someone from wpcentral wins this.

i don't see any tile flashing.

Recheck the date on your calendar with the contents of the article.

Ugh! It's one if those competitions where you have to write crap about why you...blah...blah...blah. :'(

I can't get to the sweepstakes site on my WP8 device. The Facebook page comes up and says the equivalent of page not found. Sheesh.

Checked a few times on the days listed and never seen no tiles flashing.

That's really great and awesome..i would love to use it..thanks for wpcentral for ur contest
Windows Central Newsletter
Thank you for signing up to Windows Central. You will receive a verification email shortly.
There was a problem. Please refresh the page and try again.