Create awesome lock screen backgrounds with Imagefusion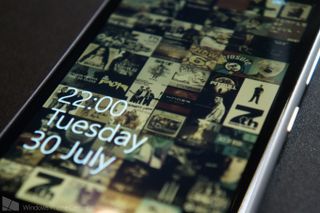 Imagefusion is an interesting app, enabling you to create images for the lock screen background from local libraries. If you've used media players in the past where a collage of images are displayed from multiple artist albums, this is the same affect but with images you choose. The end result can be quite something and best of all: it's free and really simple to use.
Multiple sources can be used, including the profile pictures of contacts stored on the Windows Phone (Hello Friends?), album covers from the local music library (see above note about similar examples used externally) and photos from the local library. Images are loaded and tiled on the lockscreen to produce a collage of images that matter to you, adding a personalised touch to the first screen displayed when turning on the device.
Recently updated to version 2.0, Imagefusion now sports an image picker to let you pick the exact images you want in your lock screen background. A new "accent tint" effect has also been added to provide a lock screen tint to match the phone accent colour. It's the little touches like this that really make the difference.
As noted above, Imagefusion is free and also sports zero advertising so the experience is both clean and clutter-free (you are encouraged to rate the app though, if you like it or even donate via the about screen). A total of six image effects can be added to the chosen collection of items, including black & white, polaroid, sepia, negative and accent tint. Images can be shuffled once selected to create a unique, random affect and it's possible to preview the end result before applying it to the live environment.
Once done, you can save the result for further use externally, or directly apply the new lockscreen background from within Imagefusion. More filters are stated to be on the way, so be on the look out for future updates that include more choice. We've given it a go and can safely recommend the app, especially if you're looking at more ways to personalise your Windows Phone.
You can download Imagefusion from the Windows Phone Store (available for free - Windows Phone 8 only).
Windows Central Newsletter
Get the best of Windows Central in your inbox, every day!
Rich Edmonds was formerly a Senior Editor of PC hardware at Windows Central, covering everything related to PC components and NAS. He's been involved in technology for more than a decade and knows a thing or two about the magic inside a PC chassis. You can follow him on Twitter at @RichEdmonds.
wow, looks fantastic... gonna try it ..
FREE FREE FREE FREE

Never mind free, I was sold when it said.."also sports zero advertising".

Thanks Jazmac, It was initially a hard decision to go ad-free until I understood more about what I wanted this app to do. I took the same approach with an app I shipped which targeted kids. Call me old-fashioned, but sometimes ads fit and others, well, you get the picture. Some people have donated using the donate button, which is an in-app purchase. It is too early to tell whether this is a good model for monetization, but I thought it was worth exploring. Anyway, enjoy Imagefusion! @AndrewJByrne

Hi Elton, this is Andrew, the developer of Imagefusion. I hope you tried it. Alot has changed in the last few weeks and Imagefusion is now on version 2.6. So, enjoy!

You can reach me at @AndrewJByrne

Thank you for this... Was checking for lockscreen apps and this looks awesome! Installing now.

Hi Namish, I hope you had time to check out Imagefusion. Alot has changed in the last few weeks and I've continued to add features in the wee small hours. Thanks for the kind words! @AndrewJByrne

Hi Andrew,
Yes, I've been using it since the day I installed it to refresh my lock screen every now and again. And I did see the new filters and other changes with the latest versions... It's one of the best apps I've used for creating a lock-screen from your data. Will keep an eye out for more projects from your end as well as contribute when possible.
Keep up the great work!
Regards
Salman Khalid (NAMISH)

Aweeesome!!! And I can see Green Day on the preview images (A)

That's awesome but I don't have many music album covers, so it kinda stinks with two pics.

Install mpatool it will fix covers for all your albums on your phone in a few sec

Many thanks for that! Never heard about that App. Great tool.

Hi jlynnm350z, Glad you think Imagefusion is awesome. I admit, not having alot of albums, pictures or contact pics on your phone can restrict the fun you can have with Imagefusion. I'll be adding more sources to the app, so you can make more cool, unique and personal creations! @AndrewJByrne

Thanks for the short, but very sweet feedback, Ricardo! @AndrewJByrne - creator of Imagefusion

Images look cool so I just downloaded it to play with. Problem is, I don't think I could ever give up my daily Bing images.

Does your Bing daily... stay daily?
Mine was always a day behind, until I started using the Lockscreen app by jax, or whatever his name is.
Was wondering if MS fixed it (LOL).

Lucky Bing daily works at all.

For me it is a PITA. It is always a day behind so I haven't used the Bing dailiy in my 920 at all.

That's odd. Mine has always just worked. My dialy bing image is always the same as bing.com.

Hi Squatting Hen, This is the developer of Imagefusion. I fully appreciate the beauty of those Bing Images! When creating Imagefusion, I tried hard to first enable you to create personal, unique lock screen images from local sources to your phone. I've had alot of requests to enable building these great collages from other (online) sources and I've something in the works. At least with Windows Phone, you can change the source of your lockscreen at the drop of a hat - so if you ever need something fresh and different it is nice to try out other providers. Really appreciate all the feedback this article has given me! Rock on! @AndrewJByrne

Yuuuup looks just like my Zune HD that im still rocking :)

Pfff... I still have my Zune 30. Of course, I don't use it anymore thanks to the 64 GB SD card in my Nokia.

Awesome! Do the pics flip every once in a while like in the background for the zune/xbox music player? EDIT: I realize now that that was a dumb question. But, how cool would it be if that could work?

No possiable. This creates a collage of pictures to use as a lockscreen.

It could be possible with Xbox Music as a 'now playing' background task. It could be an alternative to showing the artist on the lockscreen and just show a collage with song info, like the Zune Desktop app.

Hopefully Windows Phone will mature to that point sometime in the future.

I agree glassadam, what a delicious feature! Flipping pics individually on the lock screen is difficult, but I am looking at changing the lock screen on a schedule. @AndrewJByrne - creator of Imagefusion

Reminds me of the Zune desktop player's now playing screen. Those were the days

This app is very reminiscent of Metro Wall. That was quite a fantastic app in the WP7 days, but sadly hasn't been updated in almost two years. A combination of this app and that app would be amazing. Metro Wall made the pictures varying sizes, which was much more appealing imho. You could also change individual images, not just shuffle the bunch.

Ah yes, was just messing with this new app and was thinking how an individual changer would be nice. Varying sizes would be cool, too. You can always email the dev, I bet.

Stay tuned for individual image changer and different image sizes on the same collage :-)
I realized early on that the shuffle wasn't for everyone, and so I added an image picker to allow you to pick individual pics from your collection (contacts, pictures, albums). It is not exactly what you are looking for, but my approach has been iterative feature additions - all I can achieve in 2 or 3 hours dev spurts in the middle of the night :-)

great feedback, and enjoy Imagefusion! @AndrewJByrne - creator of Imagefusion

Cheers Clesanbar!! @AndrewJByrne - creator of Imagefusion

Would be nice of it was animated.

Fabulous app. Some very good apps on WP lately

Hi DreadVenom! This is the developer of Imagefusion. Really appreciate all the feedback - just so happy it is all postive and constructive! @AndrewJByrne - creator of Imagefusion

good app, but quality of photo being poor

Hi nyasser, This is the developer of Imagefusion. Just to let you know - I received similar feedback from others and it turned out that I hadn't done enough testing on high-res phones :-) I've fixed the blurriness of images issue. If you are using the contacts "source" you may still see poor quality images - I can't help that, I'm afraid. The contact picture images all vary in quality based on their original source. But, albums and pictures should be crisp and clear now (since version 2.5). thanks, @AndrewJByrne

It's a nice app, but there's nothing really new here, there's an app "Amazing Lockscreen" that do the exactly same thing, works for wp7 users and also free. =)

Actually, I sort of wish this was a lockscreen-enabled app and not basically just a photo collage creation app. Maybe then it could update the collage automatically and randomly at timed intervals. That'd be much cooler and more useful than the current app, though this is still great and well worth the download.

Hi glassadam,

This is Andrew again, the developer of Imagefusion. That is a very useful and oft-requested feature you are calling out. Before building Imagefusion, I took a look around all the hundreds of apps users can choose from and I made the decision to focus first on novelty and a fun experience. I'll keep moving the features forward and will definitely be adding auto update in the future. In version 2.5.

thanks!

@AndrewJByrne

This. Is. Awesome. Sauce. Totally reminds me of Zune background on PC.

What makes this different from Lock Buster? I paid fully for that app, and I use it as my daily lockscreen changer.

Hi Dadstar0410, This is the developer of Imagefusion. You are right, you have a ton of choice for the app you choose to be your lock screen provider. That's the beauty of an app ecosystem. I'm just trying to add another choice, and one that is free and free of ads. I also agree there are fantastic alternatives out there and I am thrilled to see Imagefusion up there alongside them! Happy lock screening! Thanks! Andrew

Shut up !!!! And download.. ;)

Unfortunately not. I think I am going to have to upgrade to a 1020 or 925.

Hi folks,

This is the developer of Imagefusion. I'm sorry I don't have a version for 7.8. It is a tough choice to make when building an app which set of customers to target first. Some of my other apps were built on Windows Phone 7.x - I migrated some to WP8 and built new ones too.

regards,
Andrew

*drools* no adverts, completely free AND makes my phone look funky? I adore apps like this; apps that offer creativity, fun and rich content. It's developers that show honesty and genuineness that wins my wallet and my heart everytime. Gimme a great app, and be prepared to duck from my flying wallet heading toward your face!

hi WPCrook, This is Andrew, the very happy developer of Imagefusion. I say "very happy" because feedback like this makes it all worthwhile. I'm going to quote you at some point! :-) Seriously, thanks a million and I hope you are enjoying all the updates! Thanks, Andrew (@AndrewJByrne)

Hope it will be updated with daily lockscreen changes... Anyway, the app is cool, though, and I'm using it as my lockscreen, replacing my Bing daily lockscreen ;)

Cheers EAS195! I've a backlog of features that I want to get to for Imagefusion and this is on my list. So, please stay tuned :-) Andrew - developer of Imagefusion

Please add daily lockscreen changes and it will be the best!

I'd love to know more about what folks want from that feature. I've my own ideas and others, but please don't hesitate to contact me through the email button in the Imagefusion app and I'll consider all options! For example, does it generate the daily lockscreen itself, do you create a set and cycle through each daily etc. Looking forward to bringing you more features with future updates! @AndrewJByrne - developer of Imagefusion

This is really awesome.

I wish it had a way to select pictures in which "I've been tagged" from Facebook.

Hi Nimdock,

Thanks for the great feedback. I'll have a look into that feature for a future update, Keeo those ideas coming! @AndrewJByrne - make of Imagefusion

Doesn't look like you can add owner info, so if your phone is lost some good Samaritan might be able to contact you (as it happened to me in the past, thanks to an app called Missing Phone).

Hi ChrisPS3, This is Andrew, the developer of Imagefusion. That feature is in my backlog and I'll ship it in a future release. My intent was to release something initially that differentiated itself from the other apps out there, but it is always a risky since some features don't make it above the cut line of the initial release. As you see, I've been trying hard to add more features that users are asking for, while also trying to stick to the design and user experience that has seemed to delight so many. Stay tuned for some text awesomeness! :-) @AndrewJByrne - maker of Imagefusion Thanks for the feedback! Andrew

just what i needed, thanks. more power to the dev :)