Creators Update now powering nearly 10 percent of Windows 10 PCs, AdDuplex says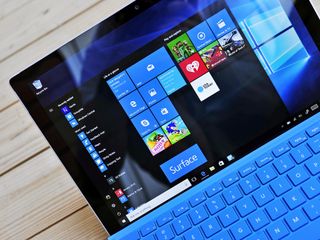 Though it only began rolling out a short time ago, the Windows 10 Creators Update is already installed on a significant percentage of Windows 10 PCs. That's according to the latest monthly report from AdDuplex, which shows the Creators Update (version 1703) is now installed on 9.8 percent of all Windows 10 machines. That's still dwarfed by the Anniversary Update at 82.1 percent, but a nearly 10 percent install base represents a healthy start just two weeks after the Creators Update began rolling out.
Another interesting tidbit about the rollout is the breakdown by manufacturer. According to AdDuplex's stats, Microsoft's Surface hardware is seeing the most rapid rollout coverage with more than 20 percent already running the Creators Update. Breaking that down, around 30 percent of Surface Books and 25 percent of Surface Pro 4s are running the Creators Update. On the whole, MSI is the only other manufacturer that comes close with just under 20 percent coverage, while the rest are right around or just below 10 percent.
AdDuplex's numbers are based on data collected from 5,000 Windows Store apps running the AdDuplex SDK, and numbers were collected on April 24. As such, actual install numbers might vary a bit, but AdDuplex's report gives us some pretty good insight.
If Microsoft follows the same slow, gradual rollout pattern that we saw with the Anniversary Update, it will be some time before Creators Update machines are the majority. That said, it's already off to a good start. As for Mobile, the Creators Update will begin its rollout for a fairly limited set of select phones today, so we could see the effects of that rollout in the next report. As for what to expect, AdDuplex estimates that only around 60 percent of phones currently running Windows 10 are eligible for the Creators Update because of the limited rollout.
Dan Thorp-Lancaster is the Editor in Chief for Windows Central. He began working with Windows Central as a news writer in 2014 and is obsessed with tech of all sorts. You can follow Dan on Twitter @DthorpL and Instagram @heyitsdtl. Got a hot tip? Send it to daniel.thorp-lancaster@futurenet.com.
Waiting for creators update on Lumia 640 release preview ring.

You'll get it faster on Production, lol. EDIT: I stand corrected, sheesh.

can not install this because it destroys my Lenovo T520 laptop.. Freezes after 10min, always. Have to keep AU still.. C'MOON!!

Install RS2. Do a Refresh from Settings. Profit.

i never update. Always fresh, clean install from .iso USB..

Freezes? Destroys? What does it do? Blue screens?

My Surface Pro 3 refuses to download it still, always an error

I used the Upgrade Assistant on day 1 to upgrade my Surface Pro 2. Worked seamlessly on first attempt...

These numbers are only correct if the computer has one of those 5000 apps installed. Not sure that is the case!

Since we all know (tongue in cheek) that nobody on Windows uses Store apps, then how can we have anybody using these apps? :D Really, though, I wonder what apps those are. I doubt any of them are first party/pre-installed apps. I have a number of Win10 systems that I don't use Store apps on, because they only do things like run my Plex server, or manage files. The only ones these types of systems have are the default.

I manually updated five PCs.

it's interesting how certain things get adopted quickly and others not... The update process seems for the most part automated and painess - it isn't publicized but can happen easily nonetheless. I just bought some smart light bulbs and discovered that the can be controlled by Cortana - I almost never use Cortana... But looking into my lightbulb's documentation they had some interesting tips - like type "what can I say" into Cortana, and see all of the possibilities of how one can use the AI, (even better when you click on" App that use Cortana" at the bottom...) And lo and behold, I've now started to use Cortana. For the most part it's just altering some habits but Microsolf should publicize more little things like "what can I say" ... But that's a whole other thread...

Only 17% of Windows phones are even running Windows 10 Mobile of any desription --that's shocking enough but only 60% of those devices are eligible for the Creators update. Terrible situation, where's the leadership in Microsoft concerning mobile?

17%! What a sad number that is. Retrenchment indeed.

There are still some problems, which is why I rolled back for now. While the issue with the location services indicator permanently appearing is only mildly annoying, the lag with transparency in the start menu is more of a nuisance. Personally, the deal-breaker for me is how no USB devices will work after waking up from a few hours of sleep on a docked Surface Pro 3, including the Type Cover. Has anyone else experienced this?

I am stuck unable to install as MS broke W10 with the Creator Update so it is no longer compatible with certain AMD chips in HP laptops. MS say talk to HP and HP say talk to MS. loads of people having this issue on brand new laptops..mine is 6 months old and can't install due to this yet it will install on 10 year old XP machines fine

Considering amount of bugs...i am surprise that people haven't uninstalled it...

I'll happily wait a few months before they iron out the bugs.

All my computers at home updated last week:9 in total
Windows Central Newsletter
Get the best of Windows Central in in your inbox, every day!
Thank you for signing up to Windows Central. You will receive a verification email shortly.
There was a problem. Please refresh the page and try again.