Cricket Wireless hit with extended service outage across the U.S. [Update]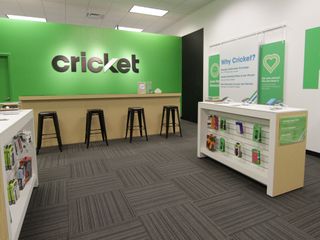 Update: It seems that Cricket has restored service to its customers. A Cricket spokesperson contacted us with the following statement:
Original story: Cricket Wireless is currently experiencing a major outage across the United States, leaving customers unable to use the prepaid carrier's service. As noted by ZDNet, the outage appears to have started for some as early as 1:00 p.m. PDT on Friday, June 3, and continues as of this writing.
From Cricket on Twitter:
Our team continues to work around the clock to restore full service to customers who have been affected.Our team continues to work around the clock to restore full service to customers who have been affected.— Cricket Wireless (@Cricketnation) June 4, 2016June 4, 2016
Cricket customers have taken to Twitter and Facebook to express their frustration:
Aside from its acknowledgement, Cricket has said little about the outage. We'll be sure to let you know if things change.
Windows Central Newsletter
Get the best of Windows Central in in your inbox, every day!
My 950xl is finally back online...by the time I made it to a store, 11 people had already been in before me.

Off the topic question !! Can anyone tell what is price of unlocked Lumia 640 in U.S currently ! One of my friend will be travelling to U.S and it will be a great gift indeed ! So anyone introduce about this plz tell about that :)

ATT Prepaid has the 640 for $30. Find it at Best Buy. You can unlock it for free via the ATT website, but you need to do the unlock before turning the phone on. I currently have the ATT prepaid 640 and it works okay on T-Mo, though I don't think I get full 4G speeds in my area.

Or at Amazon you can buy @55ish unlocked (or with unlock code for Att version). $30 at BestBuy is store pick up only if available and you have to wait 1-3 days to get the unlock code from Att.

Thanks to both u guys !! I will inform my friend about this !! Well can u clear me a little more about how to get the code from ATT website after buying from best buy ?? :) Nd p.s can U (if u U.S residents confirm whether the phone is still in stock with bestbuy thru ur sources )

You can buy thru best buy and to avoid any hassle of unlocking, just buy unlocking code at eBay...i did already a lot of times... Posted via the Windows Central App for Android

My husband and I got hit with this around 4:45pm Eastern yesterday. I got service back around 8pm but my husband didn't get his back until this morning around 7. There are a lot of angry people hitting Facebook about this since Cricket has been mostly silent.

Lol great to be on T-Mobile /Metro pcs now isn't it, good thing I'm not on cricket

So people are without communication with their loved ones or business contacts for hours and you find it amusing? I guess the world is full of all sorts of people.

Not if you have a land line.

You can't take a landline with you when you're out and about.

you know it wasn't long ago that the landline was the only option. we lived perfectly fine before we carried phones around all day every day. not sure how old you are but just watch a few movies from the 90s and that wasn't long ago and you'll see what I'm talking about Posted from Windows Central for Windows 10
on My surface phone

Lol, I'm old enough to remember landlines. It's what I grew up on and I still have one. They are handy but still flawed. Yes people got along without cellphones but I also remember a time when you could wait hours to find out about a family emergency and they don't help if the person you're trying to contact is away from home and on the same cellphone service. These days, to lose cell service is not trivial when it's the only means of communication some people have.

the world isn't going to end if you can't communicate with someone via phone for a day or so. I am not saying its okay b/c a service is being paid for, but please believe the world isn't going to stop because some cellular network went down for a bit Posted from Windows Central for Windows 10
on My surface phone

Some of you guys need to step outside your bubbles. No mobile service also means no mobile internet. In this day and age that is a big thing.

Believe it or not, there was no such thing as the internet as we know it today Posted from Windows Central for Windows 10
on My surface phone

yes i find it amusing as anyone else would Posted from Windows Central for Windows 10

I'll take losing service for a few hours over shoddy coverage any day.

Hey Raylz the moron. This can happen pretty much to any carrier.

Lol, I must've restarted and switched the SIM from 1 to 2 in my 950 XL 10 times, I'm ashamed to say I was blaming Microsoft :S. Anyways, I lost service at about 15:30 MST and got it back around 17:00.

It's fine. Most people do blame Microsoft

It took alot of years of being an IT to learn not to gloat about the following: Carrier outages, phone updates that cause problems, xbox live/ps4 outages, mac/PC/linux vulnerabilities/viruses because we all get them no matter the preference and when your turn cones up you look like an ass for what you said earlier. I hope cricket gets their service back!

Especially when you learn how complex everything is behind the scenes. Even with multiple redundancy systems, sometimes something "small" can go wrong and throw the whole system into chaos. Posted via my MotoE2

Since Cricket is a subsidiary of AT&T, should Cricket customers with Lumia 640 also be getting the Windows 10 update soon?

Love seeing all the morons posting "I better get a refund/compensation for this" lol

I don't think its moronic. When your service you paid for doesn't work then yes you should get credited or compensated. Its no different than going to a restaurant and their oven screws up. We ordered pizza last night and the oven broke. Already paid ans we could have waited. But instead we asked for our cash back and we were happy.

Mine went out around 4pm yesterday and after a reboot and some airplane mode toggling got back connected at 7am this morning. That's a 15hr outage! The lesson I've learned from this is not putting all your eggs in one basket. I'm moving the misses off Cricket to another network, handy that the Moto G runs on all of them. Posted via the Windows Central App for Android

I am glad for tmobile. Seems like from what I hear T-Mobile sitv wifi calling can avoid this.

My service was down for about 3 hours. My wife got a text so I thought it was fixed. Nope. It was out all night.

We were probably out for 12 hours her in the desert southwest. stuff happens. it's a flawed world. 'progress' doesn't guarentee perfection. no righteous indignation, jumping ship rhetoric from me.

WC y'all were way behind on this Im still getting messages people sent me yesterday afternoon. Currently restored now though.

Figures this would happen when I had to take a trip

My brother is on Cricket and lost service last night.Still off line this morning.

Mines went out as i was leaving work around 6:30pm so i went straight to the Cricket store that on my way home and the moment i walked into the store he asked me "is your phone not working", i told him "yea" he told me "it's a nationwide outage sorry bro". I laughed and told him i thought it was my SIM card, he told me people has been coming in cause they thought they didnt pay their bill on time. LoL. My service was back when I woke up this morning so it must have gotten restored between 1:30am - 7:30am

Thanks for this guys. I have been wondering if it was my SIM. Now I know I wasn't the only one. Mine has been out since after 5PM last night. My first thought was that it was the network, but I tried a friend's AT&T SIM which led me to believe it could be the SIM instead. This morning it's been going in and out. It's stayed on for the last 15 minutes, so let's hope it's fixed.

Finally network back here in north Columbus. Service was out since last evening.

Does 611 work for people now? No Bueno for me right now (but data works)

Yeah, its's working in the lone star state. I think they're still working on this stuff though. Text messaging just came back up for me about 15 minutes ago. Outgoing was working before incoming. Now all is well in my neck of woods.

Yea I'm a cricket store manager and that was extremely frustrating to us. But I've been using Cricket service for a little over a year and this is the first time something like this happened so I'm pretty satisfied overall

I was wondering if that was my phone, a local cell tower issue, or just Cricket in general. Glad to see it wasn't my phone. I still love Cricket even after this. The value is fantastic.

In built FM radio could become handy if network gone.

Carriers usually disable FM radio on their handsets.
Windows Central Newsletter
Thank you for signing up to Windows Central. You will receive a verification email shortly.
There was a problem. Please refresh the page and try again.