Cross platform file sharing app Zapya transfers its way to Windows Phone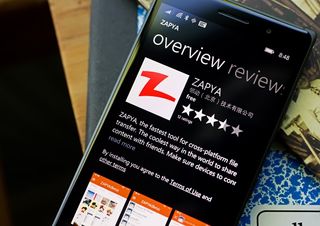 If you have been looking for an easy way to share files between your Windows Phone and other devices, you will want to check out a new app in the Windows Phone Store. Zapya is now available to download, letting you quickly and easily transfer files between your Windows Phone and other operating systems, such as your computer or friends with Android or iOS devices. Some of the great features found in Zapya include:
Free and Self-contained - Share files without costing mobile data plan nor connecting a WiFi router. Saving and Safe!
Fast and Furious - The fastest wireless file transfer tool up to date. Hook up any model of device in a snap.
Any file and Any size - Share photos, music, video, apps, PDF, and any other file types with unlimited file size.
Group Sharing - Meetup sharing enables any-to-any transfer with a group of people. 5 friends, 5X fun!
Phone Replicate - Duplicate installed apps, contacts, messages, pictures, and all media files from an old phone to a new one.
If you have been looking for a new way to easily share files, be sure to check this one out. Zapya is available as a free download, and is available in a variety of languages as well.
Download Zapya from the Windows Phone Store
Jared started off writing about mobile phones back when BlackBerry ruled the market, and Windows Mobile was kinda cool. Now, with a family, mortgage and other responsibilities he has no choice but to look for the best deals, and he's here to share them with you.
Another great cross platform file sharing application is "Send Anywhere." I use it often. The Windows Phone application is very simple to use. But I'll check out Zapya too.

Performs the same function as wifi direct right?

Is that there in our store...? Am not share if any other app has launched yet on windows that has functionalities similar to this one...

Easy transfer. To transfer files to PC, Mac, iPhones and Android phones without the need to install this app on the other device.

No its not
No app except candy crush has been ported to WP 8.1
Also the porting tools aren't available and are only for Windows 10

Well there are plenty of porting tools out there.. Xamarin, etc.

If porting tools are available only for W10, then how is candy crush ported?

Candy crush was ported for testing

But how?? If no tool is available..

Candy Crush devs had early access to Project Islandwood

They partnered with Microsoft to test porting of apps

Shareit is also iOS ported app... People who transferred file from Android to Windowsphone has felt it

Having same UI doesn't mean it's ported.

That's the dumbest reason of saying that an app is ported. Except for Candy Crush, none of the apps are ported. The tools are not yet in the hands of developers..

Shareit in wp don't have Hal of features of ios app

Wrong link.. Parsing error

http://www.windowsphone.com/en-in/store/app/zapya/512ddaed-2e27-4a41-b99...

Parsing error btw what's this we can share apps from one to other?

No, that's piracy. Windows phone does not support piracy.

Apps are available on WP store, how sharing apps would be considered piracy ? Cracking the paid ones is piracy.

In Android , people install apps by shared files without going to Playstore - it is piracy In Windowsphone , even we shared apps from other device , we have to follow install local apps from store , which is actually Genuine way of installing apps

Not really. There's stores other than google play.

And....that's where you go to get viruses/malware. Just a thought!

Pictures section not opening...

It takes time. But it does open.

What is "parsing error"? I get this when I try to download some of the apps on some articles

I had to scan the barcode to get it. The barcode works. The link, not so much.

its ported I suppose, don't see them putting so much effort in making a windows phone app from scratch

Without using your data plan? Does it work through Bluetooth?

Yes, without using data plan. No, it doesn't work through Bluetooth but it uses Wi-Fi to transfer from one device to other very quickly. It's awesome.

This basically is sharing over wireless LAN...i suppose for WP there was no native way to share files over WLAN

SHAREit is there since a long time. http://www.windowsphone.com/en-us/store/app/shareit/ab3c2f52-d13f-40b8-a...

That I think is applicable only if you are completely cloning your phone... Not a selective app sharing

But for the time being, it's not even launching :( Come on MS, we want sending .appx files. Users could then install it just like they install local apps in SD card. Would be very useful for updating big games in all devices with limited data plan

Nice way to share maliciousness app. No, app installation should only go through windows store. Use Wi-Fi if you don't want to use your data plan.

What if before installation, the phone would check on windows store, confirm its legitibility and then start the installation?

they actually just copied the change log from the Play Store app page.
WP version supports only pictures, videos and music so far.
even sending PDFs/documents isn't supported yet, neither is sharing to multiple devices. Though I'm guessing it will be added in future releases. :)

A comparison with similar apps,like SHAReit or EASY TRANSFER, by the author would have been very usefull.

Does it work Like the Flash Share app on Android?

No don't download. Its a disappointment. Not stable and restarts the device.

Is it like "xender" the one v have on Android?

Doesn't work on Lumia 520

So does it mean that I can send installed Apps and Games b/w Phones

Does this upload or store the file temporarily to their server, or is this a private and secure transfer?

It doesn't. Moreover it wont use internet , so no question of storing it on server.

it requires a data connection.

Does the other party have to have the zapya app installed or can it work with any app that shares content over WiFi ??

In that case , Easy Transfer is better

the receiver needs to have the app and has to be connected to the same Wi-Fi as your phone.

link for the App http://www.windowsphone.com/s?appid=512ddaed-2e27-4a41-b997-e786f146e138

the link appearing in the App and the website I marked that did not exist

Not optimised for 512mb devices, it crashed my L520 OS

Lots of errors, I can't get it to connect to the other windows phones on our wifi. In others words, I can't use it. Has anyone got it to work properly?

Same here. Even I am not able to get it to work.

I had mailed them a couple of months ago as all my friends on android had this app...and yes!Its here as promised!
Thanks devs!:)

Can this app really share apps?

not on windows phone. the features list is directly copied from the google play store page, hence it mentions some features which don't yet work on WP.

So I need to connect to wifi and open this app or else will ot automatically trigger that function.

u need to connect the sender and receiver phones to the same wifi and open the app on both phones.

Someone commented on WMpoweruser.com's post, he was talking about this App's developer which is not the same as of Android's Zapya... It didnt even opened on my Lumia 925 , App is Crashing while i try to open it...

I use Telegram Messenger, which already has this capability.

telegram requires a data connection. even on wifi it uses the internet connection.
zapya transfers on WLAN without any internet in between. hence it is incredibly fast too.

Is this like Xender? If it is am stoked!

Why does Windows Central promote application who does not work? Did you test it? Can you explain how it works? Why not doing a good review with other application to compare? The description is a cut – paste of the store description. Sorry, I expect the best coming from Windows Central.

they didn't exactly promote the app. they just announced it's arrival on the WP store, as is their job.

Maybe. I had a bad morning... :)

Share it does the same and its fast and smooth!!

Problem in download application via link give by windows central....i m very exited n I was waiting for this application for windows phone,,,thank you so much developers n I hope you also made Xender application for windows phone but tell me first how can I download this application from store bcz this application is not shown in windows phone store..plz help me quickly...i want to install this application in my Lumia 1520...plz...help me..!!

I've been using Feem Lite to transfer between my WP and PC. The only gripe is that the app stops under the lock screen.

Send anywhere on WP sucks compared to android and ios version...

Link not workin in windows central app and browser
Windows Central Newsletter
Thank you for signing up to Windows Central. You will receive a verification email shortly.
There was a problem. Please refresh the page and try again.