Crucible players will score a free gift if they login by June 1
Just as a way of saying thanks.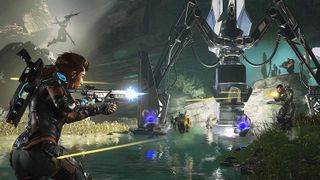 (Image credit: Amazon Game Studios)
What you need to know
Amazon is giving out an "Early Adopter Gift" to Crucible players.
Early adopters will receive 1,000 Crucible Credits, the in-game currency.
Players must login to Crucible by June 1 to be eligible.
Amazon Games' first title, Crucible, launched today, though it's been off to a rocky start. From delaying the release by a few hours to fatal connectivity issues for many players (some of our team included), Crucible has a long battle ahead to win an audience.
However, as a way of saying thanks to everyone who decides to put up with the teething issues — and perhaps to encourage more people to jump in during the early launch window — Amazon is giving out what it calls an "Early Adopter Gift."
This gift is simply 1,000 Credits, Crucible's in-game currency. I assume this means you can put it toward unlocking cosmetics, such as character skins and the like, but I wouldn't know since I can't login to the game yet.
In order to claim this gift, all Crucible players must login by 11:59 p.m. PST on June 1, 2020. After that, that free in-game money goes away.
Crucible is a free-to-play multiplayer game where players choose from 10 heroes, called hunters. The shooter action kicks off from there, with each character sporting their own weapons and abilities. To keep things interesting, players will level up as they go, unlocking new paths and builds for their character(s) of choice. Customization is what Amazon hopes will set Crucible apart from its competitors.
There are three different game modes to choose from, each with their own unique challenges and play styles. Be sure to check out the minimum requirements before you give Crucible a shot.
Free to play
A new shooter enters the arena

Try out Crucible, Amazon's first game, today at no cost. Choose from 10 different hunters and then tackle one of the three modes the game has to offer. Do so by June 1 and you'll get a free Early Adopter Gift of 1,000 in-game Credits.
Get the Windows Central Newsletter
All the latest news, reviews, and guides for Windows and Xbox diehards.
Jordan is a long-time gamer and PC hardware enthusiast. From the mid-90s on, he has constantly tinkered with computers and played every game he could get his hands on. Coming from a varied background, he found his passion in writing about Android in 2016, which also launched his writing career not long after. Now, Jordan is an avid gamer who just loves sitting down with tea or a glass of cold water to play whatever game has his attention (or he's reviewing), and he's lucky enough to make a living out of doing so. You can find him on Twitter if you want to chat: @jccpalmer.