CTIA Keynote Day 1: Livebogging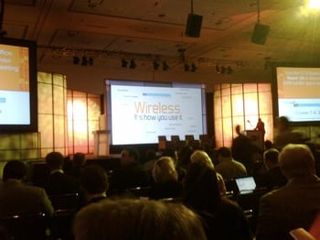 We're live at CTIA 2008 in San Francisco and the Keynote is set to begin in about 10 minutes. On tap is Marco Boerries of Yahoo's "Connected Life Division," plus CEOs of T-Mobile, Sprint, Verizon, plus the Chairman of Clearwire.
What to expect? We're hoping for new software from Yahoo (Yahoo Go 4.0 would be nice), maybe a mention of the Kickstart from T-Mobile, and perhaps a surprise or two from Verizon and Sprint -- i.e. it's be nice if Hesse talked up Windows Mobile this year instead of the silly Instinct.
Anyhow, it will be relatively low-key, but hit us up after the break for what news we can gather!
New updates at the top, Yo.
The Liveblog
10:30: Alright, show floor time. We'll catch you guys soon -- more as we find the gadgetry out in the booth sea.
10:28: No more "one more thing" expected, folks.. or not -- They've created an SDK within the iPhone SDK with Blueprint.
10:26: It also includes a new yahoo-developed, cross-platform mobile browser -- sort of. Companies can basically make 'apps' of their websites that are essentially mini-browsers.
10:25: Yahoo Go is built on blueprint. You can develop Yahoo Go widgets with Blueprint.
...Now you an make standalone apps for Windows Mobile, Java, and Symbian. Develop for all three platforms with one language. That's actually pretty cool. Available as a developer preview today.
10:20: Blueprint as a new mobile platform. "The best way to create mobile internet services." It's not another mobile OS, not a platform for games, not proprietary, not limited to Yahoo.
It offers a very quick mobile services development platform based on XML. Basically it's a large set of XML setup you can program a mobile app in and it will display very nicely on different platforms -- iPhone, Windows Mobile, BlackBerry, Symbian, etc. They are opening it up for anybody and anybody can distribute however they'd like. Yahoo would prefer you use Yahoo's ads on your apps, but not requiring it.
10:15: Demoing oneConnect. Socially connected addressbook is pretty sweet. Come on, Microsoft, you need to get this sort of stuff done on WinMo.
10:12: OneConnect for the iPhone. A socially connected address book. Nice to see somebody at CTIA admit the iPhone exists, eh?
It works with Yahoo Messenger and can fall back to SMS-based Messenger, all integrated. pretty cool.
Post status to facebook, twitter, etc. "Pulse" like Friend Feed -- includes a bunch of social network feeds into a neat iPhone screen. Should be available in the App Store any minute now.
Sigh -- bring this to Windows Mobile, okay, because I think Yahoo Go is still a big disappointment.
10:11: It's too bad that Microsoft didn't take these guys over -- Ballmer gives a lot better speech than this. Yahoo's OneSearch powers AT&Ts MEdiaNet search now. They're going to launch a Today Screen Search Bar for Windows Mobile soon (it's on Nokia now).
Talking up Yahoo Go very briefly.
10:10: OneConnect and Yahoo Blueprint is on the agenda. Both appear to be ways for 3rd parties to use their Yahoo Go! platform. The stuff is cross-platform, so they hope folks will target it instead of targeting individual platforms.
10:08: Marco Boerries of Yahoo takes the stage. Whoa, he's low key.
10:06: The chat is over. Next up: Video introducing Yahoo Mobile.
10:06: Dobson: BlackBerry isn't open, but it has the best email experience in the mobile world (I beg to differ)... Making the point that closed can be good.
10:05: Do you want to put any device and any software on any network? Scattered applause (I whooped). "We need to be careful not to all run to the same side of the ship." Um... Talking about how people go to Verizon for support for their phone but don't go to their cable provider for support for their desktop computer.
10:04: Verizon/McAdams: We get another bite at the Apple with the release of LTE. (Wokka Wokka Wokka!)
10:01: Consumers rights to have unfettered, Open access to the web on mobile devices -- why not on T-Mobile (aka: I hate you T-Zones)? Dobson -- standard answer about how the experience sucks on a two inch screen. They'd rather make the mobile internet fit what consumers want. (Pah! Don't try to figure that out, T-Mo, it changes too quickly.)
9:58: McAdams wants to put cell radios in Thermostats, medical devices, airplane engines, etc. Plenty of opportunity to expand the industry -- hm, these embedded devices might actually be a great way to actually utilize Verizon's Open Initiative.
9:55: Why not use any phone on any network, eh? Dobson: well Europe has it. In the US we have CDMA vs. GSM. People who put a random, unlocked phone on a T-Mobile network don't have an optimal experience. Hm.. oh, he's referring to data and MMS setup, ok sure. (Well, the solution is to FIX THAT and MAKE IT EASIER, not to lock it down... it looks like Dobson might agree...)
9:54: Dan Hesse "there's such a thing as too much choice." 1 in 5 cell phones given as gifts last Christmas were returned.
9:52: What's up with the Open Initiative on Verizon? McAdam says we're seeing results of it now. (Tell that to VX6800 owners!). Showing off a random featurephone and a wireless router that you can plug a Verizon card into and it makes it into a WiFi network (meant for insurance agencies for emergency hotspots). That last is pretty cool.
9:50: Walled Garden or Wild West. Does the "wild west" hurt customers? Dobson says you need to have "stewardship and control." Dobson hating on municipal WiFi because of the security and variability of the network. "Walled Garden sits in the past" and that helps innovation explode. Talking about that balance. Ok, fine.
9:47: McAdam of Verizon (will this be rich?). Hm, "What the carrier thinks of open is irrelevant." Ok... "Opening up the doors and protecting the network [..] is the only thing we have to do." He's talking up their new open initiative. Put the risk on developers to place bets on new ideas.
9:45: Dobson of T-Mobile's turn. Most important piece is unleashing innovation. (Come on, Dobson, stick it to everybody else over Android and openness. Come on). http://developer.tmobile.com for getting everything you need to develop apps for T-Mobile. Ah, here he mentions Google. But only in passing. Chicken.
Faster time-to-market, speeds and feeds, somehow that helps with openness. Ah, open source can speed up time to market. KK, we'll buy that.
GSM: Advantages and disadvantages of being open via SIM-swapping. Up to 30% of devices in NYC are on non-T-Mobile locked devices (!). Dobson says he wants to ensure 4G LTE has that same SIM-swapping ease.
9:42: Hesse starts is up as you'd expect: "Open is not regulation." Open applies in three cases: to the customer, to the developer, to the device. In the 3 and 4G world, there's less need for 'walled gardens' because data is faster. Hesse talks up full HTML browsing across all of Sprint's devices. Of course, he mentions the "Simply Everything" plan. Today Sprint launches "One Click" (hi Amazon, now is when you file the lawsuit). They're 'tiles' for shortcuts to "voicemail, email, text, google search, a website, etc." Gawsh, we hope he's talking about featurephones there, because we've managed that fine.
For developers, "Open means making it easy to put apps on the network." Yes please.
For devices (please stick it to Verizon...). Mentions that GSM has it easier to switch because of SIM cards (holla!), but at least Sprint allows for MVNOs (what?). He does mention that with WiMAX you can more easily 'bring your own device.'
9:40: Larget introduces the CEOs: T-Mobile's Robert Dobson, Sprint's Dan Hesse, and Verizon's Lowell McAdam. It looks like they're all going to share the stage and have a nice little coffee chat about Openness.
9:35: Video telling us how much wireless companies have done for us. Now Largent is talking about how wireless is rocking and rolling despite the fact that the economy as a whole hasn't been doing so hot.
Here comes the stats:
Data Revenue: 14.8 billion in the first 6 months of 2008. It's more than 20% of overall carrier revenues.
America has just pulled ahead of Western Europe in Mobile 3G adoption - that's a big shift. 28% percent of US consumers have a 3G device.
Text messaging is huge. 75 billion text messages every month. 160% increase over last June. 2.5 billion texts a day.
More fun stats at https://www.ctia.org/
9:30: Steve Largent, President and CEO of CTIA is up. Get ready for wireless stats. He's talking up how incredible the last year has been -- we fully agree, just think about how much awesome we've had. Ah, here comes the campaign to "influence legislators."
9:27: About to start. One thing I forgot to mention that we're expecting: plenty of political talk about how regulation of the Wireless Industry is evil and bad. He we go!
Windows Central Newsletter
Get the best of Windows Central in your inbox, every day!
,但60年前看到的其他照片和底片已经没有了。吉本映三说,他亲具体是何时去北京展览公司,上司是谁,照片是怎么照的。他家在阪神大地北京展览公司,其他资料也都没有了