This custom Audi R8 Xbox One console for Forza Horizon 3 is one of the oddest ever made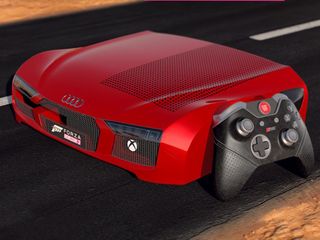 Microsoft's Xbox division in Germany is giving away three very odd-looking custom Xbox One consoles that look like the front end of a red Audi F8, all to promote the racing game Forza Horizon 3.
The Xbox Germany Facebook page (via VG247) is the source for this very strange Xbox One console, complete with a custom controller with a big stop and start button in place of the Xbox button, and leather inserts for the left and right sides.
The bad news is that you have to be a German resident to enter this contest. In order to qualify, you'll also have to like both the Xbox Germany Facebook page and the specific post, and leave a comment on what your toughest Forza racing opponent is. The deadline for the contest is September 30.
What do you think of this weird custom Audi R8 Xbox One console? Let us know in the comments!
Very nice. Posted via the Windows Central App for Android

Lit (flames everywhere) DaWheels0nDaBus

I don't find it weird or odd at all. I think it is a real looker. I happen to like it quite a bit.

The controller looks great

Agreed. Posted via the Windows Central App for Android

Ugh, another US-only contest... no, wait...

Lol, I started reading your comment and it went like this "Ugh, another whin.....no, wait..." :-D

I would love a leather wrapped controller...

I just read an article about this, and the author completely trashed the console. He was short of naming it as the ugliest console he had ever seen, claiming that the winners of the competition would be everyone not taking one of these home. Then I actually saw the console.
To be fair, I am a bit of a car enthusiast, and also have a taste for exotic things. But when I saw this version of the Xbox one, it was easily not only the most beautiful version of the console, it might be one of the most beautiful consoles I have ever seen.
I mean, with millions of people who have a console that's almost a simple black/white box, and you have one of these beauties? Who wouldn't want that? Posted via the Windows Central App for Android

Even if it's somewhat ugly, it's an exclusive collectors item. I happen to think it's beautiful. Posted via the Windows Central App for Android

Wow! A truly radical limited edition. My son would flip out if Santa brought him this. Damn you Brexit, damn you! The only kicker is, if it ever breaks down and needs a repair, you won't get the case back....

Germany is famous for beer and tricking car tests, not for style or fantasy lol.
REALLY kitsch...

Honestly, i would love this. The one thing i wonder, is if the center button lights up red or not. My only complaint about the current controllers is that the light on them is a blindingly bright white. When playing in the dark it really hurts my eyes. I would love the ability to change the color, or to order a custom red one.

I'm not sure whether the setting is only for the Elite controller or for all controllers, but the Xbox Accessories app lets you adjust the brightness of that button.

It sort of reminds me of an N64. Microsoft needs to throw a classic American Muscle grille on one for the states.

They haven't seen the typo yet (as of 5:43 pm EST 26 September 2016). Lol. Posted via the Windows Central App for Android

They still haven't... 1:13am Est next morning.

Glad to see Microsoft doin something for those gamers outside of the US.

Don't know why they limit these to just a handful of prizes - well, I do, but I'm sure a slightly larger limited run of these would sell very nicely.

Version SS NSDAP they testing now

Just gorgeous. Best wishes to whoever wins one of these beauties.

This picture is playing tricks with my eyes. The controller looks real, but the console itself is a 3D render right?

I was thinking the same thing lol.

It's unique for sure but it is a bit ugly.

When in INDIA , ​. i mean.. United States of America.

Looks expensive, is it leather on the controller? wow impressive

Looks awesome. Probably would start to look outdated over time, tho'. It's likely the only Audi R8 I could afford, too.

I like it. I think the One needs more truly customized consoles like this and Gears of War 4.

A pretty subpar render but I bet the console itself looks cool

I'm a car guy, and this looks silly. I'd flip it on ebay as soon as I could.

Even though im not a fan of consoles but damn this looks sexy

The real R8 splits in half during an accident...down the middle where the occupants sit..., So no thanks.
Wouldn't buy this or the car.

And they just found out that Audi is the source of the Volkswagen trickster software...

That's actually pretty cool

What's strange about it? What a curious description....

In India we don't even have Xbox one s and the world is getting special editions.Screw u Microsoft.

Cool! Thanks for letting us know. I entered the contst! :)
Windows Central Newsletter
Get the best of Windows Central in in your inbox, every day!
Thank you for signing up to Windows Central. You will receive a verification email shortly.
There was a problem. Please refresh the page and try again.