Custom tags are coming to OneNote for Windows 10 and Mac
The custom tags will make it much easier to keep your notes organized.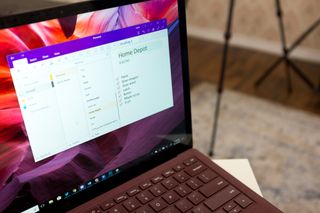 (Image credit: Windows Central)
OneNote is gearing up to add another highly requested feature on Windows 10 and Mac, intended to make it easy to keep your notes organized. Starting in January 2019, both versions of the app will pick up support for custom tags, allowing you name and add icons to keep notes sorted however you please.
Creating tags won't require any new settings to be enabled, Microsoft says. Instead, you'll soon be able to click the "Tags" dropdown to create a new tag. From there, you can designate a specific name for your tag and give it an icon of your choosing. You'll also be able to see any tags you've previously deleted, along with custom tags created from another device or by other users in that notebook.
Custom tags in OneNote should begin rolling out on Windows 10 and Mac over the "next few weeks," Microsoft says.
Dan Thorp-Lancaster is the former Editor-in-Chief of Windows Central. He began working with Windows Central, Android Central, and iMore as a news writer in 2014 and is obsessed with tech of all sorts. You can follow Dan on Twitter @DthorpL and Instagram @heyitsdtl.
OneNote is one of the most beautiful apps I've ever seen and it's constantly improving, but unfortunately, you can't get rid of text boxes, which cause me a lot of trouble: to start with, a text box prevents content from properly adapting to a different screen. I wish that, in this sense, OneNote behaved like Evernote, where you just type text and add images as in a word processor.

DavidGDFC, do you mean you're having trouble deleting text boxes, or is it that you prefer a text input system that didn't rely on text boxes? I think it's the latter, but if not, rest assured you can delete them. Personally I prefer the OneNote way of doing things (I left Evernote a long time ago) because it's truly free-form, and when you're learning or brainstorming or creating it's better than (probably) all the alternatives out there. If I have ink or an image in one corner of my document, I can add text there anytime.

I also like that OneNote uses text boxes.

Actually, I'd argue that dependence on text boxes makes it decidedly NOT free-form.

I think this is great and a natural extension of OneNote. The book/page metaphor, in many ways, is more appropriate for a range of different work than the pure tags system, but it's still missing something if you can't properly implement tags (such as via hashtags). So this is progress.

This might be the first feature coming to the UWP app only (vs the Win32 app) that might actually make me consider using it. Hmm...

iirc the win32 version already has this and hence it was requested for the UWP.

Hans, yes, this has been in the Desktop version since launch, along with the ability to auto-generate pages based on Tags (incredibly powerful and useful, say to see all notes across various source pages and subjects that are all tagged with a particular person or subject, or as a To Do, or whatever). In fact, lack of the tags feature has been one of the loudest and most common complaints/reasons users of the Desktop version give for not switching to the newer UWP version, when Microsoft points out that they are no longer developing or distributing the Desktop version (if you want the Desktop version now and have Office 365 or Office 2019, you need to get the old 2016 version). The other big reason users give for not switching is lack of support for local and encrypted notebooks. The Desktop version supports both, but the UWP version only supports cloud-based notebooks on OneDrive.

This is great news and might be enough for me to switch from the Desktop version. I think it's still missing a bunch of other features from the desktop version and I don't like that I can't keep my Notebooks and sections both visible at all times on the left, but neither of those are showstoppers for me making the move. I also have a bunch of local notebooks that can't stay local if I want access to them through the UWP OneNote, but I'm reasonably comfortable with OneDrive security. Maybe if I just put my my more security-sensitive notes somewhere else, then I don't have to worry about it all. Does anyone know if the UWP version supports password protected and encrypted pages?

Good, now add:
1) Indexing so that search would be as fast as on 2016, instead of dragging on forever.
2) Offline .one file support. Not all companies can put their stuff on Microsoft's servers.
3) Add (an option) for 2-line ribbon.
4) Add customiseable Quick Action Bar
6) Add White, Dark Gray and Black themes.
7) Whatever else is missing from 2016. Until then, I'm sticking to 2016.

Okay, someone help me understand the use of custom tags and why it was a much-requested feature. I use OneNote as my go-to for lists and note-taking, including inking, but I definitely don't use it to the fullest extent. I'm not sure what tags bring to the table....so I'm open to being educated.

As a salesman who travels the state, tags will make organizing my notes even easier. I already have subsections inside sections for my territory where I have the high level subsection the county of the states, then new sections inside the subsection labelled as the cities in the county. Then, pages tiered inside pages to make for each business I visit. Tags will allow me to organize my pages by zip code, for instance. I have been using Onenote for my job almost like it is a third arm. Without it, I'd be an unorganized mess! Keep it up, MS! This feature is going to be amazing!
Windows Central Newsletter
Thank you for signing up to Windows Central. You will receive a verification email shortly.
There was a problem. Please refresh the page and try again.