Customizing your Windows Phone Lockscreen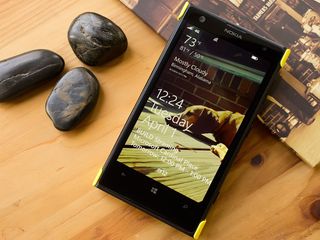 Our Windows Phone lockscreen serves two purposes. It gives us an opportunity to glance at key information without having to unlock our Windows Phone and it affords us an opportunity to stylize our phone's appearance.
Through the native lockscreen settings you have the ability to customize the wallpaper that will appear and tweak what bits of information will appear. In addition to the native Windows Phone lockscreen settings, there are plenty of apps available in the Windows Phone Store to let you customize your lockscreen further.
While this may be old hat to some, we'll touch base on a few of the options available to customize your Windows Phone lockscreen after the break.
In-House Settings
The in-house or native settings for your Windows Phone are clearly labeled on the settings menu under lock screen. Native settings include:
Background Image: This is where you set your lockscreen wallpaper. You can choose an image from your Pictures Hub or choose any of the Windows Phone apps that offer lockscreen support to provide the image.
Notifications: Here is where you choose an app to show detailed status/information from on your lockscreen. The most popular app may be the Windows Phone calendar but other options include Messaging, Email, or apps installed that have lockscreen support.
Quick Status Widgets: The native lockscreen settings supports up to five quick status displays. These are the small icons that appear on your lockscreen to notify you of new emails, missed calls, new voice mails, etc. Several third party apps will have quick status support as well.
Two additional settings are present with the native settings. You can turn on/off the display that shows the artist when playing music and set the time limit for when the Windows Phone screen times out and the lockscreen is set. The current time range is limited to 30 seconds, 1, 3 and 5 minutes.
One quick note about using a third party app for your background image. There is a shortcut key on the native settings menu that will let you open that particular app and go directly to its lockscreen settings. This is a nice feature in that you don't have to dig around the app to get to these settings.
Windows Phone Lockscreen Apps
Along with the native settings, there is a cornucopia of Windows Phone apps that have lockscreen support. Some allow you to populate the Windows Phone lockscreen with images and information generated by the app and some will offer you a wider range of customization tools. For example, Amazing Weather HD (store link) offers lockscreen support that will let you display weather information and custom images on your lockscreen. Today Widgets (store link) on the other hand will let you customize your lockscreen background image and display the weather and daily quotes to your Windows Phone lockscreen.
In addition to Amazing Weather HD and Today Widgets, here are a few of the many Windows Phone apps that offer lockscreen support.
Wallpaper Patterns (free): If you are content with the native lockscreen settings for quick status items and information sources but want to spruce up your wallpaper, Wallpaper Patterns offers and endless source of color patterns to spruce up your Windows Phone. (Store link)
Awesome Lock (trial/$1.49): Awesome Lock lets you customize your lockscreen with images from four sources (Bing, your Galleries, 500px, and Facebook) or you can settle on a solid color. Along with the custom wallpapers, Awesome Lock can populate your lockscreen with weather forecast, stock information, news headlines, calendar appointments and twitter feeds. The customization goes a bit further by letting you set the news feeds, stocks to highlight and Twitter feeds to pull from. (Store link)
WPCentral (trial/$.99): It is time for a shameless plug for an app that our own Jay Bennett has done a fantastic job designing. Our lockscreen support adds the latest Windows Phone and Microsoft news items on your lockscreen to tease you just enough to dive into the full app. (Store link)
LockMix (free): Much like Today Widgets, LockMix lets you customize the lockscreen wallpaper and add informative widgets to the lockscreen layout. Image sources include Bing Images, 500px, a solid color or images from your Pictures Hub. Widgets include appointments, battery meter, Chuck Norris facts, news, RSS feeds, weather and more. (Store link)
Instagram Beta (free): While Instagram is a popular photo-sharing app for our Windows Phone, it also has lockscreen support that rotates your lockscreen wallpapers. The app offers two image feeds, home feed and my feed, and will rotate the images periodically. (Store link)
Photostream (free): Photostream taps into Flickr, 500px, your local photo albums and OneDrive albums to rotate your Windows Phone lockscreen wallpaper automatically. The rotation can be set as quickly as every thirty minutes to once a week and you have the ability to choose from image categories or specific albums. (Store link)
Weather Flow (trial/$1.99): While Amazing Weather HD is one of my favorite lockscreen apps, Weather Flow is not too far behind. The lockscreen support offers four image source options and three weather layout styles. (Store link)
Pokefondos ($.99): If you are a fan of Pokémon and minimalistic wallpapers, Pokefondos may have just what you're looking for. The app has an extensive collection of minimalistic renderings of several generations' worth of Pokémon characters. (Store link) Note: there is a free Lite version of Pokefondos that you can find here.
So what is your favorite lockscreen setup? For me, I use the native quick status icons for missed calls, new SMS and email messages with the Calendar as my app to show detailed status. I opted for Amazing Weather HD mainly because I can overlay the weather information on my own wallpaper image. It is a feature all weather apps with lockscreen support should have.
We've touch on several apps in the Windows Phone Store that offers lockscreen support as well as the native settings. If we've missed your favorite lockscreen app or would like to recommend your lockscreen set-up, feel free to sound off in the comments below.
Windows Central Newsletter
Get the best of Windows Central in your inbox, every day!
George is the Reviews Editor at Windows Central, concentrating on Windows 10 PC and Mobile apps. He's been a supporter of the platform since the days of Windows CE and uses his current Windows 10 Mobile phone daily to keep up with life and enjoy a game during down time.
Which application on lockscreen is used in windows phone 8.1 launch ?? Any idea Guys

And please make some video about new closing of apps in multitasking

Slide down or hit X to close apps that's pretty simple?

But why people are so obsessed by this thing? Why don't leave that the OS make it for you?
Take it easy and tap the start botton (or the back botton), so you have no frustrations and don't have to worry about saturation of RAM, power consuption, ect... (is the OS that care about all this stuff) and when you return to the app you have less power consuption and more speed launch

app by Rudy Huyn, it uses proper API(of wp8.1) so it's not just a wallpaper like now(wp8)

please link me i wanna see the post

I use Simple Calendar as lockscreen app :3

I'm just waiting for the lockscreen apps they showed at build.

Same here.. Awesome app from awesome Rudy Huyn.. Any light on when we can see it in action?

I'm waiting on WPC to get a live tile. Nothing fancy, just a counter to how many new articles are available since I last opened the app.

You forget the /s on that?

They've had a live tile since Day 1 I believe. I've had a live tile since my HTC HD7.

Mine's not updating for some odd reason then.
Aha! It's disabled by default. Found the setting to change that noise.
Next step, get WPC listed as a news feed in the Bing News App.

WPC app has live tiles. and it'll automatically refresh 30mins

Why are you waiting for a feature that already exists?

Forward and backward is present in ie in wp8.1 by swiping left and right as shown by windows phone lovers in youtube along with file picker.

For sure my app Lockscreen Texter Lite isn´t as powerful as the above mentioned ones, but you may try it if you just want to add some text and customize it a bit. http://www.windowsphone.com/s?appid=827e3900-8b5a-4256-b314-3d6021545679

Downloaded it ;) Tried it and like it. :D you should let us pick more colours for the font and also the text background ;) but it's nice still

Thanks! More colors are coming, but cant say when. Well, there is a lot planned but i dont have really much time. Also need to improve my two QR code apps, and investigate whats possible with WP 8.1.

I bet these lockscreen app will be more awesome with WP8.1 . I'm so excited !

paper shuffle is my lockscreen app. Rotating selection of pictures that i choose. And even a setting to have certain images not display during work.

When i set show artist while playing music it always shows a gray color wallpaper nothing else, why so? Same happens with me Xbox music live tile whiling playing music it goes gray if tile size is medium or large. Am i the only one with this issue?

Install MPAtool from the store. It lets you download the artist images for all your artists. These images will be shown on your lockscreen and the music+videos hub when music is playing.

I already have images for all my artists. I download music from nokia mix only. It shows gray wallpaper only even though hv images for all my artists :|

You need background images to show artist on lockscreen, that's why you should use MPAtool. That's how I solve this problem. It's not about the artist images in little box on music hub.

There is 1 more image for artists. Check MPAtool app, you will get a video also on how to use the app

And even while playing music with artist pic the background is of gray color only. Has this something to with my Xbox music settings?

There are 2 images for a song. 1st is artist image and 2nd is background image. You can use MPAtool app to get both images.

I heard about wp 8.1 having lockscreen themes, which can change default icons of quick status icons.... Also that MS will not share API for these with devs just now, but in future they will.

I'm using lockmix, its free and awesome! But updates kinda slow

Just a subtle red screen to match my red Lumia 920 and standard screen showing email, texts, calls etc. Simple and clean, like the Metro style :D

Why are the posts over here so boring of late? :/

Is there a reason that wpcentral's quick notifications don't work on the lock screen? Or is it just my phone?

The only thing I don't like about the native bing lock screen support is that it has no localisation. Eg. on some days it show an image completely different from the bing image of the day.

Instagram BETA is the best for my LockScreen.. Dat is the only reason why i am using the App.!!

I wrote and use simple lock calendar, its free, has a clean meetings display and can connect to facebook for images.

For some reason the quick widget for WPCentral never updates in my 1020. It is there to use it, but it never works. I want it to work... :(

Awesome lock is what I use - gives me just enough information and you can customize it to exactly what you want to show up

Don't forget about the High-Contrast mode buried in the Ease of Access folder under settings. Turning everything into an all black-and-white format on the phone is nice, but it also makes for a VERY clean look to the lock screen with NO image.

I'm simple and like Bing Weather for my lock screen.

http://www.windowsphone.com/s?appid=8a18fab4-c0c6-4beb-97ba-e14ec8616185

Best Weather App: http://www.windowsphone.com/s?appid=8a18fab4-c0c6-4beb-97ba-e14ec8616185

Oh, and George you forgot to mention, on purpose again, Weather To-Go. And thanks also for letting your readers know when it was available for free for them to download. That was really serving their interests. Not. Oh, of course though, its one if those apps where you say, how did Daniel put it? "meh" to, despite a 4 to 4.5 star Store rating. Sure, I understand.

Dean, has anyone ever told you that you'll catch more flies with honey than vinegar? I personally would've taken a look at the app you mentioned had it not been for the sarcastic post...

You have a point, but enough is enough.

I prefer lockmix cause I can customize it how I like and change font colors and wallpapers. It took a few app to find the one that suites me and what I need.

Live lock screen por favor

Tried awesome lock and really liked it but it ate my battery. Down by over 50% in just over two hours. WTF? I had the weather on there with the calendar and had it changing pics every 30 min. If having this stuff enabled is the issue then whats the point? Had to uninstall.

Awesome lock. Love all the extras

I make sure that my ICE information (and lost phone too) show on the lock screen. I believe that i used LockMix for this. Since Ilock my phone with a password, this is the best way for me to be informed if I lose my phone, or for me ICE contact to be notified if somethiong happens to me. IMHO, this should be an option that is bult into the O/S Lockscreen Settings screen.

+1 THIS!!! This is a phenominal idea!

Does anyone know if the app he has for weather on the lock screen is out right now, and if so what is it? It looks nice.

Got excited & thought you are talking about the Lockscreens they showed at //Build/ ... an app made by Rudy Huen I think. Anyway, I use Paper Shuffle for Wallpaper (changes every 30 minutes) , Missed calls for the Main Notification & for the secondary ones I have,
1 - Texts.
2 - Emails
3 - WhatsApp.
4 - Mehdoh.
5 - LockTemp.

You should just make this article for WP 8.1 though

I use a combination of Awesome Lock and the Bing Photo of the Day. All the information I need and a new pretty picture daily.

For Glance we can put up our own photos from the album by Glance Background betta app.

Can you tell me the brand and model of the back cover you're using on your phone? It looks NICE!