Dead by Daylight for Xbox One review: Four players struggle to escape an invincible killer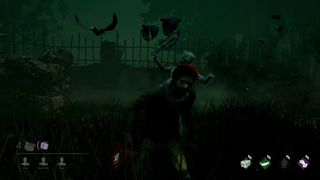 Dead by Daylight is an asymmetrical multiplayer horror game from Behaviour Digital. Four survivors must try to escape from a vicious killer by repairing generators and using stealth. It's a challenging game that unfairly favors the killer.
The most dangerous game
Four humans and a monstrous killer find themselves trapped in a deadly trial by an otherworldly being known as the Entity. The survivors have only one goal: to open the gates and escape, whereas the killer must capture each survivor and sacrifice them to the Entity.
Dead by Daylight for Xbox One includes quite a few maps, including several that were sold as paid DLC on Steam. Map locations include swamps, junkyards, an asylum, and other creepy places you might find in a horror movie. Every map features a number of randomly distributed electrical generators, meat-hooks on which the killer can impale survivors, a basement filled with hooks and an item chest, and two locked exit gates.
Generator X
The four survivors must work to repair five out of seven generators, which will open two gates from which they can escape. But turning on a generator is no simple thing. You have to hold the interaction button for a painfully long time to fill up the generator's meter, and you're vulnerable all the while. And more dangerously, quick-time events called Skill Checks pop up at random intervals during the repair process.
These take the form of a circle with a spinner that moves around the circle. If you can stop the spinner on the white success portion of the circle, you'll pass the skill check and gain Blood Points (currency for upgrades). Fail to stop the spinner in the success portion of the circle before it makes a rotation and the generator will make a small explosion, resetting some of the progress towards its repair.
Worse, the killer can detect the sound (represented visually on his or her end) and be alerted towards your location. Multiple players can team up to repair a generator, speeding up the process. But anyone who fails to pass their skill checks will hurt the overall progress and alert the villain, so teaming up is sometimes riskier than repairing by yourself.
The repairing mechanic is a huge, integral part of Dead by Daylight's gameplay, so it's a shame how unforgiving it is. The QTE circle only appears right as the line starts moving, so you have next to no time to acclimate yourself and take in the success line. And stopping the spinner on either edge of the success line still counts as a failure.
The only hint you have that a skill check is about to start is a sound effect that plays just before the QTE appears. Problem is, many of us tend to party up and voice chat with friends in multiplayer games of this sort. If your teammates are using their microphones, you probably won't even hear the sound effect. The developers really need to add a visual indicator to go alongside it, and perhaps make the timing or hit detection on the minigame more forgiving as well.
Killer elite
Four humans against one superpowered killer – what can the survivors do to deal with their stalker? Mostly just run away. The humans have no attacks or offensive abilities at all, so they must try to outmaneuver the killer by crawling (the safest option, but slow), walking, or running (which creates noise and a brief footprint trail only the killer can see).
Most of the killers (there are six to choose from) can outrun survivors, but the humans can vault through windows and over objects faster than the monster. This imbalance creates a very fun sense of dread and tension. You feel seriously screwed whenever you're being chased, and a massive sense of relief should you manage to escape.
When the killer catches a human, his or her first strike will injure the player and cause their character to bleed (creating a visual trail) and moan (a sound cue). Any additional hits and the players goes down. Next the killer must carry them to one of the hooks hanging around the level and stab them onto it. You can occasionally wriggle free from a hook (it's very random), or be rescued by other players – but only if they pull you off in time.
Keeping a few players alive is very important, because it's so hard to reach and repair a generator when you're the only one left. The killer will check the generators and nearly always find the last remaining player. So of course, you want to rescue hanging players.
Problem is, there's nothing stopping killers from waiting next to a hanging player until they bleed out. Survivors have literally no offense or defense against an unoccupied killer. Get close while trying to rescue someone and you'll almost certainly get knocked down and hung too. This is a big design flaw – there needs to be some mechanic to discourage killers from staying too close to hanging players.
Killers view the game from a first-person perspective, whereas survivors get a third-person view and thus greater situational awareness. But given that killers can see every broken generator and hook at all times, and can remotely detect players quite a lot of the time, the odds are stacked too much against the survivors. A good killer will win nearly all of the time, which means that one player is having a better time than everybody else – by design!
Matchmaking woes
Dead by Daylight is an online-only, multiplayer-only game for up to five players. There are no dedicated servers on console or PC, unlike the similar and more popular Friday the 13th game. To start a matchmade game, you'll need a full team of four survivors and one killer. But at launch, the matchmaking is almost as broken as Halo: The Master Chief Collection's was in 2014.
We assembled a full team of four survivors and often waited 20 minutes before a killer joined. That's not because nobody else was playing – the matchmaking just doesn't work right. With two or less players in our party, we can join games fairly easily. Three or more players seem to cause the issue.
Meanwhile, it's all too easy to get disconnected from a lobby. We often dropped players, including the host himself. This issue would likely be alleviated by dedicated servers. But even without those, the developers need to improve the matchmaking and netcode in a hurry.
Overall impression
Dead by Daylight is a lot of fun once you get into a match, especially with friends. The tension of struggling to complete objectives while avoiding an invincible killer can't be understated. But the downright unfair difficulty for survivors can be discouraging, especially since you have to play a very long time to unlock useful perks to make things easier.
I had fun despite the imbalance, but the netcode and matchmaking often threatened to sour the experience as well. If Behaviour quickly fixes the online issues, things will be a lot more bearable. Since the Steam version has been out for a year, I worry that the poor game balance will go unaddressed. But hey, you can always play as the killer (that jerk!) if the survivors' difficulty gets to you.
Pros:
A multiplayer horror game that's actually scary at times.
Lots of maps and playable characters.
Cons:
Excessive loading times (over one minute per map).
No option to stay in lobby or continue playing with the same team after a game ends.
Generator repair mechanic is overly finnicky and difficult.
Killers are overpowered, allowing a skilled player to beat the survivors virtually every time.
Dead by Daylight costs $29.99 on Xbox One, PlayStation 4, and Steam.
Xbox One review copy provided by the publisher.
Paul Acevedo is the Games Editor at Windows Central. A lifelong gamer, he has written about videogames for over 15 years and reviewed over 350 games for our site. Follow him on Twitter @PaulRAcevedo. Don't hate. Appreciate!
It favors the killer? That I would expect from someone inexperienced with Dead by Daylight. If you get the hang of it, one will readily get to know how to harass the other side and that gets quite annoying as the community is very aggressive on top of that. They may not have offensive means to attack but it is enough to crawl and cuddle with the killer to block the killers path and disorient her. Survivors can destroy hooks and killers are now forced to score kills to get a rank so they need to protect hooks at times; but this is an ongoing debate with either side feeling to have a point. And killers win often against new ones but have a hard time against experienced survivors. To promote the killer as the easy side is naïve but that will people learn when they play against someone who is not just playing for a review.

Interesting. I think it's a good sign that the game can't be reviewed superficially, thanks for the details.

Exactly. The reviewer just sucks at the game it seems. I'd say when I began, I escaped 15% of the time and messed up skill checks fairly often. Now, I don't mess up skill checks hardly at all, once per match, max, and I escape 60% of the time. This reviewer clearly didn't play enough of the game to get any perks, or upgrade at all either.

Just curious tho are you even playing on Xbox? do you not have a 0.5sec delay while hitting skill checks? Have you ever tried playing with 4 friends & wait for a killer for 20-30mins? Have you not gotten disconnected from host while playing? or stuck in a limbo (Loading + Tile menu)? You do know that playing a private game unlocks all perks/upgrade right? I would have rated the game much lower, provided that i was "trying" to play the game for 3hours but i actually "Played" for less than 45mins.

The delay on those skill checks are horrible. Maybe it is just an Xbox thing and perfect on Steam but that threw me for quite a loop.

How about you guys actually play the Xbox version before accusing me (and all of my teammates who had identical issues) of not being good at or understanding the game? :P

I disagree with many of your points. Skill checks do not need any touching. I have no problems with them, it takes couple rounds to get used to them, but they aren't that bad. As for camping hooked survivors, that is part of the game. You are way off here. If the killer won't leave a body, every other survivor should rush generators. You can get 3 generators done in the time it takes for a survivor to be fully sacrificed. Even the devs of the game have said that it is a legitimate strategy, and with any strategy, there is a counter. No offense, but you seem to have written this review after three probably frustrating losses.

Yeah camping hooks doesn't work in the killer's advantage, because meanwhile every other player is fixing generators. You will guarantee one sacrifice but at the risk of everyone escaping. The only imbalances are that some of the killer's are way OP (like the doctor)

P2P gameplay needs to be done very carefully but it looks like the devs have poor execution here. No amount of 'further playing' would improve matchmaking times. Opinion: A game that relies on QTE mechanics for crucial gameplay is of no interest...

Horror games hold no interest for me and neither do most multiplayer experiences. Put them together and I'm really not interested in this game. My wife might be though.

You should play Outlast then! You'll enjoy that one.

I wish survivors also played in first person. Sounds like a fun game, especially if the matchmaking and loading issues get fixed.

Fun game? Rather it is a salt game! Have you ever read what the ideas of the developers did to the players? Look on Steam, it is a shame. Either side oftentimes tries something to "exploit" simple mechanics to get the upper hand, example:
It was possible to destroy every hook in the match, killer was unable to win, that was problem one, the answer was that killers just downed survivors and let them be there until they bled to death -- after minutes; that was the time where survivors crawled after the killer to be hooked somewhere, that was problem two.

Nah it's fun. Get over it

Nah u don't want first person as a survivor. U need that situational awareness. Trust me.

Really like the concept, and might check it out down the line if they can fix up the matchmaking and performance issues a bit.

yay another copy of zombi games from before. will this craze be over eventually? its so over played.. excuse the pun.

btw i forgot to read the review its not a zombi game. its a steam game ported to xbox lol

Good review. Not my type of game (horror) but I can imagine for fans of the genre this would be pretty fun with friends! Shame about the matchmaking problems, hopefully it gets fixed sooner rather than later. No option to stay in the same lobby after a game is a pretty big downside as well.

Did you try the Xbox LFG feature to find matches? That's what we do for Friday and it works surprisingly well. Until Friday I never used the feature. Pretty sure that Friday does not user dedicated servers, because it experiences the same disconnect issues as DbD. Never played DbD, and probably won't, as I find Friday to be a lot of fun (although with its own issues).

I read up on it and supposedly it uses dedicated servers for ranked games only. Might be just the PC version though, I dunno.

Its a pity matchmaking isn't work righ. If they sort that out and people on my frends list got this I would probably get this.
Windows Central Newsletter
Get the best of Windows Central in in your inbox, every day!
Thank you for signing up to Windows Central. You will receive a verification email shortly.
There was a problem. Please refresh the page and try again.