Dead Trigger 2 makes its zombie-shooting debut on Windows Phone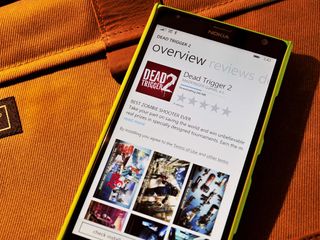 As promised last week, developer Madfinger Games has brought its popular free-to-play zombie-themed first person shooter Dead Trigger 2 to Windows Phone owners.
Dead Trigger 2 was first released for Android and iOS devices in October 2013. The game has been updated constantly since then with new content and now has 37 different weapons, 33 environments in 10 different regions and over 600 gameplay scenarios. Here's the lengthy description from its new Windows Phone page:
TOURNAMENTS FOR REAL PRIZES - Get ready people, here they come. Join warriors from all around the world and fight in the Arena under custom gladiator rules every week. Become a legend in new Purgatory Arena.
MOUTH-WATERING GRAPHICS - You'll be dazzled by cutting-edge graphics, including real-time water reflections, dynamic vegetation and enhanced ragdolls. Explore multiple locations and slaughter the undead in diverse places like eerie Shanghai alleyways, abandoned mines or the African desert, Europe, South America …
THE FINGER IS MIGHTIER THAN THE GUN - Choose between a touch control scheme created especially for casual players or an enhanced virtual joystick. Do you prefer console gaming? Then go ahead, Dead Trigger 2 supports MOGA.
REAL TIME STORY DEVELOPMENT - You are not alone. Take part in the Global Resistance, tune in to the to stay informed as the global gameplay develops, directly influenced by the participation of every single player. Enjoy different types of operations such as story or global missions and side-quests.
REWARDS FOR EVERYONE - Participate in global missions and receive rewards. Complete achievements, meet challenges and receive exclusive in-game currency.
THE HIDEOUT - Explore your personal hide-out and meet the Gunsmith, Medic, Scientist, Smuggler and Engineer. These NPCs will help you unlock incredible new weapons and gadgets.
ORIGINAL AND FUN GAMEPLAY - Forget easy-to-kill Zombies. Get ready for Kamikaze, Vomitron and other bosses – powerful Zombies with an inventive approach to your elimination. Also be sure to try out non-traditional melee weapons such as the Big Hammer, Boat Motor or Machete. What's our favorite? You gotta try the Grenade Chickens, Rocket Chickens and special Machine-Gun Mounted Chickens. You're gonna love them…
Grab the game and sound off in comments about what you think! Unfortunately, you will need a device with 1 GB of RAM and remember, the game download itself is a massive 545 MB!
Thanks, @TBuria, for the tip!
Download Dead Trigger 2 from the Windows Phone Store (free)
This game's apparently awesome, hence the writer has written about it before the developer officially releases it.

FINALLY! Love the graphics!

Best FPS currently on Windows phone?

Maybe modern combat 5 or blitz brigade.

Gameloft made..mc5 free for both android and iOS..!

Yes, just because you can't download it doesn't mean it isn't the best FPS on Windows Phone.

WHY YOU DO DIS?!?!?!?! LOVE FOR 512 MB RAM :/

The game is way too hardcore for 512mb devices.

Aham so a crapdroid with 512 ram play it but quad core 1.2 can't?

I ran it (like crap) on a sub 512mb android. I think in a future update it can happen.

Currently rocking a Snapdragon 800 "crapdroid" device and I haven't been playing intense 3D games for over an year now. But I remember waiting up till 3 in the morning for the original Dead Trigger to launch and I purchased the original one(before it became free), and it ran pretty well on my 600 MHz single core 512 MB "crapdroid." Not sure how the second generation of Dead Trigger would work on that device, but there's no denying that in terms of gaming it's: Android > Windows Phone Posted via the Windows Central App for Android

Yeh sux...waiting for MS Lumia 640 to arrive here so I don't have the 512 ram limit

You got a low budget phone. What do you seriously expect. You're lucky they update highly technical games to 512mb. If its not out now just give it time... Or buy a phone with 1gig of ram or more..

1 gb ram is the standard as of now soon Lumias with Snapdragon S4 like L920,1020,820 will not be supporting mid-high end games even having 1-2 gigs of ran due to old processor. Microsoft is no more sincere in optimising its own ecosystem with lags(resuming),app updates,music app. Honestly speaking i don't expect too much from Microsoft just expect them to be par with the features which iOS,Android has. Microsoft is dumb really dumb instead of optimizing it just pushes more powerful specs which are of no use because it is not optimised.

Does it need a 930/1520 or will it run acceptably on slower phones like the 830?

Best way to find out is to install and run it yourself.

500MB+ is quite a download for a test :)

Just fine with lags? Or just fine fine?

nothing much, i usually test my 10gb game on my PC with the same wifi

830 has the needed power!

I would be surprised if the game looked and played good on the 830. Posted via the Windows Central App for Android

What was it made you think like that?

It looks and plays amazing on the 830.

can play on 920 with medium graphic pretty good with no lags

Another major app leaving windows phone is dying!!oh no damn sorry!!

You have Down or something?

It was the last joke of April fool. He wants us to remember.

Need to sell my 720 soon. Had a sweet time with it. Lovely phone. But I'm waiting for Microsoft's flagship in may that's y I'm not in a haste to buy Lumia 930.

Achievements as in Xbox live achievements ?

Infinite Loading on Main Menu on lumia 925

Hope it'll run smoothly on 1020.

It's laggy, when it comes to the Real mission. :( im 1020 too

Cannot play the game on my Lumia 1520. Infinite loading when I press to play the game; cannot create an account, it says on "creating account" for infinite time

The developers are extremely active, they'll fix it.

I ve the same issue : Infinite loading

Yes im so Happy ;) Posted from my HTC desire 816

I can't play it doesn't shot after the first hit/bullet even if I use the manual mode instead of the auto...

Well I hope they do it for 512mb too asphalt 8 is already for 512mb why not for dead trigger 2?...

Awesome! Now the xbox support plesse? :)

Maybe in the future. We hope that too :)

First game by Madfinger Games. They make good games. Hope more to come.

Excellent, can't wait to download.

Damn game wont dl for me starts then just says pending about a quarter of the way thru

Finally... Need to get me a new phone ... Lumia 640xl when are you launching in Ghana??

How to pair Xbox one controller to windows phone

Runs smoothly on my Lumia 525..,

I had a choice between lumia 520 nd 525, went with 525,it cost Rs 2500 more than 520, my decision was right!

I already know Microsoft always release big games only for 1gb ram device. But 512mb ram android phones running all big games.

It's running like crap on 512MB Android.

Oh really then how does iPhone 4s run this with 1ghz dual core and512mb ram?

I don't have an iPhone but Asphalt 8 is laggy on my friend's iPhone 4S

download stuck at pending since the story 1st broke....

Download the XAP/APPX file manually via your PC and store on SD card of your phone. Install and enjoy.

Is it any good? I don't want to download it yet, it seems too heavy

How to connect Moga Pro to this game?

512 MB ram phone are always last,why? I cant download this game 1 gb ram. Go to hell

Will it support 512MB devices in the upcoming updates?

Hope they'll include 512 mb in the upcoming updates

what abt 512mb devices??? M using lumia 720

Can be played in offline na ????

Nope! You need an internet connection to play this game. Make sure a high speed internet :)

Não consigo baixar no meu lumia 830, só fica em " pendente "

I can't get my moga to work on my L830 running W10:TE. I'm gonna try it on my L92 running 8.1 Lumia Denim...

I knew dat it wont be available for 512mb ram devices

When I see articles regarding games I first scroll to the bottom of the article to see the last pic about no 512 mb support, then I close the article without reading.

I think it's a great shame that you can't play this game if you are not connected to the internet. It defeats the object of a mobile gaming device. I never use the data connection on my phone, due to the costs. If I am at home and connected to wi-fi, I'll be playing on my Xbox.

For that way I always take the flagship lumia phones. Good graphics on 930.

Any 1020 user downloaded it??

I used to play this game on a Samsung Galaxy S Plus with 512MB de ram when it came out on Android and when i did not have a Lumia yet. Hence I see no reason to not be able to play it here. Please just make the effort.

Awesome gane! Amazing graphics nd gameplay! Running smoothly!

Hi i dont see the game dead trigger 2 in the store, is the game officially released
Gesh

shows unavailable for india region @windows phone store. cant install on my 730 as well. stuck on pending when trying to install from sdcard

Switch off phone nd switch it on again, worked for me( it stayed on pending for a hour), will consume 940 mb when installed

What sort of device is needed to get High graphics? There's a medium and low option.

Finally Downloaded Truly Awesome game graphics

Bring it for 512mb ram phones,my Nokia Lumia 520 can handle it better than Microsoft Lumia 535.......remember asphalt 8 lag 535 users?

(Authentification en cours) ca ne marche plus

Hi Its not available in India when this game will be updated u have any idea
Hesh

J'ai installé le jeu mais quand je toucher (jouer) il s'affiche authentification en cours

Too bad that you can play only with your Smartphone United States region and language English...i with Ukraine...

Lags on my 820 after 10 minutes or so of gameplay, graphics set to low. Phone becomes hot as coal and I think that's the reason why it starts lagging.. Sometimes it lags so much that touch screen doesn't seem to respond to input..

This game is awesome! But the control is unresponsive too many times... And I cannot update the game. It keeps showing me an error code...

The only thing that sucks about this game you can't walk around like you can on Android and IOS that pissed me off!!!!!

Anybody successfully connect and play using a Moga Pro Power controller? If so, steps.