Deadpool movie makes its R-rated digital debut in the Windows Store for $14.99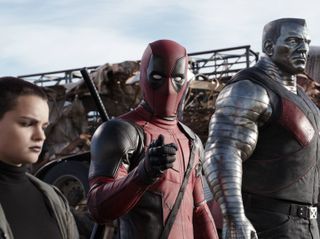 Deadpool, the surprise box office hit superhero box movie starring Ryan Reynolds as the Marvel Comics character, is now available to own as a digital download in the Windows Store for $14.99 (opens in new tab).
The R-rated movie comes with a number of bonus videos in the Windows Store, including 20 minutes of deleted or extended scenes, a gag reel and many behind-the-scenes clips. Just in case you have been under a rock for the past few months, here's an amusing description of Deadpool:
Download the Deadpool movie from the Windows Store (opens in new tab) ($14.99)
bought from the Canada store, $19.99. downloading now and will watch on transit on the way home:)

Unfortunately since microsoft doesn't participate in ultraviolet, I will have to buy this from VUDU or buy a hard copy with a digital copy. :( Support Ultraviolet Microsoft!!!!!!

It isn't MS that needs to support it its uv that needs to support windows/xb1

I can watch ultraviolet stuff on my surface.

i havent seen this film. is it good?

It's a great take on the character and surprisingly, the most comic-accurate X-Men film so far.

My girlfriend and I loved it. I rarely buy movies anymore with all the streaming options, I plan on buying this.

Sparks copy? Posted via the Windows Central App for Android

Wait! People still say amazeballs?

Don't be cray cray. Of course they do!

I bought it on Vudu as well great movie! Posted via the Windows Central App for Android

Anyone know, do you have to be connected to the internet to watch movies from the MS store? Going on a trip soon, would be a great way to pass time on the flight.

I believe you can download them, but don't hold me to that.

Sucked ass terribly. Worst Marvel movie I've watched. Fortunately, didn't pay a cent for the garbage...Popcorn Time FTW.

One would better use pop corn time for free hd movies. I want Microsoft to buy pop corn time.
Windows Central Newsletter
Get the best of Windows Central in in your inbox, every day!
Thank you for signing up to Windows Central. You will receive a verification email shortly.
There was a problem. Please refresh the page and try again.