Deadpool, NBA 2K16 and Mortal Kombat X highlight this week's Deals with Gold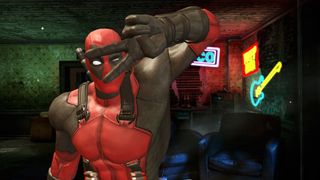 This week's Deals with Gold promotion sees heavy discounts on the Deadpool game, as well as price cuts on Mortal Kombat X, which is available for $27.49 on the Xbox One. NBA 2K16 as well as its add-on packs are also discounted for the Xbox One and Xbox 360.
Xbox One:
Xbox 360:
What games are you guys looking to pick up this week?
Source: Major Nelson
Aw, man. I wish Marvel Ultimate Alliance was backwards compatible. Better yet, Activision allow Raven to make another one instead of Call of Duty levels.

All the dlc is included in the Marvel Ultimate Alliance 1 & 2 games. So at that price it's worth it. Maybe they will get ports later down the line, so better to get them now as I'm not sure they will be on sale again for a long time. Posted via the Windows Central App for Android

Can someone PLEASE tell me Skate is BC...

Skate 3 is planned for BC

Deadpool: Great movie, bad game.

Best Buy also has MKX for $25 right now, $20 with GCU, if you have it. XB1/PS4.

With the devs for Pinball FX2 saying that they are still trying to find a way to port over your table purchases from Xbox 360 to Xbox One, would it be better to buy the Deadpool table on Xbox 360 and play there until there is the license port, or just buy it on Xbox One? I'm torn...

Is the Deadpool game any good?

Watch some of the saved clips on the Deadpool feed on the One. If you think the sense of humor that Deadpool has is funny, it looks like it is PACKED with quotes. No one actually posts gameplay footage though, so no idea about that, haha.
Windows Central Newsletter
Get the best of Windows Central in in your inbox, every day!
Thank you for signing up to Windows Central. You will receive a verification email shortly.
There was a problem. Please refresh the page and try again.