Death's Door PC preview: This gothic Xbox console exclusive absolutely deserves your attention
Death's Door is an upcoming Xbox console exclusive with a gothic Zelda slant.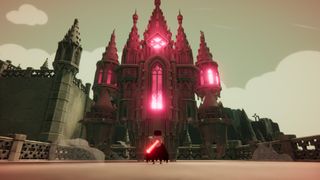 (Image credit: Windows Central)
Death's Door is an upcoming Xbox console exclusive, hitting Xbox One, Xbox Series S, Xbox Series X, and Steam on July 20. With development led by the two-man team Acid Nerve of Titan Souls fame, Death's Door appeared at the March ID@Xbox showcase and immediately became one of my most anticipated Xbox titles. After going hands-on, those expectations have not only been met, but utterly smashed.
Death's Door is a truly incredible action RPG with clear inspiration from the likes of classic Zelda, with admiration of Dark Souls and other recent gothic action games.
Set in a bleak, Tim Burton-esque surreality, you play as a fledgling crow, also known as a Reaper. As an agent of death, you traverse a metaverse of warped dimensions, ensuring that the natural order of death and life maintains its flow. However, something (or someone) has upset the balance. You find yourself caught in a conspiracy that threatens to unravel reality, and damn your soul for all eternity.
This is Death's Door, a game that absolutely demands your attention right now.
Become a reaper
Save your soul

Death's Door is an upcoming action RPG that honestly should be more expensive. In Death's Door, you play as a fledgling Crow, and your job is to reap the souls of the damned. Some are refusing to die, though, and you need to figure out what's going on.
A bleak and bizarre world
In Death's Door, you play as a crow, in this world known as a Reaper. The crows of this world are charged with the passing of souls into the afterworld, managing mountains of paperwork and regulations while hunting down wayward creatures across various realities.
The central offices that handle the reaping are washed in a black and white monochrome, filled with NPCs that describe the monotony of their grim task. It's here where you can purchase upgrades, exchanging the souls you've reaped and collected for greater prowess in combat. This central hub evolves over time too, as you complete new quests and open new doors, new characters emerge with new dialogue, adding further context and intrigue to this bizarre reality-bending plain.
It's from this central hub where you're given doors to various dimensions. These gateways serve as a dungeon checkpoint essentially, but also give you fast travel to previous areas. Death's Door has a light Metroidvania-style interconnected world as a result, rewarding players who backtrack to previous areas, utilizing new skills to unlock new areas and find secrets.
Source: Windows Central
Some of those secrets are hinted at and teased by various deranged characters you'll meet throughout the game. The affable Pothead is a cursed gent, endowed with a soup pot for a head, who seems also as a homage to the "Onion Knights" of Dark Souls, such as Siegmeyer of Catarina. While exploring the sizeable demo, I also came upon the corpse of a chef, being parasitically controlled by a strange squid-like being.
In a brief space of time, I felt immediately connected to Death's Door through its thoughtful, darkly humorous writing, and truly elegant music, that I find myself humming even as I write this. Death's Door could be remembered for its soundtrack alone, which is hauntingly beautiful while remaining broad and diverse in scope. Each area has its own feel, with complex intersecting levels, varied puzzles, and piles of secrets and exploration opportunities. You can feel the creator's love and passion at every corner in Death's Door.
Without giving away too much, early on you discover that you've been cheated out of a soul that was rightfully yours. Failing an assignment is not an option for the crow reapers, who are doomed to wander the mortal realm seeking their quarry. While in the corporeal world, the reapers age and eventually die. You may find more than a few dead reapers along your travels too, some of whom may have died under mysterious circumstances.
Tight, satisfying combat
Source: Windows Central
While exploring Death's Door, you'll have to partake in heaps of combat. The vast majority of creatures you'll encounter want nothing more than to murder you, horribly and angrily. You're here to reap their souls, after all. To that end, Death's Door takes cues from the likes of classic Zelda with a few modern twists.
As an isometric game, you can hack and slash your way through a varied array of enemy types, complete with setpiece boss battles that will test your wits and skills in equal measure. The bosses I encountered so far were distractingly gorgeous, but also quite brutal — although never unfair. While the game plays homage to the likes of Dark Souls, it's really closer to Zelda in my view, where enemies have pretty set patterns to learn and overcome.
The difficulty can ramp up quickly, but overcoming the challenges Death's Door sets out for you is incredibly rewarding, complete with a slow-mo final blow for good measure. Similar to other games with Metroidvania leanings, as you progress you'll unlock physical shortcuts through areas as well, offsetting the fact enemies respawn upon death. You can grind away to progress your character's strength to some degree if you're finding a particular boss difficult, although I'd argue that Death's Door isn't overly punishing. It offers a good balance between risk and reward.
There are various weapons and playstyles you can prioritize in Death's Door. The standard starting weapon is a regular ol' sword, but I also found some rapid-fire daggers off the beaten path. You can perform various moves to fit the situation, from area attacks, quick strikes, or running attacks if you know exactly where an enemy will be. You can also unlock various additional powers. A soul-powered bow and arrow helps you deal with pesky ranged enemies, and later on, you'll even unlock the ability to throw fireballs and set enemies aflame — while circumventing certain fire-activated obstacles in the process.
The performance is also excellent, running at a smooth 120 FPS at 1080p on my RTX 2070. The game will also be Xbox Series X and Series S enhanced when it hits consoles later in July. I did have some minor complaints about the WASD controls. For example, the cursor that controls your aim direction isn't character bound, and I frequently found myself moving it off-screen and losing it completely. The cursor is also affected by the game's surface reflections, which makes it display twice in certain situations, which can throw your aim off as well. I'm sure this sort of stuff will be fixed by launch, though.
As I write this, I can't wait to take another peek behind Death's Door. The game's world feels vast and unexplored, ripe with collectibles and secrets to uncover, bosses to battle, and new demented characters to meet. I'm also intrigued to learn more about the game's story, and exactly what has gone wrong for the administrators of death.
Death's Door is destined for greatness
I couldn't believe my eyes when I saw that Death's Door was up for preorder at just $17. Even in the three-hour beta build, I felt like I was barely scratching the surface of what this game potentially has to offer. The quality of the combat, writing, environmental design, music treatment, and general presentation already feels like the product of a far bigger studio. Acid Nerve is making a name for itself as a studio that punches far above its weight, and I'm fully here for it.
Death's Door absolutely NEEDS to be on your radar. If you're a fan of action RPGs, you're in for an absolute treat with Death's Door. It could be remembered as one of the all-time best Xbox games from an indie team.
Traverse the door
Save your soul

Death's Door is an upcoming action RPG that honestly should be more expensive. In Death's Door, you play as a fledgling Crow, and your job is to reap the souls of the damned. Some are refusing to die, though, and you need to figure out what's going on.
Get the Windows Central Newsletter
All the latest news, reviews, and guides for Windows and Xbox diehards.
Jez Corden a Managing Editor at Windows Central, focusing primarily on all things Xbox and gaming. Jez is known for breaking exclusive news and analysis as relates to the Microsoft ecosystem while being powered by caffeine. Follow on Twitter @JezCorden and listen to his Xbox Two podcast, all about, you guessed it, Xbox!