New 6th gen Intel graphics Windows 10 drivers fix BSODs and more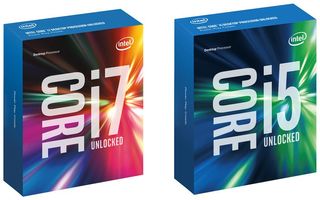 Update: An earlier version of this story incorrectly labelled these as beta drivers, but they are, in fact, official non-beta drivers. However, as noted below these are still non-Microsoft approved and therefore won't come through Windows Update until sometime in January.
If you are running Windows 10 on a new PC, Surface Pro 4, Surface Book or laptop that utilizes the 6th generation Intel Skylake processors, you may want to check out the new drivers.
Version 15.40.14.64.4352 dated December 23 (actually signed December 15) is now live on Intel's site, and it addresses a few issues the new chipset is having in Windows 10. From the changelog:
Key Issues fixed
Display may flicker on 6th Generation Intel Core and related processors
Corruption seen in Microsoft Store Maps application
Stability Fixes for 6th Generation Intel Core and related processors w/ Intel® Iris™ Graphics 540
System may hang on systems with both discrete graphics and Intel graphics
System may hang on GfxBench
System may hang on systems with HD Graphics 510
Reduce probability of getting a blue screen in certain scenarios
Known Issues
Graphics corruption may be observed in Just Cause 3*, Battlefield 4*, Battlefield Hardline*, Might and Magic Heroes VII*, GRID Autosport*, Metal Gear Solid V*, EVE Online*, Angry Birds*, The Witcher 3*, Netflix* with Edge* browser, Kishonti* benchmark
Hang may occur in Grand Theft Auto V*
Assassins Creed Syndicate* may stop responding
Game returns to desktop during gameplay on Fallout 4*, Lego Jurassic World*.
Game gets dimmed on Lego Star Wars 3: The Clone Wars*
Flickering may be seen on GFXBench 4.0
System may hang in when running 3DMark-v1-5-915
Unable to play back Amazon Prime video after resume from S3 or S4
Black screen in transcoded videos may be seen when using Corel DDR Move* and potentially other media transcode applications
Should you install (and how)?
Although these drivers seem to go a long way to fixing many issues in Windows 10, please heed caution when installing them. If you run into trouble, you will need to delete the driver and let Windows 10 install its default video driver before updating to the version through Windows Update.
Intel beta graphics drivers are not installed through Windows Update and in fact, need to be downloaded and manually installed on many computers especially Surface Pro 4 and Surface Book.
You cannot download and run the installer as these drivers are not digitally signed or approved by Microsoft. Instead, you need to update manually the driver through Device Manager.
Please read our how-to guide on installing beta display drivers on the Surface for more information:
How to install Intel beta graphics drivers for Microsoft Surface and Surface Book
At some point in the next few weeks, Microsoft will likely approve and push out this generation of drivers to Surface Pro 4 and Surface Book as will other OEMs for Dell, Lenovo, and HP.
To read more about the drivers including download links (most if you will want the win64_154014.4352.zip file) head to Intel's support page linked below:
Intel® Graphics Driver for Windows® 7/8.1/10* [15.40 6th Gen]
Daniel Rubino is the Editor-in-chief of Windows Central, head reviewer, podcast co-host, and analyst. He has been here covering Microsoft since 2007 when this site was called WMExperts (and later Windows Phone Central). His interests include Windows, Microsoft Surface, laptops, next-gen computing, and for some reason, watches. Before all this tech stuff, he worked on a Ph.D. in linguistics and ran the projectors at movie theaters, which has done absolutely nothing for his career.
That's a long list of known issues... Hope they address those quickly as it makes things like the Surface look bad.

It is not just Windows devices. 6th gen graphics on Linux is HORRIBLE. 1/3 the performance of Windows at the moment, and less stable too X_X

Those known issues are mostly games and specific software. I use none of those.

Aye, it's quite specific, though why you'd game without a dedicated gpu I don't know.

It'd be nice if they'd fix the issues on Surface Pro 3, too. *Sigh*. Didn't have these problems with Windows 8.1

Do they have drivers to fix the crappy Wi-Fi reception on w8.1/10

Wifi reception has tons of variables. In between providers, package one buys, amount of routers in the vicinity, type of distribution, etc (including drivers), eh...

@JEcadeQueiroz, certain Intel chipsets have been dogged with issues since W8.0. Granted they weren't wide spread - due to the fact there are more than just one manufacturer. But the issues were persistent never the less. On W10 I have had no end of problems with official Intel drivers, especially for graphics and even on W7 too; got round that using manual switching but w10 doesn't support manual switching. So having to use leshcat's drivers as with official Intel drivers I always get a black screen at boot up. The worst one was 10 minutes, on a ssd... Not acceptable at all.

The card im using is the centrino 6300. For comparison I have no problems on my vista/7/8.0 partitions but since 8.1 nothing but disconnects from router & that buggy legacy continues in w10. Basically whatever MS changed to ndis it cant be fixed with drivers. If you look in intel communities this issue was never resolved. Intel centrino though isnt the only 1 affected even bigfoots killer Wi-Fi N series has this problem

Do you have location turned on with Bluetooth? See: https://woodygems.wordpress.com/2015/12/24/fix-for-very-slow-wifi-in-windows-10/

Seems like Intel is crappy in general when it comes to their WiFi drivers and BT stack. Had 0 issues with other OEMs

I did have problems with Wi-Fi and Bluetooth when I was on windows 10 but no problems now with windows 8.1

Wow wcentral post on Christmas eve. Hard work

A beta graphics driver... From Intel... With known issues... I'll pass

Well, let's see: official non-beta version has issues; beta version has fewwer issues and fixes some annoying things, so... It's well-known fact that all software - beta or non-beta - has bugs. Just because it's listed does not mean they don't exist ;) I mean, it's not like the 'known issues' here don't already exist on the official WU versions. Here you can just see them for the first time.

Hi Daniel I get your point, but in general the beta label implies that a piece of software is not fully tested, hence there is a higher risk of the existence of hitherto unknown bugs. The installation process alone could bring a rig down that was working ok for a given individual. So certainly each must decide if they can afford to take the risk? Turns out the driver is not beta, but even so the driver hasn't been approved by Microsoft and we don't know if there adjustments that need to be made for it to work better with the Surface line. Or do we? Daniel do you have any info on this? If the expectation is that the approved driver will come through WU in January and your machine is not completely bogging you down, it may be worth waiting or see what others are saying first. If on the other hand you are very annoyed by the issues fixed and can afford the time in case something goes wrong, then it could be worth an upgrade. Posted via the Windows Central App for Android

But those are just the "known issues". This is beta, meaning it has not been fully tested so who knows what other bug or unknown major issue might arise from installing this. I just think it's irresponsible of intel to be releasing a beta graphics driver to the public. this should be a closed beta imho.

Beta does not exclusively mean "not tested" in any arena. Whether or not the label applies to this driver, it just means it isn't ready, for whatever reason (perhaps additional data), for general release. Ask makers of Arkham Knight. it is just a moniker for general phase/spot in the production lifecycle. Without details on what this means to intel there is not point in saying it's one thing or another. Many use beta as a trial run of general availability with the only difference being risk fully assumed by consumer and as extra buffer for additional (not from lack of) testing and feedback.

Hd graphics have never been a gaming gpu. Why can it run those games? Bet with lag?

Depends in the game really. Cpu intensive games might do better than gpu heavy ones.

Probably. I do know because I play it: Battlefield 4 is both CPU and gpu intensive. Talking about a skylake processor that shouldn't be a problem but I have my doubts about the gpu

True. The gpu is ehm.. Yeah ehm haha

This would be great for strategy games like Civilization 5, or RPGs, or any number of slower paced AAA games. FPSes would still run, if you wanted, but obviously you shouldn't expect discrete graphics level of performance.

All depends on the cpu you choose. My m18x r2 is running a extreme i7 but have really only need to use that for games like spore & nfs shift/2. Everything else I just use my 7970m's in CF

Agree... This GC is not for gaming... I have i7 6700 skylake, but with gtx970...

Intel based phones won't be having any issues.

I'm not aware that there are any phones with Intel Skylake processors.

I wonder if I should bring back "sleep" mode on my SP4 now. Maybe it was magically fixed somehow even though it's not listed here.

I'd be very skeptical that'd be the case, unfortuantely.

test driving it for the next 48 hours. will let you know then :)

Well, after 48 hours, Standby power consumption has gotten a lot better on an SP4 (down from 1.1-1.4W to 600-700mW, consistently across 6 Standby cycles). Also, no BSODs, yet. Happier, although still not pleased with draining 3% over 2 hours, before the thing hibernates.

Windows 10 is horrible in this regard. The display driver crashes 10 times everyday. And that error notification sound is so irritating as well.

It's obviously the newer hardware and not windows 10. All my old machines have never crashed even once on W10, and I use them very heavily.

Hardware or buggy drivers or both.

I would say its not the hardware but windows 10. I have it installed in my old pc that never ever have any sort of trouble with XP or windows 7.

Agreed. I have an entire household of Windows 10 machines, laptops, and tablets. Crashes occur only on my gaming laptop when I install super new drivers but even then o my quite rarely and recovery is within a second or so (though obviously flicker or pause is noticeable). I just keep a driver revision behind. It's not the OS.

My 3 year old desktop and Surface 3 never crash on Windows 10.

Windows 10 is stable. It's the bad drivers causing blue screen.

Well pretty much every GPU manufacturer is having windows 10 driver problems, so maybe windows 10 is to blame. Posted via the Windows Central App for Android

AMD R9 280X user here with the Crimson drivers, had no issues at all and I can't remember the last time I had a BSOD. I didn't have issues before the crimson drivers were out either. As for my Sandy Bridge Intel i5 laptop, I've had zero issues at all with Windows 10 with their drivers for Win8.1 or 10 or whatever. This seems more like a problem with Intel's drivers for their Skylake processors than Windows 10, I'm almost certain that it's not the OS.

No BSOD with many Windows 10 computers I have used.

My NVidia 780 GTX has had zero issues. My Surface 3 (with whatever Intel stuff) has had zero issues.

Respectfully disagree. I only have to stay one revision at least behind on NVidia on one device in my household (Alienware 18 SLI). The rest are fine and without incident with respect to display driver stability. (Surface 3, Surface Pro 3, home built old Core 2 Duo, Dell Inspiron 2-1, Lenovo w540). Recently picked up a Surface Pro 4 and haven't noticed any issues though it's only been a few days and with light use. Well see.

Yea can they fix the drivers for 4th gen intel processors? So many bsods for my i7...

The latest update fixed my wifi issues, i mean the update before this one.

I was planning on getting a Skylake processor. Should I hold off?

Nah, no regrets. The low heat/low fan and performance is worth it. It's also totally fine on desktop.

double post (Edge with this site, ugh)

Low fan?! My SP4-i7 fan kicks in under 20% CPU load!! Streaming from Netflix with a browser window open and the fan starts! My 2 year old SP2-i5 handles the same tasks and not a whir from the fan!

Sounds like hp/quanta tricks for their NVIDIA/amd boards. Sending a bois update out that would destroy the fan motor in a number of months

Maybe the browser is the key here. Are you using Edge? ;)

Lol, that is quite a list of severe issues for an official, final driver. And it affects many currently popular games, too. But then again, no Intel based GPU/ SoC is capable of properly running most of those games anyway.
Btw, Just out of curiosity, you guys do know that the huge banner image of an I5 + i7 processor has absolutely nothing to do with the mentioned graphics driver, right?

I'm gonna say its Christmas eve... Lol and chalk it up to that for the image lol

But both i7-6700K and i5-6600K processors have the HD Graphics 530 listed amongst the applicable GPUs.

So much whining. Intel should just stop updating, people would actually ***** less.

None of the issues that are stated with this driver apply to me, so I'm good download and try it out.

Manual install... Just like the good old days...

Excellent,I'll install on my new rig right away. Built a new desktop, core i7-6700k, 32GB ram. NVidia 950gtx, 256Gb evo 850 SSD, 3TB raid 1 array.

I just updated my Surface Pro 4 m3 and the only change I noticed was the 'no streets showing' in the Maps app is only partly fixed. Streets display on certain zoom views, but when they do the graphics are poor.

System may hang on systems with both discrete graphics and Intel graphics​ i have a 3yr old Dell Laptop that has this problem which neither Dell nor Intel wants to address, why is still and issue? I hate that 3yrs later there is the same issue. Come on Intel and NVidia get your freaken heads together already. If history repeats itself, when one GPU gets a fix, it will simply break the other and at some point this will simply remain broken.

Intel driver stability in general is atrocious when new platforms are introduced every year. Gives the Windows platform a terrible reputation for being 'buggy'. They need to steal a page from the Apple playbook, which isn't perfect but is way better. Or reinvent a better QA process. Current Skylake platforms should have never shipped with this level of quality IMHO. Not a good first impression, that's for sure. And most people aren't so comfortable installing these updates and just assume the hardware is crappy. HP Spectre x2, not good at all with these drivers.

Just got this update on my dell XPS 15 9550 and it came throught the dell update app. I guess it's safe that way too

On sp3 those drivers crashes continually, don't recommend to install it

Thanks for posting! I have an SP3 too. Am very annoyed by graphics driver resets every 15 minutes or so. Do you get those? Posted via the Windows Central App for Android

I had them after uninstalling the November update but it got much better with the Intel beta drivers.

I had 10.18.15.4256 drivers (official latest firm) and I m experiencing about 2 crashes pair month, so I tried this ones (15.40.14.64.4352) and I had continues crashes right after install (crashes of the display drivers, not windows). Note that I have i5 sp3 (no skylake) and I don t play games (intantgo works properly).

On my SF2PRO I hardly had crashes anymore with the latest 4331 driver. Will install this one - should resolve the occasional graphics crash. Otherwise I am pretty happy - Intel seem to have been working on the matter and that is what matters!

We can get a Surface 4 now then?

The new driver fixed my issue of not being able to connect two monitors to the Surface Dock. Surface Book i7 512.

The cooling fans are running less with the new driver. Doing battery test now, but it looks to do better on battery too.

Wow that's a list of nasties. Ignorant people might mistake those issues for hardware problems and therefore generate very bad press. Not good to have these kinds of bugs, of course, but it does happen. I'm just glad they are acknowledging and resolving them.

Hopefully this fixes my Lenovo Yoga 900. It would be nice to not have to turn off the graphics card in Adobe Lightroom. Smooth scrolling on websites would be nice too.

Sure would be nice if older Pentiums got driver updates too.

It still doesn't fix the full screen flicker/going black when using the Pandora or Groove web music player in Edge on my Surface Book... (Some ads on WC cause the full screen to flicker/go black as well.)

Looks like the list of issues is greater than the list of fixes.

I have a Yoga 900 with the 12/23 drivers installed. Slightly faster (but same architecture) CPU as the Surface, with the same GPU (Intel HD 520). I was having the black screen and the popup error everyone else was getting until I updated to the 12/23 drivers. Now that those errors are gone, I'm having another issue that is particular irritating... and it's not mentioned in the "known issues" section. The issue I'm having is with RDP sessions, which I practically live in. I use this laptop to manage multiple environments, and RDP is the primary method of accessing these systems. In an RDP session, I'm getting corruption in various windows. It's making reading things very difficult. It seems to happen when I drag a window, so I am going to try and disable some of the enhancements (such as "show window contents when dragging") and see if that helps. I tried it already, but the windows that was previously garbled is still that way. I probably have to wait for that window (which is an hours-long file transfer) to go away.
Windows Central Newsletter
Thank you for signing up to Windows Central. You will receive a verification email shortly.
There was a problem. Please refresh the page and try again.