How to install Intel beta graphics drivers for Microsoft Surface and Surface Book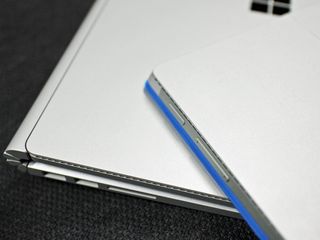 If you like living on the edge, you can be a Windows Insider to get early builds of Windows 10. If you want to push it even further, you can install beta (or non-Microsoft approved) drivers from Intel for their graphics chipset.
Although installing beta drivers is not recommended for non-power users, the new 6th-generation Intel Skylake processors are still quite buggy. If your new computer's giving you fits that updates to Windows 10 haven't fixed, you might want to consider installing the beta drivers to nix any severe bugs like screen flickering or Blue Screen of Deaths (BSODs).
For those running a Microsoft Surface, however, there is a caveat: you cannot just execute the installer and update your drivers. Microsoft signs off on their display drivers so that only approved ones get pushed to users. (Other manufacturers may do the same).
You can still install the drivers, but there you have to do it manually. Here is how to do just that.
Download Intel beta drivers in ZIP format not EXEYou can find the latest direct from Intel at Download.intel.com.For most users, including those on Surface you want the 64-bit drivers e.g. win64_1540144352.zip.
Extract the contents of the ZIP file to a new folder. You can delete this folder later. Usually, your Desktop is a good place for extraction.
Right-click on the Start menu and choose Device Manager
Navigate to Display Adapters and double-click to reveal nested options.If you are using a Surface Book with discrete graphics you will see Nvidia in addition to Intel(R) HD Graphics 5xx.Double-click the Intel(R) HD Graphics 5xx area to open up the tabs.
Choose the Driver tab and select Update Driver…
Select Browse my computer for driver software
Select Let me pick from a list of device drivers on my computer
Select Have Disk... button in lower right-hand area
Navigate to folder where you extracted the Intel beta drivers.You must go into the Graphics folder and choose the igdlh64 file.
On the Install From Disk window choose OK
Select Next
The Update Driver Software window should now appear showing installation progress. Your display may flicker as the old driver is removed and the new driver added. This is normal. Once completed you can verify the driver's new date and version number under the Driver tab.
After the installation, you do not need to restart the computer. However, you may still want to. If you had set a custom text display size, it might have been reset to the default.
If you wish to undo the driver installation at any time, just retrace the above steps but instead of Update Driver… choose Roll Back Driver or Uninstall in the worst case.
That's it! Remember, companies like Microsoft eventually do approve of these Intel drivers after weeks of testing. They will eventually roll out their own approved and signed versions through Windows Update proper. What is outlined here is just a way to get an early look at what is likely coming, but there could be other unintended consequences so as always heed caution.
More Resources
If you want to see more how-to for Windows 10, make sure you check the following resources:
Microsoft Surface help, tips, and tricks
Windows 10 help, tips, and tricks
Windows Central Newsletter
Get the best of Windows Central in in your inbox, every day!
Daniel Rubino is the Editor-in-chief of Windows Central, head reviewer, podcast co-host, and analyst. He has been covering Microsoft since 2007 when this site was called WMExperts (and later Windows Phone Central). His interests include Windows, laptops, next-gen computing, and for some reason, watches. Before all this tech stuff, he worked on a Ph.D. in linguistics, watched people sleep (for medical purposes!), and ran the projectors at movie theaters because it was fun.
Thank you for showing people how to do this correctly and with ample warning of the risks

Sure thing. Not something I wanted to do on Christmas eve as it was a lot of work, but been meaning to make this guide for a few months now.

Beta - it's the new "buttoned up"

That driver is actually not under beta. If you go to the beta section you get the .4326 from nov 20. So maybe this will be coming through windows update in the next few days?

Good point and adjusted the other article (this one can be reused for beta/non-WU Intel drivers)

Great instructions. Even on my Gen 4 Intel HD I run the appropriate drivers from the Intel site as they fixed some BSOD issues I had with the ones in WU.

the display flickering is super annoying; hopefully, this will fix it for good. Will wait for MS to approve it though.

After installing these (4352), I have had MORE display crashes than before, so this is upsetting to me :( I have had it crash on Maps (though it did fix the missing roads), Crashed and flickering in Facebook, Crashed trying to start the Start Menu, and flickering, and a weird shaking screen when theres a lot of white on the screen. I hope that the issues get ironed out before it gets pushed to Windows Update. Though with my poor battery life (4-6 hours on average) I plan on getting a replacement Surface Book.

4-6 hours is not normal unless you are running some high workload (e.g. games or encoding video, ...). Have you checked task manager? Are you seeing high CPU or disk activity? If you have a Microsoft store nearby I'd go there and let them check it and possibly exchange it.

I get 4 to 6 hours also. Not running anything but casual browsing. We cannot all be defective.

Hmm.. Doesn't right clicking on the the .inf and selecting install work? Great guide never the less :). Book marked.

Will this drivers help with frequent drivers crash on Surface Pro 3 / i5?

I just updated my SP3 i7 to these drivers. I put on the beta drivers last week, and they ran much better. No crashes YET.

Thanks! I'll try them than

I also updated my SP3 graphics drivers a while back, solved all the crashes in solitaire and various other games. The Microsoft official drivers are ancient and I had crashes all the time :(

These exact drivers? Despit it saying those chips arent supported? I pussed out and went with the latest drivers for 4th gen (which my SP3 i7 has) chips which was from October 2015 (https://downloadcenter.intel.com/download/25489/Intel-Graphics-Driver-fo...)....still an update over Microsoft's versions though as the curret drivers (after the Win10 .63 update release Jan 12 2016) are still dated July 2015.

Great walkthrough Dan! Merry Christmas and keep up the good work.

Intel have let Microsoft down very badly with their lame WIndows 10 drivers - of they even bother at all! It would be madness for Panos to risk his Surface Phone to an Atom processor.

These drivers are still terrible.... I wish Intel would get their crap together before releasing such buggy hardware/software.

This driver fixed the frequent crashes of the graphics driver and the black screen when coming out of sleep mode. BUT, it also broke the extended display to my 4K monitor and this makes the driver useless to me. I must say that I am really disappointed in the quality of the Surface Pro 4... :(

Sounds like we have a similar setup with similar issues. Hope one of us receives a solution and can benefit the other! :)

Well, that was a waste of time. I have a Surface Pro 4 (i7 256GB SSD 16GB RAM) which from a design and operation angle is outstanding, but it (or Intel) is/are having trouble driving my Dell 4K + Dell 1080P ('2K') monitors together via the new (and well designed) Surface Dock. When I connect the 2K monitor the 4K one keeps blanking out. And even without the 2K one hooked up, when I awake the SP4, the 4K monitor stays blanked out until I do a mix of mouse wiggling within it's workspace and pressing the monitor control buttons. Hoped this update would fix it, but alas not. And just so we can be clear, I came from a 2015 MacBook Pro 13" Retina that also caused similar issues with the 4K Dell. Who is to blame? Intel or Dell? And why is it taking so long for all this to get sorted? My monitor suppliers say there is an issue with the Dell's auto signal detect, but I have forced it to DisplayPort manually and it's still playing up, that leads me to believe this is an Intel and Thunderbolt/DisplayPort issue, so perhaps Apple are also to blame being they worked on Thunderbolt! Roll on the SP5 with USB-C later in 2016 and hopefully all this will be sorted out because it's spoiling my otherwise awesome SP4!

So is this a good update for my SP4 i5 or should i wait for windows to push it thrue? Confused...

Meh...it's your call but know this, the latest drivers for the 4th gen chip found in SP3 i7 directly from Intel is from October 2015. MS's latest version (even aftrer yesterday's update to .63) still uses drivers from July 2015. I've just treid updating to Intel's drivers to see if that helps the ridiculous # of display driver crashes I've been gettin ever since going 1511.

Thanks for reply. Did the update help or made it worse in your case? Anyhow, drivers used for the graphics are outdated i guess...
Windows Central Newsletter
Thank you for signing up to Windows Central. You will receive a verification email shortly.
There was a problem. Please refresh the page and try again.