The Deezer Windows 10 PC and Mobile app ditches its preview label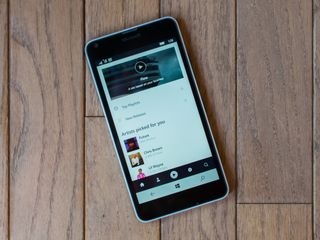 The streaming music service Deezer has announced that its previously released Windows 10 app for PC and Mobile no longer has a preview label and is now officially available.
In an emailed press release, Deezer stated:
Here's a quick look at the features of the Deezer Windows 10 UWP app:
Lyrics – Sing or follow along to your favourite tunes and never miss a single beat.
Playlist – Be your own personal DJ and build and manage your own playlist by adding or deleting as many tracks as you want.
Top Tracks – Keep track of what you listen to the most and look back at your listening history
New Navigation – Easy-to-use menu to discover new artists and albums and follow your favourite editors or fellow Deezer users.
Offline – Premium+ listeners can listen to all their saved tracks and playlists in offline mode
Deezer made its service available for everyone in the U.S. earlier this week.
Download Deezer from the Windows Store (opens in new tab)
Cool! Deezer is pretty popular in latin american countries, I hope to give it a try :)

Its still kinda slow and if you go to notifications it still says "this feature is not available yet". How can they ditch the preview label yet?

I think it's still very very early preview. Still soooooo slow, still soooo buggy.

Never had any bug. Not even in the preview versions.

Yeah far too buggy. I guess they've given up on WP development though. Give it 12 months and the app will be pulled with the "platform no longer supported".

It's a UWP app, so it runs on all Windows 10 devices. Nobody is talking about WP, bro... WP ended with 8.1 :D And the app runs fine on my 535 and my PC too. The only thing that could be improved is the app switching on mobile, but nothing else.

Im on a 950 and the performance is awful. When you return to the app it forgets which screen you were on and reverts to the homepage. It takes an age to resume also. In addition, if you don't play a track few a few minutes, it wont resume it from the windows play toggle. Its quite slow to load sometimes, and searching can be hit and miss. The developers forgot that consumers like things that work. Mind you, I don't have to pay for the premium service, but needless to say, if I did, I'd have jumped to spotify a long time ago, much much better user experience.

Spotify? Better user experience? They don't even have a UWP app :D

They don't need one, clearly. Why change what's not broken? Not sure how a broken, buggy, slow and cumbersome app is better than a smooth and reliable app, just because it's UWP? They could have one in development, we don't know! But I bet they don't launch it as official whilst it's still in its early-Beta stage of development.

Because the Spotify app IS actually broken. Awful UI, slow as hell, and only good for people who listen to todays pop music... This app still performs better, looks better, and is better...

Not sure if you've ever used the Spotify app then, because no such issues here. The old Deezer app was fine also, so maybe you're getting confused? As for pop music, they both have pretty much the same albums, albeit Spotify seems to have a few more songs from albums that Deezer doesn't. The only complaint I have with Spotify is their insistence on showing songs that are "not available in your region". Needless to say, on a 950 with an 808 and 3GB of RAM, there is no excuse for Deezer creating such a shoddy and slow (frustrating) app experience, regardless of whether it's UWP or not.

I used it on my 535, and it was... ehm... s*it :D And I'm not mistaken, and not speaking about the old Deezer app. Maybe Spotify is better on a high end device, but not everybody has high end devices, you know :D

You must have a different Lumia 950. No issues here. Works like a charm.
Lyrics included.

I would appreciate a toggle button for Offline mode, as it is on Android, iOS and in the old Win 8.1 app. I still don't believe them not to use any data. I don't really understand why they advertise Offline mode as a feature when the only way how to force it is turning off WiFi and Data. As for the speed of the app - I'm pretty much satisfied. I'm probably already used to this, as almost every single app on Windows 10 is reaaally slow.

I don't think half the windows 10 phone users use deezer.

So, you think the other 1000 do?

Yes, I'm using Groove-Music.

I switched from Spotify to Deezer thanks to Windows Central's articles, i'm liking it a lot better. App on desktop and mobile are much better than Spotify's, and i'm finding i like a lot of the mixes and playlists better. Seems to be better for rock and alternative, Spotify really leans towards hip hop and top 40 pop. Really like Flow mix too.

My carrier here in brazil offers me free deezer subscription, im loving the app ;)

I started using Deezer only. Really nice app. Lyrics included. For the Dire Straits days. On my ride home after work the Deep House mix is my favorite.

I can not unsubscribe from deezer app, I logged in with my facebook account which is tied to a yahoo account that I have totally forgotten the password, and now I cannot do a recovery meaning I cannot unsubscribe from the app, please some one I need help
Windows Central Newsletter
Get the best of Windows Central in in your inbox, every day!
Thank you for signing up to Windows Central. You will receive a verification email shortly.
There was a problem. Please refresh the page and try again.