Deezer Windows 10 preview update adds faster way to add tracks to playlists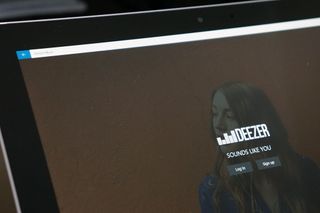 The popular music streaming service Deezer has updated its preview app for Windows 10. It includes a couple of new features, including one that should make it easier to add track to your playlists.
Deezer says:
The other new feature in the update offers some new audio options:
Download Deezer Preview from the Windows Store (opens in new tab)
Wen in USA? Zachary Bowling - ZAD Apps

It's not a faster way, it's a working way. The pop up menu was there for weeks now when you tap on the three dots, but the "add to playlist" thing didn't do anything. Now it's working with the new update. And the audio options were there in the settings earlier too, they just made it reachable from the "now playing" tab too, next to the volume slider on PC, and at the same position on mobile too. But since there is no volume slider in the mobile version, they moved the "now playing" list from the top right corner to that position. It stayed in the corner on PC, only got a new icon and text, what are now also there on mobile. And others said, that Google+ login now works, but I can't test it, because I lo in to Deezer with my Facebook account. So this changelog is pretty old now :P :D Sorry for this, but I use this app every day on mobile and PC too, to listen to some music, so I notice all the differences :D Posted with the Windows Central app for Windows 10 on HP 250 G1 notebook. It is a scary old monster, I think :D

Hey you're my man to talk to then: I am on a 930 on latest fast ring build. When playing with lockscreen on (BT streaming) the app crashes 3 seconds into the second song - always. Also it is not listed among the apps allowed to run in the background... Have you experienced this?

No. On my 535, it works fine. Sometimes I have to wait a little longer for the app to load up after unlocking my phone, or after switching back to it from the task view, but that's all.
But I'm on release preview now with build .164 Posted with the Windows Central app for Windows 10 on HP 250 G1 notebook. It is a scary old monster, I think :D

Very nice app for Mobile. I think I will switch from Spotify. Posted on Lumia 930 with
Windows 10 Mobile

Man, I hope the mobile one is better. I tried it a few weeks ago.... We didn't get on.

Still keeps going off line on me Posted via the Windows Central App for Android by BlackBerry Priv
Windows Central Newsletter
Get the best of Windows Central in in your inbox, every day!
Thank you for signing up to Windows Central. You will receive a verification email shortly.
There was a problem. Please refresh the page and try again.