Dell accidentally reveals refreshed XPS 15 with GTX 1050, fingerprint reader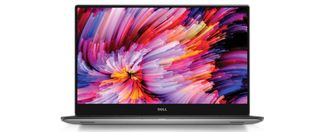 If you're eagerly awaiting a refresh of the Dell XPS 15 notebook, it looks like Dell has accidentally let the cat out of the bag. As spotted by the site VideoCardz.com, Dell briefly posted the specs of an upcoming XPS 15 refresh by accident, revealing some tantalizing details.
According to the listing on Dell's site, the XPS 15 9560 will predictably be updated with Kaby Lake CPUs (i3-7100HQ, i5-7300HQ or i7-7700HQ), and will feature a 4K (3840x2160) display. More interestingly, the listing points to a GTX 1050 with 4GB of VRAM. Though we haven't seen the full specs of the mobile GTX 1050, it's likely to add a bit of graphical oomph to the XPS 15.
The laptop will also support up to 32GB of 2133MHz memory and up to 1TB of storage space with either a traditional hard drive or optional SSD. Lastly, it looks like the XPS 15 will sport a Killer 1535 Wireless-AC card like the XPS 13, so Wi-Fi should perform admirably.
Update: Also noted is the an "optional fingerprint reader and Windows Hello" support finally (finally!) coming for bioauthentication
Though the listing still exists (opens in new tab), the description has since been pulled. Luckily, you can access an archived version of the listing with all of the details that have been pulled from the page still intact.
We should hear something more official from Dell about the XPS 15 9560 soon — likely around CES 2017 in January. In the meantime, let us know if you're planning to pick one up based on these early specs, or if something else has caught your eye.
Windows Central Newsletter
Get the best of Windows Central in in your inbox, every day!
Dan Thorp-Lancaster is the former Editor-in-Chief of Windows Central. He began working with Windows Central, Android Central, and iMore as a news writer in 2014 and is obsessed with tech of all sorts. You can follow Dan on Twitter @DthorpL and Instagram @heyitsdtl.
The best laptop is the one that I cannot afford :)

I'd like it if it had a number pad.

Didn't you have a Surface Book?

Surface Book is great, but it is a dual-core machine and this is quad-core. World of difference for performance if you need it.

Yes yes yes, this is a must get. Finally a good looking PC that has gaming specs and support Windows hello. I didn't hear anything about it having a touch screen but I'm sure it does. Perfect Machine

Didn't you just get the Razer, lol. Tech I swear is the worst hobby/job. As soon as u get something, the next big thing is right around the corner. Ain't it grand!?!

Just bought the XPS 15 thinking the new one is still few months away lol.

If it was less than 2 weeks ago you better run to return it lol.

6 days ago but exchanged it yesterday got till Jan 20

Sounds great, though the 1060 would be a nice upgrade.

Thermals and power draw become a problem with the 1060 especially for a non-gaming 'pro' laptop like this one. 1050 should be a pretty big bump in performance...kind of equivalent to being 10% faster than a current 970M and 60% jump over current 960M.

Watch out dan, over on Imore they are saying 10% is not an improvement. Ha ha ha. They are stating that the kaby lake processors are ONLY a 10% performance boost over the skylakes in the latest "pro" ha ha.

It's quite a bit slower than the 970m, and the jump from the 960m wasn't even near 60%. Think you might be mixing it up with the 1050ti. That one is pretty much on par with 970m.

The 9550 was the buggiest, most unreliable machine I've ever owned. It ruined it for me, Dell. Beautiful hardware, but fatally flawed BIOS updates and just not reliable enough to trust, IMO.

I love mine. Zero issues.

wish it could be used in tablet mode.... that is the only thing preventing me from getting this beauty...

Why would anyone want a traditional hard drive over an SSD? Doesn't even make sense to offer it.

Because then you can upgrade the drive yourself for a lot less, and I'm not sure but this computer might have the option of using two drives so you could use the SSD for the OS and programs and the HDD for storage.

Simple: price. Dell was able to offer the XPS 15 starting at $1k with a HDD option. That's it. It's not about preference or performance, but about letting people with a budget get in on the XPS line. SSD version starts at $1699. What's cool though is you can buy the $1K version and - via my handy guide, ahem - upgrade the drive yourself later on to a faster SSD.

That's what I did with my dell 2 in 1s. I ordered both with HD and lower ram, Its cheaper and easier for me to install max ram and SSDs myself than pay dell to do it! Oh yeah....another thing apple has since forgotten. upgradability. Ball Dropped hard by apple.

MBP killer! The 15inch XPS trumps the mbp in every way! Good job dell!

Mobile app companies still depend on Macs to write iOS apps, ask Facebook, Snapchat, Uber, Google, etc but I think both Dell and Microsoft need to do marketing to show that Xamarin is good choice to build universal apps that run on both iOS and desktop (Windows 10), maybe one day these giant mobile companies stop using Macs and taste better productivity with powerful workstations like the new XPS 15 with Nvidia GTX 1050 GPU and QuadCore i7 Kaby Lake.

Even when using Xamarin you need a Mac to compile use the simulator, and deploy, Apple makes it hard to break out of their ecosystem in that regard.

There are many services out there where you can use the cloud for compilation and testing, over time its probably cheaper to just buy a mac mini or similar and use it as a build server but the cloud services are very convenient.

Yeah but that's just a small niche of users. Look at MacOS market share, less than 10% worldwide and I bet only a percent or so are devs. Another option is using Cordova.

Building apps is not the "pro" I was talking about. Graphics, photography etc is the pro I am talking about...

Eh, I don't know, maybe if Facetime or iMessage become multi platform.

I have a 2008 Macbook Pro (i upgraded the memory and put in an SSD) and was finally ready for a new one until i saw them with no upgradeable parts and that gimmicky touch bar for $$$$$....i can't wait to see this new XPS 15 it sounds like the real deal!

seems like apple has forgotten what a real computer is all about...all they care about is shaving another milimeter or 2 off and to hell with performance or even battery life :-( wish they would just let people buy macOS and install it on generic hardware since they no longer seem able to keep their machines up-to-date...make us wait forever only to be totally disappointed :-(

The XPS 13 and 15 need a new design. Their current design is starting to feel a bit behind IMHO. I would like to see Windows Hello cameras at the top of the screen, a better keyboard and precision touchpad. Anyways, I'm not on the market for a new laptop so only following out of curiosity.

I think they look fantastic. No different than apple really, they had the same basic design since 2008. All they did was make them thinner. If you were not a techy, you could not tell a 2008 MBP to a 2016 MBP.

There will be a touch option like the current line :)

Impressive specs on a laptop, aimed for Pros that know the difference between a Mac and Windows and know that an investment in MacOS X is not wise decision today with all these open source designer tools that Microsoft now has today for making Windows the top choice of platform for developers and designers.

Wow, that sounds amazing.

I thought they were doing away with the "m" for the 10xx series of GPU's. You would be basically getting the desktop variant even in a notebook. The Razer Blade late 2016 has a 1060 in that small frame and is virtually identical in performance to the desktop version. Am I missing something here? Don't own either but is there that much difference in thickness between 9550 and blade?

Ok, I checked it out. At there thickest, the 2 devices are virtually the same at 17mm. Difference is that the Razer is 17mm all around and dell tapers from 11mm to 17mm. I am with the Eve V folks. Damn trying to be the thinnest. Give me extra battery or space for cooling. I mean 17mm is like less than 3/4 of an inch. I am pretty sure no one would complain about that if they could get 19% more battery and a 1060.

Pretty sure the XPS has far better battery life than the Blade.

NVIDIA did get rid of the M designation for the 10xx chips going into notebooks, and the notebook chips are nearly identical to their desktop counterparts across the board. The only meaningful difference is the clock speed, which is slightly lower on the notebook chips. For example, the 1060 sports a base clock speed of 1,506MHz (1,708MHz boost) on desktop, while the notebook chip has a base clock speed of 1,404MHz (1,670MHz). The performance disparity is relatively small this generation — which is amazing — but it's likely we'll see some small disparity between the 1050 desktop and laptop chips still.

I would love if it had just enough bezel at the top for a Windows hello camera like on the spectre. The slim bezel on the side edges make it more than bearable on the spectre. The camera in the bottom left is so awkward.....

I really like this, I'm in the market and I've always felt that 13" laptops are just a bit too small to use as a daily driver. But, I think I want a 2-in-1 design. Maybe that's less practical in a 15" form factor but it's really what's pushing me towards the HP Spectre from the XPS 13 (plus Windows Hello). Maybe I just need a 15" Spectre.....

This sounds pretty exciting. I am in a market to replace my MacBook Pro, and now am torn between this and Alienware 13 R3. XPS wins almost in every aspect, but Alienware kills it with GTX1060, which is still 2x faster than 1050Ti (important for me - VR capable). I wish Vive lowers the min specifications - although 1050 may not provide great experience, it could still be used for development and testing...

They day Dell puts the webcam at the top of the display is the day I get an XPS. Adding half an inch at the top isn't going to ruin the minimal bezel display. Hopefully they will come to reality next generation for the 9570.

Still with the same oddly placed web cam. Not for me.

Looks like my new development laptop just have been announced

What I've been waiting for...

They should have gone with 1050 Ti for that price, at least.

Doesn't Ti only have 2GB of VRAM whereas regular 1050 can have up to 4GB (which this does)?

Exactly. The XPS 15 needs a 1050Ti option.

FIXED: Dell "accidentally" reveals refreshed XPS 15 with GTX 1050, fingerprint reader
Windows Central Newsletter
Thank you for signing up to Windows Central. You will receive a verification email shortly.
There was a problem. Please refresh the page and try again.