Dell introduces new Latitude 13 ultrabook and business-focused 2-in-1s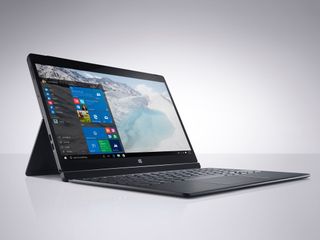 Dell has announced updates to a number of members of its Latitude line of business laptops. The refresh includes the new Latitude 13 7000 Series Ultrabook, along with the Latitude 12 7000 and Latitude 11 5000 2-in-1 computers, all powered by Windows 10.
The Latitude 13 7000 shares similar design language to Dell's XPS 13. A 13-inch ultrabook, the Latitude 13 7000 features Dell's InfinityEdge display, and features, in addition to a standard USB-A connection, a USB-C port for power and data. It also features Thunderbolt 3 support and can power two simultaneous 4K displays. Additionally, it packs in features like fingerprint and RFID readers.
The Latitude 12 7000 is a 2-in-1 and features a 12.5-inch, 4K UHD touchscreen display, and magnetically aligns to one of its two keyboard options. You can use the Dell Slim Keyboard, which is full-sized with backlit, chiclet keys. The Premium Keyboard also features backlit keys, along with mouse cursor control. As you'd expect, the Latitude 12 7000 also features strong pen support. For its part, the Latitude 11 5000 features a 10.8-inch display, and is made from magnesium and hardened glass.
Both the Latitude 11 5000 and Latitude 12 7000 will go on sale in February 2016, with the Latitude 11 starting at $749, and the Latitude 12 at $1,049. The Latitude 13 7000 Ultrabook will start at $1,299.
Source: Dell
Windows Central Newsletter
Get the best of Windows Central in in your inbox, every day!
Getting a 12 incher as a replacement for a venue pro 7140 - love that the ssd is accessible and I hope that hasn't changed. Pciessd would be excellent but I think this is a minor upgrade.

Given that these are latitudes, I assume they have full docking ports on the bottom? Can you confirm? Its one of the biggest selling points of latitudes within enterprise environments.

This. Would love this as my corporate machine, but docking is a must. If it is there, cant wait for my lease roll. Too bad I just did one...

The new wireless infinity 4K displays along with Bluetooth mouse/keyboard alone with a usb extender for more ports

Yeah, full docking port is worth a lot according to me. I don't like the USB docking solution on Precision laptops. It just doesn't work as smooth and well as on my soon to be three years old Latitude.

Docking station with high end graphics card installed? One can dream

That would be epic but not for core m, sort of bottle neck there.

Wow, given all the detractor of the Surface design language when it launch the OEM sure seemed to have taken to it.

Yeah! Just a shame this isn't full fat i5 and 7 and is instead the skylake core m series, like in the xps12 refresh - I'd rather it was a sp4 clone, I've found the core m to be on the wimpy side. At least ram is in good supply here! Makes a mockery of the iPad pro, aside from the cpu.

Is it really core M? I can't find info anywhere even on their site. If it is, shame... I really want this. I guess it's either HP x360 or ThinkPad X1 Yoga for me this year. EDIT: Found it. Ugh. Really hope x360 has good stylus support else it'll be ThinkPad X1 Yoga for me.

Yeah, sucks. I still favour the Dell though, purely because the venue pro 11 was really good (mine had an unfortunate wall accident). Core m hasn't really delivered on the better battery and performance and, frankly, I'd settle for a fan so so I could at least get the performance. I have an i7 sp4 and the device had been flaky, between the os and drivers, though it's improving. I like that I can swap out the ssds in the Dell, can't talk about the others, and I really hope they've gone to a pciessd setup, though doubt it die to the cheap price and core m. Still, will buy one when it appears in the UK.

This might be off topic, but what laptop should I be looking to get? I'm moving to Florida soon, won't be able to bring my desktop(wouldn't wanna anyway) and I'm looking to get a sub 500$, that's good for the casual gaming, and heavy browsing. Any suggestion? I've been searching, but honestly there's too many.

Think no more, Dell Inspiron 7000 series with Nvidia GTX 860 and Skylake Intel Core i7 Quad Core CPU, this costs more than $500 but you get a laptop that if it were from Apple you would need to pay more than 2K bucks. Don't purchase something cheaper than $500, its not good for you.

I believe it's been refreshed and it's a gtx960 now. Not a bad device at all, though the build isn't premium - but then it doesn't cost premium either. Excellent choice, I recommend it also. It'll game ok on a 1080p screen to boot! Plus you can upgrade ram and ssd!

The 2-in-1 is gorgeous. Well done dell. My only issue is the Windows button on the bottom bezel. I thought we were getting rid of those.

Why dont they ever update the venues?

Doesn't this replace the venue pro line?

No info about the kickstand on the L12, is it any angle or fixed?

Looks fixed in the pics, which is a blinking shame!
Windows Central Newsletter
Thank you for signing up to Windows Central. You will receive a verification email shortly.
There was a problem. Please refresh the page and try again.