Dell launches Venue 8 Pro 3000 and Pro 5000 Windows tablets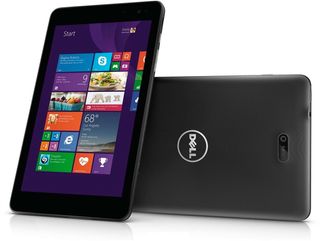 Dell has introduced two new Venue 8 tablets, the Pro 3000 and Pro 5000. Both the Venue 8 Pro 3000 and Venue 8 Pro 5000 are Windows tablets geared towards both personal and professional use. The Pro 3000 comes with 32GB of storage, while the Pro 5000 comes in both 32GB and 64GB configurations.
In terms of specs, the tablets are pretty similar. They both have 8-inch, 1280x800 displays, and run on quad-core Intel Atom processors. They both also have 5MP rear cameras and 1.2MP front-facing sensors. The biggest difference is in the RAM, with the Pro 3000 containing 1GB of memory, and the Pro 5000 containing 2GB. Both tablets are available in a variety of colors.
The Venue 8 Pro 3000 Series starts at $199.99 for 32GB, with options available for different cases and accessories. The Venue 8 Pro 5000 is available for $249.99 for the 32GB configuration, and $279.99 for the 64GB. Both are available on Dell's website.
Source: Dell, Venue 8 Pro 3000 (opens in new tab) Venue 8 Pro 5000 (opens in new tab)
Thanks to Dr. Impossible for the tip!
Windows Central Newsletter
Get the best of Windows Central in in your inbox, every day!
Doesn't seem much different from the current Venue 8 Pro, aside from not having that ridiculous fry-pan groove on the back. I like it. (Unless it's still there and my eyes deceive me.)

For the 3000 series, you can get glossy white, which is smooth, or textured black. Other than that, it's RAM. If you have a current Dell Venue 8 Pro, the differences are likely to be miniscule. The 5000 series just has a slightly newer processor, though not necessarily much better.

I was looking forward to next version of DVP. Very disappointed by the effort (or lack of it).

Well there's honestly not much they can change yet. Intel is still a few months from releasing the bay trail successor.

Do either of them have HDMI? That's the big drawback with the current Venue 8 Pro
(I say this whilst website building on a dual screen setup with my small and mighty Asus T100! HDMI is such a key thing for me)

No need for HDMI, use a mircast device. I have the DVP8 and I use a netgear widi/mircast device and watch movies and view pictures with no problem on my TV. We even used it on a recent cruise to Alaska on the TV in the cabin.

Sorry, but "buy a $50+ dongle" is not a great solution. Especially when the host device itself is only $200-$250 dollars and it's raison d'etre is portability. Dell could have easily included a micro-HDMI port.

Amen! HDMI is a much better solution for me. It means I only need to take a cable with me to get connectivity everywhere. Dell didn't need to compromise...and they shouldn't have done given the business user demographic that they are trying to appeal to.
I'll stick with my superb Asus T100 :)

There is a reason for it though. Miracast doesn't do as well for video playback (but newer drivers make it better). You still have issues with the device when it comes to using both bluetooth and the Wifi on the device simultaneously due to the interference with the chipset. (I used to own it and that was always my problem with the device -- well, that and the fact that you can't charge and plug in usb devices into the micro USB port. simultaneously. Still, for a Windows tablet, I used to really like that device.

You can get that HP laptop in 199$. Why would anyone even bother looking at it?

They still have the Windows key in that awkward position don't they? -_- cant tell from the picture

Yeah I would rather that ether made it a capacitive touch or moved it to a better spot

I've found that I prefer it this way since I never use the physical Windows button. I always swipe in from the right to bring up the Charms Bar and tap the Windows button that appears there. Even when I use tablets that HAVE a capacitive Windows button on the bezel, I never use it... I still swipe from the side since that means it's the same regardless of what orientation I'm holding the tablet.

I agree completely, i hate the capacative button on my SP3. To those above Miracast works great for media streaming, or viewing photos, but as a secondary monitor to do actual work, its laggy and slow. Think slow Remote desktop connection with cursor lag, and such. If there were a micro hdmi port, i could plug into my tv, and use a wireless keyboard / mouse.

And the charms bar that will probably be gone next version of Windows... So, don't rely too much on that...

Digitizer still in it? Still accept an SD card, better display this time?

Hi, I've read that série 5000 has a dual-bande wifi versus monobande for the serie 3000...
Are there great differences? Thanks

I love the groove on my DVP8. Its grippy which is great in the field as it provides a very secure feel and I would much rather feel that than slick.

Nooo that textured back was perfect! Made it easy to hold and distinctive

Actually that's a thing I like very much. And also looks great. I hate slippery tablets. Grooved or not.

So glad I got my Venue 8 Pro one week ago for $150 in like-new condition through Amazon. No new awesome features here, maybe just a newer processor.

So...what's different from the current venue pro, then? Sounds like the 5000 series is just the current model, while the 3000 is slightly gimped. Pretty lame, Dell. For the $250+ price we should be getting a better screen, especially now that you're paying nothing for Windows.

Only difference that I can tell is the processor: Intel Atom Z3740D vs Z3745D. The newer one has a slightly faster GPU (688 MHz versus 792 MHz).

Except, they managed to screw up even that "bump": depending on the... color (black/red) you may still get the older Z3740D (it's on their site). Taking into account that you can buy a Z3740D with 2GB RAM at Amazon for $200 right now, there is just absolutely no reason to buy these "new" 3000 or 5000 series...

Take a look at Lenovo Miix 2 8. I think its a better tablet with The almost same price

Yeah that one has been compared to the Dell veue 8 Pro before but out of many reviews the average one concludes that the Dell's have a brighter crispier screen

I used to have a Miix 2 8 but didn't like the performance for desktop apps. I basically ended up using my Surface 2 more becasue of that and just sold my Miix 2 8. Atom CPU's aren't quite there yet for me.

Rather get the surface or Lumia 2520

Windows RT? No...just no!
(I say this whilst listening to Spotify, browsing with Google Chrome, & IP switching using CyberGhost....all on an Asus T100 tablet).
The one good thing about RT - it'll be merged with Windows Phone, which means we should finally get USB OTG and Bluetooth HID

Chrome? No...just no.
Lol

Let me guess.....you use Internet Explorer?!!
I don't like Google - but Chrome just works. & I get all the useful browser plugins too. Internet Explorer on the other hand is just so dated, glitchy and unintuitive.
When Microsoft bring IE to feature and usability parity with Chrome, then I'll gladly switch back.

IE works as good as Chrome with much better. Touch and high dpi support. What features are you missing? Or is it just another bullshit?

It does not work as well as Chrome. There is no inline auto-translation (which I find v.v.useful!). The chrome app store makes it easy to add such things as CamalCamelCamel Amazon price tracker, Adblock Plus, QMee etc etc. Those same apps aren't available in IE.
Most usefully though, I can convert such things as outlook.com into a web app - which I can then pin to my taskbar (it even comes up with the correct Outlook logo).
Password and autofill functions work far more reliably in Chrome. Oh, and when I right click on a web page, I'm not greeted with a menu that harks back to Windows 98!!
Also, why is it so difficult to find such things as Internet History on IE, and how do I open previously closed tabs?!
Microsoft need to improve the UI of IE....because it is just horrible at the mo. I do recognise that it is the better browser underneath the crap UI (videos work better for instance). But for me, Chrome just does it better

Firstly have are you using IE 11 cause that's where its at. Apart from in-line auto translation and the chrome app store, IE 11 can do everything else you've mentioned. I prefer it mainly cause it's faster. i've used chrome, firefox and IE 11 and IE 11 loads web pages faster than all 3. And seriously, you can't find history and previously closed tabs?? You must be a very novice user if you can't click a couple buttons till you find them but to give you a hint, history is part of the Star menu on the top right and you can open previoulsly closed tabs by opening a new tab (though that depends if new tab opens the new tab page, not a specific page). I also think UI on IE is much nicer than any of the other browsers so that's all a matter of opinion. Have you ever had 10 tabs opened and say wanted to close the last 5. start closing them in IE and Chrome and you will see with IE you don't need to move your mouse cause of the way the tab header expands. small feature but I find it very useful.

It's not clear, but it looks like both tablets still support a stylus.

It has to have a digitizer or it would be a downgrade. Frankly, because of my DV8P with digitizer+pen my laptopbag has become light again. No need for paper notepads and other 'piles of paper'.....just a DV8P+OneNote (+ HP Elitebook). My back is thanking me everyday.

I have to admit I like the Dell tablets might get one to replace my Surface RT at some point

I agree. It lacks full USB and HDMI ports though. Also does it come with free MS Office?

1 Years Office 365 according to the Dell UK website but that may be for the older model not 100% sure

The position of the home button on Dell Tablet is very strange.

I think it makes a lot of sense, since it usually falls near one of my fingers and is a physical button.

NO SALE. I have bought my last Dell. My Dell Venue 8 Pro, is back on it's way to Texas for it's second Motherboard in less than 1 year. Dell wouldn't even consider just a refurbished replacement or extending the warranty on a clear lemon device. As others here note, the spec's are underwhelming at this point. Dell has a top of the line android tablet, with amazing spec's but sadly, they have no interest in a consumer device worth a darn. I'll check out the Lenovo, but I am kind of over 8 inch devices, and 16:9 aspect ratios.

Nice! If I'm in the market for an 8 inch tablet this is probably what I'm going to get and a big reason is because its a DELL... I'm really happy with the way all my Dell products work... But as of today my 10" netbook seems too small a screen for me to work on and I'd prefer a 13" or higher device. Got my eyes set on those 3 in 1 from Dell Inspiron 11, 3000, Inspiron 13, 7000 and the very pricy but worthy Microsoft Surface Pro 3

Besides the Lenovo Miix 2 8 and these, what would folks here currently recommend as a 8 in tablet? The upcoming Stream 8 Table HP one seems to be significantly cheaper, but I gather they must have skimped on some of the specs.

If you can afford it (and find it) the Lenovo ThinkPad 8 is the creme of the crop.

Thanks, I could afford it but not sure I want to spend that much on an 8 in "couch/bed time" tablet. :) Would rather then go to a bigger screen.

I have ordered a surface pro 3 for my general needs and I'm also thinking of adding up to the value by buying an extra 8-inch cheap model. Still not sure which one.

Daniel, how would you rate the new Lenovo Yoga 2 8: inch tablet with Windows 8.1 against these ? http://shop.lenovo.com/us/en/tablets/lenovo/yoga-tablet-series/yoga-tabl... I have been looking at this model - nice, light and handy - and maybe just thinking of springing for the 8: (wait involved) or the 10" model.

I completely agree with Daniel in spite of the price slightly more ($379). The Full HD screen makes a big difference + it has USB 3.0 port, HDMI out and micro SD expansion slot. I own the Thinkpad 8. It is listed on the US online microsoft store - http://www.microsoftstore.com/store/msusa/en_US/pdp/Lenovo-ThinkPad-8-Si.... It is listed as out of stock. I doubt whether it will be in stock again as Lenovo has stopped making and selling them. They now sell the Thinkpad 10 (better specs) - http://shop.lenovo.com/us/en/tablets/thinkpad/thinkpad-10/

They are also, or will be soon, selling the Yoga tab 2 8 inch. Maybe that's replacing the ThinkPad....

I think Lenovo has just stopped selling them *in the U.S.* but it may be available in other countries. There was a minor news flurry a few months ago about this.

Indeed. I picked up the TP8 because I wanted the higher resolution display. That's what I use for my e-book reading and other things where a smaller tablet works best. I still have my Venue Pro 8 but I only use it for testing Windows 10 right now. My Venue Pro 11, however, has become my daily-driver PC.

True, but not many tablets have active digitzer support. Has Windows Central every done a round up, or "face-off" of ONLY the tablets that have some sort of active digitizer support? Either from Wacom or some others? Lack of active digitizer support is a deal breaker for me for any sort of tablet I consider purchasing. Even the guy In the promo video is using a capacitive stylus. So far, I'm holding on to my Galaxy Note 8 because it has the active digitizer but would love to jump ship to a Windows tablet.

I could only recommend you wait a bit more. There are quite a lot of new 7-8" Windows tablets. Some of them priced as low as 130$ (Toshiba if I recall correctly).

Yup, probably the best approach - I can probably hold off until about Xmas. :)


The Lenovo yoga tablet 2 windows version. I'm looking at getting one when they release and giving my dell venue 8 pro to my 3 y/o daughter. The dell has been great, no major issues

Thanks, it does look pretty cool!

Yawnnnnn... Should have at least a 1080p screen and an active digitizer for $100 more.

The venue 8 pro 5000 does have an active digitizer. it uses a synaptics active stylus.

If its the same one on last gen DV8P, pass on it. That being said, its still better than a capacitive stylus any day of the week, just compared to a Wacom, or the ntrig on the SP3, its not even close.

I still love my Dell Venue 8 Pro, even after it has fallen from ~6 ft.

I actually saw these two yesterday when talking to a Dell rep at their booth at a mobile conference yesterday. From the few minutes I played with them, they were solidly built and felt no lag. Pretty nice actually.

"Thanks to Dr. Impossible for the tip!" HAHA!

Can we get a review video soon?

They need to use the pen and screen tech from spro 3. I guess a spro mini is what u really want

Does either of these come with a stylus like the original Pro?

I like my Dell Venue 8 Pro. I bought it for using the stylus with an 8-inch device, but the stylus tech on it is horrible. The writing is jagged, and the palm-rejection is horrible. But otherwise a great tablet.

They've gone through a couple of revisions with the stylus. Make sure you are using the A02 revision.

Firmware or stylus itself? The stylus was released and then delayed, and the one I have came out from Dell's re-release.

Lenovo ThinkPad 8 still beats this but sadly it ain't available in in India. :|

I completely agree in spite of the price slightly more ($379). The Full HD screen is really good. I own the Thinkpad 8. It is listed on the US online microsoft store - http://www.microsoftstore.com/store/msusa/en_US/pdp/Lenovo-ThinkPad-8-Si.... It is listed as out of stock.

1GB of RAM for the 3000 series? Very minimal....

Neat! I love my Venue 8 pro. Mostly cause I got it at a killer price;) but its still a pretty cool tabby for $249

Do these updated versions include a micro SIM slot? Because that's what I wanted most in my current DV8P.

Why couldn't they just combine them all into the pro series and instead of numbers, they just make the other one another SKU? SMH Dell

I love my Dell Venue 8 Pro.

Devices like these make me feel silly for buying a Surface RT

I love my Nokia 2520, but I do wish now that it was full windows. I'm definitely going to get a Surface Pro 4 next year if it has LTE/4g capabilities.

nah, I was going to replace my Venue with an RT until a bargain Pro 2 came along. The RT's keyboard options, design, feel, is superior to the Venue's IMO. (in particular the kickstand, solid material build and choice of...)

Yeah, but the Surface RT and Nokia 2520 are better overall devices. They just aren't as capable, software wise. Honestly, you can't go wrong either way. You can get a sweet RT device or a decent full on Win 8.1 device for CHEAP these days. As much as a I wanted an 8 inch with full Windows, I'm loving my $99 Nokia 2520.

So pretty much just a new SKU to conform with win 7 and 8 being replaced with 8.1 in retail?

value for money = Dell,Acer

I thought the 5000 was the same as the first DV8P? It's been on the Dell site for a while. Has the touch sensitivity issue been fixed? Wonder if the pen works better.

tablet pc review forums state everything is the same except supporting dells wirewless hdmi or something like that.

I have the Venue 8 Pro. The biggest gripe is the 1 (ONE) micro USB port that can't charge and do data at the same time (unless you modify a USB hub). As far as I'm concerned, they failed on this update. Still the same thing as the last gen. Great tablet that can do almost anything, but lack of ports is a little absurd.

This!!! It makes it so limiting! With a dock and or wireless charging this service would be killer!

I think Dell has a dongle that fixes that. Not included though.

Yeah, you're right. I wrote the samething below. People suggest using miracast if you want to use another screen but that doesnt really work unless you're just mirroring your screen. If you try to dual screen, its impossible to use without a (virtual) keyboard/mouse. And that doesn't change the fact that you can't charge and use an flashdrive/harddrive or anything at the same time. This isn't a upgrade

Needs a dock/wireless charging and or another USB.


Finally got a tip posted! These new configurations look great. However, I just picked up a Winbook 801 at Micro Center and its tough to beat $139.00 with roughly the same specs, mini hdmi and a full USB 3 port.

Agreed...the Winbook with 2GB of RAM is by far the better deal. I have one...it screen is comparable to the Venue 8 Pro, speed is good and it has FULL USB 3.0 and it works great...

I'm thinking of getting one...how good do you think it would be for streaming media like XBMC? I was thinking of using the hdmi spot to hook it up to my tv and use it for that.

Thinking of the Winbook that is? I've honestly not used the HDMI out yet...may try it later this week and report back if I can. I did have the Venue 8 Pro (donated it when I got a Surface Pro 3) and I don't see much difference between it and the Winbook...

Ok, look forward to hearing your thoughts. I have tried it on a Venue 8 Pro, so if it's nearly the same, then it should be good to go.

Hey Doc, help me get that Winbook 801 to India . I cant resist that at 139 bucks. I mailed them and they flatly refused ! Mail me at atul292@gmail.com

It will be interesting to see all of the specs of HP's $100 tablet. I can't imagine that they're much worse, which should force Dell into a major price drop.

Best thing to come out of this is the new accessories that can be used for the original Dell Venue 8 Pro. At least I don't have to upgrade

So basically I'll be keeping my old DVP8 for at least another year.

i wish Dell brought back DVP. They seriously need to bring back the keyboards. that phone was beautiful.

What I'm still waiting for: 1920x1080p WORKING Stylus LTE Didn't think that was asking for too much but apparently it's an impoosible spec to put together. I'd even pay $399 for it.

the problem is price. adding in the 1080p screen at 8 inches and a stylus is expensive. Why not get the surface 3 ?

In your own words, "the problem is price"

No LTE and too big. Android devices have had 1080p screens at that size for years now. Why is it taking Windows so long? (Though to be honest, my specific specs don't exist anywhere in any ecosystem at any price.)

So in other words Dell wasted an entire year and did nothing to update their tablet. Thanks Dell for not even trying. Think I'm going to get the Lenovo Yoga tablet 2. At least Lenovo is trying.

They came out with new PC's and monitors. I don't think they are diving in too deep on tablets. What they have right now works. I don't see the need for a new one every year. If they wanted to make a real change they could add sim card support so I can use it on tmobile. I've got a free data sim I can't use because they don't have a lumia, Dell, or Surface tablet.

I love my dell venue pro 8. Even with all its faults i've bought 3 of them. But i dont see this as being a resonable enough upgrade. Does this at least allow for charging AND usage of the usb at the same time?

So ... no 7000 series for Windows ... great .........

Windows tablets are similar to Windows PC's

I thought about getting the venue 8 pro as it looks pretty good especially for the price.
I went for the 11 pro very pleased with it.

Windows key would be very helpful to my almost three year old daughter.

My DV8P is by far my favorite little tablet that I have owned, great device! Interesting, basically nothing at all has changed from the one I have to these new ones. Only thing I can tell is a very SLIGHTLY upgraded processor.

Is the Yoga Tablet 2 the only small windows tablet that offers a reasonably high res screen? The market is flooded with cheap stuff but not seeing anything to compete with the ipad mini.

Why buy this when you can get a HP Stream with 200MB free LTE from T-Mobile

This appears to be more of a .1 refresh rather than a whole new model. Probably updated to slightly newer components as the older ones are running out. If you've already for a Venue 8 Pro, it would probably be best to wait til the new year and we'll likely see a real upgrade. Dell does this all the time with their business range - e.g. same basic chassis for Latitude XX00, XX10, XX20, but slightly newer components, then a big change every 1.5-2yrs.

Sounds like my Toshiba Encore 2, but with digitizer option.

Did they fix the random power failure while connected to the mobile keyboard on Dell Venue 11 Pro?

I love the Dell Venue 8 pro. Got one for my daughter. Dell is pretty much the only brand I buy besides this Surface 2. I like the quality and support. I love the grooves on the back too because it gives piece of mind that it's not going to slip. Also because no other tablet has it. When I got the black one I wished they had a red one (same for surface) and now they have one. Getting a red for my son soon, and maybe my other daughter too because her Acer tablet sucks. The 3000 and 5000 don't have enough new features to warrant spending the extra dough though.

Hi everybody Windows 10 will be the game changer all Hybrid Tablets/Laptops will automatically switch from Tablet start screen tiles screen to the good old desktop screen when you put the tablet on it's keyboard dock. mouse and keyboard Desktops will get a super "New" start button. all this and other improvements will make these new Dell tablets better when they get the update to windows 10. Hopefully Microsoft will make the upgrade to Windows 10 free to those who have windows 8 or 8.1. MS put the Upgrade to windows 8.1 in the Microsoft store App maybe they will do the same for Windows 10 "I HOPE SO"

So the main difference between the Venue 8 3000 n 5000 model is the 1 or 2GB memory? I am thinking I want the 32GB to keep the cost down. Is the 1GB memory enough for the basics surf, some pics etc (not gaming) or am I better off paying a bit more for the 5K with 2GB??? hummm for another $30 I can get the 64GB... just don't know what to do... I could afford the $280, but I started looking at the Venue 8 3000 at $200, or supposidly $150 presale Dell...

Guys, At the dell website business section it shows the 5000 series with LTE from verizon, does this mean it comes locked with it or can i use any data line to enable the LTE. Thanks
Windows Central Newsletter
Thank you for signing up to Windows Central. You will receive a verification email shortly.
There was a problem. Please refresh the page and try again.