Dell Venue Pro delayed, (sigh), again in the UK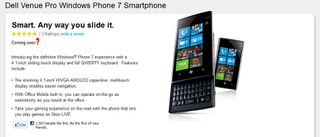 It seems that reporting on delays of the Dell Venue Pro is quickly becoming one of our favorite pastimes. It's not that we enjoy reporting about them, but rather that the delays with the Dell Windows Phone have been so frequent.
Well, once again, word is that the device will be delayed further in the UK.
Though the device was expected to be available first thing in 2011, Clove (opens in new tab) reports that it won't be happening until sometime in mid-February (we can only hope). They say that the hold up is something to do with a Microsoft MMS issue. The Venue Pro, which is currently the only Windows Phone in the UK with a vertical slide-out QWERTY keyboard, was orignally announced back in October of 2010.
Source: Clove (opens in new tab) Via: PocketNow
Windows Central Newsletter
Get the best of Windows Central in your inbox, every day!
I'm hoping it comes to AT&T soon. If verizon offers a wp7 before att has the venue pro, im jumping ship for sure.

It would be so cool if today's Verizon announcement was for WP7 instead of iPhone. Alas, probably more of a dream than anything...

I keep having this feeling that Dell is delaying it waiting to get the first update for WP7 and THEN send it out in the EU. Or I could just be reading into it.