Dell XPS 13 getting Intel 7th Gen Kaby Lake, Killer Wireless MU-MIMO in forthcoming refresh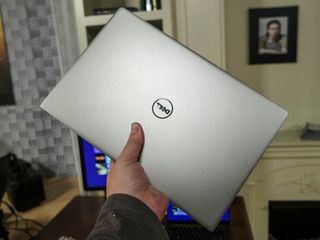 The Dell XPS 13 is my favorite 13-inch laptop and with good reason. Now, Dell appears to be readying the next generation of the laptop with a few updated specifications.
As spotted on reddit a comparison sheet posted on Dell's website (opens in new tab) lists the refreshed XPS 13 with new internals. The design itself is likely to stay the same as it has since its introduction of the InfinityEdge display.
Here is what is new with forthcoming XPS 13 line:
7th Generation Intel "Kaby Lake" Core i3, Core i5, or Core i7 options
Faster CPU speeds: Core i5 jumps from 2.8 to 3.1 GHz; Core i7 jumps from 3.1 to 3.5 GHz
Intel HD Graphics 620 (no mention of Iris option)
Wi-Fi is updated to Killer 1535 2x2 + MU-MIMO + Bluetooth 4.1
16GB RAM version is now clocked higher: 2133 MHz (up from 1866 MHz)
Size, weight, storage, and display all remain exactly the same.
The addition of Killer Wireless is welcomed as those are often preferred for improved network performance and are used extensively by the gaming community. MU-MIMO (Multiuser multiple input, multiple output) is helpful for homes with many devices connected as it helps direct network connections, however you do need a MU-MIMO-supported router too. Speed and memory bumps are also impressive as it means the XPS 13 line should continue its dominance in this high-end category.
There's no word on when Dell will officially announce this refresh, but it shouldn't be too long. Availability will likely happen in the October-November timeframe.
The XPS 15 with InfinityEdge is not yet getting a refresh just yet, which makes sense since that line is slightly newer than XPS 13. In addition, quad-core Kaby Lake processors are not expected to ship until late December making an early 2017 refresh highly likely.
Daniel Rubino is the Executive Editor of Windows Central, head reviewer, podcast co-host, and analyst. He has been covering Microsoft here since 2007, back when this site was called WMExperts (and later Windows Phone Central). His interests include Windows, Microsoft Surface, laptops, next-gen computing, and arguing with people on the internet.
Damn Daniel, Back at it again with the XPS.

lmao i just bought mine like a week ago why :( you got do me like that dell

Suggestion: You could upgrade your Wi-Fi to the same Killer 1535 card. You can also throw in a Samsung 950 PRO SSD to really improve performance.

Don't even think about this, 950 although its blazing fast doesn't add anything to daily experience. Its milliseconds of difference that you wont notice. On the other hand you'll lose around 3-4hours of battery life.
Speaking from my experience.

My experience on the XPS 15 is vastly different. Battery life has been great and I noticed a significant improvement. Even boot time is cut by 1/3 to just 20 seconds.

Okay Daniel, I gotta ask. You had an XPS with an SSD drive in it, and it took a minute to boot into Windows? I have seven different Windows devices (Thinkpad, WinBook, Latitude, XPS, 3xStream) using stock eMMC or SSD, and the worst boot times I see on them are around 20 seconds from cold. Why did your system take that long to boot before upgrading the SSD??

Nah, 30 seconds before SSD upgrade; 20 seconds after. Sorry, maybe my math is off, lol.

Which ssd did you upgrade from? Stock in XPS? Was it SATA/PCIE?
And to which one 950.?

My 9350 always booted in less than 20 seconds. Even though it was 128gb SATA one(R/W 500/150MBPS). And now I'm rocking 240 pcie (R/W 1400/1000MBPS) Kingston predator and boot time is almost same.

I noticed that for some reason Dell BIOS takes around 10 seconds and then windows boot begins and that also takes another 10 seconds. This is weird my 5 year old Toshiba never tops 13 second for boot up.
Don't get me wrong I love this machine it's so small but still so capable, and also mostly it's on sleep which it boots up instantly from so boot time doesn't even bother me.

Hey Daniel.. Asking really nicely here unlike others :D
Will you please review the HP ENVY 15t (2016 edition).
This particular model doesn't have ANY review on the entire internet. I've found only news articles from back in June-July.

You should still be under the return period. Return it.

You should have documented better. It was known Kaby Lake was on the horizon.

Come on, there's always a new upgrade on the horizon. Of everything. This is the first rule when you buy something technological: never wait for the next update (unless it's certain and has a certain time frame). That said: I've just bought one, so I think I'll return it :D

From not really working to Killer. Quite a leap. Good for Dell.

So you had one of these that had problems? Tell us about your personal experiences with them.

Hopefully they fixed their ****** trackpad, that thing (along with the useless wifi) drove me nuts prompting a switch to SP4.

I've seen people complain about the trackpad, but I have to look into it. Not having any issues or complaints here (running the Gold version).

I'm also running the gold version and I absolutely love my XPS 13.

Ok cool, should Dell really have to refresh the XPS everytime Intel unveils a new processor? XPS is a legend and they could just let it be. I would like to see something new from Dell, a powerful two in one may be.

They do it, but they rarely make a big deal of it. It's just a normal hardware refresh for them and lets them tweak some other components. It's roughly been a 10-month cycle since the 9350. I think they just want to keep ahead of the competition so they keep their XPS line up to date as much as possible.

Then they would be like Apple and go years without updating the processor, be horribly out of date, their users would be sreaming about being forgotten, sales would plummet, and become closer and closer to irrelevance every day.

Will it improve the 2.5 hr battery life of the current model? Posted via the Windows Central App for Android

Nonsense. That is far from my experience and any other reviews. The FHD version can easily hit the 10-hour mark. QHD in the 6-8 hour range depending on configuration. I run the fastest one: Core i7 with Iris graphics and QHD and can easily hit 6 hours.

I spoke to a dell agent 10 days to complain about the battery life and she pointed me to a review site whose recent review gave the same short battery life and that I could expect 2.5 - 3 hours of battery life. She was very well prepared and had clearly had this conversation many times. I will need to Google to find the review again, however I did find the following from a site called ultrabookreviews: 18.4 W (~3 h 3 min of use) – heavy browsing in EDGE, Balanced Mode, screen at 80%, Wi-Fi ON;
24 W (~2 h 20 min of use) – gaming in 1080p, Balanced Mode, screen at 80%, Wi-Fi ON. So clearly the reviews and long life being reported is being measured with screen dimmed dramatically. Sitting on planes and trains I seldom feel like putting a blanked over my head to see the screen. This is my second 9350 as the first one broke and dell sent me a new one quickly back in March. The battery performance was similar for both. I can only recommend NOT getting: touch screen, i7, 16gb RAM and the 1tb SSD. I certainly regret it. I am now seriously considering getting the dell external battery pack for this laptop and I am unlikely to get another Dell. The construction is faultless.. But what good is that if it is flat brick in under 3 hours.

I normally run at 20% brightness unless plugged in when it automatically jumps to 100%. The display at 20% actually looks good to me, and I figure it helps the battery life, so no complaints from me.

Link to the reviews quoted would help ;).

I so want this!!!! *A happy XPS 14 (2013) user*

I've been considering getting one once they were refreshed, but am bummed about no Iris graphics. I hope that when they refresh the XPS 15 they add another SKU with that option. I don't expect to hardcore game, but being able to do some things when traveling would make it a lot more compelling.

The Iris Graphics option was a few months behind the refresh due to not being ready. My guess is the same/similar here.

the only thing i miss is a windows10 pro option - these would be great as high end office laptops but without bitlocker they are not compliant and upgrading every system before handing it out is a chore.

Would like to see a refresh with an AMD Zen APU in 2017.

Just bought the XPS 13(2015) a few days ago... Im thinking of returning it and getting the this new one. Hopefully they let me return it

I love this laptop but hate the battery life on the Quad HD+ option. I hope Kaby Lake gets the battery up to 7-8 hours of usable time!

I wish Dell would make a fanless version!

Should be using Intel wireless. Killer is bad - drivers are a nightmare to remove all the mess they leave behind and the hardware comes and goes in terms of responsiveness. Killer also vanishes after the sale and you almost never see driver updates. It's a cheapening of the XPS product, but luckily one which a reformat and a new wifi card can fix. Still a bad move on Dell's part.

It's good to see someone other than Apple take laptop wireless connectivity seriously.

@Daniel Rubino Can we assume that these will be same spec upgrades we will see in future Surface Devices and in the same vain, a Q12017 upgrade release?

Of course you can't wait for an update, when you buy something. You have to think at what you need right now. But, for all those who bought an XPS13 a couple of days ago (exactly: comprising me): should we consider sending it back, and wait for the new one? Are the updated specs worth the hassle of the whole return-and-wait procedure? What do you think? (I really need to clear my head about it, now)

Keep it man. And about a year after the new model is in market (that can be 18-24 months from..now) you can buy it, much cheaper.

Well, it's not that I want to change my laptop every year, let's say that ;)
Windows Central Newsletter
Get the best of Windows Central in in your inbox, every day!
Thank you for signing up to Windows Central. You will receive a verification email shortly.
There was a problem. Please refresh the page and try again.