Dell's near bezel-less XPS 13 with QHD+ display up for sale on the Microsoft Store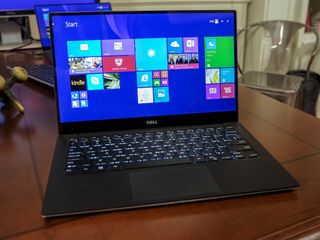 Dell's near bezel-less XPS 13 with a Core i5 and QHD+ Infinity Touch Display is now available for purchase on the Microsoft Store in the U.S. Previously, only the Core i5 non-touch version was available online and in the Store, but now stock for the higher-end (and higher priced) version is available.The high-end notebook comes with Intel's latest-generation Broadwell CPU, and can be configured with a QHD+ (3200 x 1800) touch display.
Here are the configurations on offer from the Microsoft Store:
Full HD (non-touch)/i5-5200U/4GB RAM/128GB SSD - $899
QHD+ (touchscreen)/i5-5200U/8GB RAM/256GB SSD - $1,299
QHD+ (touchscreen)/i7-5500U/8GB RAM/256GB SSD - $1,599 (Coming Soon)
Microsoft is also bundling Office 365 with the XPS 13, although those variants are not yet available for purchase. The bundled price allows you to get Office 365 for $79, a discount of $20 from what the yearly subscription usually costs.
If you are interested in the Core i7 variant bundled with a full-fledged version of Office, it looks like you'll be able to save $220 on the purchase, with the PC + Office bundle for the i7 version listed for $1,478, down from its retail price of $1,699. That variant is not yet available, but we'll let you know as soon as it goes up for sale.
Not really sure as to what the big deal is with the XPS 13? Dell has a TV commercial highlighting the thin bezel display:
Be sure to also check out our hands-on post to get an idea as to what you can expect from Dell's latest notebook.
Thanks for the tip Romit!
Windows 10 bezelless 15" touch 4k... I'm going to build a script to scan dell.ca for to instant pre-purchase with an open price range on my credit card.

Noice... Now make it core M and 2-in-1

Here you get great performance. The Core M series aren't meep-meep-fast

I'll take it with Skylake please.

I see a massive bezel with the Dell logo on it, but it's a nice start. If only phone manufacturers could get rid of ugly bezel on three sides also. Good luck with your credit card script, hope it doesn't go sentient.

Yes, that would be great wouldn't it. Then Dell can put the webcam by the keyboard where it can look under your chin, and the hinge attachment so flimsy it easily breaks with just one flick of the hand :\

Nice to see this and I was pleasantly surprised to see Dell's new ad on TV late last night on AMC. I'll have my thoughts on the Core i7 version with QHD+ later this week.

Daniel, you are so lucky to have so many devices. I want to know the ones you actually use. Wish you could send me one of the devices you have but never use. ;)

Most of the time the devices he (and most other press staff) receive from manufacturers are not allowed be given away or resold

Haha, that was interesting.. :D

I've been meaning to do a 'What I use' post...will try for this week.

Cool. I think you should grab it Dan, Can I have your old piece of crap Surface Pro 3? :)

Really nice ad.... Who knew, they actually had it in them :)

I purchased mine from Dell. I got the i5 256gb ssd 8gb of ram non touch. It is a phenomenal business laptop.

Looks nice but I've been burned by Dell too many times - most recently when they said they fixed an issue under warranty on my All In One XPS 2710. Ultimately the same problem came back, only worse, after the warranty expired. No joy from tech support...now hoping Amex Extended warranty covers it since I'm within their 1-year extension period.

I am in love with the XPSes since I got my XPS 14 two years ago. They stopped making that one though. Wish I could get this one too...just for no reason. It's awesome!

Lol the commercial. That is not a dragon fruit tree. The real one kinda like a cactus tree. XPS 13 or Surface pro 3.. ?? Hard to choose..

What I'm really waiting for is a near bezel-less XPS 15 with: 1- An i7 quad-core Skylake processor 2- QHD+ or 4K display 3- 16 GB of RAM 4- 512 SSD 5- Wireless charging and display capablities (which comes with Skylake) Now give me that and see my bank account depleted on the spot.

Well, almost your specs but my newphews Macbook Pro meets almost all of your prereqs. I managed to install bootcamp and windows 8.1 on it. I was impressed and hoping for the same thing from Dell myself. I just can't do 13" right now.

To this second I am not the least bit sure of the actual usefulness/utility of QHD-class resolution on laptop and desktop size screens. I don't really think there is any to be truthful...unless you're some kind of person who looks at your screen through a magnifying glass. Shorter me: Screw QHD. Just kill 1366x768 XVGA.

I have a 15" Lenovo that runs at 2880x1620, and I can tell you that a high PPI screen absolutely makes a HUGE difference in legibility of text and sharpness of images. I can't stand going back to my 24" 1080p display sitting on my desk now. I had never realized how hard my eyes are working to focus on the blocky pixels of standard displays before, but now I can't wait to replace mine with a 4K monitor.

OMG, yes please do away with 768p. The guy who orders our hardware always gets the 768p option. We finally mandated that all pc's we order have to be i5 / 8gb / 256gb / 1080p.

Never seen as beautiful laptop as this one....

Dell laptops are the best windows laptops in the world, I have it and just love it

Battery life was a bummer from otherwise the best best of ever

I really don't need it, but I want it. No, I crave it :D

Got the 4GB variant from the MS store. Does what I need it to do, which is mostly school work. Battery life is excellent--I rarely charge it even after several hours of use. Can easily get 11 hours out of this baby.

Dell customer service the worst in the world..

Still prefer my XPS 12... I wonder if they will make a new version of that with less bezel.

Signature Edition... No crapware! 8)
Windows Central Newsletter
Get the best of Windows Central in in your inbox, every day!
Thank you for signing up to Windows Central. You will receive a verification email shortly.
There was a problem. Please refresh the page and try again.