Dell blows us away with their near bezel-less XPS 13 Ultrabook
When it comes to Ultrabooks and laptops these days, the competition is stiff, even more so with the advent of the Broadwell series from Intel. Today, Dell stole the show with their refresh of the XPS 13 laptop, which is now available for purchase.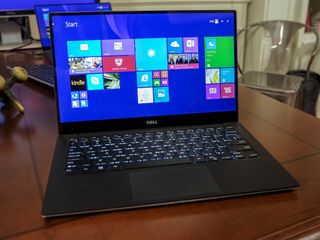 The XPS series is a high-end Dell laptop and desktop computer line and the XPS 13 has always been one of the best in the Ultrabook category (we have one here at Windows Central, along with our XPS 15). Dell though has partnered with Sharp for an exclusive, near bezel-less display in an outstanding design.
Buy the Dell XPS 13, starting at $799.99 (opens in new tab)
Specifications
Intel Broadwell Core i3, i5, or i7 CPU
4 or 8 GB of RAM
Up to 512 GB SSD
Display: Full HD (1080p) non-touch up to QHD+ with Touch
2.6 pounds
12-15 hours of battery life (depending on configuration)
USB 3.0 x2
Mini display port
Kensington lock
Full SD card reader
Exclusive 13.3-inch UltraSharp™ QHD+ (3200 x 1800) infinity touch display
The real story behind the new XPS 13 is the 13.3-inch UltraSharp infinity touch display. Dell started work with Sharp over two years ago to bring the technology to their Ultrabook line. As a result, the XPS 13 has a miniscule 5.2mm border around the display, which is barely noticeable.
There's no better time to shop and save money on a new laptop. Be sure to check out our continuously updated article on the best Dell XPS 13 Black Friday deals. Dell tells us that the technology behind that thin bezel is exclusive to the XPS 13 through August of this year, meaning there will be no other Ultrabooks on the market to match this specification. Apple is expected also to shift to Sharp displays, but only the XPS 13 will feature this thin-bezel design through late 2015.
Exceptional battery life
We spoke to Donnie Oliphant, Director, XPS Product Marketing about the battery life of the XPS 13, which can vary depending on the configuration. As it turns out, opting for the Core i3 won't necessarily garner you better battery life over the Core i5 or i7. This discrepancy has to do with the idle versus burst speeds of the chipsets.
However, choosing the Full HD non-touch display over the QHD+ with Touch certainly will improve things, giving you that near 15-hours of battery life. A complete Core i7 with QHD+ touch screen should still push out 12 hours of battery life, so you are looking at a 3 to 4-hour difference if that matters to you.
Oliphant informs us that Sharp's display technology lets Dell push the battery life even further with this device over any other. Combined with Intel's 5th generation Broadwell chipset and efficiencies in Windows 8.1 (and even Windows 10) and the XPS 13 is one of the highest performing Ultrabooks with one of the best displays around.
13-inch Ultrabook in an 11-inch frame
Combined with Sharp's display and Intel's new chipset, Dell can put a 13-inch laptop in the body of an 11-inch design. In comparing to the 13-inch MacBook Air during the press conference, the Dell had an overall smaller footprint in every dimension.
The previous XPS 13 was already the most diminutive 13-inch Ultrabook on the market, but the 2015 version pushes that even further.
Impressions
I won't beat around the bush here. Between the precision touchpad from Microsoft, the ultra-thin bezel, the gorgeous QHD+ display, the carbon fiber and the 2.6 pound weight, the XPS 13 looks to be an outstanding device.
Even better is how you can choose the $799 option with a Core i3 and Full HD non-touch display. The reason, this is great, is because you get the same chassis as the high-end $1599 option, including that bezel. This ability, to offer many SKUs but with the same Ultrabook design, means this device can finally span the spectrum from affordable to premium. Previously, Ultrabooks were exclusively in the $1299 or higher range, but that changes with Dell.
You can order the Dell XPS 13 starting today from their website (opens in new tab), with shipments expected to begin on January 22 or January 28 for the QHD+ version. Microsoft Stores should see the refresh on the XPS 13 and XPS 15 in the "coming weeks".
Windows Central Newsletter
Get the best of Windows Central in in your inbox, every day!
Daniel Rubino is the Editor-in-chief of Windows Central, head reviewer, podcast co-host, and analyst. He has been covering Microsoft since 2007 when this site was called WMExperts (and later Windows Phone Central). His interests include Windows, laptops, next-gen computing, and for some reason, watches. Before all this tech stuff, he worked on a Ph.D. in linguistics, watched people sleep (for medical purposes!), and ran the projectors at movie theaters because it was fun.
Yup. Ordered a Core i7 with 256GB SSD ;)

That's one beautiful machine! PC makers are getting really serious these days!

With all those annoucements from Dell, Samsung, HP, Asus, Acer and other OEMs I'm really curious about what will Apple come up when it comes to Air refresh. I want this to be the first year in quite a few during which Windows OEM have better offer than Apple when it comes to premium devices. I hope Windows 10 improves touchpads a lot - because those OEMs put great hardware for controlling cursors already but there are still couople remaining issues with how Windows handles the input (and drivers are a problem too).

​Windows 10 will have native touchpad support in the OS, so OEMs can't screw up any more. ​

I know there are changes and I'm hopeful but OEMs are talanted - they can screw anything :)

Interesting. Never tried it myself but everyone raves about how the Macbook touchpad is so perfect. Will be interesting to see how Windows 10 compares.

The only thing that is added native is gestures, they can still fuck up whats important, precision!

Pretty awesome indeed. Simply put there aren't any reasons whatsoever to buy a MacBook (unless you use fcp) awesome indeed.

Apple's M.O lately has been taking an existing product and making it thinner or lighter or faster. That's about it. They might release a Macbook Air 12"...big deal. Already have an 11 and a 13". So I'm guessing you might get your wish after all.

The point with 12" is that rumours are they are going for screen with minimal bezels similar to what Dell have done here and they will have 12" screen in Macbook's 11 body and 14" in Macbook's 13.

Why not just keep the 11 and 13" and put decent 1080p panels in it? Voila! Instant screen real estate! I sure hope the 12" has something better than 1366x768 or 1440x900 panels in it. Those are relics.

According to this article, they are rumored to be switching to Sharp displays and the minimal bezel display won't be available to other OEMs till late 2015. If this is accurate, Apple won't be able to release a minimal bezel design till very late in the this year or next year.

Is the new Macbook Air 12 using a Sharp display or some other vendor? Dell only has the exclusive with Sharp.

I'm liking this better than the Lenovo myself. Plan on getting the i5/8gb/256 SSD.

Same here... been a devoted Lenovo guy for 10 years... But they are getting wayyyy behind in display tech. The only thing that is "bad" on this is the PgUp/PgDn keys needing a Fn key pressed. It was bad enough Lenovo changed their keyboard.

There's a fantastic free program (donation-based if you want to pay) called KeyTweak that I find to be a must-have for laptops with these crippled keyboards. I found it to solve exactly the same problem on my Fujitsu T904 convertible. PgUp and Home are squished together on one key (Fn for Home) and PdDn and End on another. I use all of those keys on a full keyboard, but if I had to choose, I use Home and End a lot more than PgUp and PdDn, so with KeyTweak I just swapped so the default was Home and End and needed to press Fn for PgUp and PgDn. But with KeyTweak, you can remap any key to any other key, so the choices are broad. Obviously this doesn't add any physical keys to the keyboard, but it should let you customize to the point you find any ultrabook keyboard acceptable.

You picked it over the Lenovo? Since you had hands on for both, which looked / felt better? The 2014 X1 Carbon's work well for our users overall, but the XPS 13 with 1080p / 8gb / 256 (and seemingly better battery life) for $1149 vs $1249 on the Carbon (1080p / 4gb / 128) makes it a much easier decision.

I ordered myself the Yoga 3 Pro, and I hope I made a good choice. Although there aren't many choices here in Croatia.

You're getting a versatile , lightweight laptop with a gorgeous screen. The core-M in it may not be super powerful, but it will do a lot of tasks just fine. Yoga's are my favorite laptop design.

core-m sucks though. stuck at 5 watts.

Im very sorry to inform you, but the yoga 3 pro felt really awkward when I tried it in Lenovo centre in Zagreb. Especially the hinge. It felt flimsy. Anyways, Sretno :)

I would love to see the Dell 13" XPS with the same flip design as the Yoga Pro 3. What is stopping Dell from creating a similar hinge so the screen can be flipped as a tablet and then adding a digitizer for Pen support?

Exactly what I was going to write. WC had one at the office, but no, none for Mark! In addition, wc has one in the office - lay years model, I presume.

Do you think it can have discrete graphics?

Most likely not. Most ultrabooks don't have them.

It looks sexy! I need to upgrade my XPS 13 to the newest!

I don't get it... Xps duo manages to exploit touch as well as the excellent Yoga-design... This is just a very portable computer... What gives???

Basicaly a high end one ... :D anyway great machine :)

Now this... glad Dell went back to private. They been turning over a new leaf. Posted via the Windows Phone Central App for Android

My thoughts exactly, they appear to be much more in the with consumer demands now.

For sure. It started with the Dell Venue 8 Pro homerun and they haven't slowed down since.

Looking at this is making me drool a bit. I want to have this along with my SP3 but that will surely result in me being single haha

In my case I'll probably be homeless in this harsh winter! Could have risked it if we were in the summer...

6 lbs? I like my latitude e7440

looks awesome. 6 pounds? Can that be right?

Or 1.18kg for those who live in the future...

Meh, give me a gaming machine.

Meh, find a gaming machine and buy it, damn. Posted via Windows Phone Central App

Nice laptop. But I'm already set for the next three years.

I really like this, but 13 inches is a bit small for me. And it's also a bit expensive...

*sigh*... I need more money lol

Super nice! Maybe i better return my surface pro 3 adn get one of these machines. I always thought the xps13 was one of the best laptops... this just makes me we want it again!

Depends on what you want: If all you want is a laptop for this no doubt. But if you want a convertible (ie: Something you can also use as a tablet and is lighter) stick with the sp3.

Yup... This is in my opinion a relic... Kind of like a Mercedes vs a Tesla

Dell really has improved! I used to have a really bad impression of Dell products up until the Venue Pro (Windows phone) came out. Kudos to them for making a beautiful machine! Really setting the bar for ultrabooks.

Gorgeous. Still in love with my Dell 11 Inspiron 2 in 1 with 240GB SSD in it. Lighting fast and a beautifully designed machine for under 500$ (SSD included). Only wish was for backlight keyboard. Only con of it for me.

So is there an XPS without a bezel, or is the title incorrect?

Microsoft store already has the non touch version online.

Everyone going back to netbook sized screens and here I sit with my 17 inch laptop. Love seeing more power pushed to the smaller forms but man I just can't see going back down to something this size. It is a nice looking machine though.

With qHD resolution you can really pack a lot of data into 13" space without losing readability. My Lenovo Yoga 2 Pro displays prettty much the same amout of data on 13" that my previous HP Envy 17 with 1600 x 900 px resolution did on a 4" bigger screen.

Still need insect eyes to discern, no matter how sharp the display is... No pun intended.

Works for me but I understand some people might want larger icons and text.

Good bless ya. I'm 38 and just not feeling the need to strain my eyeballs, I suppose. Still have perfect vision! I want to keep it that way. Thanks.

QHD and Windows 8.1 don't really work well together. Scaling is a big problem as some apps look fuzzy and others have teeny tiny fonts. Add an external 2nd monitor and things go nutz. Hopefully Windows 10 will address that. For now, 2560x1440 on a 27" desktop screen seems to be the sweet spot or 1920x1080 on a smaller screen.

I thought this was discussed and the fault lies with app developers not updating apps for hires displays. Metro apps scale well in windows 8. It's just the desktop apps that have issues. The same issues apply to windows 7. I'm not sure how windows 10 can fix poorly designed desktops apps.

Mmm I'm honestly not craving for that.

Woah! Finally an OEM in windows to take on MacBooks in terms of esthetics without compromising the performance. You go Dell!
P.S I desperately want to see UltraBooks with dedicated GPUs. This one feature, and ultrabooks can be your perfect working computational gadgets.

I want one as this ultrabook looks amazing.

No front facing camera I assume...

It does have one! Lower left corner.

Does that seem to be too low of an angle? Be starting up someone's nostrils. Perhaps, one day, the camera could see through the screen to be placed in the middle. Folks always seem to be cross-eyed when Skyping. Lol.

Lol... That's a good indight

Love that screen - makes a MBA look downright ancient.

WOW. Spectacular machine, I am so happy! I don't think we can wait anything better than this!

Damn that is impressive! Really cool stuff coming out of CES.

I would like to see fewer companies push QHD, solely to save battery life. Ideally, I would be able to get the i3 or i5 with a 1080p touch display.

Yea yea its means nothing if dell still haven't improved their sh*tty motherboards. & we all know dell is synonymous with sh*tty motherboards. My inspiron 15 3521 i5 is in ICU right now after 8months of purchase. Now I'm using my 4year old Samsung rv510 *sigh*

How come I don't know about that. I am still using my Dell E1505 and E1420. The only thing that crapped out was the LCD display driver, which I have replaced.

My inspiron sporting an i7 just turned 3 years old, still going strong!

Now, all we need is the XPS 15 (2015 edition). 15" display in the body of a 13" machine. :) It would also help if Dell would lose that exclusive deal on the Sharp display before August.

Unfortunately the XPS 15 will not be bezel-less,such a shame,I was so looking forward to buying one myself!

My 5 year old Toshiba laptop (13" with Windows 7 64bit) is just beginning to slow down. This might be the perfect replacement for it. And the price is just right for the non-touch version since I paid more for the Toshiba in 2010 around this time than the entry level XPS 13.

I'd love to get this! That display looks gorgeous. Think I'll save my pennies and hold out for the 15 inch model though. 13 is just way to small.

Imma git me one of these of the highest specs.

Imma gonna git me one too. Murica, bitches.

Want one!!! Dan, try to take away one of those next time, I'd be happy for such a gift ;-)

I love the keyboard on the xps laptops. I already have an xps12 but this is tempting

Looks great, but I'll probably look to the new latitudes. come on, give me dedicated home/end page up and page down keys because, spreadsheets.

There are so many i3s, i5s and i7s.. So which one?..

That is one gorgeous laptop. I don't like laptops nor would I ever buy one at those prices (I rather use the money to build a custom PC). But if I HAD to buy a laptop to do something the SP3 can't, I'd probably look into this one very very seriously.

But what SP3 can't do is not much right? Aside from serious Writing anyway. And that can be mended by using better Bluetooth keyboard.

I do most of my writing on the SP3 without problem. Actually, it's what I use my SP3 for the most. All the gaming, music and content consumption etc I do on my normal PC. But I do get the point about the keyboard. It took me a little to get used to the smaller keyboard it has (I started to get used to it on the Surface RT already) but I know write faster on it then I did on my normal full blown PC keyboard. To me, this laptop would never do anything more than the SP3 does and since the SP3 already does all I want it to do really well, it would be redundant.

The non touch version are quite good already. Love the thin bezel remind me of the LG ultra pc.

One big risk with Bezel-less displays (Laptop, Smartphone) it'll crack easier... It's pretty, yes... But my clumsy hand will drop them sooner or later and they'll just break.

In fairness: Laptops typically aren't as prone to drops as tablets or even phones, as the spend most their time idling on a desk or in a bag or other, as opposed to being handled in the hand for long periods of time.

True... True... But some people still manage to do it (I have 2 laptop in my possession now, and both has suffer a drop... Both still working though.)

Yeah, I'm not denying that people (myself included) can be accident prone. But in general for the mass-market: The lesser bezel is worth the potentially more shatter prone screen for most.

Just looked at the XPS 13 (2015) service manual. RAM is soldered in place with no additional socket. You're stuck with what you buy it with. Dell is becoming Apple. Not a good thing when it comes to upgradability.

And the people buying this don't care about upgradeability.

Yes, and as we know very well these days, people make very educated purchase decisions when it comes to practically anything, but especially electronics and computers (major sarcasm). I'm curious, though, how you came about knowing what everyone cares about...that's quite a super power.

This isn't targeted for the tinkerers. This is targeted for the people who want to buy something that's thin, light and will get the job done. Anyone who actually cares about upgradability will generally make an educated decision and buy a computer that's user serviceable, at the cost of being bulkier. But for most: Thin and light is perfect, and the idea of upgrading their computer causes more anxiety than relief, because they don't want to mess with it. After all, the majority of consumers don't /want/ to mess with their device, they don't /want/ to open it up and upgrade the RAM, or replace the processor, or add more storage. They just want it to work. That's the market this machine is geared towards, not the person who must upgrade all the things.

I didn't realize opening a cover to pop in a new, bigger memory module is considered "tinkering". Your world and my world are very different. In your world, down the road when the laptop slows down or your hard drive is full, I guess you throw it out in the garbage and buy a new one? In my world (where I do IT support for businesses), my clients want an inexpensive way to extend the life of it. They don't want to spend another $1000 or more just because their hard drive is full or they only have 4GB of RAM on an OS that really needs 8GB and apps that need more. But, it seems you know what the majority want/need.

And I agree that trying to simply pop it open and swap in some more RAM is something many people want to do, especially in the IT field, but this isn't targeting those consumers. This is a consumer PC, not a business PC. http://www.windowscentral.com/business-pcs-vs-consumer-pcs-whats-difference

You might want to check the Dell Small Business site, where the NEW XPS 13 is listed for sale. Apparently it IS a BUSINESS PC.

They advertise the Surface Pro 3 and Macbooks for business use also, likewise with iPads. They still aren't meant to be user serviceable. Again: The price you pay for thin and light. If you want to have a user serviceable machine, you'll have to get something with a little more bulk.

I'm having a hard time following you...first, it's not for tinkerers (adding memory isn't "tinkering"), then it's not a Business PC (Yes it is), and now it's not user serviceable (which is obvious, and is my complaint). I guess we've come full circle and we agree!

My stance hasn't changed. My stance, from the beginning, has been it's not for people who want to switch out components in their machines. It's not for people who want to upgrade their RAM, processor, hard drive, what have you. It's nor a business machine in the sense it's not meant to be deployed in mass across a large IT department looking for easily serviceable machines that will have replacement components for years and years to come. It's not a serviceable machine. Period. My stance has been it's not serviceable, we agree on that. Where we disagree is the fact that it's not meant to target people looking to self-service. It's meant for people who want slim, pretty and well designed. They just won't be able to fix anything on their own.

It's not designed for people that don't want to change it. There isn't a group of consumers that laptop manufacturers target...namely, those that don't want to add memory or hard drives. They don't solder everything to the mainboard just for this group of consumers. It's the other way around...because it was designed with everything soldered in place, consumers CAN'T upgrade it. While (for many) it may not matter one way or the other, there are others that do care because without the ability to add to it at some future point, it becomes an expensive disposable device. I don't disagree that making things razor thin and feather-light precludes the ability to change things, but there is a point where function outweighs fashion. I'm not interested in throwing away a $800 base model PC in a couple years because the SSD is full or 4GB isn't enough. I don't hear the deafening cries from consumers demanding razor thin devices. I'm also not interested in future-proofing my purchase by buying the most expensive model with the most capacity at marked up prices that benefits only the manufacturer (Apple, especially). The only one that benefits from this sort of marketing is the manufacturer who gets big bucks on over-priced upgrades.

That's the price you pay for thin and light. If you want user customization you have to go with bulkier designs.

Can you upgrade the ssd? I ordered the 128gb with the intention of popping a 512gb msata in there.

The SSD is removable, but it's not mSATA, it looks similar to the M.2 type.

Also where did you find the manual? I looked around for it.

You can find the XPS 13 (2015) model service manual here

Holy shit, this is just wow... Want, really want...

Never been a fan of Dell but that looks amazing would definitely get

Its great to see the OEM's now pushing great designs in the ultra books and also bringing the price down. Its taken far too long for me but its good to see it and will be interesting to see how Apple and the Chrome OEM's react. I still think everyone has a long way to go to catch up to Microsoft in the tablet/pc market with the Surface but the new HP and Toshiba is a start but after buying a surface 3 I don't see my self looking at a laptop, ultra book or another tablet any time soon as it hits everything right for what I need it for. The company I work for do sell a lot of dell PC's though and I do expect to see quite a few of theses being ordered by our customers though. The next 12 months will be interesting especially when windows 10 comes out.

Anticipating Daniel's review before I purchase probably the same model as his.

Thanks to the surface pro line for pushing design and power.

Yep! The MS strategy of resuscitating the PC space using the Surface line seems to be working. Can you imagine what the situation would have been if they just sat back and didn't release W8/8.1 with the modern UI, sticking with the typical W7 style?? The PC space would have been experiencing much worse decline. At least now OEMs are getting much more imaginative with touch, tablets and ultrabooks!

That's an impressive laptop! Hat tip to Dell!

The big T would likely be this!

These devices from Dell are getting me excited. Look at the ascetics and hardware so impressive!. And battery life is awesome too.

That's one beautiful device. SP3 is going to have stiff competition this year I guess.

As great as this looks, I think in practice the bezel will be too small. I can't possibly be the only one who grabs my laptop by the top sometimes to show something to someone. That's impossible here without touching the screen. So, maybe the edges with so little bezel I can see working, but not on the top and the sides. There as to be somewhere you can place your thumb or finger and not worry about touching the screen.

They partnered with Sharp for this, not surprising. Aquos Crystal anyone? The bezel-less phone from Sharp?

Yup. Sharp's doing the same with a lot of their TV stuff. Really great displays.

Looks like X220's replacement is somewhere on the horizon. Go, windows manufacturers, go bring it to me!

CrApple is going to ""COPY"" again, and tell all the iSHEEP they invented infinity display, and ........, and/or 1st to ""make"" it(like CrApple makes anything or even has ANY factories, hahahaha LOL:-)) their hurrible overpriced devices are pieces of ovrrated Hyped-up crap, that is missing TONS of featuers and options that we use on Windows PC's for a while(their iJUNK phns are 3 to 4 years behnd other brands). you have to be an absolut ******** to buy in to their BS marketting crap or support this EVIL, Greedy, compnay, with crappie devices. BTW, i LOVE my XPS 15 Touch with """""""""NFC""""""(no MacCrap has), and QHD 4K TOUCHscreen(oh wait MacCrap does NOT have this either), i7 cpu, USB 3.0, 16GB ram,Carbonfiber base,........... and so many to list here.

Ahh! Man u hate apple like hell.. Just like me... ;)

I am going to buy a 800$ version soon... :)

Worst choice you could make. 4GB RAM and 128GB SSD will be full very soon and you're stuck with it because you can't upgrade it. Cheapest isn't usually the best choice.

I am definitely in the market for a new laptop. Was sold on either the new Thinkpad Carbon X1 or T450s but now I am considering this machine as my daily driver and getting docking hub with keyboard/monitor for when I am at a desk. Comparing a similar X1 vs XPS i7-5600U vs i7-5500U, both with 256 GB SSD, 8GB RAM, Display 2560x1440 vs 3200x1800 X1 = $2091.57 XPS13 = $1599.99 Nearly $500 difference to be used toward monitor, docking hub, mouse, etc... So my biggest question then becomes whether I can use a 13" display. I am currently using a 17" Dell Precision M6400.

Correction, $1399 for the signature edition at the Microsoft Store. That seems like a very good value to me!

Before buying be aware 2013 and 2014 XPS 13 had a horrible design error. https://www.google.com.ar/search?espv=2&q=dell+xps+13+noise+site%3Adell.... 46 pages...
http://en.community.dell.com/support-forums/laptop/f/3518/t/19538215?pi2... https://www.youtube.com/watch?v=cwR4CWzDtfQ

How about XPS 15 in 13" laptop body. That's something that would fly off the shelves, I think.

Given the redesign here you'd imagine that a similar idea might already be motion. But given the recent addition of a 4K display to the XPS 15 maybe there's some other challenges to overcome to make sure that can be brought to a slimmed down form factor.

Oh wow! That's exactly what I'm looking for! I wish I could buy it today in Europe. But it's good that they don't sell it here yet so I'm forced to wait to see Apple's new MBA 12". I still prefer OS X over Windows 8.1. But WHY NO USB TYPE-C?!?!?!? Well, nothing's perfect. Cheers!
Windows Central Newsletter
Thank you for signing up to Windows Central. You will receive a verification email shortly.
There was a problem. Please refresh the page and try again.