Despicable Me: Minion Rush for Windows Phone receives minor update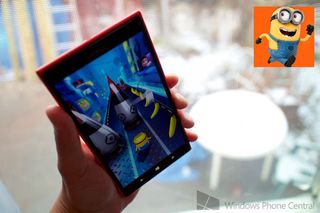 It was only a few days ago when we covered the release of Despicable Me Minion Rush for Windows Phone, but already the popular title has received an update, bumping the game to version 1.0.0.1. Since this is such a minor update, we can only assume that bug fixes have been implemented, alongside some possible optimisations.
Unfortunately, Gameloft have failed to provide a changelog for the Despicable Me update, but should you notice anything else that's new or improved, be sure to shout out in the comments. If you haven't yet downloaded the game we strongly urge you to do so, especially if you're one who loves both endless runners and the Despicable Me movies.
You can download Despicable Me Minion Rush from the Windows Phone Store for free (Windows Phone 8). Thanks, Edipose, for the tip!
Windows Central Newsletter
Get the best of Windows Central in your inbox, every day!
Rich Edmonds was formerly a Senior Editor of PC hardware at Windows Central, covering everything related to PC components and NAS. He's been involved in technology for more than a decade and knows a thing or two about the magic inside a PC chassis. You can follow him on Twitter at @RichEdmonds.
Still laggy on ATIV S GDR3 :(

How much faster are we talking about? :-P

I don't know, man. You are not the first comment I've read claiming it's laggy. But it runs smoothly on my L925. And I can't take my hands off it. I mean Temple Run was fun..but Minions are something else entirely. Kampai!!! :D
Anyways..just saying.

In my L720 Its laggy due to the 512mb ram. L925 has better specs so it should run smoothly

+1 L720. It randomly accelerates on mine. Lol. But laggy:/ hope they optimize it soon..

Even though on my first comment I was being sarcastic, it doesn't lag for me and runs as smooth as butter on my L925

in my 720 they run smoothly (: only a bit lag when kill the boss and the camera move, but nothing more c:

Oh. My bad then. I wouldn't know about 512MB RAM devices..the L925 is my only WP.

Fine on my 520, It works perfect!

Works well on the 1520 as well:P

Nothing changed, still lagging.

This runs much smoother on my Surface 2 tablet... Maybe it's that newer Snapdragon 800 doing the work...

Runs just fine on the original Surface as well.

Are you talking about Surface 2 or the Nokia 2520?? Cuz the Surface doesn't run on a Snapdragon processor...

Seems to run fine on my 1080 with no lag that I can tell.

Running better on 512mb ram than before (NL620 GDR3 dev preview)

little improved graphics and smoother on lumia 520

Guys what is the app data in this game??minion rush is of 326 mb.with around 60% of app data?????

On the first start of the game, it downloads some files. I think this is it.

But it will be less than the game size.still 60% is not acceptable.even bloody other storage takes place..huh

Do u know how much size is that???

No lag on Lumia 928. Was a bit laggy on my Surface RT at first but it has settled in nicely & is now playing smoothly!

Better on my 925 but feels like it could be a little better in next update!

Lag.. And heating up my 920!

No lag on my L920, just the heat. But I think it's normal

Battery drain is high and phone becomes hot compared to other games.

Much faster now on Lumia 820

when it was first relased it was lil lagy on my lumia 920 , there were some frame rate drops but was playable and i enjoyed it. But with today's update its working very smooth,better than my ipad :D.thanx for a quick update gameloft

I was wondering the same..

Today i was at near friend's home. I became so jealously because of one of my favourite game was "ea most wanted 2" installed on android device. Also Dead trigger. !! When wp8 will see these games ??

That's a question to ask EA, not us.

I know it broda, but i want to ask everyone why wp8 is given a stepmotherly treatment ?? Isn't a great OS which runs perfectly without any hitch and lags unlike other OS (iOS, android) ?

Has a game ever had xbox features added after it was released?

Resolution is definitely better, but the lag has decreased very little,
still lagging. I am using L720.

I would say the lag is a little better but the frame rate still sucks. 920

There is new content in the suburban part and the mexican part for sure and runs smoother on my l920. Altough it freezes when you want to invite friends trough Fb. And I got to see the challenges now and can enter so not a bad update at all as far as I can see.

Well the graphics has been reduced. Cant see my facebook friends on the scorecard. Or leader board.

Still can't invite FB's friends

The lag is less but still haven't figured out if the random supersonic mode is a glitch or intentional.

Excellent update,this totally fixed crashes on my Lumia 720 at start of 3rd stage,though graphics are little reduced!

A lot more smoother in my 520.

Runs a bit smoother on my Lumia 520 with Gdr3 update few days ago.Though it feels a bit laggy but then i'm happy it responds correctly even when it lags unlike shitty temple run.Kudos to Gameloft.

Tilt sensitivity has been increased, on my HTC 8x it was slightly sluggish up until now. I don't see any performance tweak so far.

Wow this game is AMAZING on the Lumia 1520!