Despite Epic Game Store exclusivity, 'Ashen' is still coming to Xbox Play Anywhere on PC
The Epic Game Store has become notorious for dropping piles of cash on publishers for exclusivity, forcing them to change up established release plans at the last minute. Ashen was an early casualty.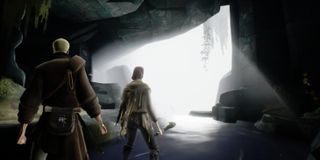 Ashen is an excellent open world hardcore action RPG, with a haunting art style and intriguing asynchronous multiplayer. As good as Ashen is, the confusion around the game's launch, becoming one of the first games to get Epic Game Store exclusivity, really bit a chunk out of the game's hype.
Ashen was previously listed not only as a Steam release, but also an Xbox Play Anywhere release for the Windows 10 Microsoft Store on PC. Players who picked up the game on Xbox were expecting to be able to carry their progress and purchase between Xbox and PC, but Ashen's publisher, Annapurna Interactive, turned their back on its launch promises for that sweet Epic Games cash money.
Thankfully, developer Aurora 44 recently reiterated on Twitter that Ashen will still eventually emerge on Xbox Play Anywhere, and the Steam page is still live, with a "TBD" launch date, indicative that the deal with Epic Games is only a timed-deal.
This is something we are still actively working on - it just ended up being a longer road than we anticipated.This is something we are still actively working on - it just ended up being a longer road than we anticipated.— A44 Games - Flintlock (@A44games) May 18, 2019May 18, 2019
As frustrating as Epic Games is with its aggressive exclusivity deals, restricting consumer choice to what is, objectively, a far-worse storefront than Steam (and in some ways even the Windows 10 Microsoft Store), it's difficult to be angry at smaller publishers opting to secure cash to pay their bills and keep the lights on. It's even worse for the developers themselves, who are often not even involved with these sorts of deals, yet take the brunt of the anger on social media.
At the very least, it looks like Ashen will eventually emerge for XPA and Steam in the future. Ashen is currently on sale on the Epic Game Store, with an "Epic Discount" putting it down to $20.
Protect the light
(opens in new tab)
Shine bright like a diamond

Ashen is a fantastic action RPG with a solid story, gorgeous presentation, and engaging gameplay.
Windows Central Newsletter
Get the best of Windows Central in your inbox, every day!
Jez Corden a Managing Editor at Windows Central, focusing primarily on all things Xbox and gaming. Jez is known for breaking exclusive news and analysis as relates to the Microsoft ecosystem while being powered by caffeine. Follow on Twitter @JezCorden and listen to his Xbox Two podcast, all about, you guessed it, Xbox!
Microsoft be like "Yo, Epic. Game still coming to xbox and PC as a Play Anywhere title..."
Epic, "nah huh- It's Epic Game store exclusive on the PC!"
Microsoft, "Look kid, we've already mastered being a monoploy and got the fine to show it, you're just starting out... you wouldn't want a little Windows update to stop Epic launcher from working, now would you?... no? glad we... you agree that Play Anywhere support is great."

What are you talking about?

Apparently pushing other digital game store fronts out by throwing money around is the same as packaging your web browser with your operating system and not explaining to users that they can download another option?

Ah thanks. That helped me understand part of his comment...

This comment gave me a brain hemorrhage

Basically it didn't sell well enough, probably due to the backlash (it wasn't a big title to begin with anyway). And now they're coming back.

Maybe I don't get it but what does this change? This was a timed deal on the Epic store. And it would end up on steam and on Win10 store once the deal ends. I think Epic always does these timed deals. So nothing really changed. This has nothing to do with the amount of copies sold or any backlash...

For starters, they never communicated this. Never clearly said "it's a limited time exclusive, then we'll be a Play Anywhere/Steam, whatever". Like they didn't say a word of them leaving Xbox Game Pass/Play Anywhere for PC at release. That was a whole load of crap. Also the news itself doesn't say it will be an Xbox Game Pass game, so I wouldn't celebrate this. For me, the damage is done and I hope the game is a failure.

I think you may have used the wrong term in your final paragraph, as the game is an Xbox Game Pass game, did you mean to say Xbox Play Anywhere?

I kinda just stopped playing this game, I should get back into it.