Developer Interview: Alan Mendelevich from AdDuplex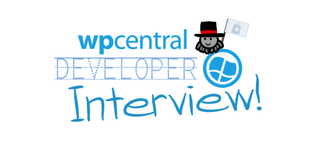 For this week's Windows Phone developer interview, we're joined by Alan Mendelevich from AdDuplex. While his time isn't focused on app development per se, Mendelevich does an incredible amount of work to help developers on the platform increase their revenue potential and promoting their apps. At the recent WPUG meet up, we viewed an AdDuplex presentation that outlined details surrounding effective use of social media among other promotion means to increase exposure.
Check out the full interview after the break.
Tell us about yourselves and how you got into software development.
My name is Alan Mendelevich and I live in Vilnius, Lithuania. I'm the founder and CEO of AdDuplex - a cross-promotion network for Windows Phone apps. I've been developing software since early teens. I've actually blogged recently about my first software product development experience when I was about 14-15.
I've studied computer science at Vilnius University and worked as a developer in various capacities after graduating for more than 15 years now.
What do you think of Microsoft's platform (from a user perspective) and how do you compare it to competitors?
I think it's a breath of fresh air in the mobile world and I totally love to watch facial expressions of iPhone and Android users change when I show them my phone. It goes from skeptical "yeah, how cool a Microsoft product could be?" to "WOW! This is awesome!".
What's the number one feature you love the most in Mango, and what are you looking forward to in the next update?
I love the Me tile. It went from basically useless in pre-Mango era to my most used feature in Mango. I just wish I could see Twitter replies in context and hope it will be implemented in the next release.
What path(s) led you to develop for Windows Phone?
I've been developing in WPF and Silverlight since 2008 and I wanted to do something in mobile long before that. The fact that Silverlight was chosen as a platform for Windows Phone development was the last push I needed. I think it was a brilliant move by Microsoft to attract people like me.
What's your take on the Windows Phone development process?
I think it's great. The tools are mature and familiar to most of the .NET developers and the Metro design language is both great looking and detailed so even developers can make decent looking apps on their own. Obviously you need designer's help if you want to make something really great, but you can make simple elegant stuff by just following the rules.
Have you developed for other platforms and if so how does the development process compare?
Back in like 2004 I've bought a Symbian phone and downloaded Symbian SDK, browsed through the documentation and decided that I'm too spoiled with .NET to get back to that level of development. Later on I wanted to do something on Windows Mobile, bought a book and almost finished it, but both the OS itself and the development process were not really exciting. So I failed to find motivation to do something. You can say that Windows Phone was my first real experience doing something on a mobile platform.
AdDuplex is an interesting service to provide developers with a backup network for in-app advertising, how did the idea come about?
As I mentioned before, I was a WPF and Silverlight developer and was really excited when Silverlight was announced as one of the development platforms for Windows Phone. I went to the MIX10 conference and was shocked to learn that only developers in 30 countries were basically "allowed" to develop for Windows Phone. And at that time there were no options for the rest of us. At MIX11 a concept of Global Publishing Partners was introduced that partially solved the problem and I'd like to take a part of the credit for that because I've annoyed the hell out of Brandon Watson whining about the issue ;) And, by the way, thank you Brandon for finding a solution!
Anyway, my plans for being a Windows Phone developer were basically ruined. Sure, there were more determined guys like András Velvárt (creator of SurfCube) who didn't bend and found ways to publish to the Marketplace from unsupported countries, but I wasn't one of them. I decided that Windows Phone development won't be my primary occupation. But I couldn't let it go and actively participated in the community on twitter, etc. By mid 2010 I've released amCharts for Windows Phone (http://wpf.amcharts.com/quick) without ever seeing a real phone and did some other things.
Almost immediately after the platform launched I've started seeing disappointed tweets and posts from developers who were struggling to get any traction for their apps and didn't know what to do. And it seemed like there was no one to help them at the time. So I had an idea that we could help each other. Developers had advertising space in their apps that wasn't making them any real money anyway (since they didn't have a critical mass of users). And I thought this space could be put to better use so devs could help each other get more exposure. We only needed a system to make the process easy.
The idea required web development and Silverlight experience and I had both and, at the same time, didn't require a Marketplace account which I couldn't get. So I saw it as a great opportunity to have a significant presence on Windows Phone without actually releasing apps. Today my code is included in about a 1000 apps in the Marketplace, so I have definitely achieved a deeper Marketplace penetration than I could dream of by being an app developer ;)
What's planned for the future of AdDuplex? Possible expansion to other platforms?
We have lots of plans both short term and longer term. In shorter term we plan to improve our SDK, add more features, statistics and other capabilities to the site. A slightly longer term plan is to expand into Windows 8 ecosystem.
What other Windows Phone projects are you working on?
I have 2 apps in the Marketplace that I released mostly for "scientific" reasons. I'd like to thank René Schulte (creator of Pictures Lab, Funny Faces and other apps) for helping me release one of them when there was no way for me to do it myself. I'm not working on any apps at the moment, but I really want to find time to work on an app when I'm not busy working on AdDuplex (which is very rare). We have also launched a side project at AdDuplex - a site called WindowsPhoneSites.com which hosts a filterable list of Windows Phone related sites worldwide. It could be useful when developers want to spread the word about their apps in local blogs, but have no idea what blogs are popular, say, in Russia.
What advice would you give to other aspiring developers?
Don't put too much thought into monetization aspect of the app upfront. No monetization strategy could make you rich if your app isn't popular. Invest your efforts into popularizing your app first and then, when it's popular, you'll find a way to benefit from it.
Thank you for your time. Any closing words about WP7's future?
Thank you for the opportunity and for covering AdDuplex news on WPCentral! It was nice meeting you guys in London and thanks for promoting and covering the Windows Phone User Group event where I presented my talk on app marketing and monetization. If any other user groups, conferences or other events are willing to give me the opportunity to deliver the talk on the subject, please, don't hesitate to reach me at alan@adduplex.com or @ailon on twitter and we will work something out.
As for WP's future, I think it's really bright. We have a great product which is finally starting to get well deserved recognition and I'm pretty sure it will have a strong presence on the smartphone market by this time next year.
There you have it folks! You can follow Alan on Twitter (as plugged above) and check out his work at AdDuplex.
Windows Central Newsletter
Get the best of Windows Central in in your inbox, every day!
Rich Edmonds was formerly a Senior Editor of PC hardware at Windows Central, covering everything related to PC components and NAS. He's been involved in technology for more than a decade and knows a thing or two about the magic inside a PC chassis. You can follow him on Twitter at @RichEdmonds.
A really friendly guy who it was a pleasure to meet, and that's before you get to the quality of his advertising control (if you're viewing this on the free WPCentral app that's his control at the bottom of the screen)

My experience about wp developing is quite good compared to efforts. Programming in my free time, reusing .net code I wrote at work, in 2 months I developed 5 pay apps that sold for 2000€. Check Venetasoft on marketplace to have an idea ;)

AdCenter helped me double my average daily download, it was really a great idea from you Alex, keep up the good work.
Windows Central Newsletter
Thank you for signing up to Windows Central. You will receive a verification email shortly.
There was a problem. Please refresh the page and try again.