Developers satisfied with Windows Phone according to UK Newspaper mini-survey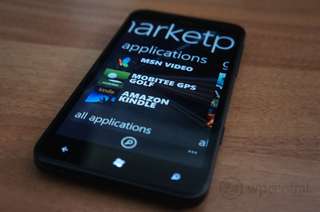 UK newspaper The Guardian has taken five Windows Phone to the side to query them as to how they view the development process on Windows Phone and why they view the platform worthy of both time and effort. The results were extremely positive.
The five developers included 7digital (music service), Addison Lee (private taxi hire firm), IndieSkies (Kaleidobooth), Escapist Games (Star Chart), and Distinction (Weather Flow). The short conclusion drawn from the results was praise for the OS itself and how apps can be quickly prototyped and subsequently released. The only downside was the developers' restraint over download and sales figures.
We've previously looked at how the developer interest in Windows Phone has continues to remain at a high level, while the likes of RIM falls rapidly. So this shouldn't be too much of a surprise that established developers are singing praise for Microsoft. Head on past the break for more juicy details.
The Windows 8 Star Destroyer
As well as the speed and ease-of-use for developers, Microsoft also has another weapon up its sleeve - Windows 8. The upcoming major desktop upgrade will enable developers from Windows Phone and beyond to create beautiful apps for both the mobile / tablet and desktop platforms. Distinction's Balint Orosz had the following to comment about the upcoming rollout from the software giant:
It's certainly plausible that the potential success of Windows 8 will rub on Windows Phone, with customers desiring a more complete Metro experience - something competitors can't offer. Microsoft is further integrating its products, increasing the need to use other products from the company to enjoy the most user rich experience. It's a positive sign that developers for Windows Phone are looking to Apollo and Windows 8 for motivation and inspiration to develop for Microsoft's mobile OS.
Orosz moves onto explain how Distinction releases Windows Phone apps before looking at other platforms, and talks about how they can only implement certain features with Microsoft's OS:
It's common knowledge that while it's Windows CE (soon-to-be Windows NT in Apollo) deep down at the core, the operating system is optimised which provides the consumer with a butter smooth and immersive experience. This is a great feature developers can take advantage of. From live tiles to further integration with system hubs and useful APIs, developers have the tools at hand to create impressive projects and differentiate themselves from other app providers.
Speed kings on the road
The five developers were probed about how quick and easy it was to get to the final versions of the app, or at least a working prototype. Ling Khor, product manager for mobile at 7digital, stated it took just four months to go from concept to availability on the Marketplace. Addison Lee's partner developer, Haulmont Technology, took four weeks to finish its Windows Phone app, while IndieSkies took just two weeks to make a working prototype of Kaleidobooth with most of its final features, followed by two months to polish it for Marketplace submission.
Escapist Games' Chris Whalley explains that it took the company three months to get the initial version of Star Chart published, with a further three months spent pushing out three separate updates. Although Distinction was working on other projects at the time, it took the company three months to develop Weather Flow, Orosz compares Windows Phone to both iOS and Android:
Money, money, money
Unfortunately, only one developer provided actual sales / download numbers, while the remaining four merely stated they were pleased with the reception their apps received. It's interesting to note that one commented the platform is comparing very well to competitors at similar stages of the release cycle - in other words: Windows Phone is performing as well as iOS and Android did when they were just short of the second birthday party.
Orosz provided the above when discussing download data for Weather Flow, which isn't too bad. It definitely shows the platform has potential for success, even at this early stage, for those unique apps that stand out to consumers. All five developers interviewed by The Guardian stated that they are each continuing to support Windows Phone further, with future updates and / or with new projects.
Be sure to head on over to The Guardian to read up the full article.
Source: The Guardian
Rich Edmonds is Senior Editor of PC hardware at Windows Central, covering everything related to PC components and NAS. He's been involved in technology for more than a decade and knows a thing or two about the magic inside a PC chassis. You can follow him over on Twitter at @RichEdmonds.
Really its better than cluttering android

"UK newspaper The Guardian has taken five Windows Phone to the side to query them"

thats amazing, didnt know you can query them :)

You have to give me credit with this one. Querying developers, heh.

Select * from developers where os = wp

One extreme major problem of WP/Microsoft Marketplace is that outside of US markets like Philippines - carriers and people don't have access yet to Xbox Live, although there's a workaround, 99% of potential buyers doesn't even know there's Xbox live games for WP. It's the support and services that suck once you're out of the well-known markets. It's a good thing I know a bit to have awesome games on my Lumia 800. Both Smart and Globe telecom cannot showcase the phones even w/ just Fruit Ninja for potential buyers. What would happen upon release of Win8 and WinPhone8? people still can't purchase premium apps and services such as XBox live games straight on. One should be so geeky even to have such MS services on par w/ US markets. It's like MS giving us food, but don't eat. Eat but just the appetizer. We're still at Bing beta, we don't have local purchase/access for Xbox Live, etc. while they're already pitching about 3 screens and a cloud, and consumer product ecosystem. What will happen w/ people buying PCs w/ Win8 when still alot of these services are unavailable and rendered useless because not all places have internet services?Where's the edge against buying Apple and Google products when all their features and services are available 100% locally to more countries? This is also the main reason why developers are not getting a lot of purchases. MS should really fix this mantra of theirs before it's really too late.

Live Marketplace is going to be available in lots of new countries, WPCentral listed them a couple of weeks ago

I hope so. And they should. I knew some people over here who bought lumia devices but turned back to Android for apps/games reason. Philippines is already flooded w/ Android nowadays that MS should get everything right asap to even get a chance to gain marketshare. And I don't even know why till now we don't have straight on Xbox Live access/support all the while that people are able to buy Xbox 360 here even years ago! We just use a workaround for Live services and I keep wondering what Microsoft Philippines is for.

Another grammatical mistake on the very first sentence, windows phone

In, the very first sentence...

I have to show appreciation for that response... I laughed out loud on the bus ;)

The complete metro experience with W8 will be exclusive to WP8 until MS release apps to bring the same experience to ios and android...

US is first market for wp developers, other countries come loooong after
Windows Central Newsletter
Thank you for signing up to Windows Central. You will receive a verification email shortly.
There was a problem. Please refresh the page and try again.