Development of 6tag for Windows 10 is now underway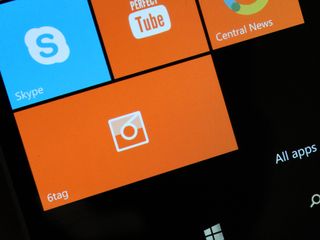 Developer Rudy Huyn has started working on the universal Windows 10 version of his popular third-party Instagram app 6tag. This news comes just a few days after he released a Windows 10 version of his Tinder-based app 6tin.
In posts on his Twitter account, Huyn stated:
The news that development of 6tag for Windows 10 has begun comes as we are still waiting for Facebook to released the promised official Windows 10 version of Instagram. The app was first revealed during Microsoft's devices press event in October, along with a version of Facebook Messenger.
Source: Rudy Huyn (Twitter)
Windows Central Newsletter
Get the best of Windows Central in your inbox, every day!
Good news... Most probably this app will perform better than the promised official Universal Instagram App ..

Interesting to hear from a seasoned WP developer that moving to 10 is quite a big underaking...

It's not the 8.1 -> 10 move that's tough, it's the Silverlight SDK to Windows SDK conversion that's going to take forever.

I may be wrong but is this app not a complete new rewrite as a universal app rather than just moving the original to windows 10? Meaning it would take more to do

He also did a write up on having up to 5 responsive designs to meet all the various sceen sizes. This not required, but it is the extra steps that provide all the polish to the app. From the little I know about visual states and state triggers, this in itself is a pretty big undertaking.

I see. Thanks for the details.

6tin Windows 10 app is about 5x faster than the old WP one. Very excited what 6tag will be like as a Universal app.

Welcome to windows 10..hopefully waiting...6tag

Wish he released an app for grindr, it would be called.. '6grin' (?)

Let's hope it won't be "6inchs". That said, there's already a WP unofficial app for Grindr, which is called Meet'm. But it's not the best in class. It would be fun to have the Huyn touch over it (and we gay people are more willing to pay for something).

"6inchs"
I see what you did there

Haha 6inches is actually a good name, I can already feel it, too excited.

I also paid for Meet'm but If I could pay for a Rudy version that would be awesome.

There's a suggestion related to that on his 6tin Uservoice: http://6tin.uservoice.com/forums/342009-general/suggestions/11473497-6ti...

I could make amazing pics with it too!

Great news. I miss a working live tile.

Rudy is the best! One of the things missing on my Surface.

Like replace Cortana with Rudy

Man WHAT?! You've gone to far now.. No leave Cortana on there, I don't want to hear a mans voice telling me the time of day, weather, sports scores etc... Hahahaha

Finally! Looking forward to it. Thanks for all your hard dedicated work Rudy!!!

Amazing! Great developer, great application!

Wow...that will make my life so easy... no need to transfer pre-mobile era pics to mobile to post on Instagram!

Legend Rudy. Simply a legend.

knowing Facebook, i'm guessing 6tag for Windows 10 will come before Instagram's official new app.

Isn't it funny how one man can release a high quality app before one of the biggest corporations in the world can...

One man working on his free time

I loved the screenshot of 1500+ errors on the first build and compile. We've all been there before.

Thanks Rudy! You gotta a lotta fans!

Rudy is the best - love 6tag! Would really love a new Windows Central app too... hint, hint ;-) I keep expecting to hear it's been released - at least in beta form.

It was internally testing last yr.. And they're still testing.. Dont know what they are testing for so long.. :/

Will buy this if there is inAppPurchase! Support the developer!!

That's wonderful. It is the only way I like to use Instagram.

It would be great if he could post a retrospective after release so that other developers can be aware of the "gotchas" and pain points in this type of app conversion. Hopefully Microsoft will listen carefully and work on easing that pain to help developers update their legacy apps to the UWP.

I still havent figured out state preservation in uw apps. Maybe I am old and maybe I am lazy, but this is preventing me from writing mobile apps.

I can access my account on laptop? Awesome.

Yeeess, thanks Rudy, and take your time, even if it comes after four months, i know it will be 200%, you are the man.

He should make a skype app instead

6tag is awesome so I look forward to the new app.

Awesome! I was literally checking the store yesterday to see if this existed. Thanks Rudy!

Good news. I would really love to see Rudy make a universal podcast app. I dont know much about the phone store, but the desktop store seems to be lacking a real good option. 6Cast!

Rudy please do also consider making one fully functional facebook app too. And incase of help where you need manpower to divide your work, there me and my little team of windows enthusiasts will help you. I think fb is thinking that the OS Is dead but we can prove it wrong.

The new fb app is amazing on windows 10

Are you referring to the desktop beta app?

Desktop FB app seems buggy to me still. Needs a lot of work

Are you referring to the app that is in the store or the closed beta?

Instead of Dropbox if Microsoft would have hired Rudy Huyn it would have been great

He would have probably been forced to work on certain projects and not ones he chooses, like he can now. Posted via the Note 4/Nexus 7 (2013)/Lumia 1020/Lumia 2520

I'm willing to even pay $2.00 ( US $1 = Jamaican $121) for a 6Tag Universal app, we owe that much to this developer.

As a former WP user who moved over to iOS last year, I have to say that while 6Tag was awesome, it STILL ISNT THE REAL thing. Extra features or not, this DOES NOT help the platform - and I say that without any offence to Rudy's work, which is nothing short of brilliant. But by now, Facebook and Instagram should be pushing their universal apps for W10/W10M, and they're not, which shows how little priority this platform has for developers. That users get excited for apps made by third party developers because the real developers won't commit shows how bad the situation is for WP/W10M. This might be great news for the WP loyalists, of which there are only drops here and there, but for the platform as a whole, this does nothing.

I disagree. While 3rd party apps are not recognizable by many users, this is still better than no apps at all. However I am hoping that 1st party apps will arrive before hell freezes over or google publishes youtube for wm, whichever comes first.

Number 1 windows 10 mobile is still in beta and has not had it's full release yes the 950 has been released but older devices are still on insider previews let's give the 1st party developer's time its still January and windows 10 mobile is just on the verge of it's release

Windows 10 mobile is out, its not beta no matter what we want to believe. Posted via the Note 4/Nexus 7 (2013)/Lumia 1020/Lumia 2520

It is.. Use a old WP and you'll agree

Still got my Lumia 925 running 8.1 and it feels nice n solid. W10M is like a half finished science project.

I am very glad that Mr. Rudy is developing these essential apps and at the same time I am amazed with how one dedicated developer can make a difference.

I love the 6(x) products! I can't wait. I need toi get a new phone hahahahah

WP is nothing without you Rudy!

What about windows central for windows 10? Posted via the Windows Central App for Android

6Tag is wonderful but we still need the official instagram app which Iphone and Android users have. There are also so many apps missing in Windows Phone !!