Dhoom:3 The Game, a fantastic, fast paced Windows Phone 8 game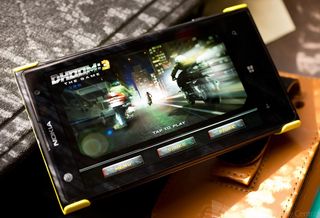 If you're in the market for a fast paced game for your Windows Phone 8 device, take a look at Dhoom:3 The Game. It is the official game for the upcoming action/adventure movie Dhoom:3 (opens in new tab) that is due out in theaters later this year.
In a nutshell, Dhoom:3 The Game is an endless runner game played on a motorcycle. You run the streets of Chicago, staying one step ahead of the cops and avoiding hazards such as light posts, traffic and walls. You collect coins along the way that can be used to buy new bikes, new racing suits, and power-ups. The further you travel, the higher your score.
Launching the game presents you with a "3,2,1" countdown and from there you use your Windows Phone tilt controls to guide your bike through the streets. You can opt for on-screen controls to steer your bike but the tilt controls are really nice.
On-screen controls are present in the bottom and upper corners to give you access to boosts, shields and other items. They are nicely placed so the main screen isn't cluttered and you can enjoy the 3D graphics as you zip down the road.
If you want to get a jump on the competition and unlock the extra bikes, bonuses and suits you can buy coins through in-app purchase.
Dhoom:3 makes a really great first impression and in playing the game for the past half hour, it's hard to put down. Graphic have a bit of pop, game play challenging and best of all, Dhoom:3 is free!
Dhoom:3 The Game is available for Windows Phone 8 devices and you can pick it up here (opens in new tab) in the Windows Phone Store. Oh... if you're curious, here's the movie trailer for Dhoom:3 The Movie (which doesn't look too shabby either).
Thanks, Mohammed, for the tip!
George is the Reviews Editor at Windows Central, concentrating on Windows 10 PC and Mobile apps. He's been a supporter of the platform since the days of Windows CE and uses his current Windows 10 Mobile phone daily to keep up with life and enjoy a game during down time.
Looks like the movie will be fun.

Can't wait. Dhoom 1 and 2 were awesome!

Windows Phone seems to be getting first class citizen support in India: most major banks, many local vendors and even films are developing for it. Good stuff!

With Lumia 5xx and 6xx series doing good there, WP will be second best platform. I still it be hard if not impossible to beat android in India, too many cheaper choices than even Lumia 520.

The 520 is an excellent phone, I have one for travel. It's no wonder it does well.

True. What surprised me the most was that, even a couple of major government services released their WP8 apps ahead of or along with the Android apps. No big love for iOS though. And if anyone is curious, I am talking about the Indian Railways app (IRCTC) and the BSNL app (state-owned telecommunications company). The former allows booking tickets and checking ticket statuses, while the latter allows for paying mobile/landline bills and recharging prepaid cards among others.
P.S: Both apps work really excellent with minimum bugs.

Off course we just hate lagdroid and plastic garbage samsung

This movie was in making for more than 5 yrs...it better be good !!! Amir Khan is the Tom Cruise of Bollywood...

True That. But i think hrithik will be the best choice for dhoom. Ever.

Lol me to I thought it was a typo when it poped up on my screen

I was hoping for a Doom knockoff

Games pretty good. I'm not very good at playing it tho!

Yay! Keep the awesome coming!

Never heard or seen this movie.

It's Indian. And with the name "Smits" I'm guessing you don't live in New Delhi, lol

Haha nope. I just watched the trailer and seen this.

Its Bollywood. Not just Indian.

@Daniel Best comment lol :-D

Man you're my hero xD What does my last name say? LOL

You must not know your Bollywood then... GOSH! :-s

Microsoft collaboration means this game is a timed exclusive on windows phone :) this game will be available on Android and ios after 4 weeks.

Hopefully they don't do the same thing in the movie as the game with the bike having unlimited gears! Its so annoying it keeps changing up all the time.

CVT exactly!!! Also, love the name CJ Thunder! Those are 2 of my favorite characters.

Like characters on a keyboard or CJ from San Andreas and Thor?

LOL!!! I thought about a combination of Chief Thunder and TJ Combo = CJ Thunder. Well.....whatever makes us happy eh? Somehow...this conversation is extremely funny to me...i was convinced you referring to those two characters. Your combination is good too.

Hi J88NY R Thanks for pointing this out! Do email us any other feedback you have at support@99games.in Regards - 99Games

I thought it's a WP version of Doom 3.

Yeah, when I published an article about this game this morning, I made sure I put "no, its not Doom 3" in my title lol. I thought it was a typo the first time I saw the game on Business Today.

Very cool that a major Bollywood movie has a game tie in with windows phone, have to retweet this to my peeps! Motorcycle endless runner is a nice touch.

Dhoom franchise has so far shown in the first two movies that they are from different universe as physics in our universe don't apply in their movies. Not to mention after a 'intense' bike chase there is some dancing around the trees too just like any other bollywood movies.... Even in this trailer at 0:48 the guy (Abhishek Bachchan) is hanging under a moving chopper and his hair is not moving may be because their planet has no atmosphere....
Overall just like any other high budget bollywood movie dhooms too are bogus copies of some great hollyood flicks (not the entire story lines and specially not the dancing around the trees part, that is original).... I hope the game is better than that...

You are genius man, I didn't even notice that about AB.

Fun game and looks very good.

Graphics:good
Smoothness:good
Usability: zeroooooooooooo
What s the point of a racing game if ur game ends on a single crash itself, it s really annoying. Even the top class racing game which tries to simulate the real world continues the game after the crash with a big of penalty. I did not understand the purpose of the game if people can't lay it at all. One cant expect a person to be pro right from the beginning itself.

LOL.. But in real life with one crash you are gone :P

Tats the diff between reel and real. Game is played for fun . No fun no game.

Hi ghousuddin a Dhoom:3 The Game is an endless racing game - the game's over when you are caught by ACP Jai Dixit & Ali! You can always tap on 'Restart' and try again - or you could use the 'Save Me' option to get an extra chance and get an awesome score! Hope this helps. Do let us know at support@99games.in if you have any other feedbacks. Regards 99Games

Hi 99games, this is no different from nfs where the police is chasing you and you have to save yourself from the police. If we compare only the usability perspective of both games , I am pretty sure most of the people will go with nfs, coz in nfs you getting caught with police criteria is quite different from what Dhoom is using. In nfs even if you crash into another car or fall off the road , the police gets closer to you indicated by a bar, and finally when you exceed your chances and the bar turns red, the police nails you down. Dhoom could have used similar way to end the race of user and this could havemade the user to play the game for a long time rather than annoying the user by frequent restart. Sorry this annoyance led me to uninstall the game. You could run your own analysis and see how many people are playing this game for how long. But due credit to you people for creating a good graphical and seamless game.

Then take it the way Temple Run is. If you know what I mean...

And do u know what Lumia 1520 is launching here next month 26 as confirmed by nokia care. I wish it was true

Good going by windows phone in India lots of apps r coming...proud that i choose the right OS

I play, then suddenly the biker disappear, i controlling only the bike.. I can send the screen shot, but how..

Hi alokinalset We apologize for the issue you are facing. Please email us at support@99games.in with your Phone Model and Make and we will check it out. Regards
99Games

Tilt controls need to go away

Angry bird 3 versions are also free today yeeeepeeeee.

Dhoom 3 Released.
.
.
THEREFORE
Half Life 3 Confirmed! Haha just Could not resist it!

Hi All
Thanks for the great feedback! We are glad that you love playing Dhoom:3 The Game. In case you have any feedback, have some great new ideas we can put into the game or are facing any issues, please do email support@99games.in and we will be on it!
Thanks from 99Games



Thanks guys for putting up this awesome game for free :D Awaiting your future releases!

Same as subway surfer,temple run (mandir bhagoo) lol they have a bike in this game,collect coins,unlock powwrs,these games are fun for some time then booring, krishh game relasesd is same as vector 3d with multiplayer support

Thank you so much for releasing such a fantastic game, expect more from you 99 games, if its gud like dis we dont mind paying for the game too.
Just getting to be a fan of you 99games

Buggy game. Very nice graphics though, but I wasn't able to quit the game and back button doesn't work as well. Had to restart the phone. L822 here
I'd appreciate any help if I was doing anything wrong
Windows Central Newsletter
Thank you for signing up to Windows Central. You will receive a verification email shortly.
There was a problem. Please refresh the page and try again.