Disney announces shutdown of both Marvel: Avengers Alliance games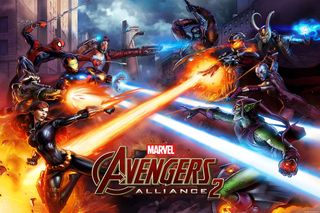 If you're a fan of the Marvel: Avengers Alliance series of games, you're in for some sad news: Disney has announced the shutdown of both the original and its sequel on all platforms. According to Disney, the decision to shut down Marvel: Avengers Alliance and Marvel: Avengers Alliance 2 on Windows Phone, Facebook and all other platforms was made so that the studio can focus development on "other online and mobile play experiences."
Here's the full explanation from Disney's FAQ page:
According to the announcement, Disney has already ceased accepting new purchases or downloads. However, both games will remain playable through September 30, the studio says. Given that the second game in the series made its debut earlier in 2016, with the Windows 10 Mobile version landing mere months ago, the timing is certainly odd. And this is likely to be sore news for those who have already poured money into the game as well.
Windows Central Newsletter
Get the best of Windows Central in your inbox, every day!
Dan Thorp-Lancaster is the former Editor-in-Chief of Windows Central. He began working with Windows Central, Android Central, and iMore as a news writer in 2014 and is obsessed with tech of all sorts. You can follow Dan on Twitter @DthorpL and Instagram @heyitsdtl.
Why they have to do that. I mean don't update, but why remove altogether

Unfortunately, it's an online game. Once they decide to pull the plug on their servers, no more game.

because the money? How many people are online in this game? 100? 1000? Is it worth to pay xxxx just because 1000 people are still enjoying it? Nope. Thats the answer.

MAA 1 was still, after 4 years, in the top 50 of all Facebook games. Today alone an online petition to save the game has been signed by 18,000 players. Now I know no petition will save the game, but your numbers of daily players is VASTLY less than reality.

In the most recent PVP Tournament Season that just ended, there were in the range of 300,000 active participants. Considering not all players participate in PVP, it's a safe bet the number of total MAA players is in the ballpark of around half a million players. MAA is still among the most used apps on facebook.

This is pretty frustrating...the great Disney game purge continues. I'm particularly upset because MAA2 was a pretty fun game, and also happens to be the only currently in-development Marvel game on the Windows platform.

The games are being shutdown across all platforms.

I understand that. My point is, there are other Marvel games for Android and iOS. This was the only one that was also on Windows.

What the absolute *&*&*#% hell is going on. I was really holding out hope that MAA2 would return to the store. I managed to get it on my phone but due to hard reset lost it and now it seems ill never get it again. Shame really as it was a great series.

Disney infinity, Castle of illusions now this.

Castle of Illusions is most likely a licesencing aggreement that is ending. The same thing happened with Turtle in Time reshelled by ubisoft.

At least the shutdown was across the board, not just the Windows mobile platform.

Yeah, this is definitely indicative of some internal issues at Disney, and thankfully not related to Windows per se.

This is why I don't even play mobile games anymore. Who knows when the rug is going to be pulled out. I will have MAME until the day I die.

They already killed Windows Mobile app long time ago. Cant download mobile Avengers Alliance 2 at first place, it was broken

It was broken for quite some time after its release, but it was fixed in June, if not earlier.

I gave up on disney games really. After seeing them start disappearing from the windows phone store, I stopped playing them When it did hurt me the most is when I was about to but Infinity 3.0 for my daughter, they decide to end the game and support. It's not just buying the game, it's the investing of the characters to unlock levels and extras that was spent on it.

Sad to see so many developer & publishers pulling out of all platforms but it seems it's not as isolated as the others had hoped..

This is what I hate about games which depend on a server infrastructure. Games which install locally from disk continue to work even if the publishers went out of business years ago.

Which is why I will never spend £50 on a digital purchase. I'd rather have the disk tyvm lol.

I was binging on this game for a few weeks but then went camping for 10 days w/o signal and kinda quit playing for a while. Now that this has been announced, I just uninstalled. No use trying to get anywhere in a game that is going to be gone in less than a month. It is a shame, but Disney is all about the dollars and I imagine not enough were coming in from this effort. They're buying up all the premium licenses and spreading themselves so thin that they can't keep supporting all the games and media across all these different universes they are now trying to cash in on.

TOTAL DICK MOVE ....PERIOD

If not enough people are playing it, why continue putting money into it? Sad to see it go, but even I didn't play it since launch.

I'm bummed about this. I'm really not much into this sort of "mobile" gaming, but for some reason I really liked this game and played it regularly - even made a couple of in-app purchases. Not huge money, but what I would consider a reasonable sum for a moble game. Oh well, no sense in having it take up space any longer.

Well this explains why I haven't been able to find it in the store lately. They can bring Contest of Champions and Future Fight to Windows Mobile now!

That game was broken from the start.

I topped up for this game 3 times and got nothing, I comment at their store page asked them on their fanpage and wait more than 3 month, but no reply at all, now I'm really happy to see that they'll close it

After Microsoft closed my most favorite game ever, Galaxy Reign, I vowed never to play games that could be shut off entirely.