Disney Infinity 3.0 mashes up huge franchises on Windows 10 PCs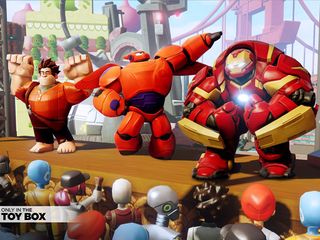 Fans of everything Disney-related will be able to go nuts with the new release of Disney Infinity 3.0. The sandbox game, which lets gamers play with tons of different characters owned by Disney, is now available to download for Windows 10 PC owners in the Windows Store. It's also available for Windows desktop users via Steam.
Disney says:
The game is free-to-play and includes a Rotating Character trial, Toy Box trial, Daily Challenge, and Play Set Demos. However, it also has a number of paid add-ons that add new characters, starter packs and play-sets to the game. The Windows 10 version also supports Xbox Live for unlocking achievements. Be aware that the download size for the Windows 10 version is a large 12.4GB file.
Source: Disney
Windows Central Newsletter
Get the best of Windows Central in your inbox, every day!
Awesome, will there be a mobile version? :D

At 12.4 GB? I'd hope not, lol

microSD up to 2 TB, man. It could happen !

Skylanders has a mobile version so i cant see why not.

Well checkout the steam reviews!

12.4 Gigs! Does that mean the download also includes the paid add-ons but needs a token, initiated by the purchase of the add-on(s) to unlock? Hmmm....

Yes. Pretty much. The pc version is mainly used by the people who have the console games. I have the xbox one version. I can use my characters and addons by typing their code in on the pc version.

Yes, this being Xbox-enabled and in the Windows 10 Store with cross-buy with the Xbox One version is a big win for the burgeoning Xbox on Windows 10 thing. They need more of this, and fast.

12.4 GB for 2015 for a game designed for game consoles like PS4 or Xbox One is ver small in size. Also, most multimedia PC's that can play this game have more than 500GB of storage, so storage is not a problem.

12.4 GB? Damn that killed it for me

Universal apps proposal is not working out to well. Developers still not utilizing it. Microsoft will have to resort to lunching x86 windows on a phone to solve the app problem. Just launch full windows 10 on a phone. Hardware now is more than capable especially from intel

With this game being the size it is, why in the world would they also have it on the phone?

"Universal apps proposal is not working out to well. "

Hi. Windows 10 Mobile is not finished. Windows 10 Mobile has not yet launched. There are no Windows 10 Mobile phones available. Your statement is premature and kind of ridiculous. Also, running a console game on a phone for the sake of running a console game on a phone does not ensure a good user experience. Thanks!

You need to chill man. Windows 10 Mobile is not even out yet. Windows 10 for Xbox is not out yet. Windows 10 for PC is only 3 months old. It's waaayyy too early to say the Universal Apps plan didn't work since you need more than 1 platform to be "Universal".

Don't think a game like this can run on a Snapdragon 810/Apple 9 CPU and 4GB of memory, that is not enough. (And not because of the Adreno GPU, since because this game was built for game consoles like PS4 and Xbox One, even the Nintendo WiiU version of Disney Inifnity is an underpowered version) So even if Samsung or OnePlus, or iPhone 6S have 128GB of storage, it won't run. This game to run at 30fps needs 4th generation Intel CPU and discrete GPU to run.

Still waiting for Jack Jack from Incredibles...

This is sad on so many levels.

Well, my son's name is Jack. Would be cool to put an official figurine in his room. His powers, although debateable, would be fun to use in a video game environment. I feel bad that your mind goes directly towards the negative aspect of things.

Disney Infinity 1.0 for Windows was Xbox Live enabled. 2.0 wasn't and now neither is 3.0. Wish it would come back.

This game (3.0) is Xbox Live enabled.

Cool. Missed that part. Didn't go the link because I'm at work.

It's Xbox live enabled though...

For Disney Infinity 2.0, I saw you need to create a DisneyInfinity account, but that should also work for 3.0

It's actually your Disney account which covers all things Disney, like DisneyMoviesAnywhere, contests, and even your wristband when you visit the park. Kind of like how your Microsoft Account is for all Microsoft stuff over the web, Xbox, and Windows.

If only I got fast internet connection...I'll give it a shot.

you can download the game at night and by tomorrow morning it should be installed. Large apps like this are much better in WIndows 10 than they were for Windows 8.1 when you didn't know how much GB of storage left you had.

Glad to see devs pouring In

This is amazing, I like the Windows 10 version because you don't need a starter pack to start playing, your figurine is given randomly, but if you don't care about this, you can always play this game for free. This game and Project Spark are the best 2015 games from the Windows store, and you can get them for free. I hope more games like this get more attention for developers on the Windows 10 ecosystem, now that there are 110 million users with this OS.

Project Spark is amazing.

It's true it's free but if you pay attention to sites like cheapassgamer.com you can get figures and sets (and their included we codes for this version) for very cheap.

https://www.cheapassgamer.com/topic/327877-disney-infinity-deals-compila...

Can I use my xbox controller?