Disney updates Where's My Water 2? to remove controversial energy system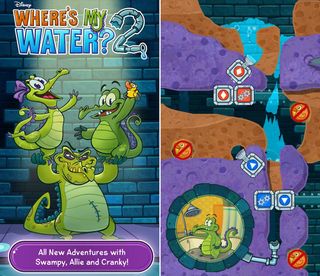 When Where's My Water? 2 launched late last year, it was met with criticism from not only ourselves, but consumers too. This was due to the energy system implemented, which almost acted as a deterrent to play the game itself. Just like popular free online games available that make use of said system, players were forced to pick up in-app purchases to continue playing (or wait until their energy replenished). This sucked.
Luckily, Disney has been listening to consumer feedback and has released an update to the Windows Phone version of the game, removing the energy system altogether.
Should you be an avid fan of the Where's My Water? games from Disney, you're now able to play through levels in the second instalment as many times as humanly possible. That's not all that was included in 1.1.0.5 as the development team has also added two new locations to visit: Bayou and Winter Woods.
You can download Where's My Water 2? from the Windows Phone Store, as well as the Windows Store (opens in new tab) while you're on a download spree.
Rich Edmonds is Senior Editor of PC hardware at Windows Central, covering everything related to PC components and NAS. He's been involved in technology for more than a decade and knows a thing or two about the magic inside a PC chassis. You can follow him over on Twitter at @RichEdmonds.
Now only if they fix Frozen so you can progress without having to buy powerups.

You don't need power ups I got to the current last level (76 i think) without spending a dime. But they do need to remove the 'lives' system there, too. Hopefully this is soon to come.

I first uninstalled this because of this reason. Wanna download it back, but hm storage :/

WhatsApp and uc browser too updated :P

Star Wars: Tiny Death Star also updated

They should do the same with Frozen, I can't even finish lvl 33 :D

Yep. I'm stuck a lvl 40 :/

+1, also stuck, Frozen went from a great game to being uninstalled because it was impossible to progress without buying powerups. No way I would let a kid play it so they will then bug me to spend $$$ on in game purchases. I wish Disney would make a paid game with no in-game purchases. Until then parents should stay away from 'free' Disney games because its going to cost tthem dearly when their kid wants to progress and wants you to spend money to do it.

I'm on level 75 of Frozen and have never bought a power up.

Then you are either really good at these puzzle games or you have way way too much time on your hands.

Nice to see a large company reverse on a app like this. Angry Birds go maybe could have this treat as well?

Did they fix the lag in the menu? That's why I prefer the first one

To some degree they did. I uninstalled it due to the lag as well.

Thanks. I will try it, but not giving it any chance

I've uninstalled it beacuse of its file size after being installed.
78mb when being downloaded. And 780mb when being installed. --"

And me Three. Until I can put apps on my SD card my 521 doesn't have that kind of space!

I know it's Rich Edmonds articles when there is a 'should you be' phrase. :P

Oh come on, I used to like that feature because it was an indication that I should put the darn phone down and do something else. Every game needs that.

Ur clearly not a gamer, go clean ur house or something..

Lol, like real gamers even play Where's My Water?

I liked the feature as well. Now I'll have to play it all day every day.

this actually a positive respond from Disney I love Disney game and I've bought 2-3 their games

Wonderful. I hate games whose revenue model is energy systems like this. Either make ads, IAP, or just charge me upfront. I prefer the last one best, it just seems the most honest method.

Well...Over the Christmas holiday, when they were offering the game for free, there was a brief period in which they offered the Energy Power up (a $16.99 value) for free (which I also downloaded). Apparently not enough people saw the free offer, and coupled with the initial complaints, they just decided to remove it totally.

I've updated the game but I can't see the new levels. I scroll to the end of the last section and it just says "More coming soon".

Or, you know, someone implement a memory editor like CHEAT ENGINE. Because that's how I roll with Windows 8 apps.
Windows Central Newsletter
Thank you for signing up to Windows Central. You will receive a verification email shortly.
There was a problem. Please refresh the page and try again.