Disney's Where's My Water 2 comes to Windows Phone 8 and Windows 8 today [Updated]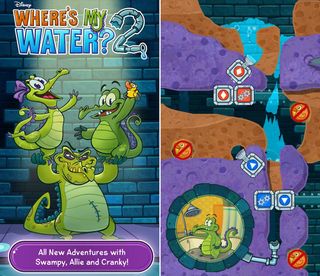 The last few weeks have been good to fans of Disney's Where's My Water? and its spin-off games, Where's My Perry? And Where's My Mickey?. First the Windows 8 versions of all three titles went on sale, and then like a week later Disney gave them away free for some reason. The phone versions of the first two games also went free for a brief time at the beginning of the year. It's safe to say that people who enjoy asking where liquids or cartoon characters have gone probably acquired two or three such games by now.
Well, later today Windows Phone 8 and Windows 8 users will get to ask "Where is my water currently located?" once again. Disney is releasing Where's my Water? 2 for mobile Windows platforms – and simultaneously with the iOS versions! Well, almost simultaneously. The Windows Phone 8 version showed up a day late, and the Windows 8 version took even longer.
Update: Both versions are now live! Store links and more details after the break.
New stuff
Where's My Water? 2 stars Swampy, the series' original alligator protagonist. Or is he a crocodile? I forget. Joining Swampy are two crocogator friends, young girl Allie and Cranky the old-timer. Both were first introduced via downloadable expansions to the original game.
Possibly the most exciting additions to this sequel are the new Duck Rush levels. In these stages, players will frantically dig a path for water as the screen scrolls downward. It's like Mr. Driller but with water. You'll find these levels on the new overhead map.
Previous spin-off games like Where's My Mickey? introduced new mechanics like wind, rain, and clouds. We're not sure if those return in Where's My Water? 2, but it does include new locations such as a soap factory and a beach. You'll also be dealing with more than just water now. Steam and poison must also be used to solve puzzles, which should change up how some levels play.
Free to play
Unlike previous games in the series, Where's My Water? 2 will be free to play. That would usually be good news for most gamers, unless you're that guy who played a free game he didn't like a few years ago and now grumbles about them in the comments constantly.
Our grouchy friend might just have a reason to complain this time, though. Yes, Where's My Water? 2 is monetized with some innocuous In-App Purchases like power-ups and hints. But it's also bogged down by a time-based energy mechanic.
Each time you play a puzzle in this game, you'll consume some energy. When that energy runs out, you won't be able to play any new levels until it recharges over time… Not unless you pony up to restore your energy. As you might imagine, this mechanic limits players' ability to replay stages for better scores, to say nothing of just chilling out and enjoying the game as long as they feel like it.
Find that water already
Free to play concerns aside, Where's My Water? 2 coming to Windows Phone 8 and Windows 8 on the same date as iOS (and ahead of Android!) is a welcome show of support from Disney. Hopefully we'll see more timely releases like this in the future.
Remember, these links aren't working quite yet. When they go live, we'll update the article.
Where's My Water? 2 – Windows Phone 8 – 78 MB – Free – Store Link
Where's My Water? 2 – Windows 8 – 88 MB – Free – Store Link
Update 1: There seems to be a delay in the game appearing in either store. Hopefully it shows up on Friday...
Update 2: As of Friday September 13th, the Windows Phone version is now live! Still waiting on the Windows 8 version...
Update 3: The Windows 8 version went live on Monday, September 16th.
Thanks to EasyPeasyJD for the tip!
Get the Windows Central Newsletter
All the latest news, reviews, and guides for Windows and Xbox diehards.
Paul Acevedo is the Games Editor at Windows Central. A lifelong gamer, he has written about videogames for over 15 years and reviewed over 350 games for our site. Follow him on Twitter @PaulRAcevedo. Don't hate. Appreciate!