Disney's Where's My Water 2 comes to Windows Phone 8 and Windows 8 today [Updated]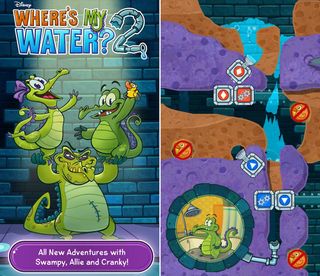 The last few weeks have been good to fans of Disney's Where's My Water? and its spin-off games, Where's My Perry? And Where's My Mickey?. First the Windows 8 versions of all three titles went on sale, and then like a week later Disney gave them away free for some reason. The phone versions of the first two games also went free for a brief time at the beginning of the year. It's safe to say that people who enjoy asking where liquids or cartoon characters have gone probably acquired two or three such games by now.
Well, later today Windows Phone 8 and Windows 8 users will get to ask "Where is my water currently located?" once again. Disney is releasing Where's my Water? 2 for mobile Windows platforms – and simultaneously with the iOS versions! Well, almost simultaneously. The Windows Phone 8 version showed up a day late, and the Windows 8 version took even longer.
Update: Both versions are now live! Store links and more details after the break.
New stuff
Where's My Water? 2 stars Swampy, the series' original alligator protagonist. Or is he a crocodile? I forget. Joining Swampy are two crocogator friends, young girl Allie and Cranky the old-timer. Both were first introduced via downloadable expansions to the original game.
Possibly the most exciting additions to this sequel are the new Duck Rush levels. In these stages, players will frantically dig a path for water as the screen scrolls downward. It's like Mr. Driller but with water. You'll find these levels on the new overhead map.
Previous spin-off games like Where's My Mickey? introduced new mechanics like wind, rain, and clouds. We're not sure if those return in Where's My Water? 2, but it does include new locations such as a soap factory and a beach. You'll also be dealing with more than just water now. Steam and poison must also be used to solve puzzles, which should change up how some levels play.
Free to play
Unlike previous games in the series, Where's My Water? 2 will be free to play. That would usually be good news for most gamers, unless you're that guy who played a free game he didn't like a few years ago and now grumbles about them in the comments constantly.
Our grouchy friend might just have a reason to complain this time, though. Yes, Where's My Water? 2 is monetized with some innocuous In-App Purchases like power-ups and hints. But it's also bogged down by a time-based energy mechanic.
Each time you play a puzzle in this game, you'll consume some energy. When that energy runs out, you won't be able to play any new levels until it recharges over time… Not unless you pony up to restore your energy. As you might imagine, this mechanic limits players' ability to replay stages for better scores, to say nothing of just chilling out and enjoying the game as long as they feel like it.
Find that water already
Free to play concerns aside, Where's My Water? 2 coming to Windows Phone 8 and Windows 8 on the same date as iOS (and ahead of Android!) is a welcome show of support from Disney. Hopefully we'll see more timely releases like this in the future.
Remember, these links aren't working quite yet. When they go live, we'll update the article.
Where's My Water? 2 – Windows Phone 8 – 78 MB – Free – Store Link
Where's My Water? 2 – Windows 8 – 88 MB – Free – Store Link

(opens in new tab)
Update 1: There seems to be a delay in the game appearing in either store. Hopefully it shows up on Friday...
Update 2: As of Friday September 13th, the Windows Phone version is now live! Still waiting on the Windows 8 version...
Update 3: The Windows 8 version went live on Monday, September 16th.
Thanks to EasyPeasyJD for the tip!
Windows Central Newsletter
Get the best of Windows Central in in your inbox, every day!
Paul Acevedo is the Games Editor at Windows Central. A lifelong gamer, he has written about videogames for over 15 years and reviewed over 350 games for our site. Follow him on Twitter @PaulRAcevedo. Don't hate. Appreciate!
Because it promotes in app purchases. Limited play per day if you don't pony up.

Just because you all will skip to the comments.. the links aren't live yet! Try throughot the day. On topic, I'm stoked to play this. Thought the first one was fun.

well that answered that for me. thanks for the heads-up. disregard my comment below....

You tried to be first so everyone would see thoust comment, but missed it by 15 seconds. Next time Sammy. :P

http://31.media.tumblr.com/tumblr_megn93XyE41rdm4moo1_500.png

download link doesn't seem to be working for me..

Always read the article first, Iluminium. :)

It's available now. Your link is wrong. Just downloaded....
http://www.windowsphone.com/en-us/store/app/where-my-water-2/28a3665b-d5c7-4afa-b362-962c2b79e024

I don't care that it is Disney, but I like this game.

It surprises me that they're not launching an Android version alongside iOS and WP. I hate Google so it's fine by me :) hating aside, the game seems cool, I'll try it.

And its not available for android!!

Smart developers doing smart monetising. But seriously, good on Disney for really expanding our store with good stuff. The free price tag is a crowd puller too (till you realize this energy wait could get frustrating). But I'm really excited for WP. between these new flood of awesome apps and cortana on the horizon, i feel good :)

IOS an wp8 first Droid later

Im more than pleased/happy/satisfied to see the android version not being launched yipee ill have something to brag about today i guess!!

If you have a Lumia, then you have had plenty of things to brag about all along

I love little puzzle games like this but I wish they'd put out some games with achievements.

Sims came out yesterday with cheevos

This is great news, the market is changing folks

Meanwhile in youtube... WHERE'S THE LINK FOR ANDROID? Haha! Take that robot. :) Peace!

Speaking of YOUTUBE, any word on what's going on between MS and GOOG on this stupid little war between them. Are they ever going to get that app working?

WPcentral is covering this news very slowly,i read about this on tnw hours ago,shame indeed

Not a shame. I'd rather wait until they have all of the facts like they usually do.

How about share...and not criticize.

It's probably not live yet, because Disney's probably about to add Windows phone/8 to the available devices on their website.

To receive a game same time with iOS is good news,but what makes it even more intresting is that Android is left out and is receiving it later.Finaly developers are puting their bets o WP platform (maybe slowly but at least WP is becoming more and more powerfull OS) Only think that bothers me on apps (especialy games) is that devs port their games to WP but they also need to update them!!(For example where's my Water/Perry are totaly outdated and Where's my Mickey needs an update fix for the display resolution quality)

Gotta hand it to Disney!! Thanks for the Support!

All the Disney games aren't available here, except for the Where's My Mickey. Hopefully this will change.

I know, I just wanted to "hear" him say it :P

Why u like his voice ?? Not that u can actually hear it

Just for you: I live in Brazil. Hahaha

If it was Xbox-enabled, we'd say so in the article. But none of Disney's previous games have been Xbox-enabled (other than Disney Fairies on Windows 8), so it's not a surprise that this one isn't either.

Oh, well, a skip for me, even if it's a great game...too many other games to play

You could have just said no. Or said in the article that is wasn't. XBL is still a big deal for many of us, even if a lot of people forget that.

I just can't bring myself to play a game on my WP8 phone that doesn't hand out cheevos so I'm going to have to skip yet another non-Xbox Disney title. What's up with that?

See and this is why devs are afraid of porting! The best games on other platforms are the indie ones and they need the money and complete control of their game.

I myself have gotten over achievements. They are a nice addition but not a necessity. If a game is good, i'll play it, regardless if it has achievements or not.

I wish Disney would make their game live enabled.

It would be amazing!!Lets hope that with a future update we will live to see something like this! :D

i hope it will have integrated fortumo mobile payment methode

WMW is one of the most interesting and fun games I have played on mobile since I first played Angry Birds. I honestly like it a LOT mroe then AB! Really happy to not only see a sequal, but to also have it on WP? This just made my days a lot better!

"Unless you're that guy who played a free game he didn't like years ago and now grumbles about them in the comments constantly"
Lmaoooo

I have a feeling this is the Nokia surprise for tomorrow since this still hasn't been released today. Although it wouldn't make complete since that they would announce for Windows 8...then again, with the pending buyout, it could make sense.

I doubt its this, no offense to Nokia....(Awkward moment when it ends up being this.)

Link still not live eh? Or is that just me

Where's My Water? 2 – Windows 8 – Free – Store Link http://di.sn/fLn

Think about the pain of the WP7 users.. such a cool game thats free.. but whatever, cant wait to download it on my L720 :/

What treachery is this?????

If you want games like this to be XBOX branded with achievements please support my suggestion!!http://windowsphone.uservoice.com/forums/101801-feature-suggestions/suggestions/4163745-windows-phone-xbox-live-more-something-like-gamece


Link still not working windows 8 and wp8

Still not on the store, we are trolled.

I concur with the above posts... Not available for us yet. Still getting error 805a0194.
They were just saying what we wanted to hear and started playing with our emotions! jejeje

It's live on Windows Phone http://blogs.windows.com/windows_phone/b/windowsphone/archive/2013/09/13...

Thank you very much :):):)

Downloaded and played for about 30 minutes. Seems like a step up from WMW 1. Loving it so far.

Thought it came A couple days ago. Sworn I seen it in store.

Is there a way to download this app without registering a windows phone 8 device on my account?

No, unfortunately. But this game will be free for good, so it'll still be around whenever you get a Windows Phone 8 device.

So answer me this...is this Nokia's surprise thingy?

Are you f**king kidding :) ... 78Mb download... 1 Gb free... Not enought space :) ... What the :) ...

It's a good game, but why does a 72 mb download consume 761 mb in my storage?? Yes this is the app alone, by far my biggest app, not including any data. Can anyone else verify this using storage check??

Ah, that explains why my 8s' saying that there's not enough storage space....

Yep, its quite large for 78 MB download. Maybe it's some bug...

Awesome game but "761MB" after dowloading.. SERIOUSLY?!

Wow, there has to be a glitch somewhere then. Yeah I hope that gets fixed soon. My largest game uses 290 MB, until now. It won't stay on my phone at this rate....

I blame the success of Candy Crush. More and more games will be freemium and time based play.

78MB it says but I am unable to install with the storage limit the reason. I still have 1.1 GB of free space. How does it get to 761MB as some of you mention?

Is in-app purchase available for anyone..??

Ridiculous, had to uninstall it after it completely sapped up my phone space. Really laggy at the start too

Yup the game is reaaally slow. Would prefer it coming late and non laggy.. My wp bars me from tolerating lag anymore. :P

What the fuck is going around??835mb free still not enough space!!???Well if there's something big comes to WP,it just can't be without glitches.

The game takes around 750 mb of space. That's sad

I too can't understand why so much space?

I hope the games are the same between platforms. I bought WMW for android a long ass time ago, then bought it for windows 8 when it came out. The windows 8 version only had like half of the levels as android/ios... w's it the same for WP? Anyway, downloaded it because I love the game and quite happy we had virtually the same launch date as IOS and certainly ahead of android. I wish they would allow some kind of cloud save so I could play on WP and my surface whenever it releases for win 8

Sick of this, can't get these games in south Africa

Wtf man u got 1.5 gb free space and still i cant download it

And it's laggy/buggy as HELL!!! Need to be optimized.


Exactly..needs a lot of fixing..

Its extremely laggy..and the frame rate also seems to be awful. Even the clearing of soil isn't smooth ad it should be and while swiping, soil mass is left behind. Its not a clean, smooth cut. I am really disappointed with this. And 761mb..!!! :O seems a bit toooo much to me.

It's not that laggy on a 920 but could be smoother. All in all not a bad game.

Dude..i have a Lumia 920. And it seemed way tooo laggy to me, ofcourse i mean relatively..to something like MC4, or taco master. Its buggy and needs lots of improvement..

I suppose if you compare the performance of this game to one that does play as smooth as milk you have a valid point. But if you just judge the game on its own merits it ain't that bad. As I said it's not as smooth as it could be but it's still playable. Or maybe the game performs differently on your 920 compared to mine because of some other factors involved

I just want it to be super fluid on my high specs device.. :D it runs better on my iPhone 4. I am just pissed cuz many devs aren't investing enough time and efforts in WP8..i am in love with rayman's run..mc4..and similar games..i want smooth running games..and i guess its not much that i am asking for.. ;)

That's a fair comment which I'm not about to argue. Given the type of game it is it's expected to run really smooth on hardware that can handle much more complex 3D games and play them smoothly without any lag. Maybe a future update will improve things but as it is a free game I'm not that bothered at the moment. If I had paid money for it I would be demanding an update to fix the lag.

Ya..a future update should fix things..and i understand what you want to say but giving something for free doesn't mean it can be substandard. Especially when it hogs 761 mb.. :D
PS- i just have 1 gb space empty on my phone. Need to buy that wireless seagate hard drive. :D ;)

That is another good point about the amount of storage it takes up. Seems very excessive to me for what the game actually is. I reckon they rushed its release and gave us a Beta version instead.

And the original Where's my water on Android only takes up 52.5 Mbytes's of space.

Lol..exactly..53 to 761..its really really stupid.. :D

Could very well be that. But overall..i am happy with my 920. I must say, i was a bit apprehensive about "switching". :D

I was the same because of the WP 8 interface being so different to anything else out there but I'm glad I made the switch because I now love it and can't even look at an Android or Apple phone without laughing.

WP8 version is awful guys (laggy). ipad version is perfect.
And th size: WP8 = 761 mb
ipad = 120 mb
WTF
Where is Windows 8 version? Late? :)

http://apps.microsoft.com/windows/en-us/app/12c9d9c4-1b2a-4c79-8e36-5adad7c4d413

Cannot download Where's My Water 2.

The game is good, but no wonder it's free they freeze the game to say you are out of energy. You have to wait to play again or buy more energy for 99 cents. That's BS! Rather pay for the game to work without energy garbage.

Here's the windows 8 version!
http://apps.microsoft.com/windows/en-us/app/12c9d9c4-1b2a-4c79-8e36-5adad7c4d413
Windows Central Newsletter
Thank you for signing up to Windows Central. You will receive a verification email shortly.
There was a problem. Please refresh the page and try again.