Where's my sale? Get six Disney games for Windows 8 and RT for 25 percent off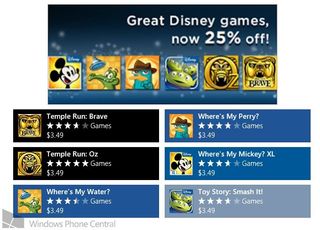 Disney makes several fine games for Windows 8 and RT, but they're all a bit pricey compared to their Windows Phone counterparts. Temple Run: Brave for instance, launched at $1.49 on Windows 8 but soon went up to $4.99. Actually, $4.99 is the regular price of all Disney tablet and PC games.
That's why Disney fans will want to take advantage of the Disney Windows 8 sale going on this weekend. All of Disney's non-Xbox games are on sale for $3.49, including the just-released Temple Run: Oz. Disney's Windows Phone 8 titles are not affected by this sale. Full descriptions and Store links after the break!
Temple Run: Brave
Windows 8 still doesn't have the original Temple Run for some reason. Spin-off Temple Run: Brave, first announced at GDC in March, actually became the first Windows 8 Temple Run game when it launched in May. Disney branding aside, both Brave and Oz are better than the first Temple Run, so we can't complain too much about the mainline Temple Runs' absence.
This game plays just like the original but with a coat of paint based on the so-so Disney animated film Brave. Players control Merida, the feisty red haired protagonist of the movie, who is being chased by the complete jerk wad of a bear called Mordu. She shoots targets with arrows, not unlike the shooting in Gunstringer: Dead Man Running.
The Windows 8 version features widescreen graphics that make it look on PCs and laptops but a bit worse on tablets since everything is smaller in a landscape orientation. Check out our full review for more details.
Temple Run: Oz
If you're a guy and thus probably don't care about Brave or just a person who appreciates L. Frank Baum's Oz series, this game based on Oz: The Great and Powerful might be more to your liking.
Players control the titular "wizard" himself as he dashes down the Yellow Brick Road and away from danger. This installment is based on Temple Run 2, which had mine cart sequences to break up the running. Here Oz rides a hot air balloon instead of a cart – a better side activity than Brave's target shooting in my opinion.
Where's My Water?
Disney's Where's My Water? is the first in a series of physics puzzle games. This one stars Swampy the crocodile, a new creation as opposed to an existing character. The goal is to route a supply of water down to Swampy because he needs a bath. Players create a path for the water by digging away at the dirt. It's a fun and simple mechanic.
Where's My Perry?
Where's My Perry? swaps out Swampy for Perry the Platypus from the Phineas and Ferb show. If you liked the first game, this one won't disappoint.
Where's My Mickey?
Want even more water-directing fun? Where's My Mickey? stars the one and only Mickey Mouse. It adds a few new mechanics like wind, rain, clouds, and plants to keep the puzzles fresh, and the art charms more than ever.
Toy Story: Smash It!
We haven't covered it before, but Smash It! is a 3D physics puzzle game set in the Toy Story universe. You play as Buzz Lightyear and throw objects at the green aliens from the movies, trying to knock them over. Think of it as a 3D Angry Birds-style game, much like Wreckateer for XBLA.
It looks like Toy Story fans should have a smashing good time with this game. Just be advised that according to user reviews, Smash It! is incompatible with Windows RT and yet can still be purchased from RT devices.
Paul Acevedo is the Games Editor at Windows Central. A lifelong gamer, he has written about videogames for over 15 years and reviewed over 350 games for our site. Follow him on Twitter @PaulRAcevedo. Don't hate. Appreciate!
inb4 "no achievements, no buy, I don't play games for the same reasons I did a decade ago"

Yea,. No achievements, no buy here... WTF Disney get with the program

I actually like some of those games. Kind of surprising to me, lol.

I'd buy a couple of these if I could also play them on my phone without having to pay again. And yeah... these really should be Xbox Live games.

That's great! There's always more fun to be had!

They should let us use Bing rewards points for Windows 8 apps too

Got Where is my Perry? and Where is my Water? when they were free.

25% off the normal $5 price tag is still way too expensive...same games are 1$/free on android/ios

Yeah, why is that. Thought Microsoft made much easier to port games. So does it cost more to port to Windows. Less sales so they jack up the price. What about the free games? Why are they five dollars on Windows? Doesn't make sense to me. They are hurting hurting there own sales by these ridiculous prices.

Agreed. Especially since they're quite old games that many will have bought/have been gifted already for another platform... Talking about crazy prices: any idea when XCOM will be available on RT? That I'd fork off some significant money for -- but not in 2 years...
Also Microsoft is making quite a stunt with their own games offering premium "renting" models, what the heck is up with that?

I have Temple Run: Brave and OZ, also Where's My Perry and Water all for WP. Bought four of them. I'm not sure I want to purchase them again for my PC... :(

I didn't find Temple Run Brave and OZ. I found the original temple run instead. I also didn't find toy story smash it. Help me, I'm a L720 user :) thanks

This is for computers and tablets.

As mentioned, this is for Windows, not WP. For WP, if the 720 has 512MB of RAM, I don't think either Brave or Oz are available yet (only 1GB RAM phones). Temple Run can run on 512MB phones.

Reading isn't that hard, dude.

Support my suggestion if you agree that these top quality games should have been Xbox Branded and so provide achievements too!http://windowsphone.uservoice.com/forums/101801-feature-suggestions/suggestions/4163745-windows-phone-xbox-live-more-something-like-gamece Vote if you agree with my suggestion please!

Wish these all had Xbox support. Would get them all. Otherwise they just blend with every other game on win 8. Pass. :(
Windows Central Newsletter
Thank you for signing up to Windows Central. You will receive a verification email shortly.
There was a problem. Please refresh the page and try again.