Temple Run Brave and lots more Windows 8 games coming sooner AND later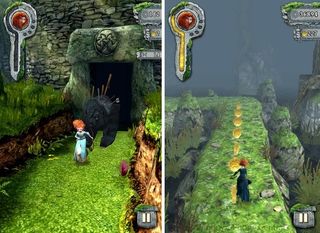 iOS screenshots
Bejeweled Live isn't the only Xbox game coming to Windows 8 and RT this week. As another GDC celebration, Microsoft has just announced a horde of Windows 8 tablet and PC games that should start becoming available this weekend, plus six more that are planned for the future. Most of these will be Xbox-enabled, but we're not sure about a few of them. The biggest news is that Windows 8 will have its own Temple Run game to brag about!
Head past the break for the full list!
Temple Run Brave from Disney
Time was that Imangi was a humble little studio and would happily answer our emails and set up previews. Then somebody drove a truck of money to their doorstep and pretty soon, Temple Run was coming to Windows Phone and Temple Run Brave to Windows 8 with nary a word from the developer.
Never mind that Windows Phone 8 just got the very first version of Temple Run extremely late and without Xbox Live features. For some reason, Windows 8 and RT get the much newer Temple Run Brave, with no news of a Windows Phone port.
This game plays just like the original but with a coat of paint based on the so-so Disney animated film Brave. Players control Merida, the feisty redhaired protagonist of the movie, who is being chased by the complete jerkwad of a bear called Mordu. She shoots targets with arrows, not unlike the shooting in Gunstringer: Dead Man Running.
The Windows 8 version of Temple Run Brave will apparently be enhanced with widescreen graphics. Xbox Live features are a maybe: Disney did use them for Disney Fairies. Hopefully this one only costs a dollar like the iOS game, but Windows 8 pricing is all over the map, so we'll have to wait and see. (Update: Reader Sri Tech informs us that Windows 8 games must cost at least $1.49.)
Shuffle Party from Babaroga
This game was originally released as an Xbox Windows Phone 7 game. When Windows Phone 8 launched, it suffered from incompatibility. Thankfully that was soon rectified and all Windows Phone owners can now enjoy it.
Any time now, the same will apply to Windows 8 and RT users. Like the original version, the tablet and PC game will be free and supported by ads. This one boasts highly enhanced graphics, new challenge levels, and 200 GamerScore (as opposed to the old version's 50 GamerScore). We'll have a more in-depth look very soon!
Samurai vs. Zombies Defense from Glu
Somebody can't seem to decide whether to call this Samurai vs. Zombies Defense (as it's known on other platforms) or just Samurai vs. Zombies. Whichever name ends up winning, just remember that a village needs defending from hordes of the unfriendly undead, and only a heroic samurai can do the job.
Basically, you just have to move the samurai around a battlefield as zombies approach and try to attack the town. Get within range of the enemies and he'll automatically cut them down to size, but he can't handle huge hordes all by himself. Thankfully you do earn AI villagers to assist with the zombie-splattering.
The game also has an upgrade system which uses coins as a currency. This is a freemium game, so players can either earn the coins through grinding or just buy them with real money dollars. On the bright side, it has Xbox Live Achievements and even supports Xbox controllers. Hopefully Glu ends up bringing Samurai vs. Zombies to Windows Phone as well!
Emily's True Love from Game House
This game is actually a sequel to Delicious, which Game House previously published on Windows Phone 7 as an indie title under their RealNetworks label. Well, Emily's True Love comes from the Game House label but MIGHT not be an Xbox Live title.
The game follows Emily and she journeys around the world, opening restaurants and pleasing customers like a pro. It's a time management title (just like the Sally's Salon series), so fans of the genre know what to expect. This one has a stronger focus on story than previous games, as it follows Emily's budding relationship with her true love: chocolate fudge sundaes. I kid.
The game will ostensibly be free, but that only gets you four levels to play, so really it's a demo. The full, actual game costs $6.99 and includes 60 or so level of food-serving fun.
More to come
On top of those titles, there will of course be several more Windows 8 and RT games released down the line. Microsoft teased the following, some of which we already knew about.
The Harvest HD
Yes, Microsoft actually provided this image at this size, on purpose.
The early Xbox Windows Phone 7 action-RPG The Harvest remains woefully incompatible with Windows Phone 8. While Luma Sky should definitely be patching it for compatibility, they are actually occupied with revamping the game for Windows 8 and RT instead.
The Harvest HD will feature upgraded graphics and two new playable characters for a total of five. Best of all, it adds synchronous co-op for 2-players. That could make it the first Windows 8 game to feature real-time multiplayer instead of asynchronous!
Doritos Crash Course Go!
This title started life as a free XBLA game on the 360. Basically, players navigate their Xbox Live avatars through various platforming challenges. The Windows 8 game will have 25 levels and Xbox Live Achievements, so it's pretty much a straight port of the original. We don't know if it will be free, but it seems likely.
Emily's Wonder Wedding
Emily has gotten herself knocked up and must quickly get married before her parents disown her. Wait, that's not right. But she has found love in all the wrong places, and she's ready to take that relationship to the next level. We're talking about not leaving the hotel room for three days and lots and lots of room service and pay per view movies.
Okay, so the actual gameplay revolves around delivering food to wedding guests and the like. This is another time-management sim in the Delicious! series. It also sold better than any previous time management game in Game House's PC lineup.
Ty the Tasmanian Tiger
Anybody remember the original Xbox game Ty the Tasmanian Tiger? It starred a little boomerang-throwing tiger thing that looked a little like Ceberus the Aardvark. Ty also got a few sequels, and most recently showed up in a weird first-person boomerang-throwing game on iOS.
Happily for fans of the series, Ty is now back in a proper platforming sequel for Windows 8. The new game is 2D instead of 3D. The Tasmanian Devil, I mean tiger has 40 levels to run through before he can save the citizens of the Outback and get back home to bring a pint of Foster's.
Ty comes from Krome, the makers of Full House Poker on Windows Phone and XBLA (who are sadly not the developer of the non-Windows Phone sequel WSOP: Full House Pro.)
Field & Stream Fishing
Exclusive Windows 8 screenshots
Here's another Xbox title from Merge Interactive, makers of Big Buck Hunter Pro. This time the Texas-based developer is leaving its comfort zone and branching out into the fishing genre. I'm not complaining though, because Merge has a good handle on making simple low-brow sports games fun to play.
Field & Stream Fishing packs five unique fishing locations, all of which have five sublocations in which to drop anchor. There are lots of different lures to use and challenges to complete. Fingers crossed that Merge is secretly bringing this one to Windows Phone too. Just don't forget to make it Windows Phone 8 compatible, guys!
Endless Skater
Hey, another Xbox game based around a sport of some type! This one comes from Supervillain Studios, who are hopefully much less evil than their name implies. It features five pro skaters and licensed gear, plus Xbox controller support.
Fishdom 3
No one has ever dared to combine the madness of a match-3 puzzler with the insanity of a virtual aquarium… Until now! The only question is whether players will be able to survive the casual puzzles and fish tank customization on offer. And look, Temple Run might not warrant Xbox Live status on Windows Phone, but Fishdom 3 does (on Windows 8), so you know it's even more awesome.
Windows Central Newsletter
Get the best of Windows Central in in your inbox, every day!
Paul Acevedo is the Games Editor at Windows Central. A lifelong gamer, he has written about videogames for over 15 years and reviewed over 350 games for our site. Follow him on Twitter @PaulRAcevedo. Don't hate. Appreciate!
so its wrong for a writer to post his opinion sense the app in question is BASED on the movie mixed with temple run so he is just commenting on that same with the dark knight he is saying his opinion on it so wait can he not review the games or apps anymore due to it being a opinion my god... paul better stop doing those as I mean I see a review I may have to put up with more of this shit...

Lol and people say that WP8/W8/WRT is dead...... These last couple of weeks have been amazing.

W8 is, of course, going to be fine. But WP8 and WRT (especially) are in serious doo doo. In fact, I would advocate that MS drop WRT like a bad habit.

What's wrong with the RT? People here are always bashing it. I think it's a great tablet. I personally don't see the need for a Pro. The RT is good enough for the majority.

Such views only come from lack of insight. Answer these questions:
1-Should Microsoft invest in mobile computing?
2-What are statistics showing regarding use of laptops vs. tablets?
3-Should Microsoft allow for light, long battery life devices to be created based on some sort of Microsoft platform?
4-If the answer to previous questions led you to agree an ultra mobile platform is necessary (like millions of iOS and Android based devices) should Microsoft create an OS radically different from the classic Windows, which, by the way, has been designed around the concept of touch input?
OK, now name the platform.
Disagree? Please come up with an idea that would boost Microsoft's market share in the tablet division, able to compete with the likes of iPad and Google Nexus. Keep in mind that desktop apps are not suitable for such devices because they work primarily (sometimes exclusively) with touch.
Let me be completely clear: Windows RT has a much better excuse to use the Modern UI and the new Start screen. Without RT, really there is no point in touch for Windows until x86 CPU's become advanced enough to consume much less power while giving the same performance as they give today and manage to compete with current ARM based CPU's in media consumption and entertainment department.
Sent from Surface RT :)

Lenovo, Acer, and Asus just announced they are working on Windows RT devices, so why should Microsoft ever drop Windows RT? If anything it is more likely that Windows RT will eventually replace Windows Phone and OEMs will simply choose ARM or x86 based upon the type of device they want to build. Why would MS not support ARM with Windows? I'm sure Intel would love that, but MS has nothing to gain from being dependent on Intel and nothing to lose by supporting multiple chip vendors.

WP8 is no where close to being in doo doo???? the only place growth is very small or stagnant is north america, which will slowly change over time and the fact that the US is not the only big fish in town anymore. Windows RT will also not be going anywhere, there is a significant plan going forward for this OS and will only become better over time.

Yeap. They must hire you...

There's no such thing as too many!!! Can't wait to give this a whirl! Hopefully blue makes it easier to port this game to windows phone!

Nice! Looks like this will keep me busy on the teblet for a while :).
Just to let you know if you change your location on your Windows 8 PC/Surface to Trinidad and Tobago you can download Shuffle Party the now...
http://apps.microsoft.com/windows/en-TT/app/shuffle-party/ae48294f-1a3a-46b0-88a0-4e690a245c4a
Game list looks awesome anyways. Will be buying a good few of them!

Hey im from Trinidad :) but im in NYC now though

My dad is trini and I was born in NY. O.o

My Wife is half Trini but she is Canadian born. We were there in December it's a very nice place.

Well, developers can't keep ignoring Windows 8 forever, I Guess. After all, a lot of people with a new computer, have windows 8 with touchscreen. But this is of course also good news for the tablets. I hope they'll start doing better.

Yesssss i LOVE the harvest, but didn't luma sky go bust or something?

That's what I'm talking about. Let the games roll in. I love to play that Temple Run Brave. Good to see Disney show Windows Phone some attention.
If you still find yourself reading some of this tech journalist sites be sure that they have sponsored stories. I left Android for Windows Phone L920 and I haven't regretted for once. I even dismissed my iPad last week and hope to secure Surface RT real soon. I'm impressed by Microsoft and a year from now, we should be happy. Sticking with Windows till its dead (that's if it will.. Lol)

too many games!!! Love it<3

I really want a Windows 8 tablet but I wait for Intels next Gen Atoms. The current once just are to far behind in terms of graphics power and RAM support.

just wait for haswell than:)

preach! thats exactly what im waiting for, once these OEM's start releasing devices with Haswell (preferably Microsoft cuz of their biuld quality) i am going to finally buy my first tablet!!!

The Harvest, YES! Leta hope it gets back on WP8

I agree i bought this on wp7 back when i had my entry level omnia 7 i hope wp8 actually gets a port of this hd remake with the new characters i will buy it again if so.

This is what Gabe fears in Windows 8.

Gabe is sore Microsoft hater...

After 9 years in development...
Instagram. ;)

Paul,
The minimum price for the Windows 8 apps is $1.49.
So "Temple Run Brave" costs min. $1.49

"Windows 8 pricing is all over the map" Well said.

I am overwhelmed. A time may come when I spend more time gaming in my phone than on Steam.

We do all understand this article is about Windows 8 and not Windows Phone 8, right?

Not sure if a lot of people do understand that its all for windows 8, not wp8

Brave. Not so good? What planet is this?

The planet where Pixar and Disney switched places. ;)

I'm sorry m8 but I dislike your movie taste. First it was The Dark Knight Rises - now Brave. I reckon you are some kind of film snob, to say the least.

Naw, I like lots of different films, including just plain action films, comedies, animated movies, etc. I huge Blu-Ray and DVD collection, in fact. I do try to look at films on a thematic level when I can, or analyze how coherent they are. As a critic, I'm trained to say what I like and don't like about films, games, books, etc. which not everyone can put into words. But it really doesn't matter if you and I like the same two films or not. Nobody can like everything. ;)

I agree, Brave is definitely average.

Definitely Pixar average, in which average is "Awesome"

I'll second that! There's NO not-so-good Pixar film so far, Disney or not; not to mention Oscar for Best Animated Feature for this one.

Cars 2 was not-so-good. Pretty meh for me

Wreck-It Ralph was better. Much better. Though Brave did have better hair graphics....

Wreck-It Ralph was great but one can only think of Disney getting up there with Pixar in several ways.

The "not so good" Oscar award winning Brave? I enjoyed it much more than "Wreck it Ralph" or any other animated feature last year. Wreck It just was too childish

I probably should have said 'not so great.' It is a passable feature, but IMO not up to Pixar's usual standards. I watch every Disney film and I don't mind princesses, but this one didn't grab me like they usually do.

Princess Merida is a wee Muppet and she'll take you down with no effort! For that alone, Brave rocks...he probably don't like bears =/

Just want local businesses to support Windows Phone. Wish Microsoft would put some money up in each county and get more local apps in the market place. There are only so many games you can play..

more and more apps + games are coming to WP...
that's means our ecosystem and marketshare got a significant growth so developers have to pay attention to us..
cheers

Its windows 8 . . . Not wp8 sorry

oh i'm must be have some eyes problem. lol
but it's not problem cheers for win 8 too
hahaha

I want my compatibility patch for The Harvest. Spent full price on it assuming it would work on WP8... I would buy Chaos Rings if there was some guarantee its coming to WP8 but won't make the same assumption.

Can't wait for these titles to become available on Windows Phone aswell!! April 15 can't come any sooner for my 920!

What's happening on the 15th?

Great for Windows 8, what about Windows Phone 8

I have a Surface, but still I was hoping all this was for WP8 and not just W8 ):

Doritos Crash Course sounds like a throw away title but it's one of the best pick up and play games on Xbox Live Arcade. That'll be a welcome addition to Windows 8/RT.

Sometimes they just want a reason to sell us gamerscore... =P

That skating game looks pretty cool. I think i'm gonna download that. If it doesn't get on WP8 too.

The harvest was programmed entirely in xna so it can only run in compatibility mode on wp8 which is why it hasn't been ported yet. Reprogramming the game would be pretty expensive for a small developer like luma sky. But it is a Microsoft published game, just wish they would've thrown some money at luma sky so they could put it back on our phones.

what windows phone really needs is Super Hexagon

WP needs someone of these titles, mark my words the only way WP pulls ahead of the competition is by being the gaming OS.

I want The Harvest HD!!!!!

Americans have to file their federal income taxes by that date.

Seriously who are playing all these games? I barely play one and that's for an hour once every month.
I understand everyone is not me but still? Few good games will work better than lot of 'nobody cares' games.

Ok what about for windows phone?

My wife said she wants the emilys games but she is a cheevo whore as well so they better have cheevios :P

But the temple run not available in 7.8
Windows Central Newsletter
Thank you for signing up to Windows Central. You will receive a verification email shortly.
There was a problem. Please refresh the page and try again.