Temple Run Brave and lots more Windows 8 games coming sooner AND later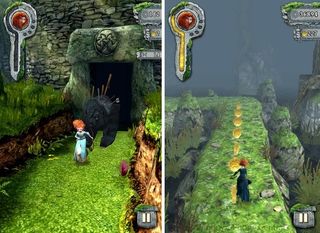 iOS screenshots
Bejeweled Live isn't the only Xbox game coming to Windows 8 and RT this week. As another GDC celebration, Microsoft has just announced a horde of Windows 8 tablet and PC games that should start becoming available this weekend, plus six more that are planned for the future. Most of these will be Xbox-enabled, but we're not sure about a few of them. The biggest news is that Windows 8 will have its own Temple Run game to brag about!
Head past the break for the full list!
Temple Run Brave from Disney
Time was that Imangi was a humble little studio and would happily answer our emails and set up previews. Then somebody drove a truck of money to their doorstep and pretty soon, Temple Run was coming to Windows Phone and Temple Run Brave to Windows 8 with nary a word from the developer.
Never mind that Windows Phone 8 just got the very first version of Temple Run extremely late and without Xbox Live features. For some reason, Windows 8 and RT get the much newer Temple Run Brave, with no news of a Windows Phone port.
This game plays just like the original but with a coat of paint based on the so-so Disney animated film Brave. Players control Merida, the feisty redhaired protagonist of the movie, who is being chased by the complete jerkwad of a bear called Mordu. She shoots targets with arrows, not unlike the shooting in Gunstringer: Dead Man Running.
The Windows 8 version of Temple Run Brave will apparently be enhanced with widescreen graphics. Xbox Live features are a maybe: Disney did use them for Disney Fairies. Hopefully this one only costs a dollar like the iOS game, but Windows 8 pricing is all over the map, so we'll have to wait and see. (Update: Reader Sri Tech informs us that Windows 8 games must cost at least $1.49.)
Shuffle Party from Babaroga
This game was originally released as an Xbox Windows Phone 7 game. When Windows Phone 8 launched, it suffered from incompatibility. Thankfully that was soon rectified and all Windows Phone owners can now enjoy it.
Any time now, the same will apply to Windows 8 and RT users. Like the original version, the tablet and PC game will be free and supported by ads. This one boasts highly enhanced graphics, new challenge levels, and 200 GamerScore (as opposed to the old version's 50 GamerScore). We'll have a more in-depth look very soon!
Samurai vs. Zombies Defense from Glu
Somebody can't seem to decide whether to call this Samurai vs. Zombies Defense (as it's known on other platforms) or just Samurai vs. Zombies. Whichever name ends up winning, just remember that a village needs defending from hordes of the unfriendly undead, and only a heroic samurai can do the job.
Basically, you just have to move the samurai around a battlefield as zombies approach and try to attack the town. Get within range of the enemies and he'll automatically cut them down to size, but he can't handle huge hordes all by himself. Thankfully you do earn AI villagers to assist with the zombie-splattering.
The game also has an upgrade system which uses coins as a currency. This is a freemium game, so players can either earn the coins through grinding or just buy them with real money dollars. On the bright side, it has Xbox Live Achievements and even supports Xbox controllers. Hopefully Glu ends up bringing Samurai vs. Zombies to Windows Phone as well!
Emily's True Love from Game House
This game is actually a sequel to Delicious, which Game House previously published on Windows Phone 7 as an indie title under their RealNetworks label. Well, Emily's True Love comes from the Game House label but MIGHT not be an Xbox Live title.
The game follows Emily and she journeys around the world, opening restaurants and pleasing customers like a pro. It's a time management title (just like the Sally's Salon series), so fans of the genre know what to expect. This one has a stronger focus on story than previous games, as it follows Emily's budding relationship with her true love: chocolate fudge sundaes. I kid.
The game will ostensibly be free, but that only gets you four levels to play, so really it's a demo. The full, actual game costs $6.99 and includes 60 or so level of food-serving fun.
More to come
On top of those titles, there will of course be several more Windows 8 and RT games released down the line. Microsoft teased the following, some of which we already knew about.
The Harvest HD
Yes, Microsoft actually provided this image at this size, on purpose.
The early Xbox Windows Phone 7 action-RPG The Harvest remains woefully incompatible with Windows Phone 8. While Luma Sky should definitely be patching it for compatibility, they are actually occupied with revamping the game for Windows 8 and RT instead.
The Harvest HD will feature upgraded graphics and two new playable characters for a total of five. Best of all, it adds synchronous co-op for 2-players. That could make it the first Windows 8 game to feature real-time multiplayer instead of asynchronous!
Doritos Crash Course Go!
This title started life as a free XBLA game on the 360. Basically, players navigate their Xbox Live avatars through various platforming challenges. The Windows 8 game will have 25 levels and Xbox Live Achievements, so it's pretty much a straight port of the original. We don't know if it will be free, but it seems likely.
Emily's Wonder Wedding
Emily has gotten herself knocked up and must quickly get married before her parents disown her. Wait, that's not right. But she has found love in all the wrong places, and she's ready to take that relationship to the next level. We're talking about not leaving the hotel room for three days and lots and lots of room service and pay per view movies.
Okay, so the actual gameplay revolves around delivering food to wedding guests and the like. This is another time-management sim in the Delicious! series. It also sold better than any previous time management game in Game House's PC lineup.
Ty the Tasmanian Tiger
Anybody remember the original Xbox game Ty the Tasmanian Tiger? It starred a little boomerang-throwing tiger thing that looked a little like Ceberus the Aardvark. Ty also got a few sequels, and most recently showed up in a weird first-person boomerang-throwing game on iOS.
Happily for fans of the series, Ty is now back in a proper platforming sequel for Windows 8. The new game is 2D instead of 3D. The Tasmanian Devil, I mean tiger has 40 levels to run through before he can save the citizens of the Outback and get back home to bring a pint of Foster's.
Ty comes from Krome, the makers of Full House Poker on Windows Phone and XBLA (who are sadly not the developer of the non-Windows Phone sequel WSOP: Full House Pro.)
Field & Stream Fishing
Exclusive Windows 8 screenshots
Here's another Xbox title from Merge Interactive, makers of Big Buck Hunter Pro. This time the Texas-based developer is leaving its comfort zone and branching out into the fishing genre. I'm not complaining though, because Merge has a good handle on making simple low-brow sports games fun to play.
Field & Stream Fishing packs five unique fishing locations, all of which have five sublocations in which to drop anchor. There are lots of different lures to use and challenges to complete. Fingers crossed that Merge is secretly bringing this one to Windows Phone too. Just don't forget to make it Windows Phone 8 compatible, guys!
Endless Skater
Hey, another Xbox game based around a sport of some type! This one comes from Supervillain Studios, who are hopefully much less evil than their name implies. It features five pro skaters and licensed gear, plus Xbox controller support.
Fishdom 3
No one has ever dared to combine the madness of a match-3 puzzler with the insanity of a virtual aquarium… Until now! The only question is whether players will be able to survive the casual puzzles and fish tank customization on offer. And look, Temple Run might not warrant Xbox Live status on Windows Phone, but Fishdom 3 does (on Windows 8), so you know it's even more awesome.
Get the Windows Central Newsletter
All the latest news, reviews, and guides for Windows and Xbox diehards.
Paul Acevedo is the Games Editor at Windows Central. A lifelong gamer, he has written about videogames for over 15 years and reviewed over 350 games for our site. Follow him on Twitter @PaulRAcevedo. Don't hate. Appreciate!