GDC 2013: Bejeweled Live will soon shine on Windows 8 and RT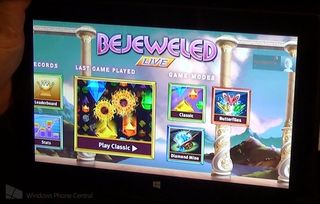 Back in February, PopCap surprised us by suddenly releasing Bejeweled Live+ exclusively for Nokia Windows Phones. Confusing name aside, that game is basically a mobile version of the phenomenal Bejeweled 3.
Well, it turns out that Windows 8 and RT were sorely in need of some Bejeweled love as well. Or should I say Bejeweled Live? Today at GDC 2013, we had the chance to talk with Jeff Green, Director of Editorial and Social Media at PopCap Games, who kindly demonstrated the Xbox-enabled Bejeweled Live for Windows 8 and RT.
Full video and more details after the break!
The best thing about Bejeweled 3, other than the addictive match-3 gameplay and ethereal soundtrack, has to be the new modes it introduced. The Windows 8 version of Live includes two of the best new modes as well as the Classic gameplay that started it all and got the world's moms into playing videogames.
Classic: An un-timed mode with a focus on trying to score as much as possible. The game ends when the player can't make any more moves.
Diamond Mine: The most unique mode, players actually tunnel beneath the ground in search of treasure. Matches made with pieces that touch the dirt line clear away the dirt. You only have a short time to reach certain depths before they run out of air; succeed and you get a bit more air.
Butterfly: Butterflies spawn at the bottom of the screen and move up one space every time the player makes a turn. Making a match of the same color as a butterfly while it occupies that space will eliminate it. If the butterflies reach the spider at the top of the screen, the game ends.
Bejeweled Live for Windows 8 doesn't the Lightning or Zen modes found in the Nokia-exclusive Live+, but new modes will likely be added in future updates. Still, the modes on offer are quite strong and play great on touch screens. It also offers 200 GamerScore worth of Achievements, some of which are unique to this version. Windows 8 and RT users won't want to miss it.
Jeff Green of PopCap
Bejeweled Live should be popping up on the Windows Store within the next few days. It will cost $4.99. Look forward to a full review shortly thereafter!
More Bejeweled for Windows Phone and Windows 8?
PopCap's most successful Bejeweled game on iOS by far has been Bejeweled Blitz. It's a free-to-play spin on that franchise that originated on Facebook. Games last for 60 seconds. Each game you play earns you a little currency which can then be spent on boosts to perform better in future games. Players can also opt to purchase in-game currency with real money, but it's not necessary to enjoy the game. The whole thing is tied together with strong Facebook friends leaderboard integration.
Now, Bejeweled Live+ and Bejeweled 3 already have a Blitz-like Lightning mode that lasts for 60 seconds. But Blitz is really its own thing with a unique presentation and goals. In fact, it's so popular that EA is now it spinning off into Tetris Blitz for iOS, a game we'd love to see on Windows Phone eventually. So that's the big question: will Bejeweled Blitz come to Windows Phone and Windows 8 in the future? We didn't get a definite answer out of PopCap or EA during our meeting, but they did hint that it's a possibility. If you're like me, a little Bejeweled will never be enough. Let's cross our fingers that we'll be Blitzing on Windows Phones and Windows 8 tablets soon!
(Note: PopCap actually released Bejeweled Blitz on XBLA a while back, but it wasn't especially well tailored for console play and sort of fell into obscurity.)
Windows Central Newsletter
Get the best of Windows Central in in your inbox, every day!
Paul Acevedo is the Games Editor at Windows Central. A lifelong gamer, he has written about videogames for over 15 years and reviewed over 350 games for our site. Follow him on Twitter @PaulRAcevedo. Don't hate. Appreciate!
Blitz is pretty much the only game I play on a regular basis...using my work iPhone for it. I wouldn't play any games there at all if it wasn't for that. Please release it!!!

Then two and a half years later Bejeweled Live + for Nokia tablets will come out $2 cheaper.

That sounds so good, may be you are right. :)

No such thing as too much Bejeweled. Bejeweled LIVE for Windows will literally be like the 7th copy of Bejeweled I've purchased.

Haha yeah same; also I am one of the few people that got the Multi-Mode achievement on Bejeweled 2...getting to level 280 on endless took forever, yet I still strive for more =D

Bejewled is a waste of cash. Don't buy it. Honestly, 10tons offers a much better match 3 (for anyone that still plays them, I've only seen old lady's playing them on their NDS's (lol).

You're wrong and you know it :)

Please tell me you asked about Peggle, I need to buy that perfection for a billionth time on WP & W8.

Windows Phone is finally starting to roll. Lets hope the same for RT.

Live+ sucked in terms of quality. Gameplay went WAY too fast. Also the audio sound canned when Dolby was turned off.

Always glad to see more support for Win8/RT from PopCap, and I'm glad they're supporting Windows Phone more too. Like @Jamdot, though, I want to know if Peggle (and Peggle Nights) will be coming for Windows Phone soon, ideally with new levels too. ;) Bejeweled Blitz for WP7/8 would be fantastic too. And - does anyone else find Bejeweled Live+'s "Diamond Mine" mode much harder than the same mode on iOS? I can't get that 750k Achievement (or the one collecting relics), but frequently can get well over 1M on my old iPad... 8) Frustrating...

To answer the Peggle question, we did of course ask just that. Jeff wasn't sure of the answer, but he promised to check with another PopCap staff member. Hopefully they'll give us some notice if it's coming!

Oh, FFS! Not on W8 Desktop! I need more Gamerscore! >:O
http://i.imgur.com/sqZ37DX.png

Why did you not buy Windows 8 when it was £25?

Got it when it was $15. Just disappointed to see a Bejeweled title not available for desktop users. That was my screencap, btw.

F*** bejeweled!! We should have Candy Crush Saga!!!!!

Wonder why its live in the window game store from my Surface Pro and it says its not for my device? :-(

I think the Game Store is having issues today, all of them seem to be saying not for device even the ones l have installed. Also its freezing up my PC and Surface

Another vote for Bejeweled Blitz on WP8.

Bejeweled Blitz must be doing well if they're publishing it on every platform possible while still adding in new features all the time.
Windows Central Newsletter
Thank you for signing up to Windows Central. You will receive a verification email shortly.
There was a problem. Please refresh the page and try again.