Disney's classic 'Castle of Illusion' jumps from Sega to Windows Phone and Windows 8.1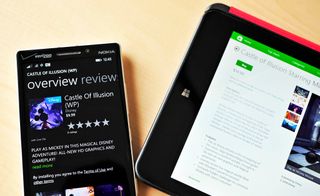 Disney and Microsoft have been rolling out the hits lately, introducing three new games in the last few days, including Lost Light, Jelly Car 3 and Disney Solitaire. This morning, the classic Mickey Mouse game 'Castle Of Illusion' arrives on Windows Phone and Windows 8.1, making it quite the combo.
Castle of Illusion came out for iOS and Android late last year, so while the game is not brand new, it's not that old either. Clearly Microsoft and Disney have a partnership going where they're bringing all new (and older) titles over to the Windows ecosystem, something that should sit well for those with children.
What can you expect from Castle of Illusion? Over at Microsoft's Fire Hose, they describe the game thusly:
It sure sounds like a wild ride, especially for fans of the classic game now re-imagined for tablets, PCs and your phone. Check out the trailer for the game to get an idea of what to expect.
That's the good news; the bad news is both pricing and the lack of trial. For the Windows version, you're looking at a $14.99 price tag, while Windows Phone is still a super expensive $9.99, (and no, these are not even Xbox Live titles). Throw in the fact that there is no trial for either version, and we're not sure how many of you will blindly jump at this offer.
In anticipation of your complaints, we'll be working on a demo video of both games in the next day, so sit tight, and we'll give you our initial thoughts and impressions.
Daniel Rubino is the Executive Editor of Windows Central, head reviewer, podcast co-host, and analyst. He has been covering Microsoft here since 2007, back when this site was called WMExperts (and later Windows Phone Central). His interests include Windows, Microsoft Surface, laptops, next-gen computing, and arguing with people on the internet.
Loved this on the mega drive! Where's Duck Tales HD!!!!

Disney releasing games dats awesome . But good games worth playing are expensive + require 1gb ram :/

Are these games exclusive to WP/W8

No, in the article he said "came out for android and ios last year"

Quack shot and Insector X

Quack Shot is one of my all time favourite - don't think it's been updated though... Shame as Donald Duck playing Indiana Jones was better than that awful crystal skull nonsense! ;)

Yeah crystal skull sucked, Donald should have given Indiana his plunger gun, prob would have helped :)

Cue the "No 512 MB support" comments in 3...2...1...

Pop a quarter and yet again lol

No Xbox? Come on Disney. If you supported Xbox wow there would be a lot more games. Makes no sense since this game is on Xbox 360 arcade...

Agreed. These are the types of games that should be Xbox-enabled. Both Disney and Microsoft blew it and need to be called out for it. Huge missed opportunities. #SaveXboxWP.

Talk about "out of touch with the consumer"

Not Disney. Microsoft. Posted via the WPC App for Android!

Be thankful Disney is even publishing games for WP.

I guess they figure most would've downloaded it for 360 wouldn't want to go for duplicate achievements especially ones that are hard to get on wp

Holy crap $9.99 !! That's way tooo expensive. I can't afford it. :(

Do you have Bing Rewards where you're at? That's pretty much how I get all my WP apps.

Nopse matey, In India no Bing rewards. It really sucks on MS part but nothing we can do. :(

I bought this for the Xbox 360. I thought purchases were supposed to carryover now. What gives?

The developer needs to manually make it a universal app for that. Looks like Disney doesn't want to do it. Personally I could be interested by this game, and by Jello Car, but since Disney apps are not universal and there is no trial I'll keep my money.

Not only do they need to be Universal Apps created by the Dev (which Disney has not done with any of their apps) but the Xbox 360 is not supported by Universal Apps nor have I seen anything that says it ever will be. The Xbox One will be at some point though.

What do you mean the 360 is not? What about Halo: Spartan Assault? I'm pretty sure it's universal.

You are right, it is Universal. Between Windows 8.1 and Windows Phone 8/8.1. From a PCWorld article "In other words, developers will be able to write one app using common code and have it work across phones, tablets, PCs, and yes, even the Xbox One". http://www.pcworld.com/article/2138625/microsoft-introduces-universal-apps-that-scale-across-phones-tablets-and-pcs.html

Forget this overpriced crap. Get EmiGens and play the original.

The only one has Illusions here is Disney.
No Universal App noGO. This is Windows and this is 2014. (Not even discussing the fact that, this is a non-XBOX game)

You should discuss the fact that it's a non-Xbox game. That's the most important deficiency. #SaveXboxWP

It's dead. Posted via the WPC App for Android!

Not dead. Just on life support. We've gotten 6 new Xbox games on WP this year and about 11 new Xbox games on Windows 8/RT this year. Microsoft Studios is still strongly supporting both platfors. It's the third-party support that is lacking and Microsoft needs prodding to court developers stronger. EA, Ubisoft, and Square Enix are the only 3rd party publishers still making Xbox games on WP, but their releases are few and far between.

Universal App show's up this YEAR, a month ago ... Probabbly this game was not made a month ago ... so ... do the math dude. Universal apps take time to be developed, it's not that easy how non-developer people think.

First, I am a developer.
Second, for the size of Disney Studios this should be a couple of days of work, if even.
Third, even if the App was created separately it is a joke of work, to just link the Apps and at llist them as a Universal App in the Stores so their customers will pay once and play everywhere. You are right this is fairly new method but make no mistake, this is a non Universal/Xbox PAID App by choice. Its a great game with huge history, and most likely will sell very well, but everyone votes according their needs and wallets.

We are talking about WindowsPhone. Disney will not wasting effort/resources/money to quickly develop that. Probably Disney is putting their games on WP Store because some "partnership" ($$) with MS. Even mention is a paid game over all platforms, for the same price.

What a price :runaway: y this large companies not releasing game free for at least 1st day ....too bad.

What a price :runaway: y this large companies not releasing game free for at least 1st day ....too bad.

Price is fine, but honestly, I think I prefered the old style graphics. Probably will get it anyway, just because I appreciate Disney supporting the platform.

If you don't support a game because it's not Xbox Enabled go to android and iOS. Blame Microsoft for allowing this to die not the Dev. Be grateful for the people who worked on porting this. Geez. Posted via the WPC App for Android!

Yeah, that would be an ideal solution and all, but the people who want Windows phone are usually pretty adamant about their platform.
I'd personally rather just see the Xbox mobile platform flourish than jump ship to iOS or Android.

Going to iOS and Android where there are no Xbox games at all vs. staying on Windows Phone where there are some and also get all the extra benefits of Windows Phone? No brainer. I'll stay with WP. iPhone is overpried. Android is garbage. As for blaming Microsoft for the lack of Xbox games: we already are.

"iPhone is overpried. Android is garbage" LOL, but kinda agree hehee

Hopefully controllers can be used.

Awesome! Just waiting a red stripe deal or something to buy it :P

Yay! I can comment again now! :D

They need to drop some of the stuff that is for little kids - especially for WP and Kids' Corner

Drop as in publish, right?

They need to bring the my Disney app for their theme parks.

$9.99? Big asking price for a game with no Xbox support. Add that in an update and I'll pay. We keep hearing about reform in the Xbox mobile platform. I wanna see it happen so devs aren't punished by supporting Xbox Live.

Excellent news from Disney, they just need to start making Universal apps. More if they are that expensive, and xbox enabled won't hurt either.

Not a bad game for $9.99 worth it I think,.

Wats news of ages of empire"

Do people forget, that Disney is the one that needs to reach out to Microsoft too, to make it an WP supported Xbox game. It's not Microsoft. It's Disney! Again. Disney is the one that made the decision to not make all Disney games Xbox Supported. They will when they want it. It's almost the same reason they cancelled the new Console star wars games. Cause they wanted to keep it Disney. And WP is an easier platform to do that.

Disney has no real incentive to add Xbox support because of the added difficulties and costs it brings. Xbox support means extra sales too, but many publishers like Gameloft still decide that skipping Xbox support is the most profitable option. The real solution is for Microsoft to make adding Xbox support a painless process, as with Game Center and Google Play support on iOS and Android.

"they will when they want it". I know support and all the rules to Microsoft is open and easy if u want it to be, and agreed on from both sides. Knowing Disney is being an ass these days. Its lmao imo. But its still Disney's choice in the end to use the support or not. It's simple. They don't want to. Well not anymore. But still, Not every game has to be Xbox Supported to enjoy it. People need to understand that. On the devs side from this game. I find it also sad that people are saying." No Xbox, No buy" while its a very good game. Xbox or not.

I'm with you on that - it's great to see this game on Windows platforms. We get the "no box, no buy" comments on every game we write about. It's annoying and bad for the platform, but clearly Disney's games are doing fine or they wouldn't be bringing so many over.

Exactly! I know how annoying it can be from the Console side. But there's allot more Disney games coming. And those. No box, no buy comments will be far from over. ;) get ready people! :P

Looks like a fun game, but for me it has a few big flaws. 1. It's not a universal app 2. Even at 9.99 I still think it's too expensive. 3. It's not an xbox title I would even consider buying it for 10 bucks if the game had 1 and 3, otherwise I would pay 2 bucks max

Not to diss on Disney or anything, they've done plenty of great work on the platform, but if this version of Castle of Illusion is anything like the Genesis original, I can't even imagine playing it on touchscreen controls. It was hard enough with a proper gamepad...

For this much money, ill wait til there is at least 50 reviews and is a rock solid 5 stars. And for this price it should definitely be a two screen purchase...that's major B.S. right there.

Yeah, so right, lets all wait until there are 50 reviews all giving 5 stars, because that would work, right :/s

Would work? How said anything about anything working? I'm saying if I'm dumping that much money on a mobile game that doesn't offer me a demo first, then I'll wait until I hear others' opinions first. Not sure what you find so problematic about me doing that, but glad you have an issue with my purchasing decisions.

For being a douche-bag? Yeah...congratulations...

nice tablet you have there

Cant we let deva release the game first and then give it to Microsoft to make Xbox live later????

Really enjoyed the arcade version on my Xbox 360 so I'd gladly pay $10 for this game if it was Xbox LIVE enabled. Come on, Disney! :/

Give me Shining Force and I will buy whatever you throw under my nose.

It looks really good its just a little pricey

How can there be a Microsoft / Disney partnership and not have Xbox support!

Lol this game was released on android and IOS a while ago. We are just getting it late (really late)

This sucks, I would buy this and play it, I really enjoyed the original one and even at $9.99, but for that kind of money, I don't just want, I expect Xbox live on a premium game on Windows Phone at this price point. What a major disappointment....#SaveXboxWP (check my twitter posts, I use it all the time @TheCoolDave )

10$ for that? Looks nice but 10$???? With that money I'll buy a lot of games on my device or on steam.

Not too bothered about Xbox Support, that's up to Disney and not Microsoft. For the price though it should be a Universal App as here in the UK it's £8.94 on Surface and £5.99 on WP. It's worth the money but I'm not paying twice for the same game.

And bought, loved this game in the past.

The games are costlier than the wireless charger as covered in one of the articles at WPC.

No xbox live achievements, no sale here

I don't think 10 quid is entirely justified, unless I can get 40+ hours of gameplay out of it, I would never pay a tenner. Final Fantasy III, Chaos Rings, Reaper: three stellar RPGs with content well over 40 hours and they're under 10 quid. Seriously what makes this game so good? I'm tempted because of the price lol.

http://www.youtube.com/watch?v=I1q2Tv-ikOo Castle Of Illusion on Windows Phone 8.1
Windows Central Newsletter
Get the best of Windows Central in in your inbox, every day!
Thank you for signing up to Windows Central. You will receive a verification email shortly.
There was a problem. Please refresh the page and try again.