Disney's Words of Wonder now available for Windows Phone and Windows 8.1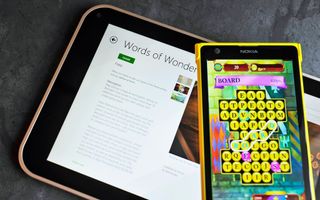 Disney has been pumping out games for Windows Phone and Windows 8.1 at an astonishing rate. Castle of Illusion is one of their more recent games that came out just last week. Today we're getting another games from Disney for Windows Phone and Windows 8.1. Ready to play Words of Wonder?
Head into the Windows Phone Store and the Windows Store and you'll find Words of Wonder. The newest game from Disney. It's a Universal Windows app, which means things like in-app purchases should sync between the two versions.
Words of Wonder is a magical word game. In it, you find words to solve more than 70 addictive puzzles with unique and challenging twists.
Words of Wonder is free on both Windows Phone and Windows 8.1. You will find in-app purchases that range in price from $0.99 to $99.99 inside Words of Wonder.
We'll have a review of Words of Wonder up soon. In the meantime, take it for a spin and let us know what you think!
Thanks for the tip everyone!
Yesss!! Love the support Disney is giving to WP!

I know WP8 now has a wallet with a PIN and all, but $99 purchases on games directed at kids is kind of wrong...

Lol I definitely agree with you on that one

The game is that expensive?

The question is, is it a universal app unlike Castle of Illusion.

According to Sam it is. He says it in the article. I know because my jaw dropped when I read that it was.

FYI, if you click one of the two download links, you'll see the universal app icon.

Indeed it is. It was mentioned in the article you know. But of course commenting without reading would have prompted you to ask this obvious fact.

Disney is on a roll....supporting Xbox could have been the icing on the cake...

It's better Xbox live support is only for EA Gameloft and games of Microsoft studios.

Glad Disney is showing the Microsoft platforms such great support. But who in their right mind would spend $100 on a single in-app purchase?!

This is obviously aimed at kids whose parents haven't bothered to put a pin code on their phone and account wallet. I avoid all free to play games for this reason.

I know developers make more on WP than others, but, $100 for an in-app purchase?

Love that Disney is supporting the platforms with all these games. Hopefully that means they'll be porting their My Disney Experience app soon.

And yet STILL....no Disney Experience for us vacationers on WP or Windows 8 !!

You can say that again!!! granted Pete from The DIS podcast team said using MDE on the mobile WP browser worked better then the MDE app on his Android and IPhone (he's got a bunch of tech it sounded like in one of the podcasts, lol!)

$100 for a game,not worth my money Disney
too expensive!!

They need the My Disney Experience for the WP and Windows 8.1 still. Crossing my fingers...

Just emailed them a request for the WP experience app. The more that ask the more likely we are to get one!

A word of warning about Disney games on Windows platforms. While it is great that they are showing some support for Windows, after the initial release they will ignore the platform. Case in point is Star Wars Assault Team. They have been adding new content to iOS and Android for the last couple weeks. New time limited special missions. New limited time hero crates. Reducing energy costs for missions. And many other additions and improvements. NONE of this has been done for Windows devices. I have also read that the Finding Nemo game is treated in the same way. When they are asked about why there have been no updates to Windows the answer is that different OS's are updated in different ways. While this is true, they have pushed out changes to the game on Windows devices without the need to download and install an update. Even if they have to use updates to push out this new content, why not just update the app? I would rather download and install updates once a week then get no updates at all.
Windows Central Newsletter
Thank you for signing up to Windows Central. You will receive a verification email shortly.
There was a problem. Please refresh the page and try again.