Check out Disney's new 'Castle of Illusion' running on the Surface Pro 3 and Lumia Icon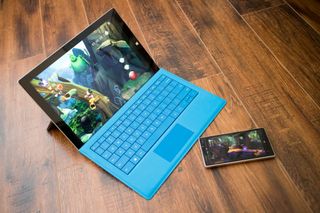 Castle of Illusion lets you play as Mickey Mouse in this classic game re-imagined for tablets, PCs, and phones. It has been available on iOS and Android since late last year, but we're glad that we can now play it on Windows and Windows Phone devices.
Priced at $14.99 and $9.99 without any free trial at the Windows and Windows Phone Store, you're probably wondering if it's worth it. We've spent some time with both versions of the game, so head past the break to see some gameplay.
Features:
Play as Mickey Mouse in this reimagining of the classic Sega Genesis/Mega Drive game.
Experience a world of wonder, brought to life with all-new graphics and magical adventures.
Journey across five magical worlds filled with Mizrabel's powerful minions.
Complete hidden challenges to customize Mickey with classic costumes.
Mickey has to travel through enchanted forests, take on armies of rebellious toys and navigate mazes of living books to find Minnie. Using the touchscreen display, you can move with the virtual joystick on the left side of the screen. The green jump button is on the right side of the display. The red button is to throw items.
Press and hold the jump button to jump higher. You can also jump on enemies' head to bounce higher. We were also able to play using the Surface Pro Type Cover on the Surface Pro 3. Spacebar is jump, while Ctrl is throw. Use the directional keys are for moving.
The top left corner shows up to 5 stars. When an enemy hits Mickey, a star disappears and he continues playing from where he was hit. When Mickey runs out of stars, it takes away 1 statue, which is the number below the stars. If Mickey runs out of statues, you go back to the beginning of the level.
The mixture of 2D and 3D graphics is very satisfying. It brings back memories of Crash Bandicoot. The music is playful and doesn't feel repetitive. There's also a narrator that makes you feel like you're a character inside a book.
The bosses are tough in Castle of Illusions, but you can simply keep trying. The first boss requires you to jump on its head a few times, while avoiding getting stomped on or being rolled over. After defeating the bosses, you collect Rainbow Gems, so you can form the Rainbow Bridge required to cross over to Mizrabel's tower. We don't want to spoil too much for you, so if the game sounds interesting so far, you should go ahead and get it.
Castle of Illusion's simple run and jump gameplay makes it an awesome time-waster. While you can play it on a Windows tablet with just a touchscreen display, we find it more convenient to use the physical keys on a keyboard. It's also great on Windows Phone. In fact, it feels better to control Mickey on the smaller screen.
Castle of Illusions costs $9.99 for the universal Windows Phone and Windows 8/10 version. We don't like that it costs more than most games and doesn't provide a free trial, but this game is actually quite enjoyable. If you are looking for something new to play, we think you should go ahead with the purchase.
Wish it was a universal app...

Yup, wish it was universal

Yes agree, Universal and priced lower.

For the price it should be universal

I don't mind the 9.99 for a game but to buy twice is quite annoying.

Universal and synchronised saves

MOGA support on WP?
Xbox controller support on win8?

Impressive game. The visuals render nicely and graphics are crisp and detailed. Very nice. It actually looks like a game I would love to buy for both phone and computer. But the price tag does look a big high. Not that $15 is too much for a game. I guess we have just been spoiled by the "race to the bottom" in mobile game pricing, that I wish it would be super cheap. But I would say the price is fair. It looks like a very polished game. I just wish I had the discretionary income to warrant a $15 purchase without being able to try the game, first. But that's how most video games are, so I really can't complain much, haha.

I agree with you on the cost however if it was a universal app $15.00 wouldn't be as hard to take

You're right. That would be one big reason to justify the price.

Why does it have that bar in the right side of the screen? Also, it should be an universal app. No more excuses!

Is the Xbox 360 Controller supported on the Win8.1 version?

The 360 controller is supported by the steam version i have so it should be the same for the Windows store.

It should... But is it? With Disney we never know. It also should be less expensive and it should have a trial...

True that... Found nothing at all about controller support on either the Disney nor Sega sites... Shame about no trial, its a good game thou.

There's no guarantees there then! I have no idea why this kind of compatibility indicator isn't built into the Store. Each app in the games category should be required to state if it can be controlled via mouse/keyboard, touch and Xbox controller. There's no need for this ambiguity.

Nope, no guarantees :( I completley agree. A quick look at Steam or Greenman should point the Windows Store team in the right direction :)

I'd pay ten if it was universal and no in game purchases

I picked this up last night on my phone, and I love it. I may have to get a MOGA controller and try it with that. Especially with all of the platformers I seem to be picking up for my phone...

Anyone know how smooth this runs on the Surface RT?

It runs pretty smoothly, just a few minor slow downs. Here you can find a video I made showing the game`s performance on my surface rt http://www.youtube.com/watch?v=3w5qQlEaYC4

This game lags pretty badly on my 1520.

Super Mickey 64...I'll take it!!!

Do you guys see the Embedded video in IE11 Desktop in this post? I have been not seeing them for a couple days at least.

This game is not even on Android. Disney is on a roll lately.

I played the Genesis original to death. This remake looks pretty.

How's gameplay on 920?
Guess I'll buy it anyway to show appreciate to Disney. I dont think its too pricey, just skip the next pizza or beer. :-)

Runs smoothly on 920, although yesterday when I had to check a msg then go back to the game, I couldnt control anything on the screen. Today though, I went out of the game several times to check msgs etc and it resumed as it should. Other than that, very smooth.

Idiots who claim this is too expensive are exactly that, idiots. This isn't some 5 second burst mobile game, nor is it a sloppy port of a retro title this is a complete redo of the original with new visuals and controls. This is a console game built from the ground up to work on tablets/phones. If this game is supposed to be "$5" or whatever stupid price people expect then the same should be said for Halo Anniversary, or the Metal Gear Solid/God of War HD collections. Or any other game that has been re-released with a spit polish. People need to stop feeling so god damn entitled to everything, you sound like a bunch of spoilt brats.

I don't agree with the tone, but I do agree with the message.

I will enjoy those mashed potatoes and please bring some pecan pie...

Cant wait to get one and see if it plays League of Legends.

Anyone know if you can switch to the 'Classic' soundtrack in the Options on the main Menu like you can on the 360 version? Possible dealbreaker for me if you can't as it is simply glooorious! Mind you, I did say possible.. this really is a great game!

Looks like fun but too expensive at the moment.

How does it run on the 1520? Does it use a lot of battery power?

why is there a gray bar on the right? because of sp3's 3:2 ratio?

I'm wondering about it that too. If anything the grey bar should be horizontal since the game is designed for wide screen.

I wish we could play it on xbox continue on the phone and play on the surface. With one price to play it on all devices. Are there any games or apps like that?
Windows Central Newsletter
Thank you for signing up to Windows Central. You will receive a verification email shortly.
There was a problem. Please refresh the page and try again.