Check out Disney's new 'Castle of Illusion' running on the Surface Pro 3 and Lumia Icon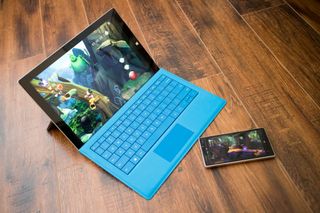 Castle of Illusion lets you play as Mickey Mouse in this classic game re-imagined for tablets, PCs, and phones. It has been available on iOS and Android since late last year, but we're glad that we can now play it on Windows and Windows Phone devices.
Priced at $14.99 and $9.99 without any free trial at the Windows and Windows Phone Store, you're probably wondering if it's worth it. We've spent some time with both versions of the game, so head past the break to see some gameplay.
Features:
Play as Mickey Mouse in this reimagining of the classic Sega Genesis/Mega Drive game.
Experience a world of wonder, brought to life with all-new graphics and magical adventures.
Journey across five magical worlds filled with Mizrabel's powerful minions.
Complete hidden challenges to customize Mickey with classic costumes.
Mickey has to travel through enchanted forests, take on armies of rebellious toys and navigate mazes of living books to find Minnie. Using the touchscreen display, you can move with the virtual joystick on the left side of the screen. The green jump button is on the right side of the display. The red button is to throw items.
Press and hold the jump button to jump higher. You can also jump on enemies' head to bounce higher. We were also able to play using the Surface Pro Type Cover on the Surface Pro 3. Spacebar is jump, while Ctrl is throw. Use the directional keys are for moving.
The top left corner shows up to 5 stars. When an enemy hits Mickey, a star disappears and he continues playing from where he was hit. When Mickey runs out of stars, it takes away 1 statue, which is the number below the stars. If Mickey runs out of statues, you go back to the beginning of the level.
The mixture of 2D and 3D graphics is very satisfying. It brings back memories of Crash Bandicoot. The music is playful and doesn't feel repetitive. There's also a narrator that makes you feel like you're a character inside a book.
The bosses are tough in Castle of Illusions, but you can simply keep trying. The first boss requires you to jump on its head a few times, while avoiding getting stomped on or being rolled over. After defeating the bosses, you collect Rainbow Gems, so you can form the Rainbow Bridge required to cross over to Mizrabel's tower. We don't want to spoil too much for you, so if the game sounds interesting so far, you should go ahead and get it.
Castle of Illusion's simple run and jump gameplay makes it an awesome time-waster. While you can play it on a Windows tablet with just a touchscreen display, we find it more convenient to use the physical keys on a keyboard. It's also great on Windows Phone. In fact, it feels better to control Mickey on the smaller screen.
Castle of Illusions costs $9.99 for the universal Windows Phone and Windows 8/10 version. We don't like that it costs more than most games and doesn't provide a free trial, but this game is actually quite enjoyable. If you are looking for something new to play, we think you should go ahead with the purchase.
Get the Windows Central Newsletter
All the latest news, reviews, and guides for Windows and Xbox diehards.