Display custom text on your Windows Phone lock screen with Lock Screen Text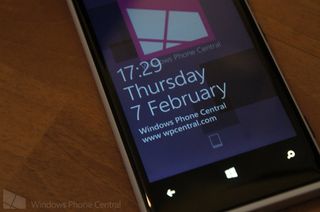 Lock Screen Text, we know what you're thinking - just another lock screen app, right? Well, this is a little different than the status quo. Instead of publishing the weather forecast, or displaying the Nyan Cat, Lock Screen Text enables users to input their own text, which is then rendered on the Windows Phone lock screen.
Developed by Gabriel Caldwell, the brains behind NASA Image of The Day, the app is a useful tool if you need to add some notes to remind yourself with. Don't make use of a calendar or task keeper? Lock Screen Text might just be for you with the text field for input. Emoticons, secret messages, to-do lists, love notes and more can be added in.
You can download Lock Screen Text from the Windows Phone Store.
Rich Edmonds is a word conjurer at Windows Central, covering everything related to Windows, gaming, and hardware. He's been involved in technology for more than a decade and knows a thing or two about the magic inside a device chassis. You can follow him over on Twitter at @RichEdmonds.
IMHO, the best lock screen app will be something that combines the ff features/apps: frequent image update from photostream, weather info from weatherflow, and customizable text like this app's

LockStream is about 75% of the way there as it has this feature along with skydrive support, and local photo support. the next version i am told has rss / flicker support. weather support is also suspose to be coming...

I've just always had this idea of layered lock screen apps. I'm not sure how it would work but it would kind of be like layering in photoshop but with lock screen apps. There's just so many apps with good features, and I would like to use more than one at a time.

Ugh.. For Windows Phone 8 only. I get the feeling I am going to be disappointed more in the future when I find a lot of cool apps are WinPhone 8 only.

Especially since its not even mentioned what OS its available on in the article, I hope that's not a trend if things to come, where its WP8 by default and only 7.x if clearly mentioned as such.

At no point in time has WP 7.X supported this type of functionality, unless of course you want to create an image, go to photos, and manually set it as a background...over..and over...and over again.

I've been using this app for over a week now. I use the Bing images as well and the two work well together. I worry about losing my 822 so the text message tells the finder who to call to get it back to me. Best use I could think of.

Re device lost, that's exactly what I'll be using this for. Interestingly, Windows Mobile had the feature built into the OS that allow you to display custom message on screen; I had one of those "if found..." messages on every one of my PDAs back then.
I've mentioned this before, sad how Windows Phone 7 loses capabilities that were in Windows Mobile and then Windows Phone 8 loses capabilities that are in 7. Seems like Microsoft is determined to forever keep moving two steps forward and one step back when it comes to mobile devices.

You can do this on windowsphone.com by logging in and going to "Find My Phone" from the menu at the top right. When you click "Lock" you can choose to type a custom message that will display on the screen and prevent anyone from accessing the contents of your phone until it is returned to you and you unlock it.

Doesn't Note+ do that already?

Had it for a while and I like it.

No love for the "legacy" users.

That's because legacy devices don't support this functionality....

My first thought would be to put "Reward if this phone is returned to owner. Call XXX-XXX-XXXX.

I have a BlackBerry currently (waiting on Verizon to get a high end WP8 and my contract to end) and they have this functionality built in. I have my name address and home phone on the lock screen just in case it's lost and happens to end up in the hands of an honest person. So far, I haven't had to test it though.

You can do this via windowsphone.com. Login, go to "Find My Phone" from the menu at the top right, choose "Lock", and type a custom message. That'll keep the space free for a different lock screen app (like calendar) but also let you potentially recover your phone when it gets lost.

Also excellent for "in case of emergency..." messages.
Windows Central Newsletter
Get the best of Windows Central in in your inbox, every day!
Thank you for signing up to Windows Central. You will receive a verification email shortly.
There was a problem. Please refresh the page and try again.