Disqus app update for Windows Phone includes new Dark theme and more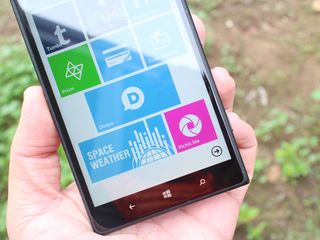 The popular blog comment system app Disqus, which got a big revamp for Windows Phone in early December, got a new update today in the Windows Phone Store that contains a new Dark theme option among its changes.
Here's the brief change log for the new 2.2.0.0 version:
Added Dark theme option
Fixed notifications not appearing on live tile/action center
Bug fixes and improvements
Keep in mind that since the big 2.0 update, Disqus only works with Windows Phone 8.1 and has ditched support for the older Windows Phone 8.
Windows Central Newsletter
Get the best of Windows Central in your inbox, every day!
Beautifully designed app. Recently stopped working. Reinstallation fixed the problem.

Didn't know it would fix that. Meh

Subway surfers and rate me apps has also been updated.

Does anyone have problems with toast notifications? I have to open Disqus in order to discover someone has replied to my comment. Other option is notification through email. Any help would be appreciated.

Did you read The changelog? This Update adresses THIS exact issue!

And this is still a Windows Phone exclusive app, right?

Awesome. A love that app after the update but cried after stop the notification.

Lost my windows phone, using android but missing that beautifull ui especially windows central app Posted via the Windows Central App for Android

Boo :-( sorry to hear that!

Perhaps you could think about making a switch while windows 10 for mobile is due next week.

I'm thinking same. Posted via the Windows Central App for Android

Use Find My Phone from the Microsoft website! :)

No Use.. My phone was stolen...

You can still lock and delete everything remotely

Actually that technique uses sms and if someone has stolen the phone the first thing he/she will do is to remove the sim card so this FIND MY PHONE is nowhere helpfull.

Sorry to hear that.. you must currently be disappointed because uses super lagdroid for a while right? Hahahah

Absolutely Posted via the Windows Central App for Android

Tapatalk learn from them.

If you like me didn't manage to change theme just force close the app (in the x). Hitting back does not trigger the change. ;)

Restart ur phone not the app

No, you only need to restart the app.

I restarted the app it ddnt work then i restarted the phone and it worked. Mby its ma phone

Restarting the app worked for me.

I wonder if they are working on making this a Universal app. That would be cool.

Why wont you use Disqus on this site

One of my most frequently used apps, so I'm glad for every update. :) I've been wanting a dark theme option, good to see it. I wish they would fix it so when you click on a reply to one of my own posts, it would take me directly to that comment though. That's my only complaint.

WPCentral needs to switch to Disqus for its commenting system.

Disqus is a gem of an app. One of the best for WP!

Oh, WP 8.1 -- no wonder I couldn't find it in the Store when I went looking for it...

I agree with that. WPC should be supporting apps like Disqus simply because its so good.

Still using version 1.7.2.0 as the UI is a lot more pleasing than what they put out recently. A dark theme is tempting me though.

The dark theme eschews the line separators between items, so it feels a little more "modern" ;-)

It felt 100% modern before though.

much smoother with the lastest update, transparent tile also works probably now

@John Callaham can you tell me what the app in the center just above disqus is, please???