Watch us play Divekick and Threes, two indie games for Xbox One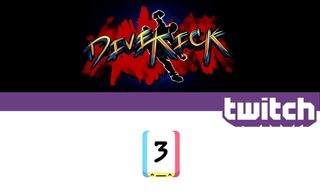 Every weekend, Windows Central streams an Xbox One game or two on Twitch for 1-2 hours and gives out free games to the cool people who join us during the stream. It's like a live podcast, only you also get to watch a game while chatting with our awesome readers and viewers!
Tonight at 8pm Central (9pm Eastern, 6pm Pacific, 2am GMT), we have a special double stream with two games and double the prizes to win! First up, we'll be playing the humorous fighting game Divekick: Addition Edition from Iron Galaxy Studios. Then we'll follow up with numerical puzzle game Threes from Hidden Variable Entertainment. Watch along and you could win one or both games!
Update: The stream has ended. Read on for my detailed impressions of both games, the list of contest winners, and the YouTube video replay (edited for entertainment value) of the stream!
Divekick
Most fighting game players will tell you, the most exciting moment in a match is when one player has no more life left to lose. That make or break moment is every moment in Divekick. Both players have life meters, and yet, one hit is all it takes to knock either competitor out and win the round. It takes multiple rounds to win the match, but that Bushido Blade-like element of trying to land that one vital blow is still there.
The one-hit mechanic would be different enough, but Divekick takes things a step further. Fights use exactly two buttons, with no input from the d-pad or stick (though you can assign either button to a direction on the d-pad). But those two buttons offer surprising versatility.
You have the dive button, which jumps, and a kick button. Tapping kick while standing while perform a backwards hop, allowing you to dodge or move away from your opponent. Jump in the air first though, and you'll pull off the all-important divekick. A divekick is a jump kick in which your character flies towards the ground at an angle. Yeah, this game is pretty much all divekicks, hence the title.
Divekick offers a single-player mode with humorous stories for all 14 characters, plus local and online multiplayer. If you're looking for an easy fighting game to get into, this is the one. Check out our full review for more details.
Threes
Popular puzzle game Threes finally arrived on Windows Phone earlier this week, and for free no less! What better way to celebrate than by playing the game on Twitch and dishing out codes for the premium Xbox One and iOS versions, I ask you?
Threes might look complex at a glance, but it's actually very simple. The field consists of sixteen tiles. These tiles have numbers on them, ranging from 1 all the way to some big numbers that give me headaches just thinking about them.
Swipe vertically or horizontally on the analog stick or screen to try to move all of the tiles on the screen in that direction. If the number on a tile can be combined with the tile it would be sliding into, the two will combine to form a larger number.
For instance, one and two can be combined to make the magic number three. Every other number after that must be added to the same number. Two threes make six, two sixes make twelve, a pair of twelves makes 24, and so on.
Matching the same numbers sounds easy enough, but Threes does become challenging after a few moves. Different numbers (other than one and two) can't be combined. If you end up with too many incompatible numbers on the field, you'll run out of moves to make. And once that happens, it's game over.
Threes is a great fit for mobile play. Playing it on Xbox One is a little different, since you can't just whip out your Xbox One for a few minutes while standing in line at the liquor store. But Hidden Variable has done a great job of making it work on consoles. Moving the tiles with the stick is perfectly simple.
Best of all, Threes can be played while snapped to the side of the screen. So you can watch Daredevil on Netflix while playing Threes on the side of the screen. No other Xbox One game to date offers the play-while-snapped feature. Check out Mark's hands-on story for more impressions.
Threes – Xbox One – 331 MB – $6.99 – Xbox Link
The Contest
We'll be streaming Divekick and Threes for 90-120 minutes tonight, starting at 8pm Central (9pm Eastern, 6pm Pacific, 2am GMT). During that time, we'll be giving out a grand total of 37 game codes!
We have 17 Divekick codes:
9 for Xbox One
4 for PlayStation 4 (US accounts only)
4 for Steam
And we also have Threes codes!
10 for Xbox One
10 for iOS (iPad and iPhone)
To enter, just follow me at Twitch.tv/Eastxtwitch (making sure to enable email notifications!) and tune in during the stream. You can watch the stream right here in this post, but you need to actually participate in the stream chat to have a chance at winning. We'll deliver codes to the winners via Twitch message (PM) during the stream. No code begging!
I'll be available for a few minutes before and after the stream if you have any questions or just want to say hi. If you enjoy the stream, be sure to check our schedule and come back for more!
How to watch Twitch livestreams
What's the best way to experience Twitch? The Twitch website on your PC or Mac web browser. If you don't have or prefer not to use a computer, you can get the Xbox One, PlayStation 4, or Xbox 360 Twitch apps and watch from the comfort of your couch. Android and iOS both have official and unofficial Twitch apps to choose from as well.
On Windows Phone, you'll have to grab an unofficial app. There are several to choose from, each with different strengths and weaknesses. Only one app lets you search directly for our channel, though. If you use the others you'll have to find and follow us from a web browser first. Read the roundup to learn more!
Streaming schedule
Want to know what's next for Windows Central's Twitch programming? Here's this week's schedule. The stream always starts at the same time: 8pm Central (9pm Eastern, 6pm Pacific, 2am GMT).
Monday, May 4 : Tyler night! Tyler plays a game of his choice.
Tuesday, May 5: If we get it, Wolfenstein: The Old Blood. Otherwise, something else for Paul's birthday!
Thursday, May 7: Dragon Age Inquisition 'Dragonslayer' multiplayer DLC. Play along with us during the stream!
Saturday, May 9: Terraria from 505 Games.
We hope you'll tune in as often as you can! Set a recurring alarm on your phone so you'll always know when it's time for the stream to start.
Winners
Come back here after the show to see the list of winners.
Divekick
Xbox One
fliphalo
kenzibit
oxagarh
aj6627
richrubis
sugarcoookie
about6squirrels
nullvectorq
swizzlerzs
Banditgaz
PlayStation 4
lightspeed95
bria5544
shaunkal
mittens_small_cox
afalcon90
Steam
brownmeister2
gomezz34
iccyasd
dnev555
stoneysilence
Threes
Xbox One
mtaraylz
geoketch
cgriffiths86
nappy6609
kufeifei
jdeboulet23
dakrkplayer2
derekuda
lightcycle45
oxagarh
iOS
mongbox
dnev555
bria5544
Alexkywalker
Angelkisses
Thanks to Iron Galaxy and Hidden Variable for providing tonight's prizes. Thanks also to our Twitch stream moderators for keeping the peace and giving away the prizes!
Get the Windows Central Newsletter
All the latest news, reviews, and guides for Windows and Xbox diehards.
Paul Acevedo is the Games Editor at Windows Central. A lifelong gamer, he has written about videogames for over 15 years and reviewed over 350 games for our site. Follow him on Twitter @PaulRAcevedo. Don't hate. Appreciate!