DIY - Add Qi Wireless charging to your AT&T Lumia 1520 Part 2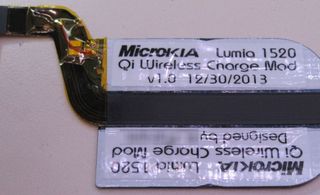 We were hopeful that the replacement shells we found earlier would add Qi wireless charging to our AT&T variant of the Nokia Lumia 1520, but that didn't work. Fortunately, there is another method found by WPCentral forum member, SonarTech. It is a bit complicated and requires some soldering skills.
Head past the break if you feel brave enough to tackle this challenge.
Before you start, you should know that this is a hardware hack. It will void your warranty and risks damaging your Lumia 1520. Continue at your own risk.
We're interested in this hack because AT&T removed the built-in Qi wireless charging in favor of PMA with optional accessories. This means the Nokia wireless chargers you already have will not support Qi-enabled wireless charging covers for the Lumia 1520 on AT&T.
Still interested? Here are the materials you need:
AT&T Nokia Lumia 1520
Self-contained Qi Charging element (SonarTech used a Lumia 920 TDK charging coil)
Solid core bus wire, 24-26 AWG
X-Acto Knife
Kapton Tape
Digital Multi-meter
Got that? Now head over to the WPCentral forums and follow the instructions by SonarTech. You can also see the discovery process that has led to the final solution. Good luck and let us know if you succeed!
Get the Windows Central Newsletter
All the latest news, reviews, and guides for Windows and Xbox diehards.