Does Windows Phone 8.1 change your opinion on low storage devices?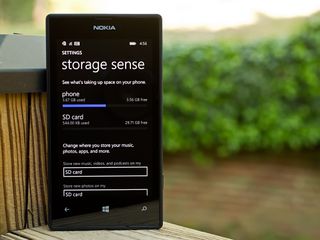 The Windows Phone family includes a few devices that are rather impressive but lose some of their appeal due to lower storage space and RAM memory.
Fortunately, most of these low storage Windows Phones have expansion card slots and with the release of Windows Phone 8.1 some relief is in sight that may make these entry level Windows Phones more attractive.
Two of the more popular, entry level Windows Phones is the Nokia Lumia 520/521 and the Lumia 720.
The Nokia Lumia 520 is an attractive, economical option to consider if you need a back-up phone or an entry level Windows Phone for your child. The Nokia Lumia 720 is equally as impressive entry level Windows Phone but slightly more expensive than the Lumia 520.
While impressive Windows Phones, both the Lumia 520 and Lumia 720 only have 512 MB of RAM and 8 GB of on-board storage memory. While Windows Phone 8.1 won't offer any relief for the low RAM memory, it will help with the on-board storage issues.
One of the many features of Windows Phone 8.1 is the option to install apps and games to your expansion card. We have had the ability to store photos, videos and music files to the expansion card and this new feature will help tremendously towards lightening the load on the internal storage of the low storage phones.
Having apps and games installed to your micro SD card is simple. Go to your Storage Sense app in the App List and just below the available memory display, you will find options for your microSD card.
The Storage Sense app breaks down the options into four categories.
Music, videos and podcasts
New Photos
New Apps (or games)
New Downloads
Each category has the option to store these items to your phone's memory or the micro SD card.
Thirty-two Gigabyte micro SD cards are running in the neighborhood of $20 and when combined with the on-board storage, the Lumia 520 or 720 will have 40GB of storage, which should be ample for anyone's games, apps, music, videos and other assorted items.
Having the ability to install apps to your expansion card will benefit all the members of the Windows Phone family that have the expansion slot. But does Windows Phone 8.1 shine a brighter light on those low-storage Windows Phones?
Windows Phone 8.1 may not be able to cure the low memory on these phones but I think the update will do wonders for these lower priced, quality Windows Phones.
Need more? Learn how to manage your apps and games, including multiple un-installations or moving them to an SD card in our new guide!
Windows Central Newsletter
Get the best of Windows Central in your inbox, every day!
George is the Reviews Editor at Windows Central, concentrating on Windows 10 PC and Mobile apps. He's been a supporter of the platform since the days of Windows CE and uses his current Windows 10 Mobile phone daily to keep up with life and enjoy a game during down time.
+720 i opened the article just to type the same.....it just feels so androidy ;) but i truly hope it goes away after i do a hard reset after a couple of days

8.1 on devices with 512 MB of RAM and/or 1 GHz processor are complaining that it's laggy. It's not clear if that's due to the OS or the update, as some are reporting better performance after a hard reset.

Its a bit laggy on the 920, hard reset did seem to make it better, but its still not as smooth as it could be.

Its working fine on my device but at start it was laggy so I needed to do a hard reset I had install all my games on SD card and there is no lag issue at all now.
I have class4 card still all apps run fine so guys you should do a hard reset after ota updates.

i had maked hard reset, but HTC 8S is still lagy, the lock sound is late1,5 second :( some times it takes 3-5 seconds to refresh the live tiles on start screen :(

All WPhones should now come with the option to use a mem.card! They should still make the 16 and 32 gb internal storage phones, but should add the option, because after a while space will become an issue.. I have a 16 gb 925 (I came from a nokia C 6700 with only 8gb of mem --> after two years I just couldn't keep my discipline lol). I figured 16 gb would be enough, but boy was I wrong :/ Don't get me wrong I still have 5 gb free in my phone, but I would love to have the luxury of not constantly checking my phone's storage

Guys I ordered a new memory card as 8gb was not sufficient for me.
Is there any way that I can move all my apps on new sd card from old sdcard or I need to move them to phone storage and then move them to my new sd card.??

How to move apps from SDcard via laptop/pc as when I attached my cell to pc I don't see any app inside it?

Oh I read sth else lol.. Putting them on the phone should work yes.. I wonder I the backup option would help... Not sure tho

Plug the phone in... Go to desktop mode, open the device folder.. Make a new folder, and copy all the files from your old card into that new folder... Now, install the new card into your device, with the device shut off, boot up, and drop the files from the new folder into your device with the new card... Simple!

buddy i meant is there anyway i can move directly apps installed in my old sd card to new card. anyways i guess i will move them first in phone then move it back to new sd card. btw thanks for helping guys.

Storage Sense, Phone, Apps. Click on the app you want to move. Move to SD Card.

Hi -- did you ever figure out if you could copy apps directly from one sd card to another? I'm doing the same thing, upgrading from 32gb to 64gb and there's no way I can move apps to my phone temporarily (8gb Lumia 820). I formatted the 64 using the phone, then popped the 32 and 64 in my laptop and just copied everything from the 32 to the 64. I overwrote the wpsettings and wpappsettings.dat files on the newly formatted 64 with the .dat files from the 32. Inserted the 64 and powered up. So far, 15 minutes later, still no apps. No pictures or music either for that matter. Any help would be great. Thanks!

You may have to do a hard reset on your phone.. That may trigger a total system backup... If you're on GDR3, or later, and have all of your backup settings turned on, then you have nothing to loose by trying this... I mean, your start screen configuration will even reload now... Why don't you try that?
.......
And, try it with your new card installed...

^This! Only reason why I didn't spring for the 925. 16gb is simply not enough without an SD slot for me at least.

Lol yea but I thought it was the logical step.. Don't regret it tho

Absolutely! Nokia should include SD slots on every model. I want to carry my entire music collection with me, as I could with an iPod or my Symbian phone. I can't do that with any of the high-end Lumias. :-( I'll wait until Nokia releases a 1020 successor with an SD slot before I move on from my Symbian 808 daily user. (I use a Lumia 521 to learn about WP.)

My L520 is lagging soo much.. I can hardly play games!!

What is your memory card class??

I have a class 4 and class 10 memory card.

Are you facing lags on both of them??.. If yes try hard reset.... And try disable background tasks for apps not required...

I'm not having any problems with my 1520... XBM lags, but... I've noticed a tency tiny bit of stuttering on the start screen, but that's about it... Maybe we need the new firmware... BTW, US AT&T 1520 here..

Also this, only a bit of lag when returning to start from an app, otherwise, my phone is okay. LUMIA625

Could you or your staff write an article about the complaints of lag on lower end devices? I personally think the speed isn't 100% on 820/92x/1020 as well, some hangs and delayed transitions, but if Microsoft is aware and able to optimise more for low end in subsequent patches, last year's high end phones should get a speed boost as well.

I guess it is due to preview version

I have a Lumia 820 and it runs better after the 8.1 update.

Same here and with my 64 gb microsd card I now have plenty of space

Yep, my 820 with a 64GB card works great! I do not plan to upgrade to any phone that doesn't accept memory cards.

I don't get any lag on my 1020.

I upgraded my L520 and my sister's L720 to WP8.1. My sister's phone performed nice from the very beginning. However, my L520 started having lags and some other issues like apps lacking sounds or not working quite well. Facebook Messenger, for example, stopped having in-app sounds and there were delays at receiving messangers and when I went back to the chats list and then opened a conversation again, it was all mixed up, disorganized, not in the right order (yeah, I'm being kind of redundant. Also, Facebook was not loading right and its Lockscreen Background feature was simply not working. I performed a hard reset and lag is gone (it seems faster actually, no joke), Facebook is working better than ever and Facebook Messenger has in-app sounds again. Nevertheless, I still see problems in the Facebook Messenger app regarding delays and disorganization, but I suppose it has to do with the fact that this app is pretty much new and it needs to be optimized for WP8.1. Having said that, I am confident to say WP8.1 causes NO LAG on devices running on 512 MB RAM. However, if anyone is experiencing lags, a hard reset will certainly fix it.

My phone benched way higher on benchmark OS.. It says that the 1520 is now second place, only behind the Z2... I earned the Silver medal..

I'm using a Lumia 520 with WP8.1.. haven't done a hard reset and it's perfectly fine

Same here. My 520 seems faster if anything... The only quibble I have is the sometimes-laggy return to the home screen, everything else is humming along nicely!

Me too, my 520 works perfectly (even better than before), no need of hard resets and I use Cortana frequently. WP8.1 it's impressive in my supposedly humble device.

It indeed WAS laggy in my 520 too after the update. But its also true a quick hard reset addressed the issue, at the cost of my all games and apps (I had moved them to SD already but still couldn't get them back from SD once the reset was complete). The lag maybe due to the RAM limitation but now its again fast as fluid after the reset.

I suppose it's not the system that's laggy, but old Silverlight apps. I use HTC 8S, and the new system works pretty well - it's just the old apps that aren't that responsive.

520 user here, I do have some lag here and there but I know it's due to ram, well but it is still Ok

I use 520 too.. Sometimes I really feel like switching back to wp8(if it was possible)

Crop the start screen background instead of using the full res pic.

Game Lags on my Lumia 820 with sandisk ultra uhs 1 64 gb memory card... Few bugs as well.. I gues developers need to optimise their games and apps for SD Card and also for battery consumption.... :)

My 920 is sad and bloated

Mine was as well, i had to reset it and now it's all good, though Cortana and Wi-Fi sense are battery hogs, I'm still testing.

Cortana's a hog because it constantly calls for location. x.x Not sure about Wi-Fi Sense, but I've noticed the hog as well on my 920.

I'd reset my 920. Only installed those apps and games I want. Those I don't use much I did not install. Available storage from 5gb, now becomes 20GB+. Since then, I have installed the WP 8.1. It runs buttery smooth now. No lag or whatever. You may not like it but resetting the 920 works wonder. With the 8.1, now I preferred using it compared to the 1520. I did not installed the 8.1 on the 1520 as I'll do that when the official version is out.

On any devices, just look at "other" category, its empty, I freaking love it

I got 4GB back after installing 8.1!!!

+820 I got 2gb back, plus install to SD card and I'm pretty happy ^_^

So you're saying that it fixes the other storage problem after updating?

Looks like it, I was like, no way, but after getting emails, watching YouTube, browsing, uploading pics, its still 0kb

That's true! Seems like the "others" big is fixed. My "other" is at 0.17 KB now :)

Lag is a lil annoying at times but I'm good

yeh. I have 1320 and 8gb on board storage is not enough for big games . My 64gb sd card handel them with ease

I prefer onboard storage as its cost is included with the cost of the device, which I always get for a penny or less on contract. MicroSD card slot is good to have as reserve storage, but I am hoping my next WP has 64GB onboard.

Absolutely. One of my main gripes of the 1520 was the low 16GB storage (and with the OS it was actually less). Games that require high storage (GTA, Halo etc...) meant I had to always micro manage things. I had a 64GB card installed and now this added feature is a god send.

Yeah.. Apps to SD is a welcome change, my 810 has more apps on a 32Gb microsd than my 920

I've always liked the way my 520 looks in comparison to my 1020. Being able to install most of my stuff to external actually makes me closer to ditching my 1020.

Can I have your 1020? Haha

I love how WPC always low balls the 520. It's a great device for a child? In DR's video review he keeps calling it a low end device. You could get drunk how many times he says it. We aren't all sent phones from companies free of charge. Some of us can't afford those high end phones that no one cares about unless it has an I in front of it. The 520 is now a 60 dollar phone that has incredible battery life and 8.1. Show me what other phone has that at 60 bucks.... This post will probably get deleted and I will probably be banned because I am not high end enough. This blog post is up there with the stupidity of CB Kevin buying a 2000 BB Z10 and boasting about it like we all gave a damn. The 520 and it's ability to run 8.1 is what's keeping me on this platform right now. I have a big choice to make in a month or so when I can upgrade. I'm currently going between my iphone and 520 right now. But it's elitist attitudes like this blog post that just turns a person off.

Same. The 521 is a great device and it actually lets a lot of people who would otherwise be on flip phones and laggy third party android phones to have a great up to date phone that works as well as any high end phone save a few things like high end gaming etc. And honestly, its what's keeping windows phones alive right now since it is easily dominating the WP market.

Get over it. That's how it's described, it's not high end. It's a cheap, low cost phone for emerging markets. It's also a great phone, which is why I have the two 520s, a 521 and a 525. How do we "low ball" it, we constantly talk about it and praise it how it has driven Windows Phone to the masses. We even call them "impressive Windows Phones" in this article. Also, the thing about being deleted and banned? Jesus called, he wants his cross back.

lol, "Jesus called, he wants his cross back."

Out of curiousity, how do you get around to using all your phones? I mean you say you have four phones here and I imagine that being one of the head honchos of WP Central you must have at least another four So how do you actually get around to using them?

I'm really curious. What phone OS does Jesus use?

I think it's referred to as a low end device based mostly on simple cost placement in the hierarchy of WP devices, not because it's looked upon as a weak device. We all know that one of the great tings about the WP platform is that even the "low end" of devices perform really well (especially relative to other phones in the same price range). I don't think anyone in the WP techie crowd uses the term "low end" in a negative way at all usually. That's my take on it anyway.

I had a 521 but recently upgraded to a 925 for zero down, 17/month. 521 is a great phone, but some of the apps I wanted required the higher ram so I jump!ed (pun intended).

Lol stop being so whiny. It's a low end device. It is very good for it's price but it's still a low end phone. It basically has the minimum everything that WP allows.

you seriously got offended by WPC calling the 520 "low end"? man it is a low end device but i have never read them low ball this thing. in fact its all praises from the team because it has been the biggest contributor to the WP market share. and the fact that calling it low end and yet performs like a high end device should make you rethink the position of WPC has on this. It is for emerging markets, it is targeted to those who have tight budgets and it is really low end base on its spec and everything but it is a beast in its own right and trumps any low end androids to dust.

Well, I'm a proud owner of the L520, bought it in Indonesia, an emerging market. My budget for smartphone isn't much. When I went shopping for smartphones, none of the android phones please me, so I grab the L520, which sits slightly below my budget. It costs me 1.850.000 IDR (around 162 USD) unlocked. As you can see, it's more than double of the price you stated, even though it's the same phone. And, people don't buy phones with contracts here.

It's literally the cheapest and lowest end Windows Phone - what else would you recommend for a child? Problem solved. Get over it.

I think it absolutely does. It is nice to see 40GB of free space on my 16gb 1520. Not that the 1520 is necessarily low storage, but I was getting close to my limit with apps.

I hate it when every time someone ignores the beautiful 620 :'(

the 620 is the middle child here....520 and 720 steal all the thunder

Awesome way to put it sir! :D

And at only $50 now, who can ignore it? :)

+620, it's the third most popular windows phone in the world :(

The 820 is forever being forgotten by WPC -_-;;

Not only low end phones are better now, i switched from a broken 920 to an ativ s this week because I needed a new phone with no compromises I wanted equal or more storage and 1Gb ram and same screen size so the ativ was the only option and I love this device.

First thing I did after upgrading to 8.1 on my Lumia 810!!

My SD card is 16Gb class 10 :D

Yes finally! I've had no problem, no lagging and I can finally install all the apps I want on my HTC 8s! This was an awesome move and I love it!

I'm very happy too with the SD card app installation feature. I am finally able to reinstall many of the apps I used to have in my WP7 LG Optimus. Is Cortana enabled for you?

Even my 820 has only 8gigs, so installing apps on a SD was needed. Downside; I used a 'non-branded' SD-card, which I had some conflicts with my phone and the apps I installed on it.

come on man buy a more compatible 32GB sd card. it's not really very expensive you know. you'll love your 820 even more. the app performance is the same as if it's installed in the internal memory.

Come on man, buy a more compatible 128GB sd card. It's not really very expencive you know... Man, let him decide on what he wants, lol. :P

definitely....a higher class sd card working smooth...thanku so much for this feature....

Has someone noticed that ram usage has been increased 150mb to 180mb in 512mb phones.

I have a 64GB card in my 1520. I just moved 20GB+ of games and apps, it's nice to have over 20gbs free on my phone. LOL

Lolz... This is awesome. In my phone memory there is only OS wish we can move that too haha :D

Just curious (obviously iOS doesn't have this feature), can you install apps on an SD card in Android? I know you can do it by rooting or other nefarious process, but does the OS support this natively out of the box?

From my brief experience with Gingerbread, i don't think it does install straight to the SD. But you can move apps to the SD card thats what im sure of. hmmm i guess higher versions of android allow you to download and install straight to the SD card.

No. Read my comment below. Posted via the WPC App for Android!

Can we update our lumia via cellular data connection ??

Not anymore in recent android versions, though the Galaxy S4 had this feature because the OS and Touchwiz used half of the memory.

for low end no for mid range yes

why the fuck nobody cares 620

+620 and It looks like WP8.1 fixed the annoying duplicate song issue that has plauged my device! :)

+ 620 for three memebers of my family!

Can you move installed apps from one phone to another on SD?

Yes... Keep reading WP central news

I dont think you can. After doing a hard reset, I still had apps on my sd card and the phone asked to erase all the apps in there.

My co-worker bough it a L720 device, because of me, after I had set up WP8.1 on her device, she love it, and I think it's more faster.

Definitely I can put more apps on my 720 than those 920s haha.... :P I have 8 Gb inbuilt plus 32 SD card. I can buy 64 Gb anytime I feel like. And I love this swipe keyboard too. Cant stop swiping :)

I am a proud owner of a 720. And I never felt the need for a non budget WP until 8.1.
Now its kind of laggy and that's a bummer...
I love 8.1 tough

It doesn't really change my opinion on low end devices. But it does change my opinion on high end ones. The moment Microsoft allows apps and games to be installed on a microSD card, I will NOT admit any "high end" phone without a microSD expansion slot. The moment the OS allows it, you can no longer blame the OS for a phone's shortcomings. And yes, I'm looking at you, Nokia. I would understand if the 520 didn't had a microSD card. After all, if you buy cheap, you get cheap. The fact that I can have a 520 or a 630 with way more storage than a flagship Lumia (either it be a 920 or a 930), makes me judge way more disfavourably the high end devices and consider if it's not a better deal to just get a cheap Windows Phone instead. (Or, in my case, just buy something else on the high end market)

There's one good thing I can think about Samsung.

Or you could buy an Ativ S :)

Appraise the low end WP phones! After some time people in SouthAm, Africa, and Asia will use an WP smartphone. This gives an installed base of billions, and will attract many app programmers. EyePhone and GoogleDroid phones are a thing of the decadent West. They will be in a minority soon.

Microsoft wants to sell OneDrive space...

I d think low storage spec devices with have a harder time seeing as the os just keeps getting bigger with each update

Not much bigger really. WP8 only occupied ~1.9GB before update, 2.3GB after update. Now take apps, all app updates may add upto as huge as hardly 1 GB. Sums 3.3GB. But as long as High end devices have high internal mem (thouse without SD support) and low end have SD expansions, it won't be a matter to worry.

Ok so if I do a hard reset on my Lumia 521 will it get rid of the lag?

You might but not necessarily, I'm going to try it out

(Repeating my above comment) It indeed WAS laggy in my 520 too after the update. But its also true a quick hard reset addressed the issue, at the cost of my all games and apps (I had moved them to SD card already but still couldn't get them back from SD once the reset was complete, I was forced to erase them in order to install new apps on SD card). The lag maybe due to the RAM limitation but now its again fast as fluid after the reset.

Much better the experience has improved a lot in my 520 just hope more updates for apps like Xbox music come soon.

And Xbox Games hub updates too! Its completely broken!

Yes! My 8x gained more than 1 GB after 2 days. I used to have 800 Mb of free space, after WP 8.1 I have 2.25 GB

It's amazing i had a 16gig card unused and used to use a 4gb one since the update i have installed the bigger card and installing all apps in it

Seems alright even on my dads 520

And i feel that it is the best phone i ever bought

Well I'm running the 520 with the 8.1 update touch wood no problem's at all love it.

I'm lovin it! I will confirm that it was a bit choppy when I first installed 8.1 DP. I performed a hard reset, reinstalled all my apps on the SD card. Everything is awesome now. HTC 8XT - 1GB RAM, 1.4Ghz Dual CPU, 8GB stock storage, 64GB SD Card.

Yes. Very much. Simply because SD cards can be bought everywhere. Looking to buy a 32GB SD card for my L520 now!

If there's a micro SD slot then I'm ok, even better than having 32GB and no SD. On a different note the 720 is not slightly more expensive than the 520, in fact it costs twice the 520 price or even more.

I have the Nokia Lumia 521 and I have absolutely no problem with the update. The transitioning is smooth, the speed is immaculate, and the visuals that the developer update brung are absolutely flawless. Keep in mind that my Nokia Lumia 521 has a 1Ghz processor and 512 Megabytes of RAM along with 8 gigabytes of internal storage.

a great thing happen to install apps on SD card using HTC 8S and was very much annoyed of low on board memory i.e 4GB user available 1.2 GB thanks to microsoft for this

Actually 8.1 update solved my others storage problem.

My 8S is smooth as butter... No lag at all, and my SanDisk Ultra 32GB gives no lag with any apps... Safe to say it's breathed new life into my phone!

"Windows Phone 8.1 doesn't really help 512MB RAM..." Really??? They made the announcement that WP 8.1 now uses dynamic memory assignment, which means that apps can now make use of as much memory as they need, barring the reserved memory used by the OS. There is no longer a capped memory limit for apps, as was the case in WP 8. We may see some of the 1GB requirement apps or games coming to phones with 512MB after all...

They have removed a large amount of "other" section but I think it has had a negative effect on performance as apps can no longer permanently cache to the memory instead the data has to be created each time. This problem is clear on the music app with long loading times for lists of artists, albums etc

Couldn't people pirate the XAP files now by downloading/sharing them from SD?

No, when you install any .xap files from sd card to your phone you also need a working data connection,for verifying the app, if bought it, the app installs,if not the trial version if available is installed. If no trial version is available then you are taken to the store for buying the app. Lastly if there is no data connection the.xap file just doesn't install.

The 925 is not entry level and yet lacks Sd slot. That's its primary drawback. Low memory phones would not be such a problem if the music player could stream your music collection from OneDrive. Rather we are stuck syncing music which is a major limitation for people with large music libraries. I've used SkyMusic which is a reasonable alternative, but like many apps is a half baked solution to a obvious limitation of the OS.

People also forget the Lumia 820. My 820 will be great with Windows Phone 8.1. 1GB RAM and a microSD slot. Can't wait!

Are people experiencing lag running apps from the SD card? My main concern with apps on SD cards is performance. I dont think the fastest SD cards are even close to the speed of RAM that comes built-in.

I cannot tell a difference. Every app I have is running on the SD card. Its been rock solid...I know others are saying its slower, but I can't tell the difference one bit.

Yes. It adds a new dynamic no more false tiered price levels that apple adheres too... We have one device ans can card as much storage required and retain the same storage. WP has always been a threat to google and apple... They did not say it and the masses believed the the hype that they were not... Apple.and google have always looked at windows and this feature will get major internal notice... I was already thinking of getting a 520... But now I will.

Lag seems to very a hit or miss issue. Some have it, some don't. Not having a lot of on board storage I have come to relize wouldn't be a problem for me. I have gotten in the habit or just not keep a lot of files/music locally, even though I have 32GB on my 920. I have like 21GB free. Problem with low-end for me is the camera more than the storage. Having a good performing camera is a MUST and will always keep me away from a lower end phone.

Apps on SDcard saved my life.. Now I'm able to keep multiple big names (Games) on my Phone :)

It has given my HTC 8XT a new lease on life. I'm running everything from my Class 10 32GB card and I've see no difference in performance at all. Honestly very happy with how this has worked out!

i've got the 720 and all i can say that 8.1 prev is working good,maybe better than the black update,i keep only my music and pictures on my SD card...i tried installing some apps and there WAS lag...but if you keep your apps installed onto the phone's memory i think it will be fine...i just love the 720...if i were to make an upgrade it would be the 930,i was thinking abot the 925 but it doesn't feel in my hand as sturdy as the 720,and the battery is better in 720 than in 925,some lag in the apps but,it was present also in wp 8.0 ,i use facebook messenger and i'm not in peace with the starting time of the app,i realised that i have to leave it open by going to the startscreen with the middle button ,that solved a liitle bit, just the Facebook app seems to have TRUE background tasks :)

Did anyone notice the lag in loading apps on SD card? Specially games are loading slow for me.

I certainly did, they loaded slow. Before resetting my 521 locked up while entering my password. Once I removed the sim, it unlocked effortlessly. Reset it and haven't had an issue with loading apps or the lock screen since. 925 has yet to have an issue with 8.1

My 620 lags a lot. Would like to do Hard reset as suggested in the comments. Will my phone still have WP8.1 after the reset?

Yes of course of you have installed an update, hard reset won't get you back to the last version, so feel free to do a hard reset but make sure you backup your app list and other setting using phones backup option, this will make sure you won't lose your contacts and messages

I just wish the ICON had expandable storage...cloud music uses too much data...

Yea but, I still want a Windows Phone with a better phone memory.

Now no excuse not to put SD cards in the high end devices!

I've got a lumia 625 - that's an 8gb device, with a 64gb san disk sdxc class 10 card... I'm so glad MS have allowed the moving of apps to the external memory, that's made this low end phone a nigh perfect entry level device. I do sorely miss the sd card on the 1020!!! Either way this has really made a lot of my business colleges look at the lower end devices for their use. Good job MS.

My Lumia 720 story: I had a 16GB class 10 SD card. Used to have data around 5-6 GB in card. Internal memory was struggling to have some space. After 8.1 update: Phone memory is almost free. Need to buy a greater capacity SD card (I prefer SD over phone memory for all sort of data).

It helped a lot. I haven't experienced some kind of lag but apps sometimes take a little before opening. That said it helped me free A LOT of space. Now I have about 5 GB left on the phone. I have a Lumia 520. I don't know what class my SD card is though but since apps do get stored in it I suppose it's a class 10 or something.

Hard reset and apps installed to SD seemed to fix the lag issue on 720

It works beautifully I have developer preview installed, just did a hard reset after installing to make thing a bit fresh...

i am using a class 4 32 gb on my 1320 right now. thinking about ordering a 64GB ultra when nokia cyan is released.
does anyone know will the recent promotion games from nokia (nova, modern combat etc) remain available for installing later (after the promotion is over) if i locked to my account now?

Yeah, it will be, just reinstall from the store. Just start the download and cancel it. It will at least put the app license on your account

I see 32gb as "low storage"...and my 32gb 1020 has no SDCard.

The ability to put apps on the SD card of my 16GB is probably the best feature of this update.

Asphalt 8 is lagging on 820 with Class 10.. Fifa 14 or Angry Birds no issue... only this Asphalt..

As soon as u turn off location battery is fine. I turn it on when using Cortana that's it. And the storage sense only makes sense when u have a SD card slot what I have with a64gb card in it.

While not lagging in my case, I have issues with tiles, going transparent completely and I can't see anything then

Well , basically these functionality is not new , whereby this feature should inside the operating system in the first version!

High specs low storage only if the is an SD slot

Absolutely. I can use podcatchers! And I can also install those lovely games such as FF III without thinking about running out of space

Yes yes yes! And it's not even laggy.

Bought a 32gig class 10 back in February when I got confirmed news of SD card apps support. Running Halo and Six Guns already. Loving every bit of Developer Preview. Lumia 720

Before 8.1, i had to clean/delete unused apps and temp files, others storage reached up to 3.8 gb while i only had a few gb left to use no matter how hard i tried to clean with storage cleaner app. Now my lu1320 works quite well, no lag at all, others storage seems to be controlled better.

1520 with class 10 64gb. Awesome

Does putting all my installed apps in micro SD will improve phone operations i.e. no lags ?

$20 for a 32 GB SD card? Where can I find one? A Kingston 8 GB SD card costa $11.25 already in the Philippines. Double that for 16 GB. WPC App for Android- Lenovo IdeaTab A3000

It lags on 720 cause of my 32 gb card bought today from Nokia

Will Lumia 720 can be updated to windows 8.1 ? #Lumia 720 owner

All wp8 devices are eligible. WPC App for Android- Lenovo IdeaTab A3000

yes, i updated to wp 8.1 preview. its qworking fine

How can one reduce the every increasing system storage???
Windows phone 8 had the same problem with the "other" storage. Seems like the latest update has merged it into the system storage...
Please help...

with the new install apps on SDcard feature, i wished nokia made the 1320 with a better camera because i'll be on it so quickly! but even a 10MP camera would have been fine by me(with a decent front camera aswell).

Actually I did not even do a hard reset, just left the phone alone after 2 battery draining charge/discharge cycles and a couple pf app updates everything is back to normal.

System takes 3GB instead of 2GB. And I don't think it brought 50% more features. :-D

Will hard-resetting fix the jittery transitions when closing apps/pressing the home button?? I have a 720.

I think the Windows Phone Application Development team did a brilliant job by giving granular controls for Individual Apps on how they send notification. I can not only disable them from appearing them in the Action center but also control about showing banner or the toast notification, sound and vibration. Depending upon what I choose different sound for different app - that's just awesome! Mark Simon
Windows Mobile Apps Development | Windows Application Development | Agile Infoways

New phones coming out with 512Ram its not understandable when even the Lumia 525 wil have 1gb. So now we will have new phones like the 630/635 with quadcore processors and... 512mb of ram. Weird hardware decisions... and deal breaker for many as it makes the phones less future proof.

Hard resetting didn't help on my 720 ;(

the app moving to storage concept is good but please make sure that the apps work properly which are moved to sd card because it lags most of the time and freeze for 3 seconds even when hard reset is done and i hope microsoft gives the option of sending apps through bluetooth to another windows phone which will make it easier for those users who does not use internet(option)

What about the camera of L720 in 8.1 .. ??

its really a waste to purchase windows phone device . i am really suffering a lot for purchasing lumia 720 which doesn't have temple run 2 , subwaysurfers,...... i should have purchased samsung galaxy grand duos for the same price point which my friend bought. He watches live cricket, plays many games for free. such a worst os no flash player support till now . my next mobile will never be a windows phone.

Hello Lumia users am a Lumia 720 user after updating the developer preview of Windows phone 8.1 my phone started lagging since before updating it was buttery smooth and even the live tiles guys black and loading in the start screen and there is lag when navigate from an app for example the internet explorer to the start screen I can see the start even stuttering is it problem for Lumia 720 uses since I've seen many other 720 users complaining about lag issue of the is please provide answers and will the official update firmware for 720 fix it? Thank you

Just a heads up, although I had install new apps to my SD option set, when I went to storage sense to check on my totals, all my apps were stored on the main memory. Click on app+games, wait for it to populate then tap each app you want on your SD card and choose move to SD option. One note, the native apps such as OneDrive and Music stay on the main memory.

I'm more worried about a lack of ram, than maybe having low storage. I can add SD cards or save stuff to cloud services, but it's harder to do something about the ram :)

It is still laggy on 520? Youtube video says that is no lag at allafter the update

I need to hard reset my Nokia Lumia 620 but I want to keep all the apps and games data safe so I moved all my games and apps on me class 10 32gb micro sd card. So please tell me if the apps moved to sd card will work after hard reset on the same phone.

I am getting problem in my storage some times my phone memory automatically increases and after some time it automatically decreases after restarting it fixes and and I get trouble please solve and help m