Don't worry, Windows 10 can be reinstalled cleanly if need be after free upgrade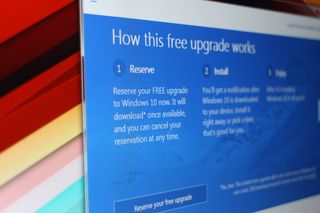 If you own a Windows 7 or 8.1 PC, you can go ahead now and reserve it to get a free upgrade to Windows 10 when it launches on July 29. Now, Microsoft has confirmed that those same users can go ahead and perform a clean reinstall of Windows 10 after the upgrade is downloaded.
This good news came, via Twitter, from Microsoft's Windows Insider lead Gabriel Aul:
This will be highly helpful for PC owners who will get this upgrade in late July and then later have some kind of issue with their PC, such as contracting malware, that would require them to perform a clean reinstallation of the OS.
Source: Gabriel Aul (Twitter)
Windows Central Newsletter
Get the best of Windows Central in your inbox, every day!
This is "was" what i looking to hear

I haven't got the notification yet.

Well you need to check up this thread http://answers.microsoft.com/en-us/windows/forum/windows_10-win_upgrade/...

Thanks, even I have the same problem.
Will definitely try out the solutions.

Certainly i uderstand you did not get the notification but i would like to know few details which you had done earlier on the computer. 1.Did you reserve a copy of windows 10 free upgrade earlier.? The best solution is that you have to run the bat file and you would able to see the icon at the bottom right corner of the compute screen if not you have to open run window and type in 'taskschd.msn' and hit enter and would able see the task scheduler icon under that you would find taskschedule libaray windows/microsoft/setup/gwyx then run all the files. the last thing you have to do go to c://windows/system32 and check for gwyx right click and run it. i would appreciate if you take your time and invest. Regards Brijesh

Dark,i forgot to inform thst you need to open an elevated command prompt from the Start screen or Start menu then type in Command Prompt in the search box and then in the list of results, right-click Command Prompt, and select Run as administrator.
Finally, run the file run the bat windows 10.bat and let me know the result and i would be waiting for the reply. Regards Brijesh

I was hoping to hear when one can buy oem.

I'm not sure if actual hardware with Windows 10 will be released on the same day as Windows 10. But it would be nice...

Yeah but does it mean download and install or download to make gimped iso with option to install like w8 did

In my spectre x360 it says that my Intel HD 5500 is not compatible with windows 10 and I will have problems with my display! What can I do?

Sell your device as quickly as possible. I'm sure there won't be any support for what is basically a brand new computer and MS is obviously forcing you to upgrade on day 1.

MS is not forcing you to upgrade on day 1, as a matter of fact I have a brand new Dell Inspiron gaming laptop that I won't upgrade to Windows 10 until a few months have passed (probably in Oct/Nov/15 ) so I'm sure the AMD, Intel, Maxx Audio, Wi+Di, Bluetooth, etc drivers are working fine with the new OS.

Contact HP and ask if this will be resolved. My guess is the driver isn't ready yet, but I can't imagine a new laptop like that wouldn't be able to upgrade to 10.

We have two desktop all-in-ones in our house, both have compatibility issues. My PC says I could have issues with my Bluetooth (no biggie, though), the other also reckons there could be issues with it's display, like yours. There's a good chance the OEM or Microsoft themselves will do something to solve it. Maybe you could delay the upgrade for a while, until results of other PC's in a similar position start being heard. If it's a recent device, then it's incredibly likely it'll be fully supported - even if it isn't quite yet. Just to clarify, does it explicitly say you cannot upgrade, or does it (like mine) say something along the lines of 'your device is ready for Windows 10 but some devices may not work correctly'?

I have the same issue, it says my unit is upgradable but my graphics card AMD HD8730M is not fully supported and will have problems with the display. I would delay my upgrade until Dell update their graphics drivers. My laptop is fairly new, a Dell Inspiron 17R SE. I hope they would update soon.

Have you checked if there are any new and drivers for that? I would check and try again. If not then don't worry win10 is free for a whole year

I also have Intel HD 5500 graphics on my laptop with Intel Core i7 5500U, I hope Intel fix this ASAP.

Microsoft just turned something good into something awesome

True. And I hope that 2-in-1 flippable laptops can take advantages of using Continuum without getting upset of keystrokes and touchpad input. :D

Don't get too excited yet, it doesn't say they will provide us with a product key to perform bare metal installations. Maybe they are talking about existing recovery options in Windows 8/8.1 which allows you to refresh your PC to factory defaults. This isn't necessary called OS reinstallation...

Good. Because that will happen in about 2 seconds flat after the activation is complete. Now where to get the ISO?

I will be very suprised if they dont have ISOs available like they have with previous OSes. Of course, there wont be published links until its released.

Its funny, windows 7 ISOs you could download straight from the microsoft servers with a quick google search. Windows 8 on the other hand, has been a pain in the ass to track down. Hopefully with microsofts new vision, we have easier access to all of this stuff.

This took me literally 5 seconds to find. http://windows.microsoft.com/en-us/windows-8/create-reset-refresh-media

You've obviously got a better grasp of search terms than the rest of us. Now, what would you suggest I replace "naked ladies" with...? /S

no, that's a fine search term it's just the results won't help much with discovering whether or not one can do a clean install, however they will keep you pleasantly diverted

Msdn subscription always gets ISO so that's coming on day 1

Ditto, I can't wait to flush the tp... I will try and stay on the slow ring but... Who knows.

One word: YAAAAAAAAAAAAAAAAAAAAAAAAAAAAAAAAAAAAAAAAAAAAAAAAAAAAAAAAAAAAAAAS!!!!!!!!!!!!!!!!!!

Thank heavens. I was wondering this myself as I have a Windows 8 Pro license... its always been a pain to go, reformat and then upgrade all the way up to 8.1 fully patched. I like formatting my desktop every 6 months or so, so Windows 10 will be nice to hop right to it.

Wouldn't it make more sense to get your computer they way you like it, then image the drive and reimage every 6 months?

You are absolutely right, that would make a lot more sense from an efficiency standpoint. But at the same time, I kinda like reformatting the system and reinstalling the programs and such. A little weird, but I think it is a little theraputic. Its funny, back in college I was always fixing friends' laptops and things. Don't have too many things to fix these days besides my desktop and my wife's MacBook. EDIT: But the all of the updates from Win8 up to fully patched Win8.1 was a bit much. Hence why I approve of installing Win10 fresh. Lets me reformat without waiting forever and a half for Windows Updates.

That's a different story, and I completely get you there.

You'll still need to install Windows 8.1 before you can get Windows 10 - vanilla Win8 won't cut it. See Zinstall's Windows 10 upgrade guide here. (incidentally, looks like their software allows to recover a partial set of programs from an image, after a reformat).


and he confirms ISO's further down. Great news! Now I only need to know I can disable automatic updates in Windows update.

If you have Pro, you can, Home you cannot.

Pro only postpones it. Only Windows 10 enterprise can actually disable it.

You can go to control panel > Administrative tools > Services > Windows Update > Stop process > Right click > properties > Disabled > Apply > OK Else you can go use "take control" and make the update download directory read only and set permission to admin and revoke system permission.

isn't there a possibility MS finds a way to bypass this in the RTM version? Can you still do manual updates without re-enabling this?

You will have to re-enable the service to install updates. Alternatively if there is an important update you can download offline installer from MS's website and install manually.

yes I read that yesterday but judging from a discussion on Microsoft answers regarding drivers it seems it's still uncertain how it will work. If you can't disable driver updates without doing changes to the registry it is really a poor decision from MS. AMD have a poor track record with their GPU drivers and I often have to roll back.

Finally the modt important part of win 10

Well duh, there's an option right in the settings to do it. It's been available since Windows 8.

I did not quite understand. Is "clean install" the same thing as "formatting the PC"? Because the malware/virus can remain as long as hard disk is not formatted completely. Someone please explain.

There's an option in Windows 10 to "completely wipe the drive" or something like that. Presumably it overwrites all of your old data and then gets rid of the pointers.

The clean install wipes your hard drive completely of all data, and then you can install Windows 10 on a fresh gard drive instead of something being accidentally carried over from the old OS. I've never had a computer that runs perfectly by doing an upgrade and not a clean install. This is different than the options within the system's setings. They're there but it isn't a true clean install that way.

Now with Windows 10 when you go to settings and hit that reset button, it actually includes the option to completely wipe w.e drives you have in there and do an extra clean wipe to prevent any such form of recovery in the future in case someone stole ur PC and tried. I just tried this last week on a partitioned Windows 10 install and it let me select the drives and such on. Great tool.

i have a doubt please help.. i have my original copy of win8 in a recovery drive. after upgrading to win 10 if i try to reset my pc which os will be re-installed? win8 or win10?

If you use the recovery drive, it will reinstall Win8. You can delete that partition and create Windows 10 recovery media.

Question, I am in the insiders preview. Will the upgrade be free for us insider?

I think you still have to own a valid license for 7 or 8. It's unclear how licenses will work, if you'll receive a new windows 10 license or your present will be converted.

Yes gabe already made a reply about it..

What was the reply please?

From someone who has never actually needed to upgrade their OS before (well, unless you count 8 to 8.1), how simple is it to revert to 8.1 after upgrading? Will the computer need to be wiped and backed-up data put back on, or does it just turn the clock back, so to speak, on the OS whilst retaining the files? Got a potential compatibilty issue on one PC and would like to know how easy it'll be to revert if it proves to be a problem. :)

It depends on what resources you have to revert to 8/8.1. If you have a disk/usb/iso, it's a matter of booting to it and installing 8/8.1 fresh. If your computer came with 8/8.1, often there's a recovery partition that you can boot to and refresh/reset your computer (if you're still on 8/8.1, if not, before you even upgrade to w10, find your license key using software while in 8/8.1 so you can still revert later). Another option is to clone your drive now while in 8/8.1 and clone it back from the backup drive if you want to revert (or just use the clone drive). Easier with access to another computer.

What about the System Builder license? (The one that let's you build your own pc and port the license when you throw it away and build a new one) I have that license and I have received the Upgrade Notification, but what happens if I reinstall the OS from zero with the 8.0 DVD after I upgrade to 8.1 with windows update? Will I get a serial code to use or will I be forced to use a Microsoft Account? Now I am using a local account not tied to msn.

Yeah, would hate have to go through loops if I need to switch my motherboard and / or hard drive.

The free upgrade, either from OEM, retail or System Builder uses both your MS account and your hardware footprint to activate. And the activation goes through the Windows Store which requires internet connection and a MS account. No exceptions xD

No. The upgrade does not require a Microsoft account. It's device targeted - not user.

Hey, Do you know anything about moving a Windows 8/8.1 license to a new SSD? I have a Win 7 OEM machine, paid £25 at the launch of Windows 8 to upgrade. Now my drive is a bit flakey, so ordered an SSD. Can the license be moved to the new SSD and then upgraded to 10 on the 29th?

and this was obvious from the first time Microsoft said windows 10 would be free upgrade to 7 and 8 users.... I am sorry but only stupid people didn't understand this. becuase upgrades would work the same as previous versions but with a free tag on it to bring users faster. but nobody has to pay again or anything everytime they upgraded and wanted to reinstall no?... only the "this is a trick by Microsoft" people were the ones who always tried to twist things, yesterday I read someone saying there will be a year fee after free upgrade... even though Microsoft have said million times it's not true. Making a trial or limited 1 year key, sounds more work for Microsoft, and Microsoft wants people on Windows 10, easier way it's put it free... if people starts using the store, they can get money from it, especially when Desktop apps, Universal apps, music and movies will be able to be bought through Windows Store.

After upgrading to 10130 i have no sound anymore :s :/ the system still buggy, freezing but well .. is better than the 1st time when i used 9926 running a vm .. and glad to know that we'll be able to perform a clean install if needed but i wont :) just want to solve the sound problem.

This is easy right click on the sound icon in your taskbar go to playback devices select your speakers /properties /advanced /24bit,96000 Hz (studio quality) This was the fix for me. The problem is the current Creative Z drivers Creative said they will be available this month.

Thanks, I saw a guy with same problem @ microsoft.. I changed to 16bit and its working now, 24bit not working. Im not being able to use 7.1 but at least im being able to hear the sounds once again. Hope they fix it .. Mine is Via Audio HD. Thanks once more for reply.

Thats good, as my PC is full of rubbish from the days when it was my betters halfs gaming rig! After upgrade, I'll promptly re-install! Get a new shiny fast machine!

Does that also account for OEMs?

Hah, finally. I was waiting for this announcement

Is 8.1 update still free if coming from 8?

How this works??after updated to Windows 10 from 8.1 via reservation.will Microsoft provide ISO??I want to install as second OS. Anyone explain me.

Hey, I have not seen this mentioned before, but if I am running W10 preview, do I have to register to get my free upgrade? I heard I should upgrade to the RTM automatically but if a year down the road I decide to do a clean install, what happens? Also, i have Windows Home edition now, I saw the post about the edition i am getting for Windows 10, but has the Anytime Upgrade options and pricing been announced? Thanks!

I think many of us have the same doubt.. What if after 1yr... But no one answer for sure..

Guys help needed, I had windows 7 professional on my dell inspiron (purchased), but inorder to install 8.1 i formatted my laptop without backup (pirated 8.1), so is there any chance I can go back to win7 now? Will the same serial work now??

Same question here, I have win8 DVD with genuine keys, will the key still work?

Make sure your pc is up-to-date with MS updates. There is an update that triggers the invite

I had read, that it doesn't matter if your pc had legal or illegal copy off Windows. They will still upgrade u. And its free to use for the first year, if u don't pay after, they update your pc, and turn off a lot of functions in your pc.

I'm hoping they will give us a .ISO with the install. I prefer to do clean installs with a new OS iteration, and if I get a new SSD at some point, I'd like the ability to do a direct W10 install to it.

Everyone running Insider Preview should probably do this. I've upgraded through so many builds now there's no telling how much crap is lying around in there.

Good News, but I have some questions: 1. I have a new Lenovo laptop with Windows 8.1 Single Language (System Builder License) and I want to clean install the Windows 10 upgrade from a 8.0 Pro license (Original DVD) I used to have in another laptop (Is now broken). What happens with the Lenovo license that came with the laptop If I want to install the Pro License? 2. In my other laptop I always did a clean install of 8.1 from an ISO I download from the Microsoft site, using my 8.0 pro license. Can I use the same method with Windows 10 ISO (if available) to install it in my new Lenovo laptop?

I may be wrong but this is not going to work on consumers with a laptop which already came bundled with previous Windows version (7, 8.1, etc) Why? Because OEM licenses don't have a Windows product key as in full OS purchases, so this is only going to work on people who have original Windows 7 or Windows 8.1 retail DVD's with their key written in paper. With that said, I don't worry since I am only going to upgrade to Windows 10 my Windows 7 laptop, not my brand new gaming laptop which comes with 8.1 until I'm sure with the OEM that is OK to upgrade and that I'll be receiving support for drivers, etc.

Since when do OEM licenses not have a product key? I've always used OEM copies for my new PC builds, and I have yet to have an issue with reinstalling the OS.

It is working on my laptop. I've recieved The message to rezerve windows

That was the main thing I was wondering about. I assumed it would be the case, but one never knows.

Will Microsoft give those eligable for the free upgrade to download a legit ISO of the full Windows 10 Pro, even if for only a limited time ?

How about those who have bought windows 8.1 and we've deleted to clean install Windows 10 preview? We have to reinstall Windows 8, to update it ti 8.1 and then get The free update? Is not enough that we used pur computers to test Windows 10?

I am running Windows 10 Preview and I will continue to update that, even activate it with a license when the time comes. As for my other machines, I will upgrade but Windows 10 will onlybe installed once I can give them clean installs. Outside of that they will all stay with what they have.

Good to hear... Now some complainers I saw in Paul Thurrott's site can shut their traps.

I am afraid you do not understand the central drive of complainers. THEY MUST YAK! The subject of the complaint is secondary to the frothing at the mouth and carrying on. They have a somewhat twisted understanding of cogito ergo sum, it is for them not "I think therefore I am" but rather I talk therefore I am. comprehend?

should i use my windows 7 retail product key? just in one PC what about i change my PC from old PC to new PC may i use the Windows 7 product key to install windows 10 on new PC?

i got massage and reserve it!

I usually have to reserve a massage as well. Sometimes they are fairly expensive.

Very nice, not unexpected but nice to be confirmed.

<whew> I wanted to clean install to a new SSD for W10... Thanks MS.

GREAT NEWS!! That makes me very happy. I am going to do a clean install straight out of the gate. I usually like to do a clean install about every two years or so and it's pretty much time....

Folks I hope that Microsoft gives us tech preview members/users an ISO copy of the `windows 10 RTM version because you can get a bug so bad it wont even allow you to boot into Windows. i am using build 10074 because the next build 10130 had my computer go into a endless loop telling me windows was repairing the OS but it never did.I had to use my backup computer to burn an ISO copy of build 10074 and reinstall it on the PC that was made unsuable by installing build 10130 on it. My PC now useing build 10074 will not even accept the download of 10130. Hell I wont even try to use it again but instead will wait for the next build after build 10130

I bought a W8 upgrade license from W7, but now I'm on the W10 preview.. It would be cool to somehow convert my W8 license to W10 and directly input it on my current installation, I really didn't want to go to 7 again just to get the update..

What about re-installation with a new hardware device (eg. new harddisk) ?

Soooo... If I built my windows 7 machine 5 years ago (with a genuine OEM windows 7 pro) then proceed to upgrade to windows 10 "for free"... then my motherboard craps out or I just want to build a new machine (scraping the old one), am I NOT allowed to install my genuine windows 7 pro again then upgrade with my windows 10 licence again? This whole "free upgrade" just sounds like a way to invalidate my genuine windows 7 licence to me. It appears that I would have to buy a new windows 10 licence at that point - i would be forced to because my windows 7 licence is now worthless. Please, someone, tell me i'm wrong. (P.S. before you tell me it has always been this way, you're incorrect. Previously, I could call Microsoft at reinstallation and explain I've abandoned my old machine and i'm installing windows on a new machine - and they would give me a code to do so).

Same thing here, posted before I read your comment.

I always perform a clean install. It's been quite a hassle though since my PC came with 7, and that was programmed into the BIOS. I have to call everytime I do it. Hope it's not like that again.

Everyone should still backup everything important before the upgrade, and in order to have a smooth transition, go ahead and do a clean install of Windows 10 once available. It will make things much less problematic.

my question would be if a machine takes a dump or the hard drive is dead. What would be the process to re-install windows 10 on a new drive ?

I'm not seeing an answer to this question. I've upgraded to Windows 10 Pro. Let's say, 6 months from now, my hard drive dies and I get a new replacement drive. How do I re-install Windows 10? Do I have to go through the hassle of reinstalling Windows 7 first and THEN upgrading to Windows 10? What about a serial key? I never got one in my email. The topic, "Don't worry, Windows 10 can be reinstalled cleanly if need be after a free upgrade" doesn't say how: only that it can. So, how can it be reinstalled? Once I connect my new hard drive, don't I need drivers and the Internet? A blank drive cannot do anything so again, How? Note: I plan to download the ISO files but they don't come with serial keys, do they?