Download the Xbox One "day one offline update" on your PC to avoid busy Xbox servers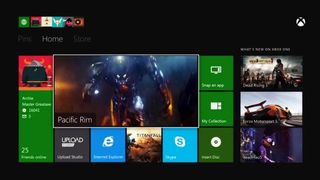 (Image credit: Windows Central)
It's already set in stone that Microsoft's next-generation console, the Xbox One will require a day one patch - just like the PlayStation 4. Unfortunately, with the next Xbox, you'll not be able to play any games (or really do anything at all) until you've installed the update.
Luckily, should you be afraid that something may go wrong on the day to prevent you from getting on with some gaming, Microsoft has made an offline version of the day one patch available for manual installation via a USB drive.
We'll highlight some of the steps in this article, but we strongly urge you to head to the Xbox website to read through the full guide. It's recommended to only go through with this if you know exactly what you're doing. We cannot be held responsible for any issues that arise should you load the offline update.
Microsoft states that this Emergency Offline Update (EUO) is available for systems that are experiencing trouble connecting to Xbox Live for the necessary files. But the idea is for the EUO to be loaded onto a USB drive just in case there are issues when booting up your console and connecting to Xbox Live.
Here's what you'll need before you begin:
A USB flash drive formatted as NTFS with a minimum 2 gigabytes (GB) of space
A PC with an Internet connection and a USB port.
Following the guide on the Xbox website, you'll boot the console with the USB drive plugged in (with the necessary files - seriously, read the guide) and the OS will then automatically copy across and mount the update file. The update should then progress through as normal and you'll be able to upgrade the system to the current build.
​Head on over to our forum to join in the discussion to get some assistance or to share your experience when you unbox and set up your console. Will you be going down this route or will you be trusting Microsoft's backend to battle through the load?
Source: Xbox (opens in new tab); thanks, Kyle, for the tip!
Windows Central Newsletter
Get the best of Windows Central in your inbox, every day!
Rich Edmonds was formerly a Senior Editor of PC hardware at Windows Central, covering everything related to PC components and NAS. He's been involved in technology for more than a decade and knows a thing or two about the magic inside a PC chassis. You can follow him on Twitter at @RichEdmonds.
Ill download this and keep it safe but try directly from Xbox, if it slow or anything I'll pop in then and go ahead

+one, nice way to backup, why not.

Its a little less than 2GB. Just do it through USB. Unless you want to wait until you download that much. I might as well download now, have a pen drive ready, get the Xbox, plug in and update. Ready to go.

There are two versions of the software. Which one am I supposed to get. How can MS ship Xboxes with different software version when they coming out on the same day

I'd bank on there being an OS version printed on the box or shown on screen during initial boot.

I downloaded both and will figure out which I need on Friday.

I cannot find this patch anywhere on the Xbox support site to download... Grrr. Where is it?

I don't mean to be rude, but reading the instructions and you will know what to do.

I will probably have the same mind set on this. I mean Microsoft has integrated all kinds of new servers for One's launch right? Either way, this will be my backup!

Oh sh!re, it's about to go down!

MS is smart. When they listen to the interns.

Good planning on their part, especially after the PS4 network issues last week.

PS4 also had the offline update. But yeah, the servers were down for like the first two days.

Hey hey hey... What the MSFT stock on 37.08 this could be the lap of faith for Microsoft. Friday will determine if we can reach the 40 points, back up moves for a safe launch date.

Tbh if their backend is going to struggle with an update on day one then it won't give me much hope for the "power of the cloud" that they're banging on about so much.

Thanks for mentioning me Rich! :D

It's decisions like this that make Microsoft such a valuable company. I'm not getting an Xbox One, but this is still a great idea.

Just downloading both since I don't know which OS version I'll have...finally getting excited! So close yet so far...

did you manage to download them I keep getting there was an issue downloading?

Yes. No problem. Maybe everyone is downloading them also. It was only a matter of time the word spread like wild fire.

Definitely going to go USB route. No need for me to add additional load to their download servers on launch day.

Tempted but will wait for it to arive.

I'm not sure which to download, if I download the launch version will it just fix the launch OS and still require an online update?

You have to download both since you don't know which version your Xbox will have.

Least we have fair warning before the release shouldn't be much of a problem then :)

I don't think they're as concerned about traffic bogging down the servers so much since it's never been an issue for 360 updates, Windows releases etc. but rather having this as an option for people with less than great connections not having to wait hours for it to patch (and even people who just don't want to wait at all). I know if I had the money to actually get one on Friday I'd be going this route because of the horible nature of my campus internet.

I agree with this. I seriously doubt there will be the same issues Sony had. They are used to heavy traffic, and have better infrastructure, especially in the US.

MS has had issues with updates and Live, especially around major releases. They're going to take a beating but since they've been talking up thier massive infrastrucure built for Xbox One I'm going to try it. I've already downloaded both versions and put them on a USB drive just in case, but it would be nice to see this work online without issues.

This is actually part of what the call emergency offline update kinda of like a restore from what I understood http://www.polygon.com/2013/11/20/5127024/how-xbox-ones-emergency-offlin...

I know there have been the occasional XBL issue, but I know first hand that Microsoft has spent a ton of $ on their server infrastructure as of late. Will it bog down? Probobly. Do I have faith it'll keep ticking - yes. I'll be downloading these just in case though :-)

I grabbed both. Although I can't fathom why they didn't ship a 4GB version that includes both, with a bootstapper to load the correct one depending on which version your XBox happens to be running.

Any chance you could setup a mirror? I have slow connection its going to take forever for me to download those updates.

What an amazing idea!! This is why I like Microsoft the majority of the time! Hehe

My Xbox One is in "dispatching soon" status. Oh... My... God..., it's really happening!

Both mine shipped today even the one from dell that said January 30 so I jumped on amazon at 8 this morning and ordered one.callled dell to cancel they said no problem and gave me a confirmation number then bam it ships dell has decent stuff but the service is crap

Emergency Offline Update is EOU, not EUO :)

Seems like the link is down now...... dang :( Edit: This worked: http://support.xbox.com/en-US/xbox-one/system/emergency-offline-update

version 6.2.10210.0(xb_rel_launch 131118-1159) is the day one update, folks.

And how did you figure that one out?

http://support.xbox.com/en-CA/xbox-one/system/system-update-operating-system

Xbox One will shop with two different versions. You won't know what you will get. So there is no way you can tell now unless you're already looking at yours.

How do you know which version to download?

When I try to download the files its saying cannot be downloaded and says the files are 1.21kb.... Not sure what the deal is. Anyone else getting this?

If people already have the downloaded files, is it possible you can upload to a mirror or something? Unable to download from the xbox website :/

Links have been taking down, as per Microsoft statement:
'The site was not an alternative way to take the Day One update and customers still need to connect to Xbox Live for the update. Because of the complexity of this customer support process we've actually removed the page and we will work with customers directly to make sure they have a smooth experience'

makes sense, the file size implies it's more of a system restore vs an offline version of the day one patch. i wish there was a way to download it similar to the ps4 just so i don't have to wait, but i do have more faith in xbox's network than playstations in regards to handling a load

Gutted, never got chance to download it. Suppose I've got a 2 hour update to look forward to tomorrow :/

Hrm page seems to be down now?

This site has actually been removed... According to Microsoft, you still must connect to Xbox LIVE in order to update. Unfortunate :/ I predict network outages ahead.

Well I don't have a pen drive anyways...

GJ MS on making this available.