Drawboard PDF for Windows 10 is an absolute powerhouse
Drawboard PDF is an extremely impressive PDF tool that stands out among its competitors.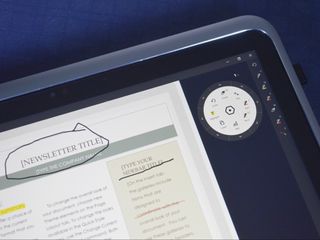 I recently wrote up a collection of the best PDF viewers and editors for Windows 10. A notable missing app was Drawboard PDF. I wasn't turned away from including the app due to its feature or performance, but rather its pricing. Drawboard PDF drew criticism from reviewers due to what they felt were "bait and switch" tactics. Many felt that the app's store listing didn't explain what they were paying for and how a subscription for pro would be needed for its full set of features.
Since publishing the article, Drawboard PDF reached out to me and covered my concerns when it comes to pricing and subscriptions. What that left me with is a chance to review it in full, and I'm incredibly impressed with it. But is it worth it?
The app is available for $9.99 on Windows 10 but to get to the full set of features you'll need to upgrade to Drawboard PDF Pro. You can get a 365 days for $24.99 or pay per month ($3.99) or per ninety days ($9.99).
For this review I received the full pro version from Drawboard PDF so my overall thoughts are based on the fully-featured version.
See in Microsoft Store (opens in new tab)
Features galore
Drawboard PDF has everything from basic highlighting and underlining to measuring contents on a page and using a protractor. Many of these tools are available within a dial that's similar to the OneNote dial, though Drawboard PDF's version is better utilized. You can quickly switch between inserting, adding content, and multiple pens. Some of these categories expand to a number of other features such as insert expanding to the option to add an image, signature, measurement or other content.
Drawboard PDF lives up to its name by letting you easily draw on PDFs using either a pen or touch.
For the power users, Drawboard PDF lets you merge, and re-order documents, use calibrated annotations, and use a number of templates and overlays to help you mark things up. The developers did a great job cramming so many features into an app that never feels complicated.
Not for everyone
Drawboard PDF is an impressive piece of software with a set of features that is unique within the Microsoft Store. It's used by professionals and has the tools that many people need when it comes to annotating and marking up PDFs. But that doesn't make the app for everyone. If you just need a basic PDF viewer or something to sign a digital document with, there are cheaper options, even if you are comparing the basic version of Drawboard PDF to its competition.
There are free trials of the basic and pro versions of the app so it's worth trying those out before spending any money.
Summary
Drawboard PDF is a top-tier tool for anyone who needs to annotate, merge, markup, or work with PDFs. Its impressive feature set makes it the only app you'll need for dealing with a wide range of documents. It's also well-designed, allowing you to use its features without much of a learning curve. But those features come at a price, literally. A base price of $9.99 combined with a subscription fee for the pro version makes Drawboard PDF a hefty investment.
If working with PDFs is part of your job or you regularly mark them up for things like your studies, paying for Drawboard PDF could very well be worth it, it's one of the best apps in its category. It's very intuitive, has support for touch, stylus, the Surface Dial, and has all the features you'll need when it comes to PDFs.
Pros
Vast collection of features
Simple interface
Built for Windows 10
Cons
Expensive to have full feature set
See in Microsoft Store (opens in new tab)
Get the Windows Central Newsletter
All the latest news, reviews, and guides for Windows and Xbox diehards.
News Writer and apps editor
Sean Endicott brings nearly a decade of experience covering Microsoft and Windows news to Windows Central. He joined our team in 2017 as an app reviewer and now heads up our day-to-day news coverage. If you have a news tip or an app to review, hit him up at sean.endicott@futurenet.com (opens in new tab).
Yes exactly. I just have one problem. The smallest pen size is still too big for my notes

Send feedback.... Because this will be an even bigger issue for an Andromeda size device.
..............
Speaking of Andromeda...

Hello! The good news is you can adjust the pen size manually all the way down to 0.1 ! In the Radial Menu when selecting a pen, there is an option for 'Custom Size', you can then use the keyboard to enter the size that you like. I hope that helps with what you need! Kind Regards Drawboard Support

looks ok, but having to buy it and then pay again for a subscription is not ideal. Also only aviable via the MS store is also a bit silly. Even if I was interested in the software, being a MSstore only app would stop me buying it. But as i said above it looks ok if it is something that is required.

You don't need to pay for the subscription if you don't need the Premium features.

If you own legacy codes (e.g. started your software business 10, 20 years ago and have actually been managing your codes carefully with api changes) and have your marketing channel, compile for older Windows is a no brainer.Did a quick search. Although this is an old article, and it's for Android dev but the principle of choosing min/max-API is the same.http://www.whitneyland.com/2015/01/how-to-choose-an-android-minimum-app-...Also, new features, bug fixes and security patches will only be in the newer API.So, don't expect your 5-10yo exe can run forever, API deprecates, plus… application will stop running faster than you think if you do anything low level.
The transition might be slow when you compare Windows PCs with Smart Phones, but the number of machine running older Windows will only go lesser and lesser YoY. OEM will only make win10 desktop or NB, HW providers will stop supporting older Windows eventually and MS's not going to re-support older Windows. Tbh, no one does, not even Google or Apple esp after the transition. Because it makes no sense. So, say if you are a freshman or startup…
If you are building application… go for exe? Are you sure? 1. You'd need to support much older APIs and do catch ups. 2. You'll have to do you own installer, updater, uninstaller and crack-proof. 3. Instead of getting featured on the MsStore, you'd have to do your own advertisement. 4. Why should people trust your no-name-exe to do their system no harm? Building exe seems like a no brainer if you are building your game with 3rd party commercial engines, because that is the reason why we use'em.
What if you are building your own engine… will you still go with an exe? In my work place, we creators (e.g. server programmer, game programmer, planner, designer, music composer, etc) do need powerful HW to run Adobe, 3dsMax, Unreal, VisualStudio, SVN, Git, Office, Reason, Komplete, Local Server typpa applications, but other tools such as ticket system, project manager or chatroom… are all web based. People in business department (e.g. CS, Cooperate, International Business, etc)… except Office365 (UWP version available), they work on the web too. My GF, as a APAC manager of a US IT firm, works on the web with virtual teams @ home (or in the coffee shop) too.exe is insecure and will only become more and more obsolete imo.
Besides, can you deploy exe into a Win10S, Win10ARM, Xboxes, IOT, AR or MR device?

Agreed. All or nothing. Unfortunately, more companies are going to this.

I love this app! Been using it for a couple years pretty regularly

I think its a brilliant app in its standard form and I use it regularly to mark up and comment on construction drawings from our design team. The standard tool set allows me to cloud areas of interest and place arrows, text, boxes etc to convey changes required on hardware that may not be powerful enough to run or have a license for AutoCAD. For marking up meeting notes then OneNote for me can't be bested but in its standard form I think Drawboard PDF is a great app.

This app changed the way we do things at work, specifically for plan markups. We've sinced moved to Bluebeam mainly for the more robust measuring tools, but Drawboard is still my go-to for basic markups.

Hello KrayMat, We would love to hear more about your experiences with Drawboard and Bluebeam! Please write in to us at support@drawboard.uservoice.com and we can discuss your feedback further! Kind Regards Drawboard Support

Congratulations on your wedding, Sean! (Spotted in the graphics of this article). Even if it was a long while back, I wish you and Leah the very best.

Thanks! We just passed 18 months since the wedding :-)

So, what is the feature comparison between Full and Pro?

Merging pdfs into one is one feature you have to pay for.

Surface Pro 4 owners get Drawboard PDF for free. Been using it for school and I'm loving it.

I have a Surface Pro 4, do I have to be a student to get it free?

Hello, Drawboard was Pre-installed on Surface 3, Surface Pro 4 and Surfacebook products that were manufactured before 2017. Any of those devices that were manufactured from 2017 onwards did not have drawboard Pre-Installed. Kind Regards Drawboard Support

Thanks, I will look for it next time I fire up my Surface Pro 4.

I use it extensively when I need to redline schemetic. The day when I have to print, redline, scan / take pictures, and Email are over. I just annotate, then email. Useful for check mark and validating document as official document.

I love Drawboard. I have been using it for years. It works very well w/all my Surface tablets. My biggest gripe with it is its inability to Share with non-Modern apps. At my work, we use Outlook 2016 and after modifying a PDF. I have to save it first to a network location or to the local drive, then I swith over to Outlook insert the PDF as an attachment. I understand it's a limitation of the OS rather than a failing of Drawboard itself.

Sorry if this is obvious, but maybe you can also sync the email account you are using with Outlook 2016 with the Mail app. Just send it with the mail app, and when you open Outlook it will appear in the "sent" folder.